Friday Evening Updates…
Dear diary. Its too bad that drought relief in California and other western states last winter has led to enough growth to fuel large wildfires rampaging through the West. One season's ground growth + early summer record heat = large conflagration. 😢 This map from the National Interagency Fire Center shows that the worst current fires are in California:
For an in depth look at western wildfires in relation to climate change, please read this Climate Central article:
http://www.climatecentral.org/news/report-the-age-of-western-wildfires-14873
In any case, there was some relief in the Southwest due to added monsoon moisture today. Most heat advisories ATTM are confined to the Pacific Northwest, Montana, and North Dakota:
Here are Friday's maxes: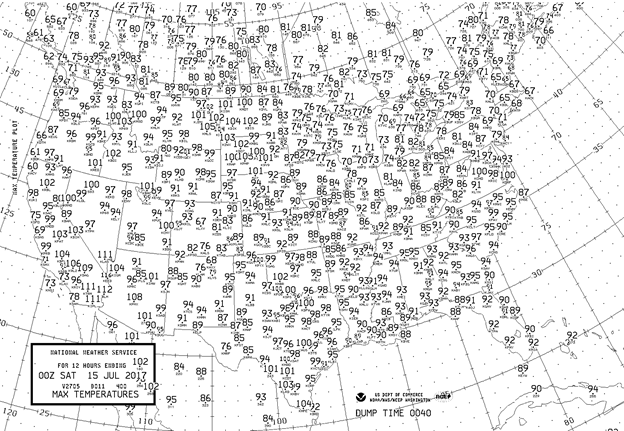 Well, the above chart is warmer than what I expected yesterday. Many stations, including Dallas, were at or above the century mark. At least there is a refreshing cool spot in New England.
The Climate Guy
Friday July 14th…
Dear diary. It's been about 48 hours since I last spotted models trending towards a fourth potential heat wave for this season. Good news. Guidance is now trending towards a more run of the mill heat wave event. Let's look at the latest guidance to see why.
I honed in on the 20th showing the "peak" 500 Mb heights in the Plains from the GFS here:
We see that now the GFS loses that 597 decameter height contour: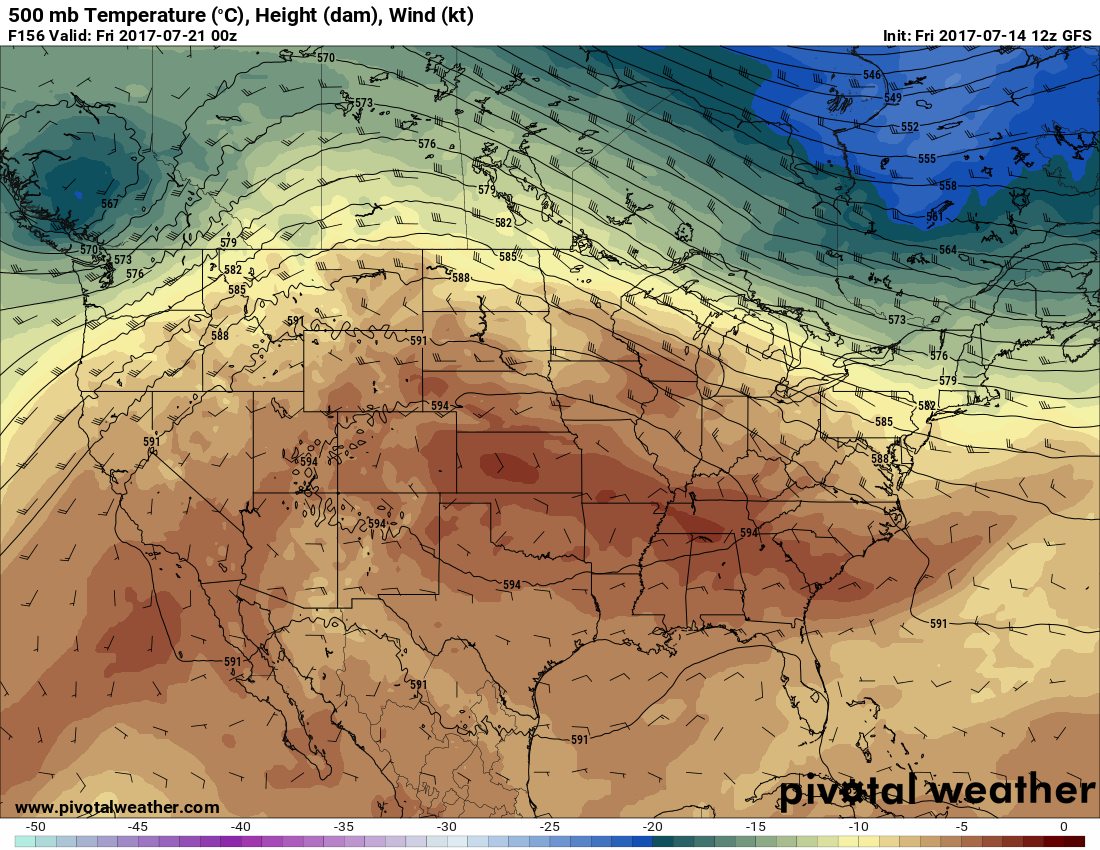 While large and broad, at least any heat wave in association with this forecast synoptic pattern would not nearly be so intense. Over the past three decades I have seen such a ridge get established across the Plains just about every year during summer's peak. I have no doubt that this pattern will produce dangerous heat…just not so many records.
The heat ridge will probably have a tendency to oscillate back and forth between the West and Southeast during the last ten days of July.
Tomorrow's maxes don't stand out as being that noteworthy: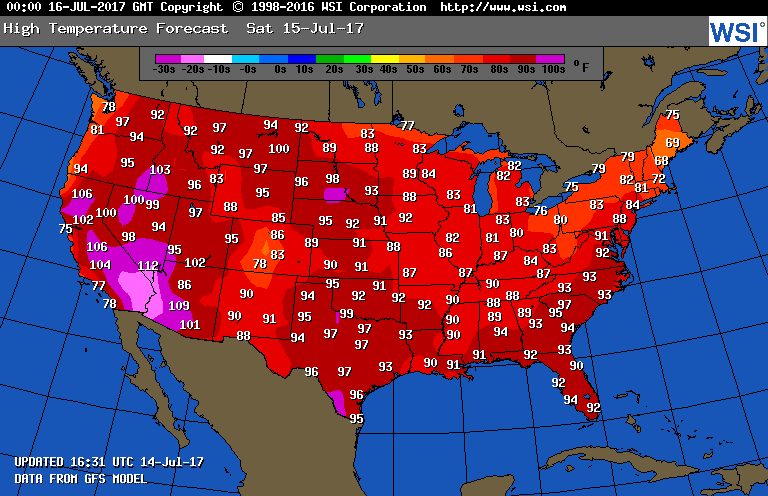 A front will bring some relief to the mid-Atlantic area. Montana and South Dakota will continue to swelter in well above average heat.
I'll be adding to this post with updates later today.
To see all 2017 Heat Diary entries click:
https://guyonclimate.com/category/heatdiary2017/
The Climate Guy
Thursday Evening Updates…
Dear diary. Maximum heat indexes have been around 100 today across a wide area from Washington D.C. south to Atlanta and Florida, and westward to Dallas,  St. Louis and Kansas City due to a combination of temperatures in the 90s and high dew points. (chart from Intellicast)
A reminder… It doesn't take record temps to get dangerous conditions, so do appropriate precautionary measures when going outside in this heat.
Here are today's maxes: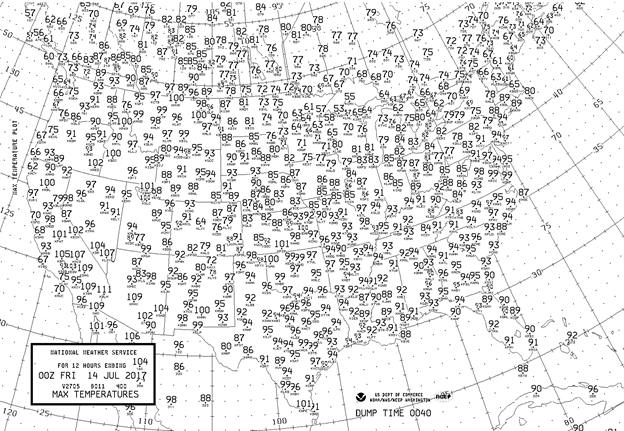 Notice that Washington D.C. did verify at 97. Intense heat remains across the Southwest as well as Montana and portions of the Plains, but values were below record levels.
Thursday July 13th…
Dear diary. It's time to take stock of what has been happening in association with the heat in both the West and some heat in the eastern U.S. Many cities in the Southwest are having their warmest summer on record, so far. According to Jon Erdman from June 1 to July 11 Salt Lake City, Reno, Las Vegas and Tucson are ranked number one when it comes to heat: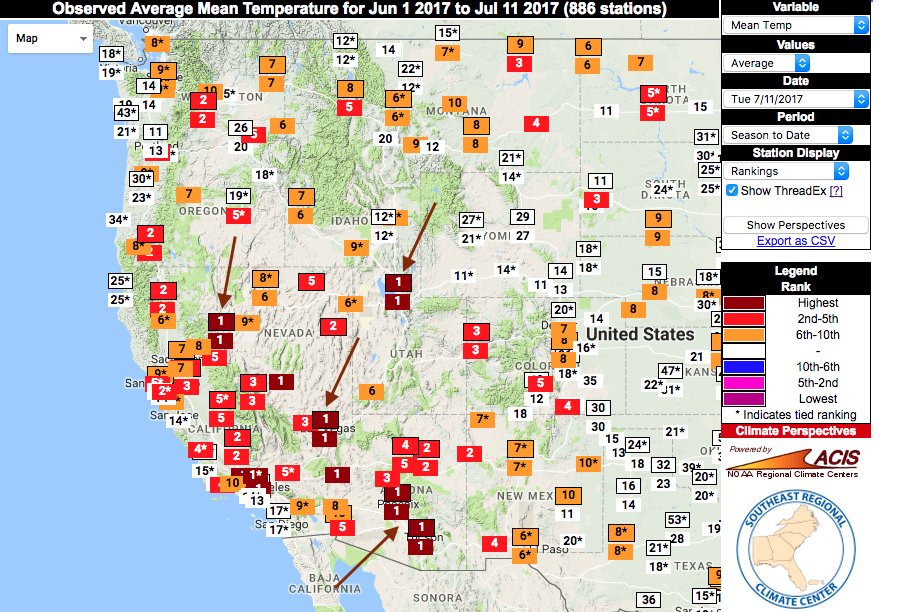 In the East several major stations are setting record high minimums making conditions uncomfortable for the entire day. Lows of 82F at LaGuardia in NYC, 79 at Philadelphia and Washington, and 77 in  Richmond, VA are all record high minimums for 7/13 (assuming they hold) according to MDA Weather Services.
Tomorrow a front will bring relief to St. Louis and the rest of the Midwest. Notice that eastern Montana and western North Dakota will be very hot once again.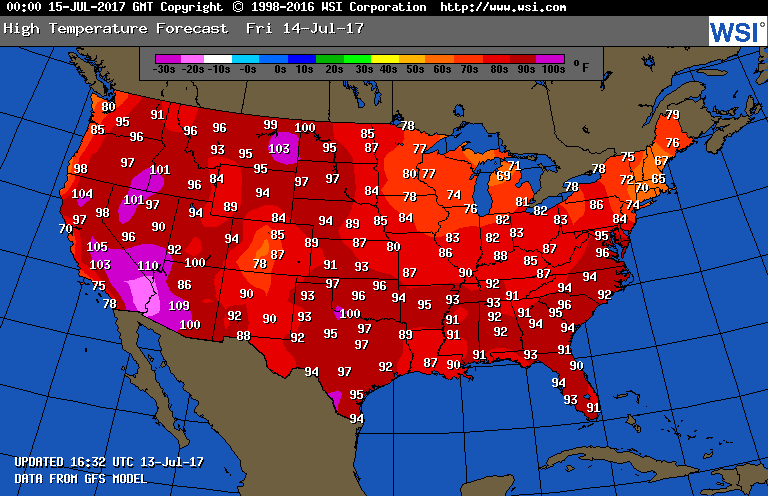 According to Jon Erdman only a couple of years from the Dust Bowl era have had a hotter start in July at both Glasgow MT and Williston ND. With the heat drought is now a big problem for agriculture interests in this same area:
I'll be adding to this post with updates later today.
To see all 2017 Heat Diary entries click:
https://guyonclimate.com/category/heatdiary2017/
The Climate Guy