Wednesday Evening Updates…
Dear diary. Here are today's national maxes:
Let's concentrate only on what occurred in the western coastal states. Daily records were set from central California northward through Washington and Oregon. Maxes did not top out at all-time levels in Medford and Portland OR but came close. Here is a breakdown of some of the toasty numbers:
Quillayute WA at 98F shattered its old record of 89F, which was this coastal town's second all-time high reading.
Portland OR topped out at 103, which also shattered their old daily record of 96F set in 1986.
Seattle WA set a new daily record of 91F and should be hotter tomorrow provided that smoke is not too thick.
Medford OR was Oregon's hottest city at 112F. Quoting the NWS there the last time it was this hot in Medford was in 1981 when postal stamps cost 20 cents… but nope, they did not quite see that forecast max of 114F.
Numerous other towns in Oregon set records. Lists of these can be found at: https://twitter.com/NWSPortland
I'll see if I can locate some spiffier graphics reporting records from Wednesday tomorrow.
Good night.
The Climate Guy
Wednesday June 2nd…
Dear diary. The western heat wave should be in full swing today. The following are items I've come across detailing this 5th heat wave of the season for the U.S.:
The first is from the NWS Sacramento:
Ryan Maue is expecting a near all-time record high in Medford, OR later this afternoon. I'll be confirming this event:
Dangerous heat will remain in the West through this weekend, but at least it would appear that this heat wave will be peaking today at most locations.
Here is so more detailed analysis on Salt Lake City's historic hottest month in recorded history: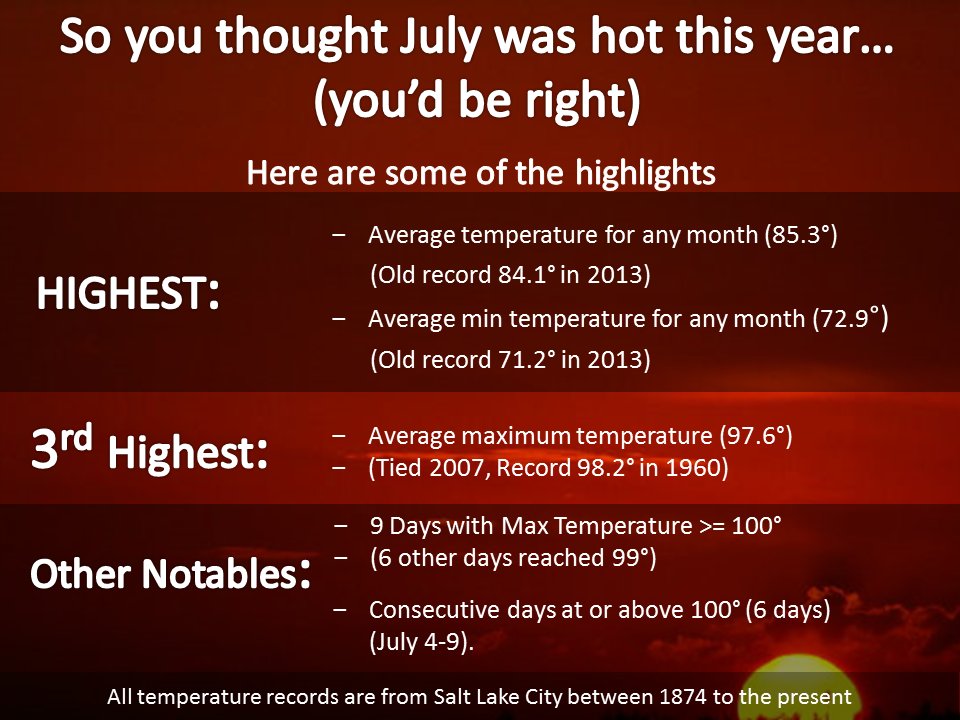 At the nation's heat capital, Death Valley CA, they had their hottest month ever (and that's saying something)! Their average temperature was 107.4F in July breaking the old record of 107.2F set a hundred years ago in 1917.
What about tomorrow? Here is my usual model chart:
Seattle may peak out at only 96F while Portland tops out at a stifling 106F. A near record cool air mass will make more inroads across the upper Midwest.
Yes when there is this much heat fires erupt…. then we see this much smoke from space (Image from NWS Seattle):
I'll be posting more information and tidbits as it comes across my radar in time today.
The Climate Guy
Tuesday Evening Updates…
Dear diary… On the NBC Evening News tonight I heard another appalling story about kid hot car deaths… 11 just in the last week alone in July. Please read this piece from CNN informing all that hot car deaths are in the rise, particularly during heat waves:
http://www.cnn.com/2017/08/01/health/hot-car-deaths/index.html
Do not leave children or pets alone in a car with rolled up windows for ANY length of time during the heat of the day. Another hot weather threat is heat stroke. Here is a good reminder of what to do if you personally need to deal with someone during a heat stroke emergency (from NWS Sacramento):
Most people are gearing up for a dangerous heat wave in Washington,  Oregon, and north and central California. The worst of the heat should be on Wednesday and Thursday. Here is the current map of warnings and advisories: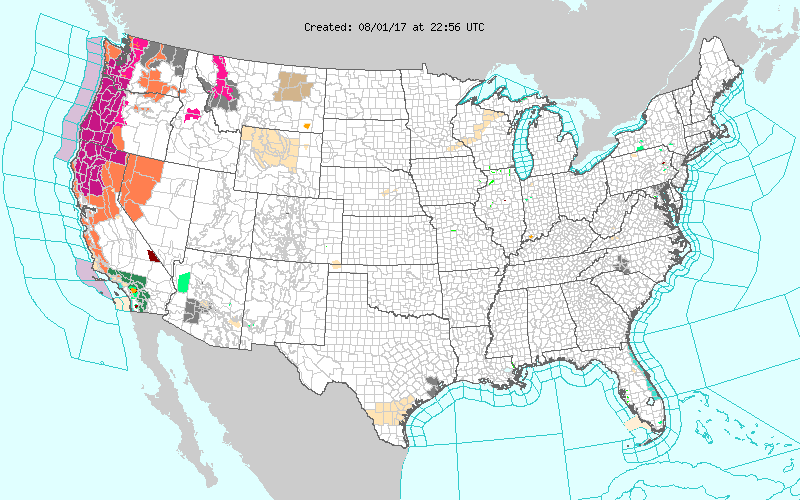 Grey colors are for air quality alerts…purple… excessive heat warnings, and orange heat advisories.
And now to the cool news. A recent front has moved all the way south to the Gulf Coast. In its wake a rare dry and cool air mass has been responsible for some daily record lows. According to MDA Weather Services the following major cities tied their daily record low for August 1st: Macon GA 60, Tallahassee FL 64, Savannah GA 66, Jacksonville FL 68.
I can't remember a more delightful late July weekend, weather wise, than what we just experienced in Atlanta… low humidity, cobalt blue sky all day Saturday and Sunday, and highs only in the mid 80's.
Well this is a change! It's been several years since I've seen an outlook map with this much blue across the CONUS on it: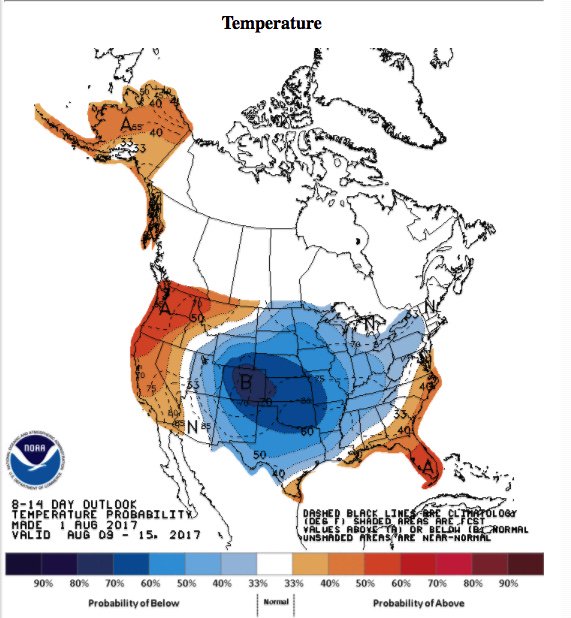 Could that streak of 32 consecutive months (counting July 2017) of more DRMAX than DRLMN in the United States be broken during August? Stay tuned.
Ah! Talking about baked Alaska. Take a load of what climate change is doing to northern and central Alaska during July (Image from @NWS Alaska):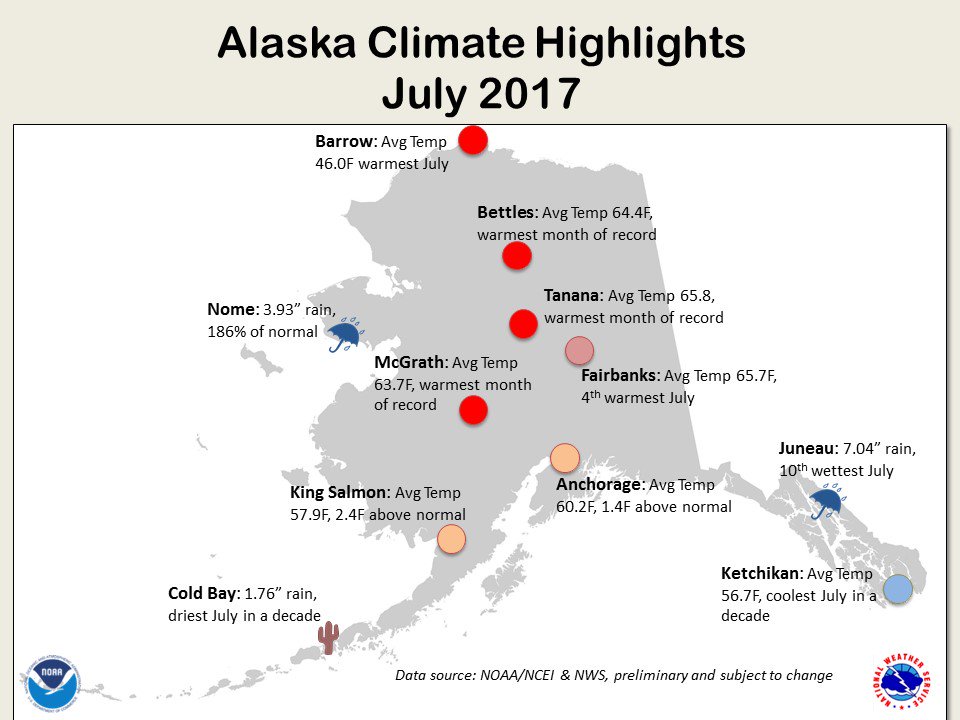 Here are Tuesday's maxes:
Dangerous heat was definitely building from California northward to Washington. Interior portions of the West also warmed from Monday's values. Most of the Plains and East continued to experience relatively mild temperatures.
One last update for tonight via Rob Elvington. Yep, heat wave #5 is starting to produce records. E-gads! 100F at Mount Shasta:
The Climate Guy
August 1st, 2017…
Dear diary. Welcome to August! This month will start out with extreme warmth in the West and some near record cool conditions in the Midwest. Before we take a look at the latest early August model trends, lets look at more July stats.
MDA Weather Services has come up with this good summary of what happened in some of the hotter locations across the country:
Wow it has been hot in the West! One example is Sacramento CA (Image from NWS Sacramento):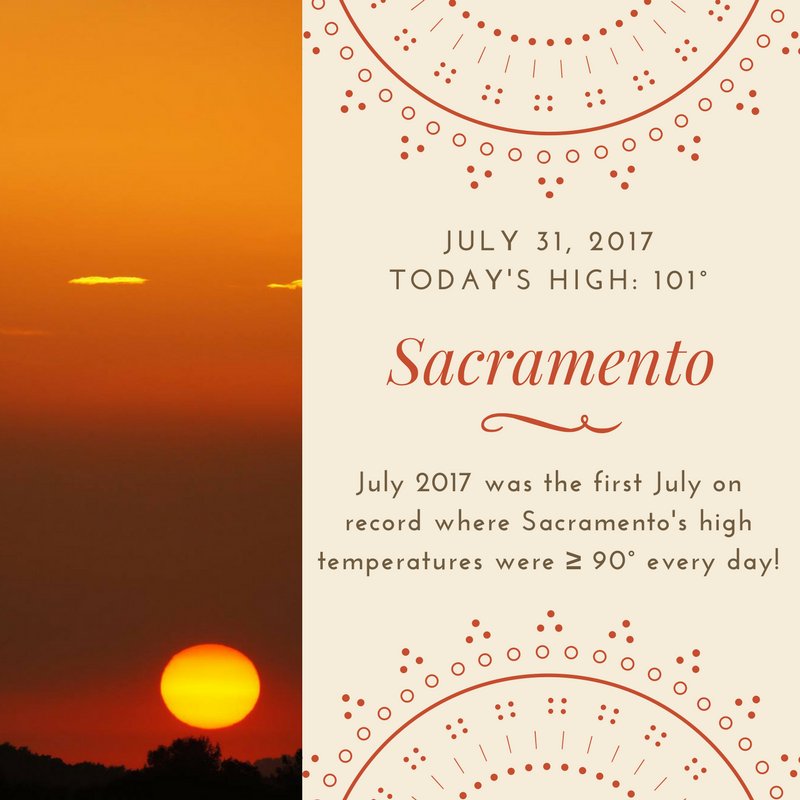 Boise ID had its second warmest month on record (Image from NWS Boise):
There is some slight good news in association with our western heat dome. It appears that it won't be as intense as thought a couple of days ago in Washington, so Seattle may not top out at 100F. We will see. A strong system will bring very cool air for this time of year to the Midwest. This operational model depicts what will be happening by Friday:
By the weekend temperatures will continue to be above average in west coastal states, but below such that many records will be set.
Here are the model forecast temps for Wednesday:
107F at Portland OR? That's gotta' hurt. East of the Rockies the nation will be off the hook for extreme heat. The first signs of "early fall" will be moving into the Dakotas.
I'll be adding to this post with updates later today.
To see all 2017 Heat Diary entries click:
https://guyonclimate.com/category/heatdiary2017/
The Climate Guy