Tuesday April 24th… Dear Diary. The main purpose of this ongoing post will be to track United States extreme or record temperatures related to climate change. Any reports I see of ETs will be listed below the main topic of the day. I'll refer to extreme or record temperatures as ETs (not extraterrestrials)😊. Here is today's main climate change related topic:
Plastic Woes
For Earth Day 2018 the emphasis beyond climate change was the awful problem of plastic pollution. Both threats are very much intertwined. This year we have seen awful images of plastics swirling in pools in the Pacific Ocean. Many sea creatures can't cope with the stuff, such as dolphins that have tried to ingest the foreign substance. Plastics are a modern petroleum based convenience, but like so many engineered items, most are harmful to the environment. In the case of plastics, though, like chlorofluorocarbons, which were banned by the Montreal Protocol, there are many material alternatives, which the world should embrace. Here are some of the objectives on plastics as stated by the Earth Day site:
https://www.earthday.org/earthday/
From poisoning and injuring marine life to the ubiquitous presence of plastics in our food to disrupting human hormones and causing major life-threatening diseases and early puberty, the exponential growth of plastics is threatening our planet's survival. EDN has built a multi-year campaign to End Plastic Pollution.  Our goals include ending single-use plastics, promoting alternatives to fossil fuel-based materials, promoting 100 percent recycling of plastics, corporate and government accountability and changing human behavior concerning plastics.
EDN's End Plastic Pollution campaign includes four major components:
Leading a grassroots movement to support the adoption of a global framework to regulate plastic pollution;
Educating, mobilizing and activating citizens across the globe to demand that governments and corporations control and clean up plastic pollution;
Educating people worldwide to take personal responsibility for plastic pollution by choosing to reduce, refuse, reuse, recycle and remove plastics and
Promoting local government regulatory and other efforts to tackle plastic pollution.
As stated on some past posts making plastics out of petroleum only increases demand for that fossil fuel, which needs to be left in the ground. Using alternatives to plastic will only aid humanity to be weaned off oil. This site is one of many selling containers, such as those for fast food, made out of alternative biodegradable material. Are you an entrepreneurial looking to provide food for customers while advertising to be environmentally friendly? This site is for you: https://www.webstaurantstore.com/795/eco-friendly-biodegradable-compostable-paper-take-out-containers.html
Again, education, innovation, and regulation are the three key facets to solving the plastics problem and more broadly the climate problem.  From now on this is my little slogan acronym, EIR. I'll be extremely disappointed if the last plastic straw is the straw that breaks the climate change back. Let's see if there will be improvement on the plastic EIR issue in the next few years. 
……………………………………………………………………………………………………………….
In other news today:
Change in land ice mass measured by GRACE satellite (now updated through mid-2017). Looking forward to GRACE-FO & more incredible data!

Data and methods can be found from @NASAClimate at https://t.co/8X9AWJnrVG. My graphic can be downloaded at https://t.co/mfchqLWogB. pic.twitter.com/vXIyEJBKKm

— Zack Labe (@ZLabe) April 24, 2018
I do have an "ET" alert today from the Pacific Northwest:
Radiant Solutions | Weather Desk‏ @Radiant_Weather
Our current forecast highs in the low 80s today and mid 80s tomorrow would be new daily records for Portland OR as strong ridging peaks overhead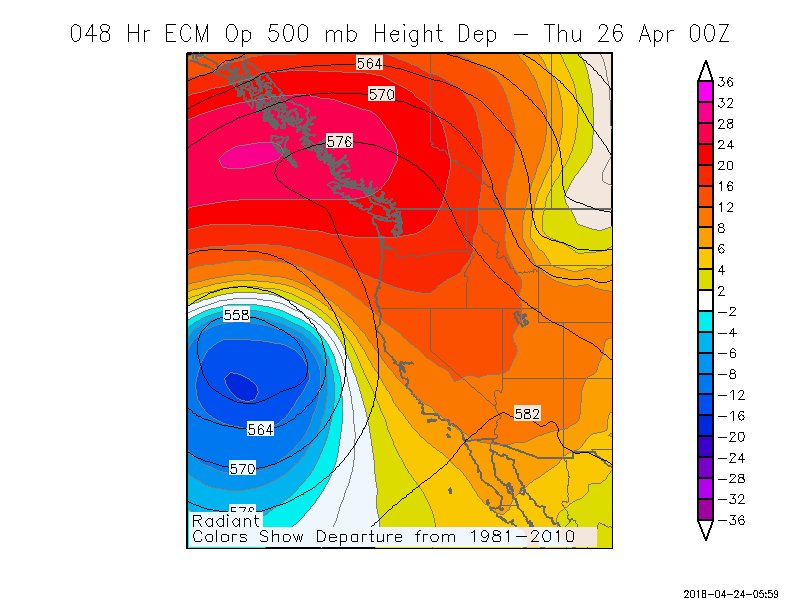 Yesterday's high of 80° in Portland was a daily record, 77° in Seattle was a record at SeaTac but not in the longer-term threaded Seattle dataset
(If you like these posts and my work please contribute via the PayPal widget, which has recently been added to this site. Thanks in advance for any support.)
The Climate Guy