Monday February 17th… Dear Diary. The main purpose of this ongoing post will be to track United States extreme or record temperatures related to climate change. Any reports I see of ETs will be listed below the main topic of the day. I'll refer to extreme or record temperatures as ETs (not extraterrestrials)😉
Main Topic: United States Continues To See Record Flooding From Winter Warmth
Dear Diary. It is becoming much easier to link horrific weather with climate change. I don't know whether this is good or bad. On the one hand, this means that climate change is occurring so fast that the obvious is occurring such that climate scientists and experts don't need as much effort to convince all that the world has a serious problem that needs fixing. Or on the other hand, changes are happening so fast and the consequences of that change are so horrific that the world won't have time to adapt.
Today's subject is another relatively easy logical case for the argument that the climate crisis is here, now. As I keep stating, all things are an end result of a set of prior actions occurring, like dominoes falling. Recent flooding in the lower Mississippi Valley can be linked to A) The U.S. having its warmest winter on record thus far B) The storm track being stuck over the same area for months, which is a function of the weakening polar vortex due to climate change, and C) A warmer atmosphere retaining more moisture, which can be released in the form of flooding rain.
What has culminated this season is a set of factors that has targeted Jackson, Mississippi. Here is a recent article on the flooding:
https://www.msn.com/en-us/news/weather/mississippi-governor-declares-state-of-emergency-as-flooding-threatens-thousands/ar-BB105Agm
Mississippi Gov. Tate Reeves declared a state of emergency Saturday as the Pearl River approaches major flood stage.
© Provided by WAPT Jackson Flooding Saturday
Forecasters said the Pearl River at Jackson is currently 36.65 feet and rising. The river was approaching major flood stage Saturday. It is now forecast to crest in Jackson lower than predicted at 37.5 feet Monday.
"This is going to affect a lot of people. It is certainly something you should not take for granted," said Mississippi Emergency Management Agency director Greg Michel. "Do not wait until the water gets in your house to evacuate. Do not wait until water envelopes your home or blocks a road so that you cannot get out."
Entergy officials said power will be cut off to some areas in the flood zone.
"If you have been told by authorities to evacuate due to potential flooding, please do so," said Mara Hartmann, Entergy spokeswoman. "If you choose to stay, understand that Entergy may need to cut your electrical service and you will be without power until the waters recede. Even if your home has not been flooded, if you are on a street where other homes are flooded, you may lose power as well."
© Provided by WAPT Jackson Flood graphic
An estimated 2,417 structures could be affected by flooding, according to MEMA. That includes 1,925 in Hinds County, 461 in Rankin County and 31 in Madison County. Tap here for the latest info from MEMA.
"I cannot stress to you how important the next 24 to 48 hours is for the people who are going to be affected," Gov. Tate Reeves said. "Today's projections are showing the potential of this being the third worst flood in our history, therefore, today, I did declare a state of emergency."
The Ross Barnett Reservoir is approaching capacity, which led officials to begin slowly releasing water Saturday evening.
Who will be affected by flooding?
Mandatory flood evacuations have been issued in areas of Jackson and in a neighborhood in Ridgeland. Rankin County officials are urging residents who live near the river and creeks to watch the forecast closely and prepare to evacuate.
The Mississippi National Guard will deployed as needed, Reeves said.
Sandbags are available at several locations around the metro and shelters are open in Jackson, Yazoo City and Starkville.
Some roads have been closed because of flooding and others are at risk of high water, authorities said.
READ THE FULL STORY:Mississippi governor declares state of emergency as flooding threatens thousands
Here we see accumulated rainfall from the first half of February from the Weather Prediction Center:
Accumulations of more than 10″ are draining into the Mississippi Delta area, just adding to the soggy misery.
In truth we are seeing similar effects from last winter across the Southeast. Note that this year is drier across the Upper Midwest, though:
A jet stream in association with a colder world would have allowed colder air masses to clear the Gulf Coast on a regular basis the last couple of years, leading to less precipitation.
For January here were precipitation rankings for the lower 48 states since 1895: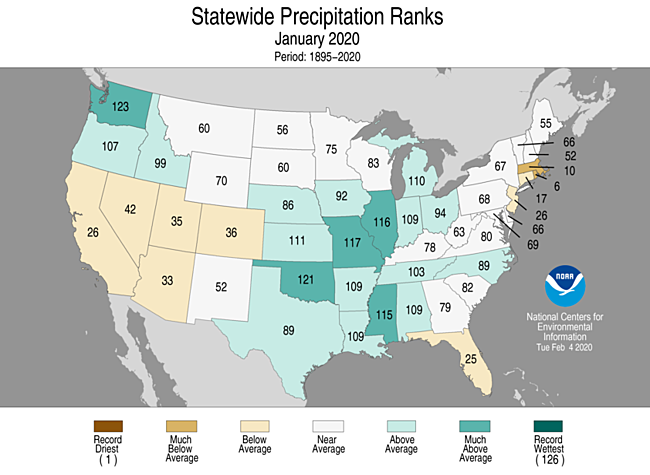 A near record wet January along the states bordering the Mississippi River has led to historic flooding in the Lower Mississippi Valley.
There won't be much rest for the weary as systems bringing anywhere from 1-3″ of more rainfall, and possibly more, will continue to pummel the area:
I'll add more notes on this flooding the next few days.
Speaking of flooding elsewhere on the planet due to a warm weather pattern:
Please consider donating through the Paypal widget on this site. I need everyone's support to continue my work, especially that of processing NCEI record count data for scientific research.
Here is some more weather and climate news from Monday:
(As usual, this will be a fluid post in which more information gets added during the day as it crosses my radar, crediting all who have put it on-line. Items will be archived on this site for posterity.)
Here are some "ET's" from Europe and Russia recorded over the last two days:
(If you like these posts and my work please contribute via the PayPal widget, which has recently been added to this site. Thanks in advance for any support.)
Guy Walton "The Climate Guy"