Wednesday May 27th… Dear Diary. The main purpose of this ongoing blog will be to track United States extreme or record temperatures related to climate change. Any reports I see of ETs will be listed below the main topic of the day. I'll refer to extreme or record temperatures as ETs (not extraterrestrials).😉
Main Topic: Heat Wave and Tropical Possibilities For The United States Going Into June
Dear Diary: At the moment in late May we have a heat wave going on in California and oddly enough one producing near record warmth going on in southeast Canada and northern sections of the U.S. Northeast.
This morning we also saw the advent of Bertha, which made landfall near Charleston South Carolina as a 50 mph tropical storm that has been downgraded:
A well advertised omega block has formed in the western U.S. with California being centered under a very warm ridge as indicated in a post I wrote a few days ago:
Here is the 500 millibar pattern that verified this morning:
Fortunately the omega block will break down sooner than forecast because a "kicker," which is a system moving through western Canada, as noted by the blue colors, will boot the upper low eastward out of Texas. I heard the term kicker used for various systems as meteorological slang for many years during my career at the Weather Channel.
Also note the dark red ridge located in the Northeast from this morning. This bizarre weather pattern has led to this type of temperature regime as I noted yesterday:
The western Canadian kicker should aid to break down both our heat wave in the West and across the Northeast by this weekend. So what's next in this new age of global warming in which we are seeing life threatening heat well before June 1st and tropical storms in May before the official start of hurricane season in the Atlantic Basin?
All models indicate that a fairly strong ridge will develop across the central U.S. and Southeast during the early part of June, which will probably persist into mid June:
By the first week of June there will be good news for the West since a cool system will have moved in from the Pacific bringing relief. Our upper low parked over Texas will have been replaced by a warm ridge. Warmer than average temperatures will occur in the Plains, but the Southeast may be slow to warm to levels significantly higher than 90°F due to high pressure moving southward from Canada:
As noted, we have already seen a second May tropical storm in Bertha. What worries me is that Gulf and Caribbean waters are a powder keg, containing above average temperature waters by May standards: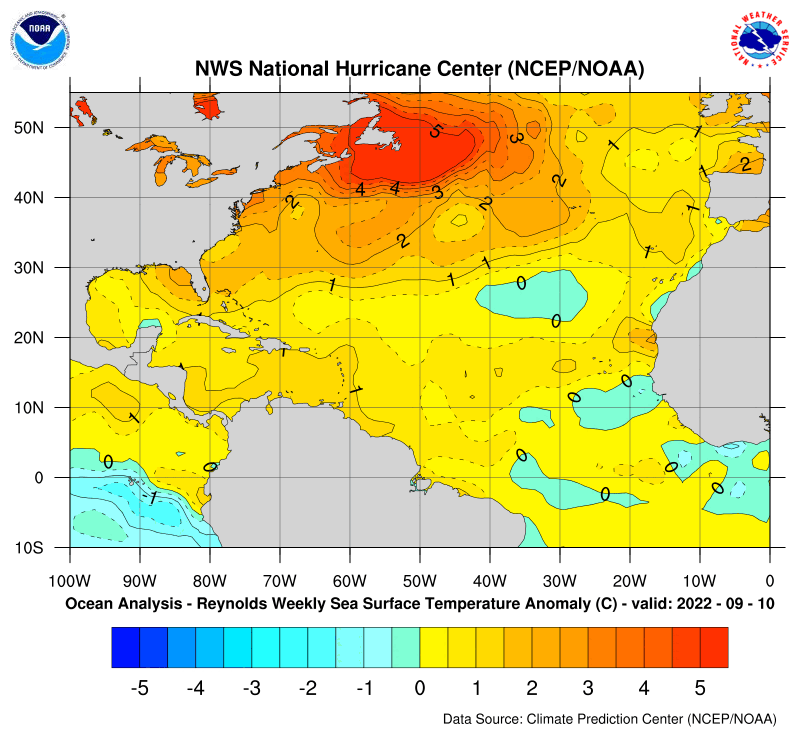 So far, every potential tropical system in Atlantic waters has developed, which is a big troubling sign. Note the light blue area located around the Yucatan Peninsula on the last Pivotal forecast 500 millibar chart. Models have consistently forecast a tropical storm developing from this disturbance by mid June south of our strong ridge in the United States.
As I keep writing, any model beyond 240 hours out in time is pure garbage since state of the art met models are full of compounded errors that far out, but sometimes they are disturbing if not a little fun to look at. I seriously doubt that we will see a major hurricane bearing down on New Orleans, but this nightmarish scenario is an extremely slight possibility given potential heat that has built up in the Gulf and the forecast of continued low wind shear:
What I can write on today's post to conclude is that odd and hot times will continue for most of us as forecasters going into June. Stay tuned to my Extreme Temperature Diary for frequent updates on hot and perhaps stormy, tropical weather ahead of us for the summer.
Here is more climate and weather news from Wednesday:
(As usual, this will be a fluid post in which more information gets added during the day as it crosses my radar, crediting all who have put it on-line. Items will be archived on this site for posterity. In most instances click on the pictures of each tweet to see each article. The most noteworthy items will be listed first.)
Here are some national as well as overseas "ET's" from Wednesday:
Now here are some of today's articles and notes on the horrid COVID-19 pandemic:
(As usual, the most noteworthy items will be listed first.)
(If you like these posts and my work please contribute via the PayPal widget, which has recently been added to this site. Thanks in advance for any support.)
Guy Walton "The Climate Guy"