The main purpose of this ongoing blog will be to track planetary extreme or record temperatures related to climate change. Any reports I see of ETs will be listed below the main topic of the day. I'll refer to extreme or record temperatures as ETs (not extraterrestrials).😉
Main Main Topic: It's Typical Fire Season In California But Now Dreadful Due To Climate Change: It's Typical Fire Season In California But Now Dreadful Due To Clinate Change
Dear Diary. It's now mid fall, which is typically when California and much of the West has to contend with wildfires. Climatologically during October and November after the moist monsoon season relative humidity values drop and prevailing winds become offshore from time to time across California, leading to fire weather. Climate change, however, is leading to long term drought across the West, exacerbating fire weather and its potential for catastrophic destruction.
Strong, snowy weather systems moving through the Rockies during the fall typically can lead to very dry weather across California with low humidity and strong winds. This week we will see some critical fire weather because of our first Rockies major snow event:
California has a leftover fire from the summer the size of Rhode Island which firefighters are still battling. Here is a just published article from the New York Times indicating how climate change has affected fire weather in the West thus century:
Good morning. We take you inside the battle to defeat a wildfire the size of Rhode Island.
The Dixie fire.Noah Berger/Associated Press
Wildfires have always been a normal part of life in the American West. During a typical year in the late 20th century, fires burned about 500,000 acres a year in California — an area equal to roughly half the size of Rhode Island.
Over the past decade or so, the number of fires has held fairly steady. But their intensity has changed. The ground is drier, because climate change has reduced the amount of snow that comes down from California's mountains and because droughts are more common. "Everything is burning more intensely," Robert Foxworthy, a former firefighter who is now a spokesman for the state's Department of Forestry and Fire Protection, told us.
The situation is not so different from what climate change seems to have done to hurricanes in the Atlantic Ocean: They are not necessarily more frequent, but they are more intense.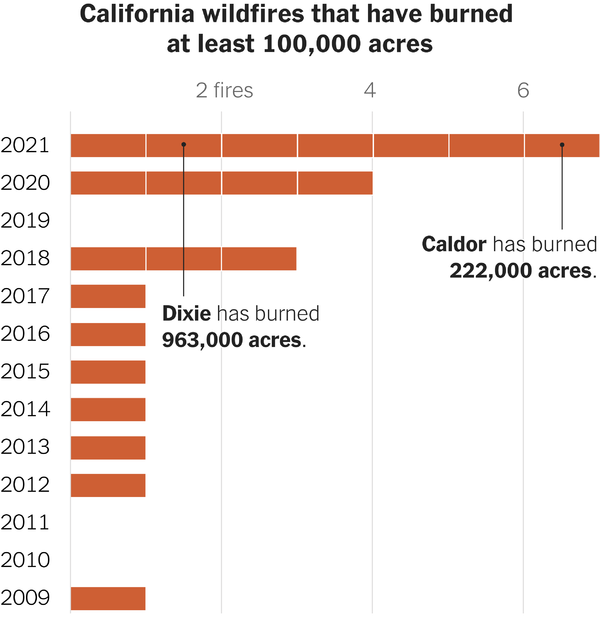 Count for 2021 is year-to-date.Source: California Department of Forestry and Fire Protection
For California and the other parts of the West, wildfires have become ferociously destructive. The average number of acres burned in the state exceeded one million from 2015 to 2019, meaning that fires annually burned an area greater than the size of Rhode Island. Last year, more than four million acres (which is larger than Connecticut) burned in California, and this year the number is around 2.5 million so far.
Together, the past two years of California wildfires have burned an area larger than the total acreage of New Jersey or Vermont. "The fire situation in California is unrecognizably worse than it was a decade ago," Michael Wara, a Stanford University scientist, has told The Times.

Data for 2020 and 2021 are estimates. Source: California Department of Forestry and Fire Protection
The largest fire this year has been the Dixie fire, which began on July 13, about 100 miles northwest of Lake Tahoe. The fire may have been caused by a tree that fell on a power line, sparking a brush fire that quickly spread. It eventually grew to encompass more than 960,000 acres.
The effort has involved more than 6,500 people, using hundreds of aircraft, trucks and bulldozers. The command center alone, which took over a county fairgrounds, came to resemble a makeshift town.

The command center at the Lassen County Fairgrounds. Brent McDonald/The New York Times
As our colleagues write: "Each morning at 7 a.m., hundreds of firefighters, bulldozer operators and pilots gathered under a poplar grove for a daily briefing. Some crew members wore sweatshirts bearing the names of past big fires like badges of honor: Creek fire, Camp fire, Lightning Complex. Dixie already had one, too."
Dixie is now largely under control. But many of the firefighters and other workers who defeated it feel like they are losing the larger war.
"Fifteen years ago, a 100,000-acre fire would be the largest fire of your career. Now, we have one-million-acre fires," said Kristen Allison, who has been a firefighter for the past 25 years. "Meanwhile, there are five other 100,000-acre fires burning right now in Northern California."
Here are some "ET's" that have recently been reported and some potential records for later this week:
Here is more September 2021 climatology:
Here is more climate and weather news from Monday:
(As usual, this will be a fluid post in which more information gets added during the day as it crosses my radar, crediting all who have put it on-line. Items will be archived on this site for posterity. In most instances click on the pictures of each tweet to see each article. The most noteworthy items will be listed first.)
Now here are some of today's articles and notes on the horrid COVID-19 pandemic:
(If you like these posts and my work please contribute via the PayPal widget, which has recently been added to this site. Thanks in advance for any support.)
Guy Walton "The Climate Guy"