The main purpose of this ongoing blog will be to track planetary extreme, or record temperatures related to climate change. Any reports I see of recently reported ETs will be listed below the main topic of the day. I'll refer to extreme or record temperatures as ETs (not extraterrestrials).😉
Main Topic: More Efforts to Protect the Great Barrier Reef
Dear Diary. It's been a while since I Iast highlighted the great peril coral reefs are from bleaching due to warming seas, which are also becoming more acidic with time due to increasing uptake of atmospheric carbon dioxide.
Coral reefs are like the ocean's forests, containing vast tracks of biodiverse ocean life. Lose these and the ocean food chain affecting us may collapse. Alas, most of these will die as we approach and move past +1.5°C above preindustrial conditions. We should see much more bleaching to the Great Barrier Reef off the coast of Australia once we see another El Niño ocean pattern in the next year or two:
Nevertheless, recently there have been more efforts to protect the Great Barrier Reef. Here are more details from Common Dreams:
Great Barrier Reef Belongs on World Heritage 'In Danger' List: UNESCO (commondreams.org)

lan Wallish inspects a coral head along the Great Barrier Reef on August 10, 2022 on Hastings Reef, Australia. (Photo: Michael Robinson Chavez/The Washington Post via Getty Images)
Great Barrier Reef Belongs on World Heritage 'In Danger' List: UNESCO
"The path to saving the Great Barrier Reef is narrow, but it exists," said one observer. "Strong and rapid action can produce results."
KENNY STANCIL November 28, 2022
Because Australia's efforts to protect the Great Barrier Reef from damages wrought by the fossil fuel-driven climate crisis, pollution, and overfishing are falling short, the planet's largest coral reef system should be placed on a list of World Heritage sites considered "in danger," a pair of experts said Monday.
"Despite the unparalleled science and management efforts" made by Australia in recent years, the Great Barrier Reef is "significantly impacted by climate change factors," Eleanor Carter of the International Union for Conservation of Nature (IUCN) and Hans Thulstrup of the United Nations Educational, Scientific, and Cultural Organization (UNESCO) wrote in a report.
The much-anticipated report, based on a 10-day mission to the reef in March, warned that the climate emergency presents a "serious challenge" to the health of the biodiverse ecosystem, which was deemed a global wonder in 1981.
"The resilience of the property to recover from climate change impacts is substantially compromised, in particular—but not exclusively—due to degraded water quality," said the report. Soaring greenhouse gas emissions are causing oceans to heat up at an unprecedented rate, with disastrous consequences for marine life, and must be curbed immediately.
In addition, Carter and Thulstrup warned that not enough is being done to prevent agricultural runoff from polluting the reef's waters. The IUCN and UNESCO representatives advocated for greater investment to improve water quality and recommended adding the reef to the "World Heritage in danger" list.
According to The Guardian, "The report's recommendation the reef be placed on a list of World Heritage sites 'in danger' will be taken into account alongside responses from the Queensland and federal governments before UNESCO makes a formal recommendation to the World Heritage Committee before its next meeting."
As Agence France-Presse reported:
To be included on UNESCO's World Heritage list, a site must have "outstanding universal value." A spot on the list usually means boosted tourism, and improved access to funds and to scientific expertise.

Those benefits are threatened when a site is declared "in danger"—which is currently the case of about 50 sites worldwide. Only three sites have ever been dropped from the heritage list completely.
A UNESCO spokesperson told AFP that "a constructive dialogue is ongoing with the current government," which is led by Prime Minister Anthony Albanese of the Australian Labor Party.
Another unnamed source familiar with the matter described the report as "a roadmap submitted to the Australian government which should say what it intends to do with it and produce results."
"The path to saving the Great Barrier Reef is narrow, but it exists," the source added. "Strong and rapid action can produce results."
The U.N.-backed reef mission was requested by Australia's ex-environment minister Sussan Ley after former Prime Minister Scott Morrison's right-wing government and its pro-fossil fuel allies, including Saudi Arabia, successfully lobbied against categorizing the Great Barrier Reef as endangered in the summer of 2021.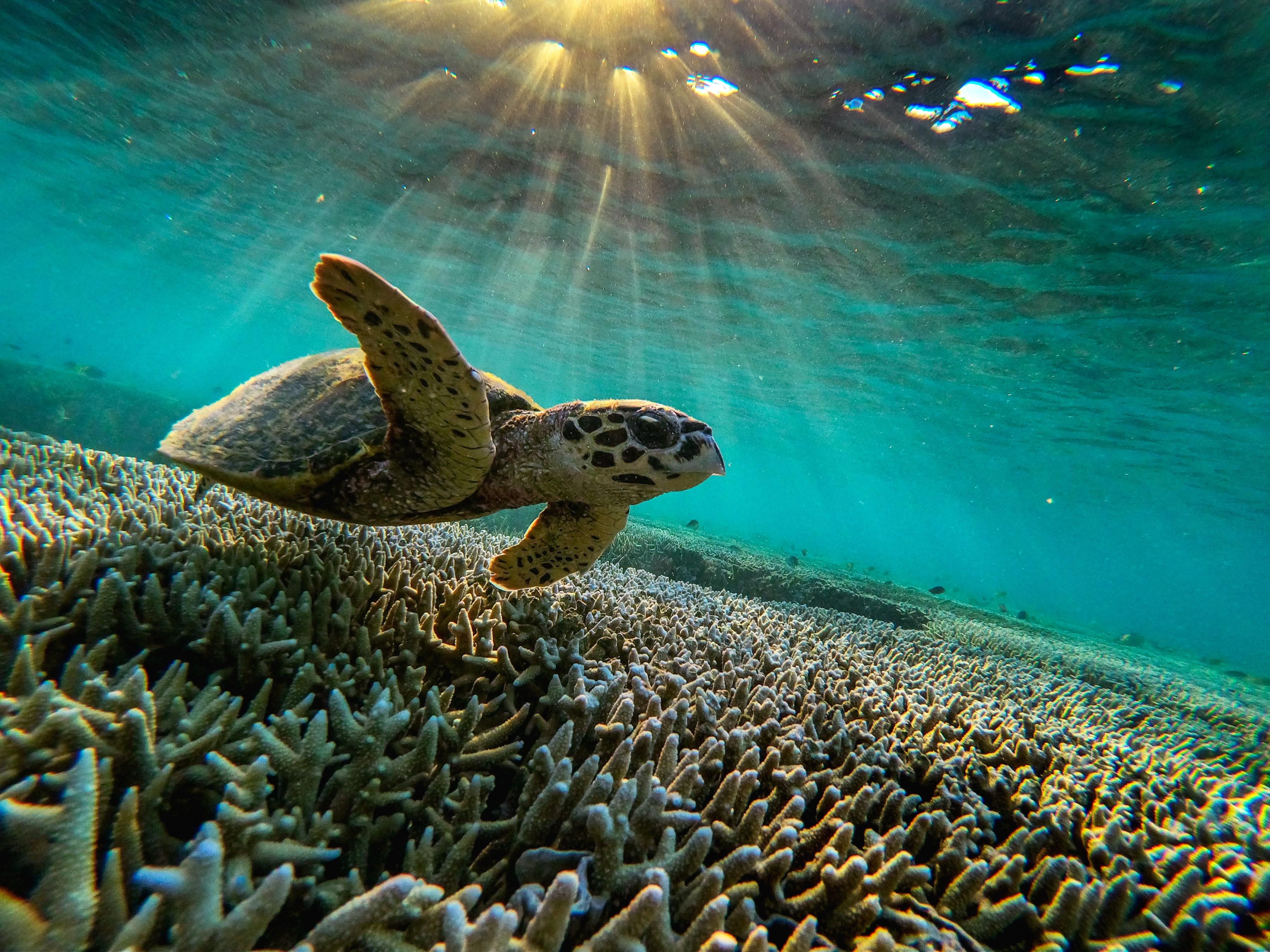 'A Day of Shame': Australia Lobbying Thwarts Push to List Great Barrier Reef as Endangered
IUCN's Carter and UNESCO's Thulstrup traveled to Queensland to meet with government officials, scientists, and other stakeholders in March, two months before Morrison was defeated by Albanese. Following a six-month delay stemming from Russia's invasion of Ukraine, their final report, published Monday in Paris, outlined 10 steps that they said should be pursued "with utmost urgency."
Australia's Reef 2050 plan must be strengthened before the end of this year to include "clear government commitments to reduce greenhouse emissions consistent with the efforts required to limit the global average temperature increase to 1.5°C above pre-industrial levels," the report noted.
According to The Guardian: "Since the mission, the Albanese government has legislated an improved national target to cut greenhouse gas emissions by 43% from 2005 levels by 2030 and to reach net-zero by 2050. Independent analysis has found Australia's new target is consistent with keeping warming to 2°C—above the 1.5°C goal seen as critical for the reef's long-term health."
Surging ocean temperatures—fueled by the burning of coal, oil, and gas—have caused widespread bleaching of corals in 1998, 2002, 2016, 2017, 2020, and 2022.
"The U.N.-backed mission coincided with the first mass bleaching on the reef to take place during a La Niña year which, in the past, has kept ocean temperatures cool enough to protect corals," The Guardian reported. "Scientists fear that without cooler conditions in the coming weeks, the reef could face bleaching again this summer."
Although Albanese's government announced a $1.2 billion package last month to fund water quality improvements and research to try to enhance the resilience of corals and reefs, the report said that progress remains too slow.
Among other things, Carter and Thulstrup asked the Queensland state government "to accelerate the rollout of its sustainable fisheries strategy and to phase out the use of gillnets in the marine park," The Guardian noted.
As the newspaper explained:
The mission report was originally scheduled for release by May 2022 in time for a meeting of the world heritage committee in Russia in July, where the reef was due to be debated again. But the meeting—to be chaired by Russia—was postponed following the invasion of Ukraine.

UNESCO will now prepare a new report on the state of the reef that will consider the findings of the mission and any responses from the state and federal governments. That report will make formal recommendations directly to the World Heritage Committee ahead of the rescheduled meeting likely to take place in the first half of next year.

Last week, Russia resigned as chair of the 21-member committee, with Saudi Arabia reportedly considering taking on the role of chair.
Should Australia implement all of the recommendations, it could "drastically improve" the country's ability to "ensure and advance" conservation of the Great Barrier Reef and to preserve the ecosystem's "outstanding universal value" for future generations, said Monday's report.
Our work is licensed under Creative Commons (CC BY-NC-ND 3.0). Feel free to republish and share widely.
Related Article:
Here are some "ET's" recorded from around the planet the last couple of days, their consequences, and some extreme temperature outlooks:
Here is more climate and weather news from Tuesday:
(As usual, this will be a fluid post in which more information gets added during the day as it crosses my radar, crediting all who have put it on-line. Items will be archived on this site for posterity. In most instances click on the pictures of each tweet to see each article. The most noteworthy items will be listed first.)
If you like these posts and my work please contribute via the PayPal widget, which has recently been added to this site. Thanks in advance for any support.)
Guy Walton… "The Climate Guy"