The main purpose of this ongoing blog will be to track planetary extreme, or record temperatures related to climate change. Any reports I see of ETs will be listed below the main topic of the day. I'll refer to extreme or record temperatures as ETs (not extraterrestrials).😉
Main Topic: Amazing Climate Change Influenced Weather Pattern in Store for U.S. This Week
Dear Diary. Last week I informed all that much of the U.S. South and East would be seeing record warmth, now probably some of the warmest temperatures ever witnessed during the month of February at many locations. Quoting climatologist Maximilliano Herrera:
"Nearly every single station in some states will smash their all-time monthly and many winter records close to 100% of the stations in some states."
Two of these states would be Florida and my home state of Georgia, which will definitely see shorts weather from Wednesday through Friday in association with an eye-popping heat dome for this time of the year: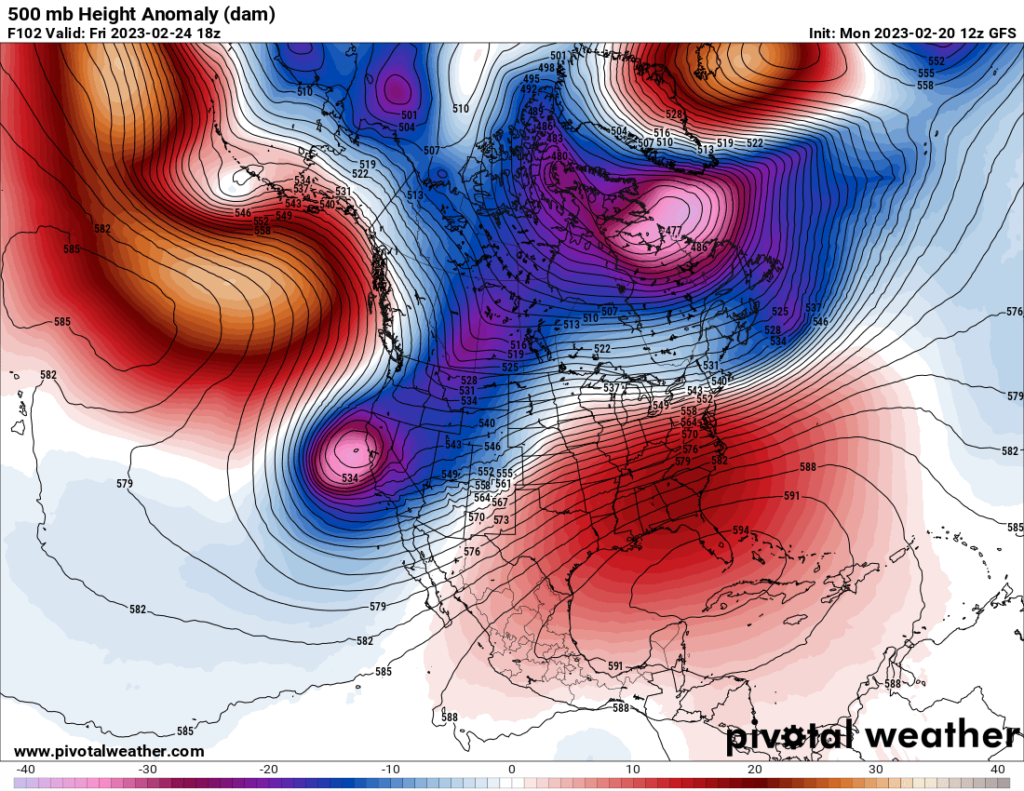 I've never seen a heat dome in February this strong centered across Florida at about 597 decameters, with heights as high as 588 decameters as far north as Atlanta. Of course, these are mid-July type heights. At the surface Max is correct. I too would expect thousands of daily record reports and at least a hundred monthly reports to get into the NCEI hopper from this event. It will be interesting to see how much above 80°F Atlanta gets in my neck of the woods:
Notice though that there is a corresponding blue zone of low 500 millibar heights over the West, which will stretch into the northern Plains. This is where winter will retain a firm grip with much desired drought busting snow falling on all mountain ranges there.
In fact, dozens of record low temperatures should be set in the West as that offshore area of low 500 millibar heights centered near northern California on the above Pivotal chart presses inland. This would be Winter Storm and Cold Wave Olive as described by the Weather Channel. I would describe this cold weather as a major CAT3 cold wave given my criteria here:
Extreme Temperature Diary- Monday November 30th, 2020/ Main Topic: A Saffir-Simpson Type Scale For Cold Waves – Guy On Climate
In between areas of record heat and chill will be a zone of volatile weather. I always fear warm temperatures over the South during winter because severe storms are usually a consequence as systems moving out of the Rockies interact with added potential energy. Indeed, we should see a bout of severe storms over the nation's mid-section late this week. All of this is brought to us by a climate changed influenced jet stream pattern as depicted on the Pivotal Weather chart presented on this blog.
My buddy, Matthew Cappucchi goes into detail concerning this very active weather pattern writing for the Washibgton Post:
Extreme jet stream to unleash wild weather across Lower 48 – The Washington Post
Wild week of extreme weather ahead in the Lower 48: 5 things to know
Record temperatures — both high and low — significant ice and exceptional snow are likely
February 20, 2023
Air temperature anomalies on Thursday as predicted by the National Weather Service. (WeatherBell)
A meteorological battleground is about to set up over the contiguous United States, with a dynamic jet stream pattern allowing the seasons to wage war with dramatic — and at times disruptive — results. Record cold will become established across the West, with historically warm February weather in the Southeast and Mid-Atlantic, including temperatures in the 80s to near 90. In between, the air masses will clash — brewing serious trouble.
"A massive winter storm is expected to impact much of the U.S. this week with a variety of hazards," the National Weather Service writes.
Seventeen million Americans across the West are blanketed by winter weather alerts. They herald the approach of an incipient winter storm that could bring blizzard conditions and up to 18 inches of snow to the Twin Cities. The National Weather Service in Minneapolis wrote of a "high ceiling" for potential snowfall. Elsewhere, snow could even fall in the high hills above Los Angeles and San Francisco.
Hazardous winter weather including freezing rain could also strike parts of the Corn Belt, Michigan and interior New York state. More than half an inch of ice is likely in some locales, which will topple power lines and damage vegetation.
As if that weren't enough, a severe weather threat may materialize Wednesday in parts of the Mid-South, with the risk of a few tornadoes creeping into the forecast. As of Monday morning, the National Weather Service Storm Prediction Center had a level 1 out of 5 "marginal" risk of severe weather on their forecasts for Wednesday, but that may be upgraded.
Here are five things to know.
1. Serious snow accumulation from hills of California to interior New England
The National Weather Service's forecast for total snowfall through Thursday morning. (WeatherBell)
Much of the Mountain West is covered by alerts for snow and winter weather, as back-to-back episodes of snow are slated to deliver a double whammy of winter's worst.
The first of the pair, an appetizer system of light to moderate snowfall, will drop out of British Columbia late Monday, sweeping east from Montana through South Dakota and Minnesota on Tuesday. Some of the moisture will also slip south from the Pacific Northwest into California.
That's a prelude to a much more significant period of snow, which will accompany a pocket of frigid air aloft diving south over the western United States. By Tuesday morning, moderate snow will be falling in the Cascades and Columbia River Basin. Snow will then sneak into the Sierra Nevada, where 1 to 4 feet of accumulation is expected, as low pressure organizes near the Four Corners region.
By late Tuesday into Wednesday, that surface low — energized by a high-altitude bowling ball of cold air, low pressure and spin — will expand into a massive winter storm. Snow will fall from Minnesota to Maine, with a narrow swath of ice just to the south.
In Minneapolis, which is under a winter storm watch, there's potential for 12 to 18 inches of snow or more — the most in at least a dozen years. In addition, strong winds gusting up to 40 to 50 mph could produce blizzard conditions Wednesday night into Thursday night.
A second wave of storminess will also dive south from the Pacific Northwest into California between Wednesday and Friday. Some snow could fall in Seattle and Portland, and snow levels could drop as low as 1,500 feet even in Southern California.
Around San Francisco, higher elevations of the North Bay and East Bay could even see a dusting. It could be cold enough in Sacramento for snow to mix with rain early Thursday. In the high altitudes of the Sierra Nevada, at least 2 feet are probable.
2. Ice concerns growing from Iowa to New York
Signs are already pointing to a classic setup for freezing rain. It forms when mild temperatures a few thousand feet above the ground allow precipitation to fall as a liquid — which freezes onto a surface that's been chilled below 32 degrees. Freezing rain is especially perilous because it washes away highway pretreatment, making it difficult to combat.
The National Weather Service's forecast for icing through Thursday. (WeatherBell)
It appears that a zone of significant icing will set up in regions north of Interstate 80 in Iowa, along the Illinois-Wisconsin border including just north of Chicago, across southern Michigan and parts of New York and Pennsylvania. The time frame to watch would be from late Wednesday morning in western areas to midday Thursday in the interior Northeast.
Cities at greatest risk include Des Moines; Cedar Rapids, Iowa.; Iowa City; Ann Arbor, Mich.; Buffalo; and Syracuse, N.Y.
3. Record cold in the West
Forecast highs on Thursday in the West from the National Weather Service. Circled values are predicted to be record low highs for the date. (WeatherBell)
The jet stream is about to dive over the western United States, allowing Canadian air to spill south. The jet will then slice northeastward across the nation's heartland, allowing warmth to swell in the East and causing big departures from typical conditions.
By mid- to late week, the core of the greatest cold anomalies will exist from Montana and eastern Wyoming to the High Plains of the Dakotas and western Nebraska. That's where readings 40 degrees or colder than average are likely.
Thursday morning could set a record in Scottsbluff, Neb., at minus-15 degrees, beating out the minus-13 of 1993. In Rapid City, S.D., a minus-13 is expected, falling just shy of last year's minus-17 degree low. The high that day was 1 degree; this year is forecast to be closer to 3 degrees.
Bozeman, Mont., should shatter its record of minus-3 from last year, with a forecast morning low Thursday of minus-10.
In California, temperatures up to 10 to 20 degrees below normal will penetrate into the southern part of the state by the second half of the week, resulting in the low snow levels. In Los Angeles, Thursday's forecast high is only 53 degrees — near the record low of 51 degrees for a high temperature.
4. Record warmth in the Southeast and Mid-Atlantic
Forecast highs on Thursday from the National Weather Service. Boxed values are predicted record highs. (WeatherBell)
To the east of the jet stream, mildness will build across the Southeast, Eastern Seaboard and Ohio and Tennessee valleys. Highs could run 25 to 30 degrees above average.
Washington, D.C., could approach 80 degrees Thursday. That would be just two days later than the city's earliest 80-degree reading on record. It also would surpass the record for Feb. 23 of 78 degrees, set in 1874 — a staggering 149 years ago. Last year on Feb. 23, D.C. hit 77 degrees. The average high this time of year is closer to 50 degrees.
Nashville is forecast to hit 80 degrees Wednesday and 82 Thursday. Wednesday's reading would break the record of 74 degrees set in 1897, though Thursday's could fall short of the 83-degree high set in 1996.
In the Carolinas, a few highs in the upper 80s to near 90 degrees are likely; the same is true across the Deep South and Florida.
5. Severe thunderstorm risk in Mid-South
A swiftly moving dip in the jet stream with a pulse of strong winds aloft will swing across the Southern Plains on Tuesday, reaching East Texas by Wednesday. The pocket of spin, or vorticity, associated with it will enhance ascent, or upward motion. That will brew storms along the stalled cold front.
A change of wind speed or direction with height, known as wind shear, will encourage thunderstorms to rotate, assuming they grow sufficiently tall.
However, temperatures will not drop at higher elevations, which is a requirement to get pockets of surface air moving upward quickly. That could limit the intensity of thunderstorm updrafts, and therefore reduce their chance of being severe. The Storm Prediction Center has maintained a level 1 out of 5 marginal risk of severe weather in its outlooks for Wednesday.
Included in that area of risk are Dallas; Memphis; Little Rock; Shreveport, La.; and Greenville, Miss.
By Matthew Cappucci Matthew Cappucci is a meteorologist for Capital Weather Gang. He earned a B.A. in atmospheric sciences from Harvard University in 2019 and has contributed to The Washington Post since he was 18. He is an avid storm chaser and adventurer, and covers all types of weather, climate science, and astronomy. Twitter
Here are some "ET's" recorded from around the planet the last couple of days, their consequences, and some extreme temperature outlooks, as well as any extreme precipitation reports:
Here is more climate and weather news from Monday:
(As usual, this will be a fluid post in which more information gets added during the day as it crosses my radar, crediting all who have put it on-line. Items will be archived on this site for posterity. In most instances click on the pictures of each tweet to see each article. The most noteworthy items will be listed first.)
If you like these posts and my work please contribute via the PayPal widget, which has recently been added to this site. Thanks in advance for any support.)
Guy Walton… "The Climate Guy"