The main purpose of this ongoing blog will be to track planetary extreme, or record temperatures related to climate change. Any reports I see of ETs will be listed below the main topic of the day. I'll refer to extreme or record temperatures as ETs (not extraterrestrials).😉
Main Topic: The U.K. Suffers Through Epic Climate Changed Flooding
Dear Diary. Over the last week Europe has seen a lot of record heat except for the United Kingdom, which got pounded by a storm named Babet. All facets of weather that occurred across Europe last week had climate change signatures. Obviously, as I've been reporting in my "ET" section, many records from 2023 fall warmth across Europe have a climate change signature. What about severe British flooding? Indeed, since we know that a Warner atmosphere contains more moisture.
When a system like Babet coming in from the west interacts with a heat dome containing a record warm air mass, bad things will happen:
As the UK suffers from #StormBabet, a reminder that the wettest month ever in the UK is 120 years ago in October 1903.

But, we now live in a warmer world so if the weather patterns of October 1903 occurred again today then more rain would fall.

When it rains, it rains more. pic.twitter.com/Pt2X5cL9aV

— Ed Hawkins (@ed_hawkins) October 21, 2023
Massive floods after heavy rains in the Catcliffe of South Yorkshire, England 🇬🇧 (21.10.2023)

BY- Sheffield Online
TELEGRAM JOIN 👉 https://t.co/9cTkji5aZq pic.twitter.com/9rx1bk9sp5

— Disaster News (@Top_Disaster) October 21, 2023
Imagine you have bought one of these houses currently being built beside this raging torrent. There goes your insurance coverage. The floodplains are getting bigger by the year. https://t.co/9b5Xsmkp5Y

— Peter Dynes (@PGDynes) October 22, 2023
Here are more details on Storm Babet from the Guardian:
Storm Babet: second severe flood alert in Scotland after two people die | UK weather | The Guardian
Storm Babet: second severe flood alert in Scotland after two people die
Red 'danger to life' warning covers Angus and southern Aberdeenshire, as person confirmed killed by falling tree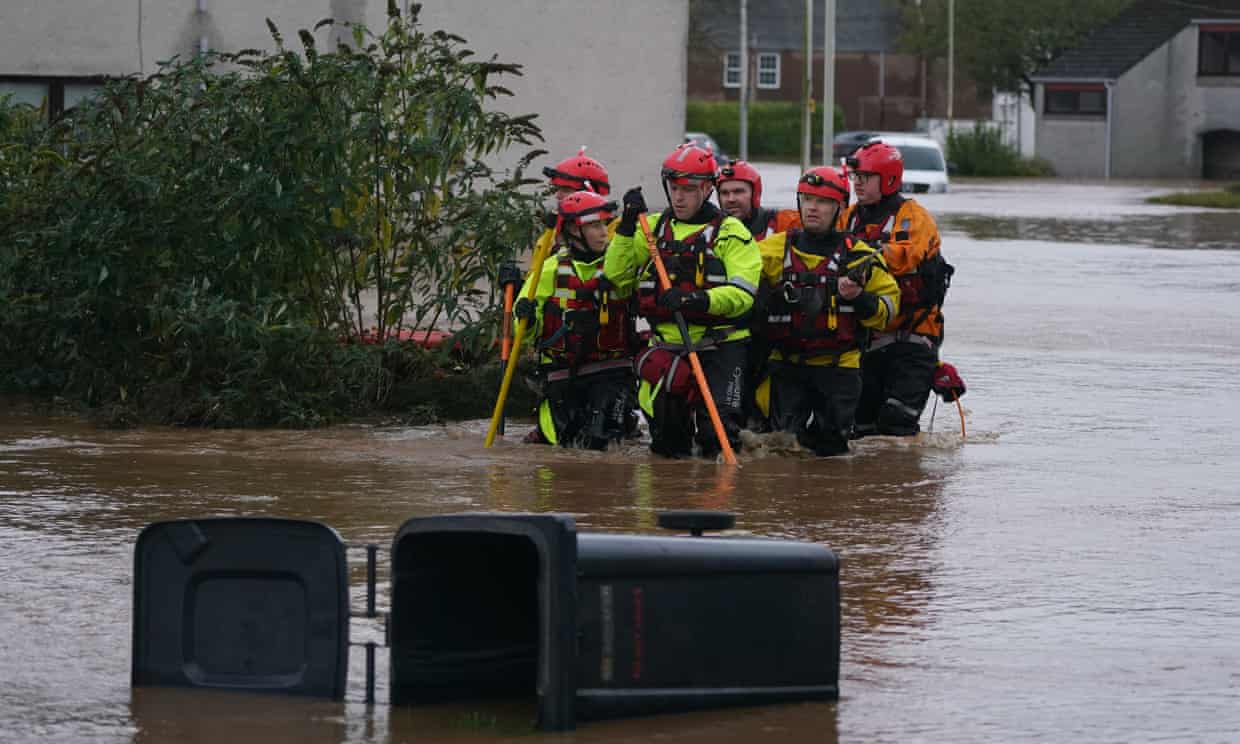 Storm Babet: second person dies as substantial flooding hits Scotland – video
Severin Carrell Scotland editor @severincarrell Fri 20 Oct 2023 07.42 EDT
The Met Office has issued a second "danger to life" red warning for rain covering the region in eastern Scotland, an area already suffering unprecedented flooding.
The weather agency said the very rare red warning of severe flooding and disruption covered Angus and southern Aberdeenshire and was in place for the whole of Saturday. It came as a second person was confirmed to have been killed after a falling tree hit a van near Forfar on Thursday evening.
More localised than the red warning in force for Friday morning, the second red warning centres on the town of Brechin, where hundreds of homes have been inundated by flood water, as well as the coastal town of Montrose.
Rescue services have had to extract residents by boat who had not evacuated after Thursday's order for about 350 homes in the town, after the river reached 4.4 metres and breached the town's flood barriers.
Meanwhile, in England, the Environment Agency issued further flood warnings covering 105 sites, largely clustered around Bristol, the Midlands and Yorkshire, with a string of warnings along the east coast stretching from the Tyne south to Ipswich. A further 177 flood alerts warning of possible flooding, covering rivers across western, central and northern England.
In Scotland, a fifth severe flood warning had earlier been issued for the east of the country as the emergency services grappled with substantial flooding from Storm Babet. The storm claimed its first fatality on Thursday when a 57-year-old woman was swept into the Water of Lee in Glen Esk, Angus.
A flood duty manager for the Scottish Environment Protection Agency, Pascal Lardet, said Thursday's rainfall had been "exceptional" and flooding incidents were likely to increase. "We are in a very challenging, serious and potentially dangerous situation," he told BBC Radio Scotland.
Storm watchers down on the sea front at North Berwick, Scotland Photograph: Murdo MacLeod/The Guardian
On Friday it emerged that the rescue services were searching for a man reportedly trapped in a vehicle caught in flood water near Marykirk in Aberdeenshire.
The five severe flood warnings are in the Angus and Aberdeenshire area covered by the rare red "danger to life" weather warning that lapsed at noon on Friday.
In Brechin, fire crews went door to door to rescue residents after flood barriers were breached. Hundreds of households had been told to evacuate on Thursday but some remained in their homes. Angus council said the flooding was the worst the town had experienced.
Jill Scott, a councillor for Brechin and Edzell, said that in some cases the flood currents were too strong for rescue boats to get to some houses.
"There will be hundreds of houses flooded," she said. "It unbelievable. It's devastating. I don't know what the council's going to do, to be honest – how many people they are going to have to rehome. People will have lost everything."
Major roads are closed by flooding, including sections of the A9 trunk road in the southern Highlands and the A90 at several places in Dundee and Aberdeenshire. The Tay Road Bridge, the Dornoch Bridge and Forth Road Bridge were closed to high-sided vehicles.
Train services have been suspended throughout the affected area, across Fife, Tayside, Perthshire and Aberdeenshire, with no trains running to Wick on the north coast either.
Ferry services in the inner Hebrides, to Shetland and within Orkney were also cancelled, as were regional air flights operated by Loganair.
The Met Office's weather warnings now cover nearly all of the UK's eastern seaboard, with yellow rain and wind warnings stretching up the east coast of England from Essex to Berwick and northwards into Scotland.
In eastern England, National Highways said the A15 Humber Bridge between North Lincolnshire and east Yorkshire had been closed to high-sided and vulnerable vehicles because of strong winds.
Flooding caused significant and widespread disruption to rail services in central England, with National Rail reporting that all lines through Swindon were blocked. In northern England there was also major disruption, with no trains running to Derby, Sheffield and Nottingham.
Other services around Walsall, Shrewsbury, Wolverhampton, Chester, Crewe and Hereford were affected, as were the A46 in Leicestershire and A52 in Derbyshire.
Yellow rain warnings cover much of Wales, the Midlands, East Anglia and northern England, with an amber rain warning covering the Midlands from Nottingham, northwards up the Pennines to the Scottish border.
All of Northern Ireland is under a yellow rain warning, and in Scotland amber and yellow rain and wind warnings are in place across the east coast, the Highlands and the northern islands of Orkney and Shetland.
Many of these warnings extend into Saturday. Lardet told Good Morning Scotland that the country was "just in the middle of the event" with worse yet to come as heavy rain continued to fall on saturated ground and already swollen rivers.
Stuart Houston, a Police Scotland assistant chief constable, told the same programme that the emergency services were facing "extremely challenging conditions" and urged people to follow all travel advice. In the worst affected areas, residents have been told not to travel.
"The red warning is still there and significant flooding issues do pose a threat to life," Houston said.
Here are some other "ET's" recorded from around the planet the last couple of days, their consequences, and some extreme temperature outlooks, as well as any extreme precipitation reports:
Big contrasts today in Europe:
New seasonal low with -23C Nattavaara in Sweden
Absurd heat in the East with 34C in Turkey and Cyprus and night minimums up to 25C in Greece

Anomalies are brutal near the Black Sea

33.3C Tiraspol MOLDOVA monthly record
30.8C Simferopol UKRAINE pic.twitter.com/gcF7v3Hgg7

— Extreme Temperatures Around The World (@extremetemps) October 22, 2023
HUNGARY also beat its national monthly record of highest minimum temperature in October
20.6C at Szeged yesterday, this is the first time Hungary has a Tmin >20c in October and happened on day 21st.
More evidences of the extreme heat event Eastern Europe in facing. https://t.co/LQ5pAKP5MQ

— Extreme Temperatures Around The World (@extremetemps) October 22, 2023
Paraguay did it again
Today the Minimum temperature at Prats Gill was 30.9C, this ties the SOUTH AMERICAN RECORD of Highest Min. Temperature in October which was set just few days ago.
Argentina also had Tmins 26C/28C.
The day will be terrible with some >45C.
Updates later pic.twitter.com/FIdJXjPMEk

— Extreme Temperatures Around The World (@extremetemps) October 22, 2023
Endless scorcher in Middle East
Max. temperatures will keep rising >40C both in North Africa and Middle East all next week.
But Minimum temperatures are also exceptional for late October,some examples today

30.9C Abu al Bukoosh and Das Island /Emirates
29.9C Bandar Langeh /Iran pic.twitter.com/uTHCZ0plXY

— Extreme Temperatures Around The World (@extremetemps) October 22, 2023
Late October unseasonal warmth in China,Mongolia and Siberia.
Temperatures are expected to rise above 25C in Northern China and >20C in Mongolia highlands and Siberia next few days;at record levels for this time of the year. https://t.co/jKrD7dfg0X

— Extreme Temperatures Around The World (@extremetemps) October 22, 2023
New National Heat Record in MOLDOVA

34.3C yesterday at Chisinau University is the highest temperature ever recorded in Moldova in October.
It beats the 33.6C recorded at Leova on 2 October 1952.
Today it will be another full summer day well above 30C. https://t.co/ESznSPeNkU

— Extreme Temperatures Around The World (@extremetemps) October 22, 2023
There is no weekend pause from beating heat records in #Bolivia. It 's 7 days a week every day.
Today's victims:

40.5C Trinidad all time high tied (it was beaten few days ago)

40.0C Santa Cruz Viru Viru Airport all time high tied

39.7C Santa Cruz Observatory monthly record pic.twitter.com/R3YRRw4hlj

— Extreme Temperatures Around The World (@extremetemps) October 21, 2023
Here is More Climate and Weather News from Sunday:
(As usual, this will be a fluid post in which more information gets added during the day as it crosses my radar, crediting all who have put it on-line. Items will be archived on this site for posterity. In most instances click on the pictures of each tweet to see each article. The most noteworthy items will be listed first.)
El Niño
"Until about 50 years ago, changes in solar radiation played a significant role in shaping El Niño patterns. From the 1970s onwards, however, we see clear signals that can only be attributed to the consequences of human-made climate change,"https://t.co/raAv5e5kkB pic.twitter.com/AapxPkvaTQ

— GO GREEN (@ECOWARRIORSS) October 23, 2023
Climate change is already making a small proportion of tropical tree leaves so hot that their photosynthetic machinery bakes and breaks, according to new research. https://t.co/fqcOxA5GNI

— Svein Tveitdal (@tveitdal) October 21, 2023
#SundayMorning Reading: "We were experiencing heat stress levels that were double what we've ever experienced before at Cheeca Rocks." Extreme #ocean temperatures threaten to wipe out #Caribbean coral https://t.co/ojF98fOCKK via @nbcnews

— Silicon Valley North (@CCLSVN) October 22, 2023
The disappearance of thicker #Arctic sea ice by decade in October… 🧊📉

More info on data: https://t.co/PTJWaGkNua pic.twitter.com/uTDa68Y0EG

— Zack Labe (@ZLabe) October 22, 2023
My latest climate visualization blog is now out, which briefly discusses the nuances of calculating an Arctic amplification index: https://t.co/4QzBhL1jQc #SciComm #OpenScience #OpenData

— Zack Labe (@ZLabe) October 22, 2023
My new video…
Vitally important, in fact one of my most important videos ever…

Missing Antarctic Sea Ice to Warm Planet an Equivalent of Roughly an Arctic Blue Ocean Event https://t.co/BQzZNSh2PD#ClimateCatastrophe #climate #ClimateActionNow #ClimateChaos #ClimateCrisis pic.twitter.com/JnKEcIb4XY

— Paul Beckwith (@PaulHBeckwith) October 22, 2023
From our archives: Carbon dioxide is not only warming the lower atmosphere — it's cooling the upper atmosphere.

Scientists say this cooling could endanger orbiting satellites, slow the healing of the ozone layer, and visit turmoil on our weather below.https://t.co/DWqAG6CqJo

— Yale Environment 360 (@YaleE360) October 23, 2023
The end of the Sarennes glacier near Alpe d'Huez.#ClimatechangeisWaterchange https://t.co/CW7R1ro9Av pic.twitter.com/qEuGAZeSh1

— Kees van der Leun  (@Sustainable2050) October 22, 2023
If global temperature reaches +2°C, more than 2 billion people will experience periods of unsurvivable heat and humidity. With global temperature currently fast approaching 1.5°C, that catastrophe is potentially just 10 years away. Two parliaments.https://t.co/tJA8UNu8tI

— Prof Nick Cowern (@NickCowern) October 22, 2023
"Florida is just the tip of the iceberg. The entire Caribbean right now is bleaching."

The lower black trajectory shows accumulated heat stress this northern summer, measured in Degree Heating Weeks.

DHW exposures are the highest ever recorded, throughout the Caribbean!!! https://t.co/r0yEHdKZjk pic.twitter.com/HZymEsywUZ

— Terry Hughes (@ProfTerryHughes) October 22, 2023
This summer's record-breaking heat is lingering into fall: bad news for the 50 million people in the U.S. with allergies to ragweed pollen: https://t.co/PhRgvilJRD #ClimateMatters pic.twitter.com/201t5s6ng9

— Climate Central (@ClimateCentral) October 22, 2023
"Florida Residents Flee State as Insurance Premiums Skyrocket up to 900%" https://t.co/0PS94YdKry

— John Morales (@JohnMoralesTV) October 23, 2023
"Home insurance premiums have tripled in the state in the past five years, with residents currently paying on average more than $4,200 per year. The national average is $1,700" https://t.co/nHF2Tfq967

— Jeff Berardelli (@WeatherProf) October 22, 2023
Today's News on Sustainable, Traditional Polluting Energy from Fossil Fuel, and the Green Revolution:
Good climate news this week
1 EU: 50,000 companies to report pollution impacts
2 Solar past irreversible tipping point
3 Half the world past peak fossil power generation
4 Protests disrupt oily London event
5 China greens belt and road initiative
6 2 Canadian provinces exit coal https://t.co/6O0w4CPQQX

— Assaad Razzouk (@AssaadRazzouk) October 22, 2023
Good morning with good news: 14 states generated 30% or more of their electricity in 2022 from wind, solar and geothermal!
IA 83%
SD 77%
KS 70%
ND 65%
WY 62%
NM 62%
OK 54%
NE 38%
NV 37%
CA 36%
CO 36%
ME 31%
TX 31%
HI 31%https://t.co/AHPw12yNFZ

— John Raymond Hanger  (@johnrhanger) October 22, 2023
The fastest roll out of a new energy system in history: Renewables have already reached an "irreversible tipping point" and will dominate electricity markets by 2050 without any additional policies

What we need now are policies to go fasterhttps://t.co/LOrrKtF5bs #climate pic.twitter.com/CKBxkyiYFK

— Assaad Razzouk (@AssaadRazzouk) October 22, 2023
Renewables will be world's top electricity source within three years, @IEA data reveals | @DrSimEvans #CBarchive

Read here: https://t.co/h0BzT8H2n6 pic.twitter.com/SBxtXkHNEt

— Carbon Brief (@CarbonBrief) October 22, 2023
This New Super-Quiet Leafblower Uses Electric Aircraft Tech

"At 45 decibels at 50 feet, it was notably quieter than competitors, with a reduction of 12 decibels compared to the quietest rival"https://t.co/RuxsryfOzv

— Mark Z. Jacobson (@mzjacobson) October 22, 2023
Beautiful chart: Norway's demand for road transportation fuel is cratering, falling another 9% in September 2023, compared to September 2022. @robbie_andrew made this beautiful chart to display cratering demand caused by EV. EVs are now about 90% of new auto sales in Norway. pic.twitter.com/qZLzTEdNvA

— John Raymond Hanger  (@johnrhanger) October 22, 2023
We're hardening our grid to withstand extreme weather exacerbated by the climate crisis.

Our $10.5B Grid Resilience and Innovation Partnerships Program is the largest-ever investment to modernize America's electric grid. Here's how we plan to get it done: https://t.co/BsGjTLqbyu

— Secretary Jennifer Granholm (@SecGranholm) October 22, 2023
"Tidal power has really significant potential," says Dr Amanda Smyth from the University of Oxford, "yet it has never been developed at scale." https://t.co/PIghueJANk

— Dr Paul Dorfman (@dorfman_p) October 22, 2023
Multiple recent analyses find the world is rapidly approaching peak fossil fuels, with energy emissions at last headed for decline.

Read more @YaleE360: https://t.co/KdF4A4zSHJ pic.twitter.com/S1VB77lgyr

— Yale Environment 360 (@YaleE360) October 22, 2023
More from the Weather Department:
Cyclone Tej, seen here by Meteosat-9, is barreling toward Yemen, where it is expected to make landfall in about 36 hours. Regardless of exact intensity, flooding will be the main concern for this usually arid region. pic.twitter.com/iPg7LcSlFz

— Nahel Belgherze (@WxNB_) October 22, 2023
https://t.co/ibq4KtOIUN Norma Bringing Heavy Threat To Mexico, Southern U.S.

October 22, 2023

Meteorologist Orelon Sidney shares when tropical remnants will bring rain into southern parts of the United States. pic.twitter.com/JFSkRSoVij

— James Wilson (@tornadokid3) October 22, 2023
Latest Sunday 00z spaghetti models on Tammy. Blocking high appears to becoming more of a reality with possible turn west. Expected to weaken some through the week if it does. Will be interesting to watch play out for sure. https://t.co/Hk3pbO7x8H pic.twitter.com/RqkBwIDyjV

— Mike's Weather Page (@tropicalupdate) October 23, 2023
Snow is forecast to return to the Cascades beginning Tuesday through the remainder of the week; take proper precautions to ensure your safety if you're planning to travel in the Cascades! #ORwx #WAwx pic.twitter.com/UNbw2A711P

— NWS Portland (@NWSPortland) October 22, 2023
Dust devils caught on camera around the world: A festival in Australia, soccer games in Mexico and Bolivia, and a softball match in Ontario. pic.twitter.com/RhPHNu7TKw

— AccuWeather (@accuweather) October 22, 2023
Temperature averages leading up to Halloween and the end of the month. Hotter than normal for the east… especially the southeast. https://t.co/Hk3pbO7x8H pic.twitter.com/69X9jdoyII

— Mike's Weather Page (@tropicalupdate) October 23, 2023
More on the Environment:
Boycotting palm oil is good for Earth's body, our bodies and our souls. https://t.co/xejrhDfwDR

— Sandi Walters (@srzjwalters) October 22, 2023
Its absolutely vile – makes me sick
We can fly to the moon and send space ships to Mars but
In a world of almost 8 billion humans
We cannot make space for a few thousand remaining Orangutans
Their last remaining remnants of their forest home in Borneo is torn down https://t.co/SLzkimaiTE

— GO GREEN (@ECOWARRIORSS) October 21, 2023
Your 'moment of doom' for Oct. 22, 2023 ~ First crabs, then whales …

"climate change has played a role in driving recent sea ice loss, impacting the food chain and leading to malnutrition responsible for hundreds of whales washing up on the West Coast"https://t.co/GX88f99p7i

— Prof. Eliot Jacobson (@EliotJacobson) October 22, 2023
Major Storm System To Sweep Northern Plains

From The Weather Channel iPhone App https://t.co/jjGd9FLPNz pic.twitter.com/1LwbgN1OGn

— James Wilson (@tornadokid3) October 23, 2023
Soils forming on the branches of trees are an overlooked forest habitat
A study on 'canopy soils' on old trees in Costa Rica shows they are important habitats and carbon stores that cannot easily be replaced.https://t.co/zJUhakDac1

— GO GREEN (@ECOWARRIORSS) October 23, 2023
Scientists have been clear: The remedy for plummeting salmon populations must include the removal of four federal dams on the Snake River that are pushing the fish towards extinction. https://t.co/UE1tFYb69R

— Earthjustice (@Earthjustice) October 22, 2023
More on Other Science and the Beauty of Earth and this Universe:
This is the dragon's blood tree, a plant species unique to Socotra, Yemen.#TiredEarth #biodiversity pic.twitter.com/lqyoPqqNJV

— Rebecca Herbert (@RebeccaH2030) October 22, 2023
A Bald Eagle enjoying fall weather yesterday in Alexandria, Virginia. #baldeagle #uscapitol #washingtondc #wildlifephotography #raptors #birding #visitvirginia #visitALX @capitalweather @spann #ThePhotoHour #StormHour #NikonZ8 #NikonNoFilter pic.twitter.com/SciLALB9Dv

— Dave Lyons (@insiteimage) October 22, 2023
Good morning! pic.twitter.com/5iXs7Vqi9d

— Gavin Schmidt (@ClimateOfGavin) October 22, 2023
There's so many things happening beneath our feet. Check out these fun-gi's.

Nature is amazing. Protect it. #ActOnClimate #climate #biodiversity #rewilding #conservation #SDGs pic.twitter.com/Fekc6p2xdu

— Mike Hudema (@MikeHudema) October 23, 2023
The splashing of water, the smell of mosses and plants, the buzzing of insects and the chirping of birds make such small places important supports of biodiversity and the cornerstones of nature. Protecting such places must be the first priority of humanity.💚☘️🌿🌱🌲🌳🍀💚 pic.twitter.com/L2Ih2e27IW

— Green is a mission (@Greenisamissio1) October 22, 2023
If you like these posts and my work on record temperature ratios, please contribute via my PayPal widget on this site. Thanks in advance for any support.
Guy Walton… "The Climate Guy"