Though March 2017 across the United States was not as relatively torrid as February, the last month marked by my count a record 28 months in a row of more daily record highs than daily record lows according to the National Center for Environmental Information:

Yes, there were plenty of "bracket busters" or minor cold weather events during March, but when all weather was said and done, the month saw above average temperatures across the U.S., just like another traditional, highly ranked team, North Carolina, won the whole NCAA tournament. Yawn. No offense to Tar Heel fans, but cold weather teams, just like low seeded NCAA teams, aren't winning very many monthly climate reports. I am getting tired of seeing month after month of warm weather patterns due to carbon pollution. I expect to see many more warm patterns for the rest of my life, though.
All kidding aside, it was interesting to see the record statistics stack up as follows:
2414 DHMN       2295 DHMX          1156 DLMX          595 DLMN
I have been seeing statistics like those of March 2017 play out over and over again from month to month in association with records….  daily high minimums outnumbering daily high maxes followed by daily low maxes with the fewest number being daily low minimums. As far as temperature averages go nights came in ranked 8th warmest with maximums 11th warmest since 1895 in the NCEI database.  Sometimes due to cold or dry weather patterns theses stats don't fall into place on a monthly basis, but as discussed, every decade since the 1970's they do:
https://guyonclimate.com/2017/03/13/nights-warming-faster-than-days/
The departure from average for the lower 48 states was +4.95F ranking March 2017 the 9th warmest March since 1895 in the NCEI database.
To look at new science of ranking records I have picked out two locations that saw the most "extreme" cold and hot records for March 2017 using the current "Extreme Temperature Index". Drop me a note if you see more extreme events for March than my two picks. Since the current ETI algorithm calculates higher numbers driven more by the difference between the old and new record, I chose two records with the highest differences I saw in the NCEI database … both at 14 degrees. For details on the ETI see:
https://www.wunderground.com/blog/JeffMasters/comment.html?entrynum=3583
For reference here us the ETI algorithm:
First, the hot record: Marysville, Kansas 92 set on 3/20/2017
Second, the cold record: Swea City, Iowa -7 set on 3/16/2017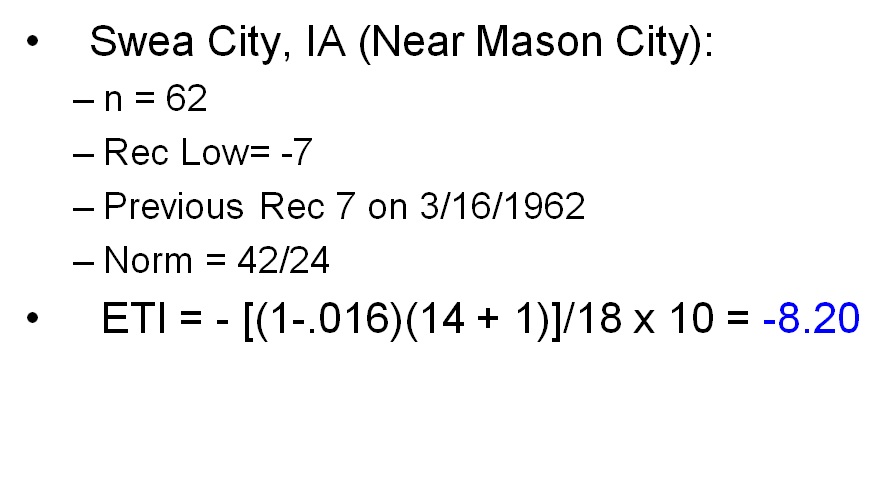 As shown here, the cold record beat out the hot record, so it can still get very cold despite climate change.😊
I have updated my record daily high/daily low files displayed at the end of this post for all to peruse. Note that streaks of months of more daily highs than lows have been getting longer since the 1970's. It would appear that the last strong El Nino helped to catapult global temperatures to levels high enough to produce a very significant, long 28 month and counting warm to hot period across the United States. This fact should be very alarming to all… the "canary in the coalmine" …signaling that dangerous global warming or climate change is upon us…. March madness indeed.
The Climate Guy