Friday June 30th… Dear diary. It is the end of June so one third of meteorological summer is in the rear view mirror. Time flies! At the end of June it is time to take stock on record statistics with climate change ramifications. I'll put out a separate post in early July as a June 2017 climate summary once NCEI statistics are in their records site through 6/30. Through 6/28 we see the following (hopefully now familiar to all those visiting my site) statistics:
It's a "slam dunk" that June 2017 will be the record 31st consecutive month of more daily record highs than lows in the NCEI database… I'm referring to this as "The Streak".
There were two major heat waves that occurred during June that were the biggest part of the nearly 3 to 1 ratio of DHMX to DLMN that we see for this month. We had a heat wave in the Northeast that lasted for a week early in the month then a historic Southwestern heat wave in the second half of June.  I count 1,165 DRHMX's from 6/15-6/26 mainly In association with the western heat wave. I count 388 DRLMN's set due to the northern Plains and Midwest cool shot from the 18th through the 28th taking into account the majority of the 675 DRL reports.
Of special note their were 23 reports of all-time records during June.
This cooling degree day chart from MDA Weather Services shows how June started and ended "cool" with a hot spell in the middle:
Here are June's average temperatures for the CONUS from MDA weather services:
It's no surprise at all to see a warmer than average June for the U.S. due to man induced climate change.
This is a good NWS article detailing highlights of the southwestern heat wave:
https://www.climate.gov/news-features/event-tracker/heat-roasts-western-united-states and https://www.climate.gov/news-features/event-tracker/scorching-heat-bakes-southwest-mid-june-2016-part-two
So what about that third heat wave I am forecasting for the U.S. after July 4th? Is it still on track? Bad news. Both the European model and GFS are trending stronger with the ridge in the West and Plains and fill that "weakness" in the Ohio Valley and Southeast faster in this morning's 12Z run. By July 9th we see:
By the 9th we see 850 Mb temperatures high enough from the northern Rockies into the northern Plains to produce widespread 100's at the surface for maxes from Montana to Minnesota and southward to Dallas TX. Yikes!
As we move into July I'll be fine tuning this forecast presenting more model guidance.
Even though this Heat Diary post is focused on the U.S. I would be remiss if I did not mention big events abroad.  Andrea Thompson of Climate Central came out with this nice piece and graphic depicting what has happened across Europe this month:
We shall see if the heat in July in the states is just as bad.
The Climate Guy
___________________________________________________
Thursday June 29th… Dear diary. There are more ominous signs of a heat wave developing across the U.S. after the Fourth of July holiday. Ensemble guidance suggests that the heat wave will initially build in the West and upper Midwest: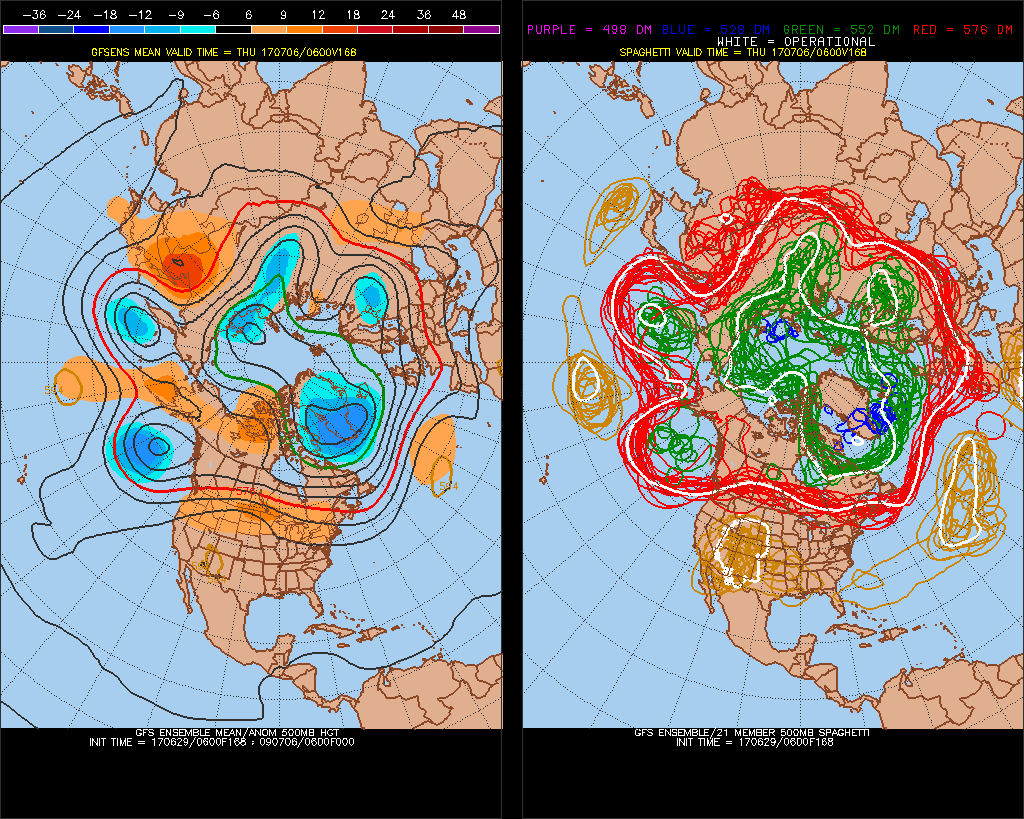 Potentially, in the West this heat wave could be more widespread and just as hot as the Southwestern heat wave earlier this month.
The most reliable model, the European model, continues to  paint a hot picture after the fourth. Again, just like yesterday's model run we see a building ridge over the entire CONUS with a small weakness, or cold pocket aloft, left over the Ohio Valley:
This panel of the GFS also valid for the 7th forecasts one of the warmest, biggest 597+ decameter ridges over the West that I have seen: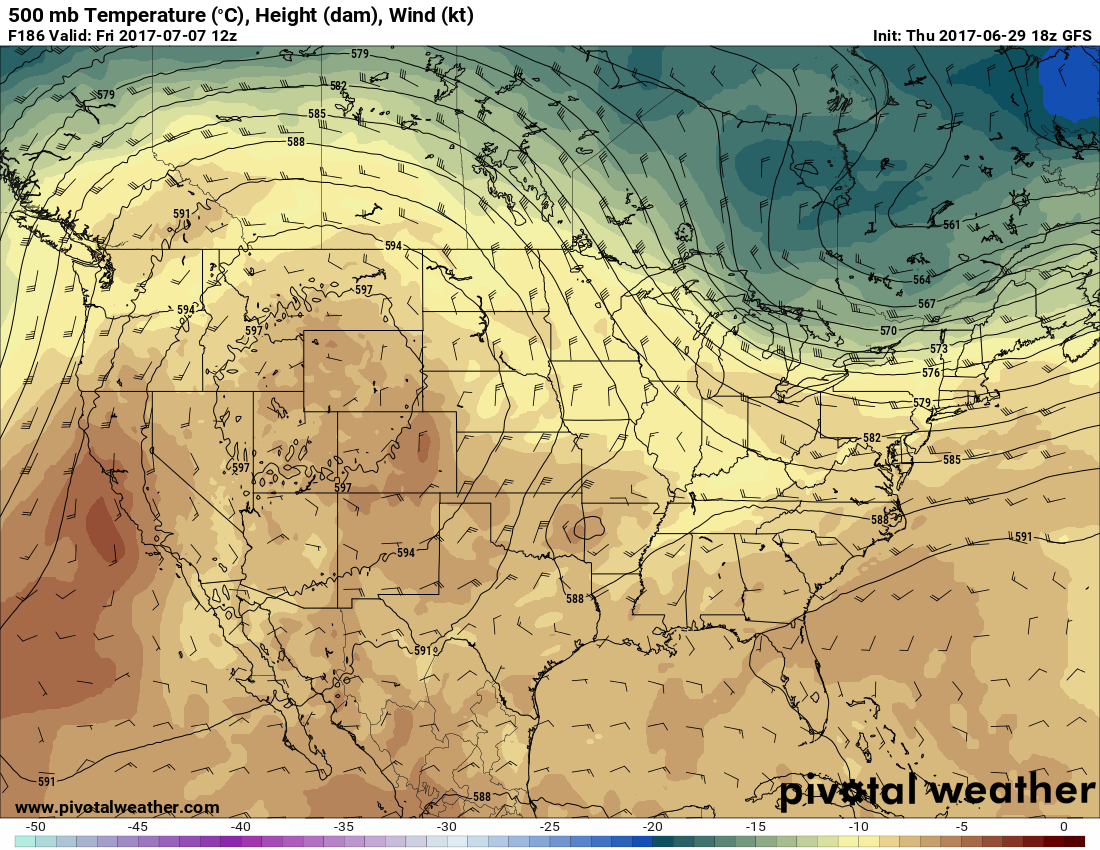 I'll add more to this post as information comes in later today.
The Climate Guy
_____________________________________________________________________________________________
Wednesday evening June 28th… Dear diary. I listened to NBC Nightly News and saw some great news. A young man has invented a device to help prevent child deaths in hot cars. Quoting from his Go Fund me page: "I am Bishop's dad ( Bishop Curry, IV ) I set up this GoFund me to help my son Bishop, V raise the funds needed for his invention to go from concept to creation.  We live in Texas where hot car deaths are far too common.  Bishop already has a provisional patent and a 3D model of his invention.  Based on guidance from our legal team $20K is the minimum that it will take to help Bishop complete his journey to save lives.   ALL of the funds that you donate will go towards the attorney fees needed to finalize the patent,  protoyping fees, and to help  identify a manufacturer."
https://www.gofundme.com/endhotcardeaths
Bishop Curry's device is sorely needed in a warming world in which children and pets are at risk if left in closed cars during days of high heat.
While Curry's device may not be a panacea for hot car child deaths, it should prevent some. One death is too many.
The Climate Guy
____________________________________________________________________________________________
Wednesday June 28th… Dear diary. The CONUS is in between significant, widespread heat waves. I've been doing so reading, and most meteorological sources agree and are coming to realize that July 2017 could be very torrid… even by July standards, but where will high heat develop again first, and how large an area across the U.S. will be affected? The mid-summer holiday July 4th is coming up, so most news outlets are focused on the weather about a week from now. Here us an example from the Washington Post focusing on Washington D.C.:
https://www.washingtonpost.com/news/capital-weather-gang/wp/2017/06/27/sneak-preview-very-hot-weather-possible-for-4th-of-july-in-washington/?tid=a_inl&utm_term=.c09bf7b772b3
Quoting Jason Samenow for the D.C. maximum on the 5th: "Taking all of the forecast information together (model data), here are odds of different temperature outcomes":
High of 90-94: 55 percent chance
High of 95-99: 20 percent chance
High of 85-89: 15 percent chance
High of 100 or higher: 5 percent chance
High of 85 or lower: 5 percent chance
Yes, it should be hot as a firecracker in much of the Northeast by the 4th.
So what do model and ensemble tea leaves hold for the Fourth and thereafter? As noted yesterday there are ominous signs of a third heat wave affecting the country. Today's  guidance points to a large upper ridge gradually enveloping the CONUS after the 4th with dire consequences. I'm still leaning towards the idea that the most anomalous heat will reside in the West and Plains at least through the 7th. Here are the Penn State ensembles valid for the 5th showing the likely extent of the 588 decameter height line (and upper ridge that would support a heat wave):
By the 5th the European model continues to have that "weakness" moving southeast around the developing ridge through the Midwest:
The ridge expands as the weakness moves into the Southeast by the 6th:
Whenever I start to see model consistency from day to day, I feel more confident in the meteorological guidance verifying, which we see today. Once a ridge with 594+ decameter heights gets established across a big chunk of the nation, there will be trouble.
In the meantime our old western heat wave still has some life. Record heat is possible tomorrow in a few locations in the Southwest and especially across West Texas as noted by this WSI chart:
I'll be adding more to this post, as usual, when more data comes in later today. (Older heat diary logs are noted by date below.)
The Climate Guy
________________________________________________
Saturday June 24th… Dear diary. The western heat wave has peaked except in Washington and Oregon, which should see their highest temperatures this weekend. So what will the nation be in store for the last week of June? I've already hinted at what is to come here:
https://guyonclimate.com/2017/06/21/summer-2017-heat-diary-log-4-june-20-24/
A cooler than average air mass, or series of air masses behing successive fronts, will reside over most of the country east of the Rockies while above average temperatures will be over the West.  Already we can see this pattern in today's temperature departure from average map from Intellicast: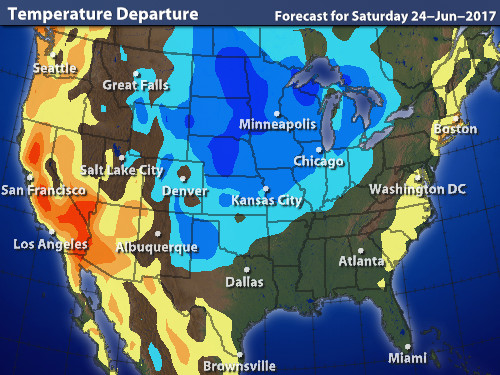 What will the 500 Mb departure or anomaly charts look like during this  week across the CONUS? By the 28th we only see a lot of blue color on this chart: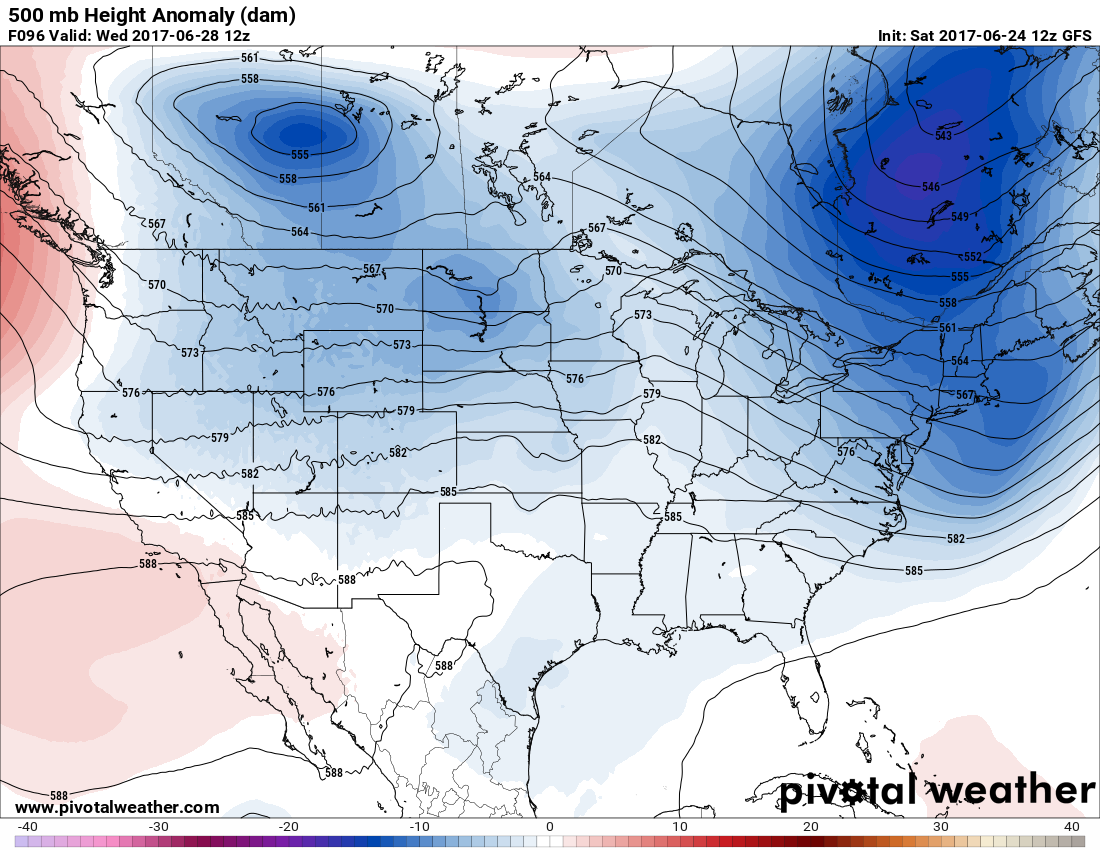 The system moving through the northern Rockies and northern Plains will change the pattern bringing much warmer conditions to the East by the end of the month: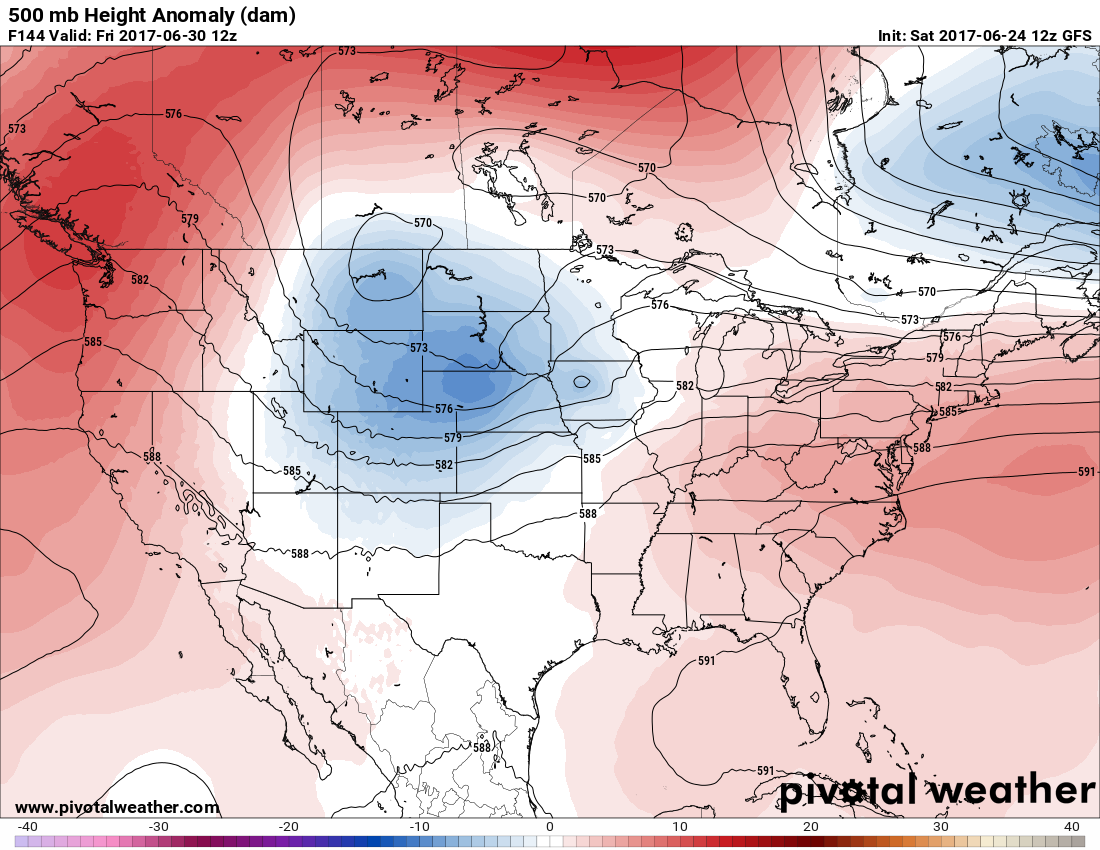 We'll see how many record lows occur due to the chilly pattern forecast for the Midwest during the early part of the week. Also, before breaking, the heat wave in the West should set many more record highs this weekend before breaking early next week.
Here are today's maxes. Portland OR nearly got up to the century mark:
Yes, the 98F reading reported at Portland OR was a daily record:

What about tomorrow? Extreme heat will persist through much of the West with some Getting into previously unaffected areas of eastern Washington and Oregon.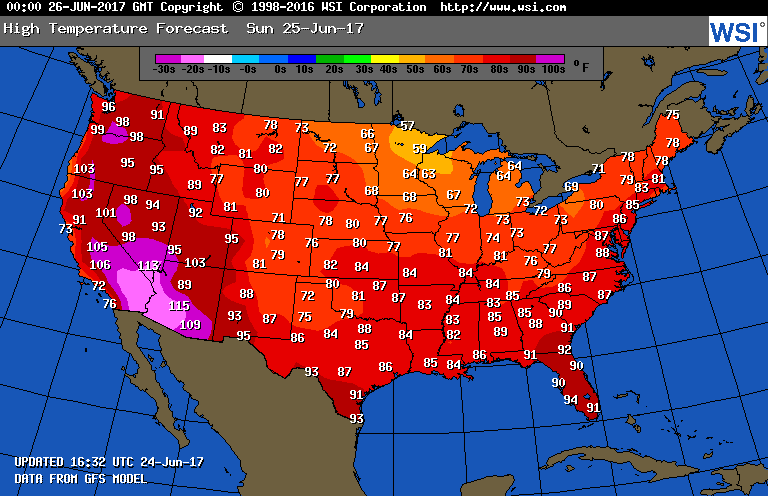 The Climate Guy
__________________________________________________
Sunday June 25… Dear Diary. It's time to take stock on how many all-time records were either tied or set and how significant the heat has been in association with the southwestern heat wave. Dr. Jeff Masters has put together a nice list of record events on his Category Six blog here:
https://www.wunderground.com/cat6/summary-great-southwest-us-heat-wave-2017
This list of major stations that tied or set all-time records is an excerpt from the long list of reports in Dr. Master's blog:
All-time hottest temperatures tied or broken during the heat wave:
Las Vegas, NV: 117° on June 20, tied the all-time record for the airport, which has a Period of Record (POR) back to 1937. However, there was a 118° reading measured by the official USWB COOP site on July 26, 1931.
Needles, CA: 125° on June 20, tied the all-time record. 126° was attained for a minute or two at one point, but not the 5-minute period needed to be deemed official. Previously, 125° was measured on June 20, 2016, and on July 17, 2005. POR: back to 1940.
Ocotillo Wells, CA: 124° on June 21, hottest temperature ever measured in San Diego County.
Prescott, AZ: 105° on June 21, tied the all-time record set on July 17, 1925. POR back to 1898.
So far in NCEI's records site there have been 9 reports for June 2017:
https://www.ncdc.noaa.gov/cdo-web/datatools/records
Here are this evening's updates:
I haven't mentioned how hot it's been in Palm Springs. Well, here is your answer😎:
That's right. A max of 122F at Palm Springs CA has occurred only two other times in June sine 1893.
My buddy Bob Henson has reported that it has reached 111 in Burbank CA (an update to this graphic), and it has been hotter there for only the fourth time since records began being kept in 1939.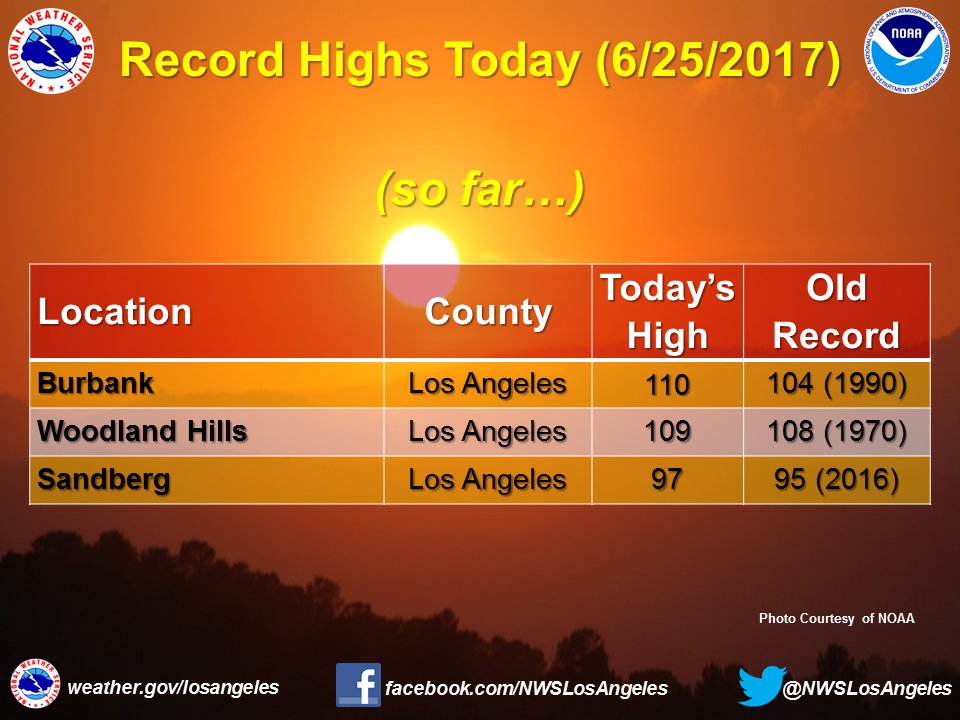 Wow! It reached 96 today at Seattle WA, which tied their record high for the month of June.
Here are Sunday's maxes for major reporting stations across the U.S.
What about tomorrow? On Monday the heat wave will break in western WA and OR due to marine air moving inland off the Pacific. It won't be nearly as hot across much of the Southwest, but a few more records should be set there.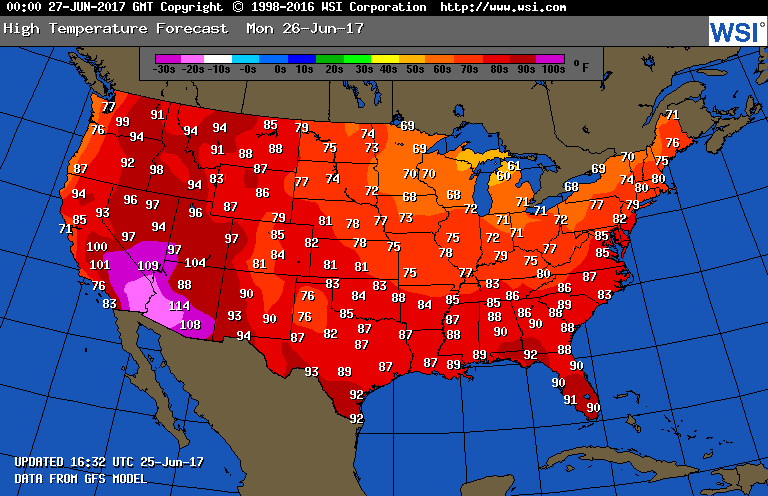 _________________________________________________
Monday June 26th… Dear diary. The lower 48 states should be getting a break from widespread, oppressive, record heat the next few days. In fact, as discussed in this post, the weather pattern will be conducive for record cold lows in the Midwest into Tuesday. The weakened "cold team" is scoring some points. Ryan Maue shows some potential record lows from this morning here:
The following are the GFS numbers for Tuesday morning from WSI:
While a tad warmer than on Monday, there should be more record lows set in the Midwest and Northeast… definitely a break in the early summer heat for those liking a chill in the air.
Now I'm going to get on my soapbox a bit and write about record chill as it relates to climate change. As the planet warms we are seeing less extreme cold, but occasionally a synoptic pattern will come along producing record cold. Yep, that is what the latest climate models say will happen by the end of this century despite New York City potentially becoming inundated by sea level rise. The ratio of DHMX to DLMN across the country on an annual basis should be about 15 to 1 by 2100. It's only slightly above 2 to 1 as of the 2010's:
https://www.usatoday.com/story/weather/2016/11/21/us-record-high-temperatures-overwhelm-record-lows/94234824/
Climate change denial people keep clinging to those now increasingly fewer cold events for their arguments. Both mitigation and adaptation policies get kicked like a rusty can down the road due to fingers pointing to this blizzard here or that record low there. Nature can be a cruel thing, perhaps fooling the human race to get severely hurt, in time, due to carbon pollution.
O.K. now I'm off that soapbox and back to reporting surface records.
As of this writing there have been 16 all-time record maxes this month mainly from the West…7 more getting in the NCEI database than when I made my report yesterday.
Evening updates: How is the western heat wave fairing? Vegas failed to get above 110F for the 10th consecutive day, but remained dangerously hot:
Phoenix had its 10th consecutive day of maxes at or above 110F, but this string is only up to the 5th longest such streak… longest is 18 according to MDA Weather Services.
Here are Monday's maxes:
Despite the western heat notice how pleasant conditions are across most of the country. Have done some searching but have not found a major reporting station that had a record low this morning in the Midwest.
As the evening progresses, as usual, I'll add more to this post as reports come in.
The Climate Guy
_________________________________________________
Tuesday June 27th… Dear diary. One consequence of the western heat wave has been the start of several widespread wildfires threatening both people and property.
http://www.cbsnews.com/news/wildfires-burn-in-utah-california-evacuations-ordered/
From the CBS article, the worst is in southern Utah near Brian Head, as of today's writing, where 1,500 people have been evacuated from homes and cabins.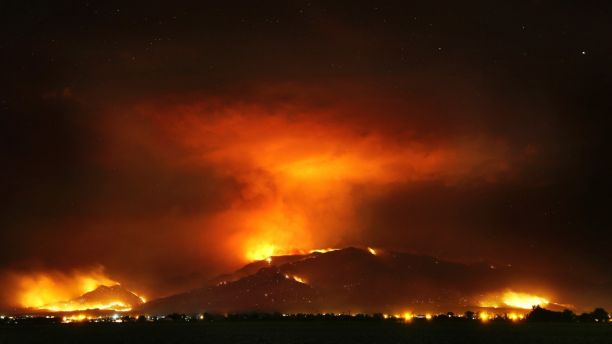 Image credit: The Frye Fire burns the western edge of the Pinaleño Mountains in Coronado National Forest above Ft. Grant Prison near Willcox, Ariz. on Thursday, June 22, 2017.  (Kelly Presnell /Arizona Daily Star via AP)
So far in the Heat Diary post I haven't touched on wildfires that are being exacerbated by global warming. This facet of the cause and effect consequence of a warming climate is quite obvious. The hotter a forested area gets, the more likely fuels, such as brush and trees, are to dry and thus, igniting either by a careless person, arson, or by lightning. Also, the drier and hotter conditions are, the more likely the fire will spread and grow. For a thorough read on this subject look at this from the National Wildlife Federation:
https://www.nwf.org/Wildlife/Threats-to-Wildlife/Global-Warming/Global-Warming-is-Causing-Extreme-Weather/Wildfires.aspx
In this new article posted today it's not only the Inter-Mountain West that is more susceptible to fires from a warming world, but the Great Plains, as well: http://kmuw.org/post/great-plains-sees-massive-increase-wildfires
As stated yesterday most of the U.S. will see a break for a few days from torrid, summer heat, however medium range meteorological ensembles and models are beginning to forecast above average temperatures from the Rockies eastward through much of the Plains, Midwest and perhaps the Northeast after the 4th of July holiday.
So far this season we have first seen a heatwave in the Northeast in early June, then a historic Southwest heatwave from mid-late June. When will near record heat begin for this potential third heatwave, how long will it last, how severe, and how extensive are the $64,000 questions.
Let's start our investigation with one of my favorite tools, the Penn State model ensembles. Here we see a window for a 594 decameter ridge to pop up in the nation's mid section around 7/5 or 7/6:
This ensemble graphic only has one member (in brown on the right panel) where we see a 594+ dm ridge in the central Plains, but a huge area of the country being encompassed within the 588+ dm line. Much higher than averages 500 mb heights are depicted in orange in the Northeast on the left panel. The forecast here, by far, is not the hottest in my recollection, but hints at hotter than average conditions developing, and thus at least a low grade heat wave.
Next, let's look at the current European model valid for 7/6 (remember that the European model is the most reliable meteorological tool for forecasting out through about 10 days):
Here we see that forecast 588 ridge encompassing most of the country by the 6th of July, but upon closer examination , we see what is termed "a weakness" demarcated by slightly lower heights stretching southwest from the mid-Atlantic to Oklahoma. Such a feature would put a kibosh on near record heat through much of the Midwest and South. But would such a subtle feature verify 216 hours out from the present? Will the heart if the building ridge be centered near the central Rockies and western Plains? We will see.
In my analysis today, near record heat should build again in the Southwest, spread northward through the Rockies, then eastward into the western Plains from the 4th-6th, but maybe suppressed farther east thereafter. Obviously, I'll fine-tune this extended forecast in future updates on this heat diary post.
What about tomorrow's maxes?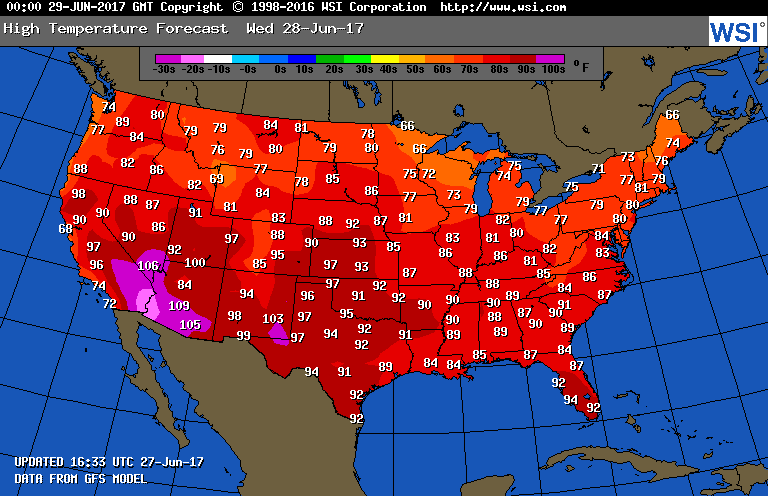 This is about as "average" from coast to coast for late June as you will see for maxes on Wednesday. It will be above average in a small area of the Southwest, but Phoenix may fail to reach 110 for the first time in days.
An update: The theme of today's diary entry has been wildfire due to record or near record heat. Unfortunately, that is the case in Riverside County CA where 1,200 are burning, and the blaze is 0% contained ATTM. Record temperatures  from our Southwestern heat wave is playing a big role with the conflagration. I'll keep tabs on this one the next few days.
I'll add more temperature record tidbits if the come into the news later today.
To see all 2017 Heat Diary entries click:
https://guyonclimate.com/category/heatdiary2017/
The Climate Guy