Saturday Night Update…
Dear diary. Looking at trends I'm changing my alarmist forecast to a category 4 hurricane hugging the west coast of Florida, which would be horrendously catastrophic anyway. Irma should strengthen to a four looking at new GFS guidance. Regardless, if Irma passes just west of Tampa Bay at CAT 3 strength the storm surge will wreck that city. Again and again the GFS has been forecasting a pressure below 910 Mb just north of the Keys as shown from the 00Z SUN run here:
The Climate Guy
Saturday Evening Updates…
Dear diary. I really hate to write this but here is my forecast in bold:
Irma will be a category 5 buzz saw moving from the Keys northward hugging the coast near Naples, Fort Myers, Port Charlotte into Tampa.
Models insist on Irma bombing as it approaches the Keys late tonight, and I see indications of this on satellite loops. The 18Z GFS insists on that near record low of near 900 Mb before any landfall in coastal west Florida, which I can't discount only 24 hours out:
I expect Irma to bomb after the current eye wall replacement cycle is complete. Notice on this recent radar that the inner "yellow" circle is not complete at Irma's core…. that's an indication if an eye wall replacement cycle:
This blog will be very fluid tonight as new information comes across my radar.
10:30 PM EDT:  The much anticipated turn of Irma towards Key West away from Cuba has occurred (I sketched the weakening jet across the Gulf):
I'm a horrible artist.☹
11:00 PM EDT: Indeed NHC's official track has shifted west. Such a scenario would put Tampa near the eastern eye wall worst case scenario for them: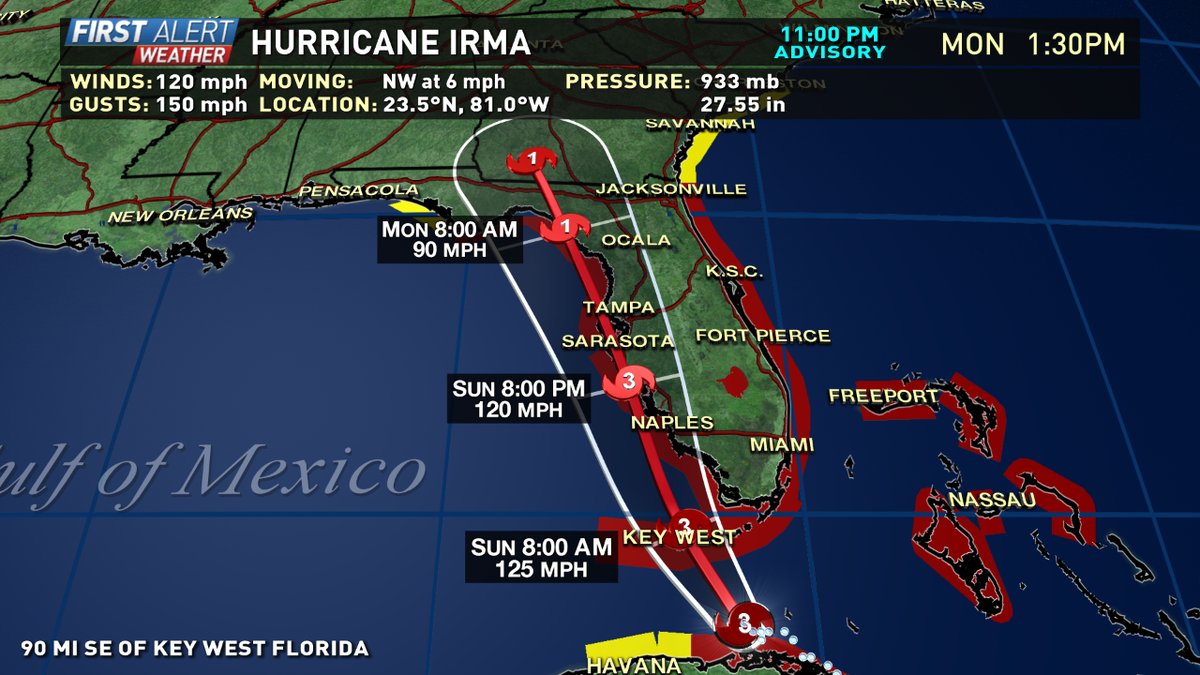 I'm a horrible artist.☹
The Climate Guy
Saturday September 9th…
Dear diary. Models are continuing the trend of forecasting Irma to move further West. I still think that Irma will move very close to Key West, but now it appears that the storm will make landfall around Fort Myers are even further up Florida's west coast. Tampa Bay could see dire results from this trend with winds in excess of 100 mph late on Sunday. This is all good news for southeast Florida though, as it appears that catastrophic conditions won't occur in the Miami/Ft. Lauderdale area. Since the European model has been best, I'll show the pressure panel at its closest offshore approach to Fort Myers first:
Here we see that Irma is forecast by the 00Z European model is at near borderline category five strength looking at the pressure. Storm surge of 12 feet looks like a good bet across much of southwest Florida.
The interaction with Cuba has really taken a good toll on Irma, which is great news. As of this writing the central pressure is up to 940 Mb, and I am seeing winds which would inky support cat. 3 strength. I'm anticipating that as the system moves away from Cuba later today the storm will get reorganized, however.
I'm very alarmed that the 12Z GFS bombs out Irma well above the threshold for cat. 5 status as Irma makes its way towards Key West:
Now the European ensembles are screaming Tampa! Tampa! Tampa!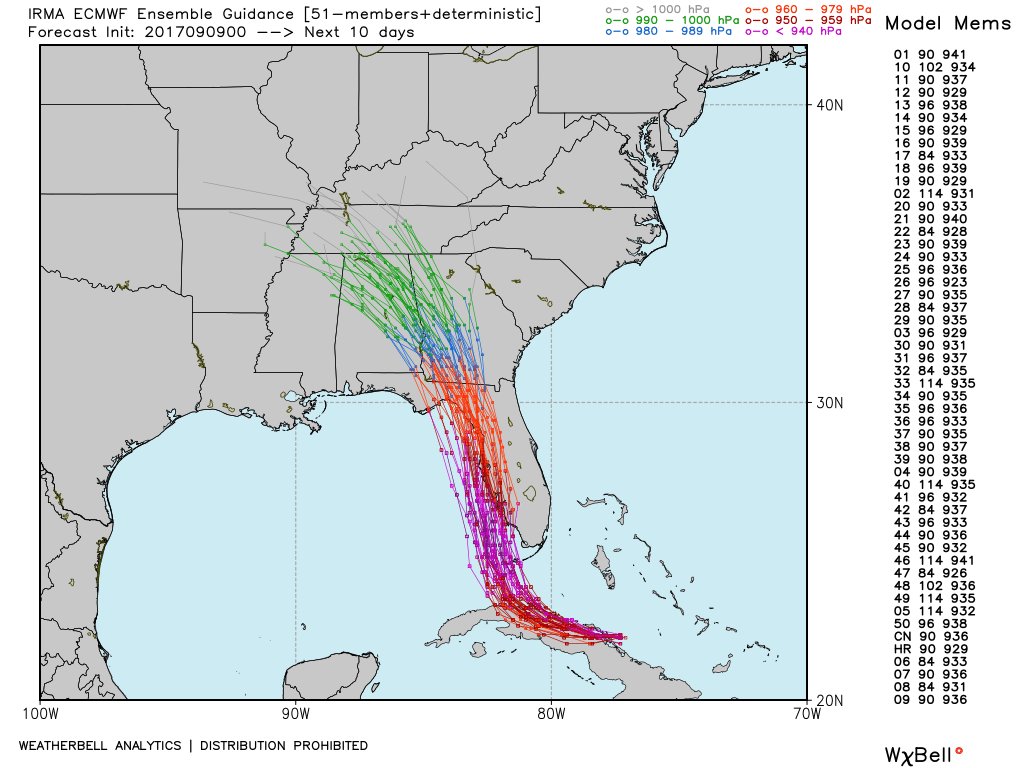 Now this morning's European model forecasts Irma to hug the west coast of Florida. Just three days ago models were forecasting Irma to hug the east coast of Florida… just goes to show the models need improvement and the forecasting can be a humbling experience: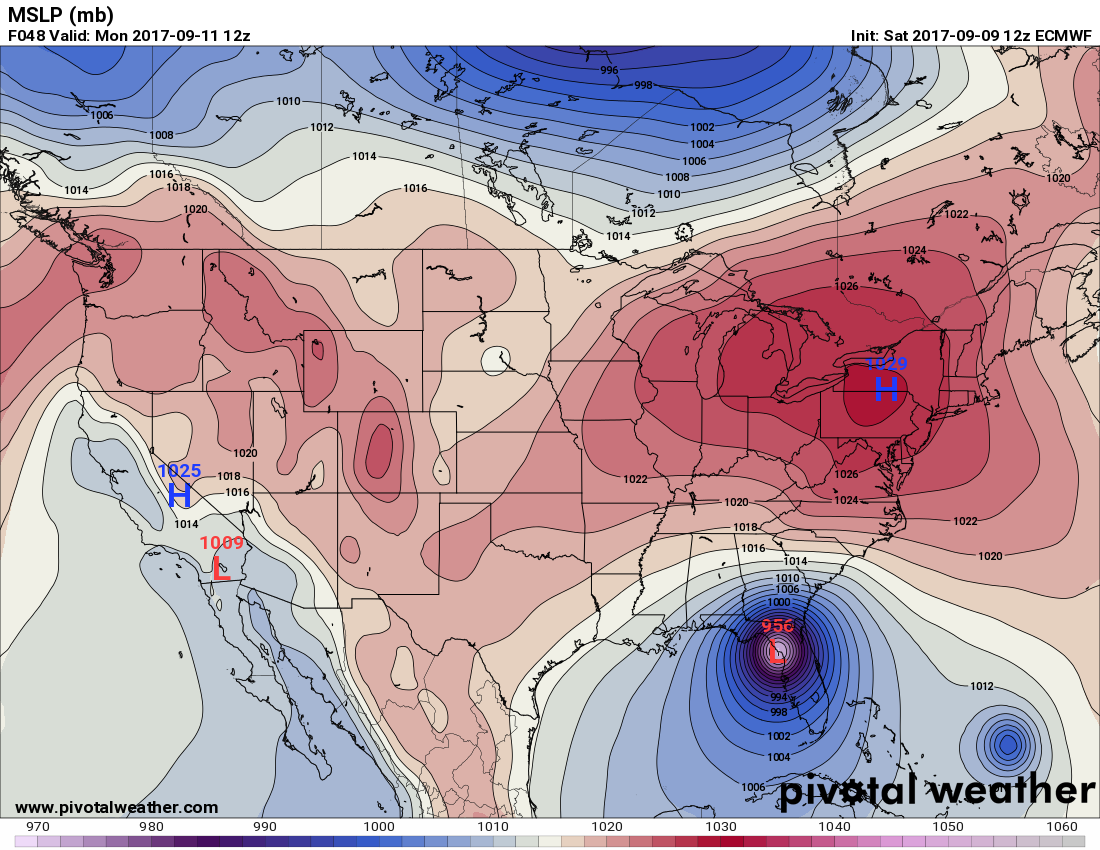 Here is further evidence that Irma will probably remain offshore as it moves north towards Tampa Bay. Note that further north Irma's forecast path is further west into Alabama:
This path could be just as deadly as the one projected a few days ago along Florida's east coast because of the extreme build up in the last 50 years of population and infrastructure around Tampa.
This blog will be very fluid today as new information comes across my radar.
The Climate Guy
Friday Evening Updates…

Dear diary. The operational 00Z SAT GFS is in and shows no change from that of the 18Z FRI run. I continue to see a disturbing tend of this model wanting to strengthen Irma to a near record low pressure for the Atlantic Basin as the system moves though the keys towards Naples and Fort Myers:
Most experts think that the GFS pressure is overdone by about 20 Mb.
Dear diary. Just no! I've learned according to NBC that about 25% of residents have decided to ride Irma out in the Keys. Looking at hurricane model trends I think that Irma will go over Key West with at least 150 mph winds: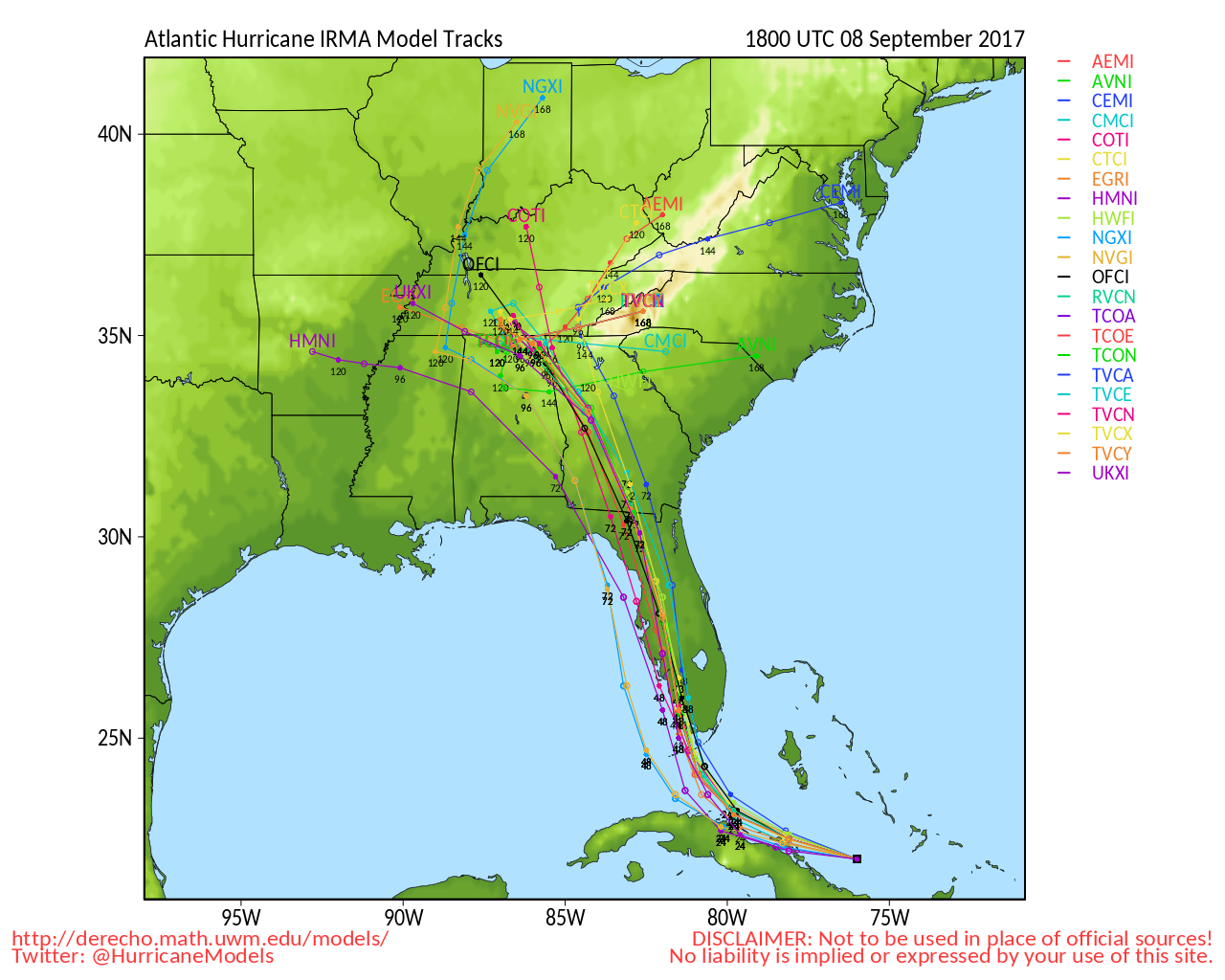 Irma has powered up to cat. 5 level with winds of 160 mph before making a landfall in Cuba as forecast by the European model over the last few days. We'll see if Cuba can punt a dent in the thing overnight tonight and early Saturday morning. Here is the latest image of Irma powering up just before landfall:
Portions of southwest Florida could see a 12 foot storm surge when Irma makes landfall Sunday. Speaking of storm surge, I like this graphic for reference: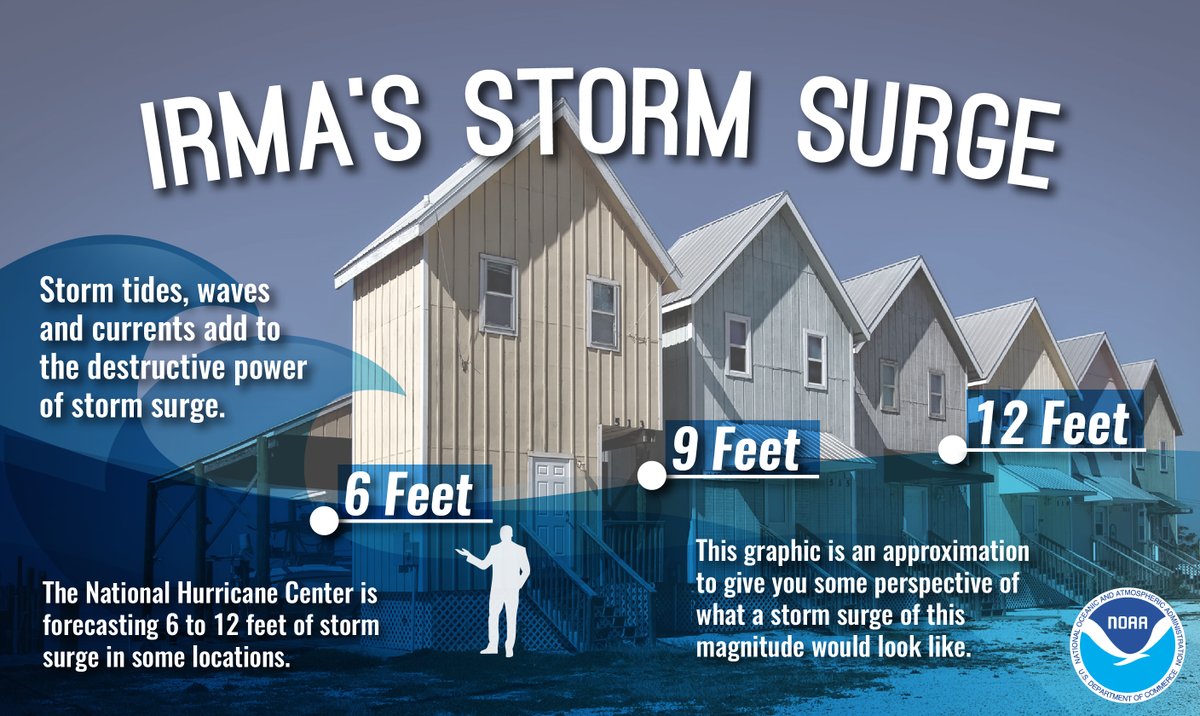 Here is the latest more detailed Category 6 Blog on Irma:
https://www.wunderground.com/cat6/irma-top-end-cat-4-storm-now-less-two-days-florida
I'll be posting more model information and any major changes in the forecast as the night progresses.
The Climate Guy
Friday September 8th…
Dear diary… Models continue to trend westward with Irma, which is great news for Miami, but horrible news for the Keys and Florida's west coast. Looking at the 12Z European model I would not be surprised if Irma passed very near Key West, well away from Miami, but still strong enough to produce significant damage. Naples and Fort Myers would get in excess of 130 mph looking at new trends. Also though, Irma may make a brief landfall in central Cuba disrupting the thing some. If that's the case Irma may not have time to regenerate to a cat. 5 hurricane. We will see: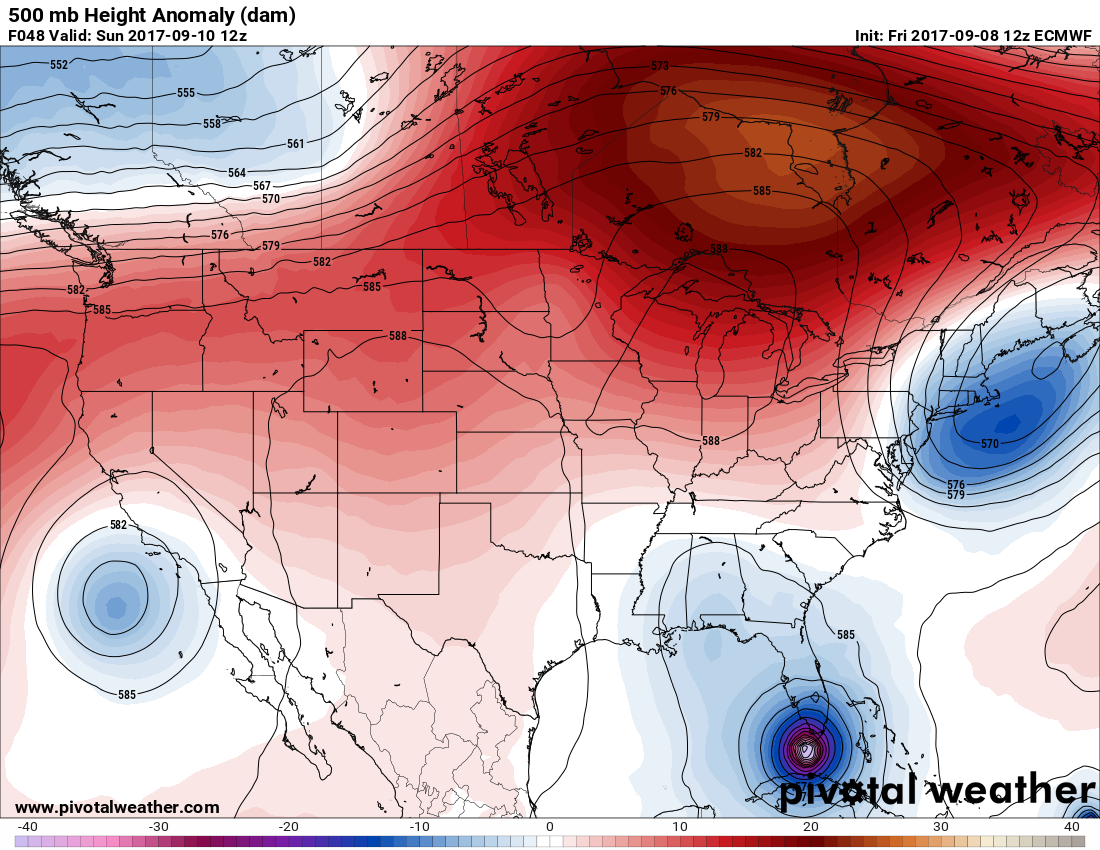 On the other hand NHC has forecast Irma to become a cat. 5 again before landfall. Where the storm comes into South Florida matters more than whether Irma is a high end 4 or low end cat 5 at landfall (Image from Garrett Bedenbaugh)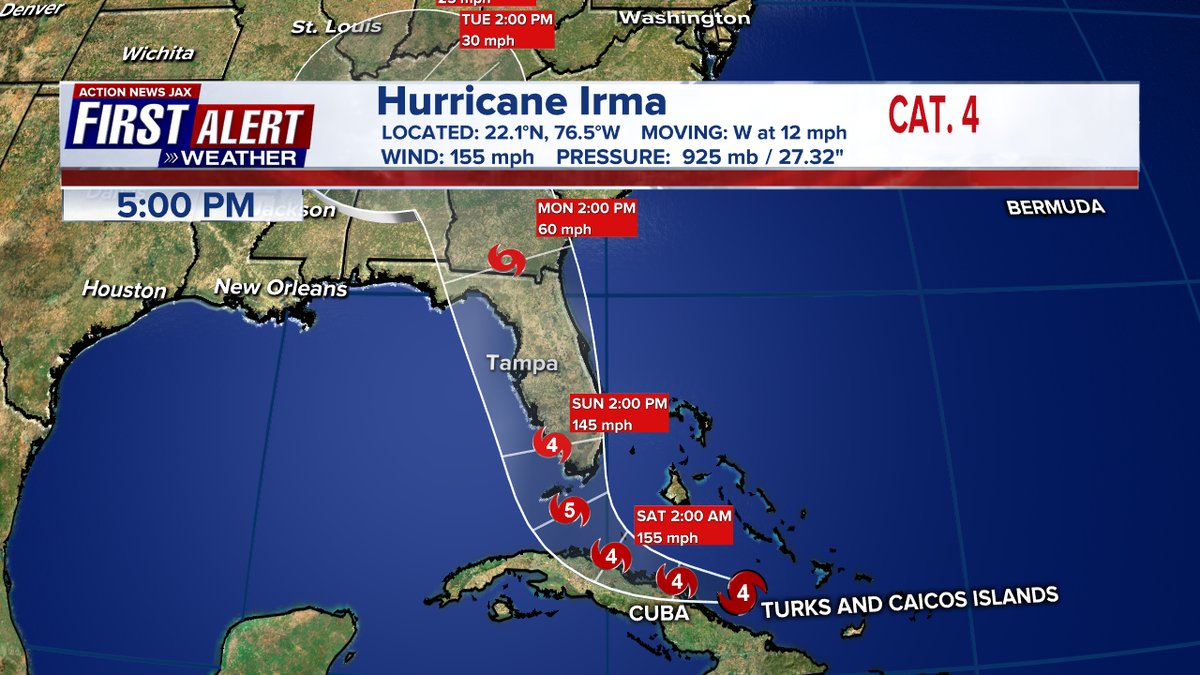 All of the European models have come together. There's no question that there will be a deadly landfall in South Florida.
I'm sharing wind European model gust graphic from Ryan Maue so that readers can see the magnitude of the extent of the area affected by Irma:
The operational18Z GFS is trending even more to the west and has me convinced that Irma will may make a landfall as a near cat. 5 storm in the Fort Myers/Naples area where the devastation will be unreal…. like that at the core of Andrew in Homestead in 1992:
Don't even get me started about Key West. I'm thinking that the central pressure before landfall will be around 910 Mb, not an all-time Atlantic low of 890 Mb per this run of the GFS, but that near 90F water gives me pause. According to NBC roughly 25% of residents in the Keys are glint to try to ride out the storm…. Sigh.
I'll be adding more information as the day progresses.
The Climate Guy
Friday Afternoon and Evening Updates…
Dear diary… I've renamed this blog such that the name Irma is the headline. For the next several days it's all about Irma. Even my home town, Atlanta, will be affected by at least tropical storm force winds after Irma roars north of the Florida/Georgia line on Monday. Already what I am terming climate change refugees from Florida are crowding into the city pitching camp in Atlanta Motor Speedway or finding temporary refuge in hotels. You can't find a hotel room here as of this writing. People will need to go west to say Mobile or New Orleans or north to Nashville, Memphis, or even to the Midwest to find available lodging.
What I'll continue to key in on this blog are future model and storm trends with Irma. To get a greater detail on past storm history, especially from hard hit Leeward islands, as well as what's going on with Katia and Jose see the Category Six blog here: https://www.wunderground.com/cat6/triple-trouble-cat-5-irma-cat-3-jose-cat-1-katia
Let's start out with a little good news. Overnight hurricane hunters have not found winds over 150 mph, so Irma has been downgraded to a category 4 storm as was forecast by NHC. However, due to exceptionally warm sea surface temperatures near 90F around Florida and a light wind shear environment, I agree with Dr. Jeff Masters that Irma could power back up to a 5 before making landfall, probably somewhere in the central Keys. Here is the current NHC forecast, watches and warnings:
I see no reason to disagree with the timing and path of the NHC forecast, which means that Irma is poised to have its eastern eye wall track west of Florida's east coast, which would be a near worst case scenario. What would make the situation even worse would be if Irma powered back up to a category 5. The GFS is insisting upon a near record low pressure at landfall a little over 900 Mb, which many analysts think will be too low by about 20 Mb. Here's what we see at the closest point to Miami from the 06Z GFS run:
The GFS continues the westward trend started by the European model yesterday, but insists on a category 5 pressure at landfall. Should Irma make landfall in southwest Florida in the everglades, perhaps the greater Miami area can avoid destruction on a par with what we saw from Andrew in 1992. Even if Andrew has cat 3 winds in the Miami area there will be awful, widespread damage, and I'm afraid loss of life for those that did not evacuate.
There is a glimmer of good news in association with the operational 12Z GFS. The thing is trending higher with the pressure by about 10 Mb and slightly farther west at landfall: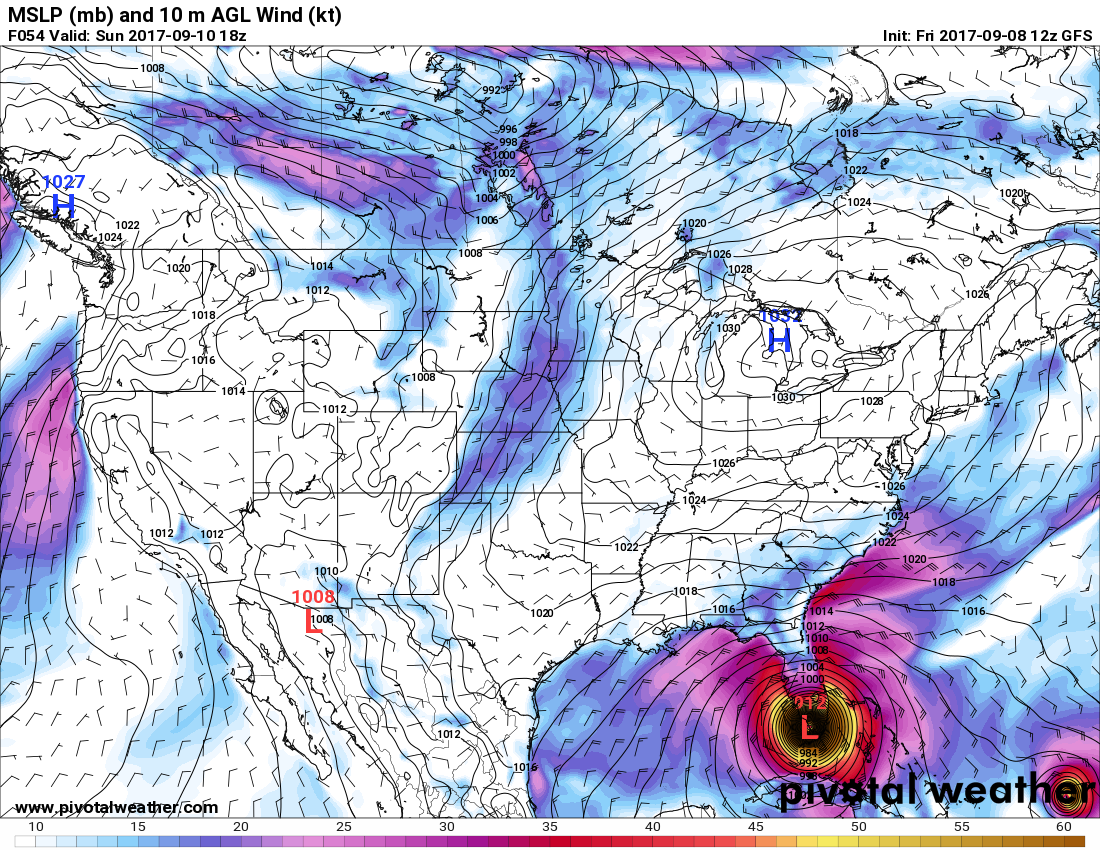 I would have rather seen Irma hug or stay off Florida's east coast to minimize the wind damage from the eastern eye wall, but if Irma was to make a landfall in southern Florida in the western Everglades away from the Miami area would be the second best scenario. Now it appears that the Keys will see gusts to 150 mph and total Inundation.
Today, Friday, is the last good day to get out of the Keys and south Florida, which I am recommending along with all experts. Don't use the below tips in South Florida. Please get out! If you just have to ride out the storm further north in central and northern Florida east of the panhandle use the following information (It's too late to do any on-line shopping☹):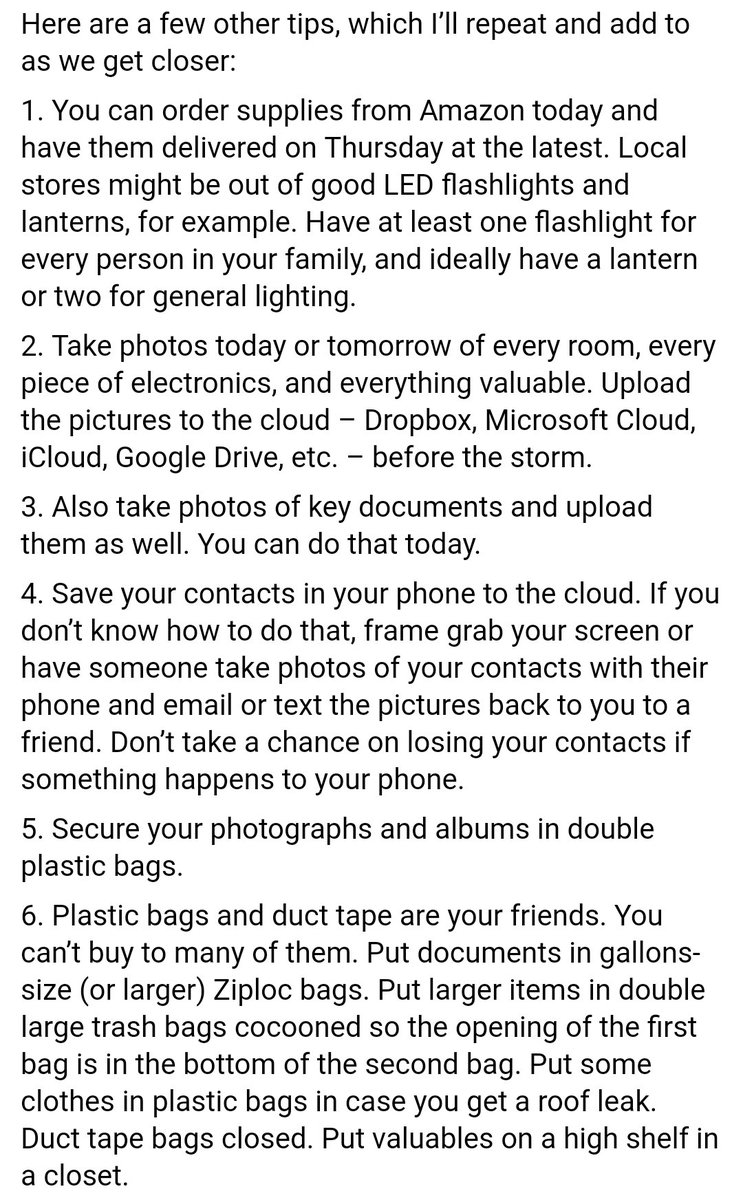 I'll be adding to this post today as relevant news crosses my radar.
To see all 2017 Heat Diary entries click:
https://guyonclimate.com/category/heatdiary2017/
The Climate Guy