Friday October 20th… Dear diary. It appears that the peak of the California heat wave will be on Tuesday OCT 24th. Just how long will the regime of above average and record setting temperatures last?
To answer this forecast question let's first look at the 500 mb pattern for the peak of the upcoming heat wave on Tuesday:
Here we see a large 594+ dm ridge, or heat dome, parked over the West, which would be above average by July standards. Along with offshore Santa Ana wind flow I fear that there will be conflagrations on par with those that occurred in Northern California due to Diablo winds. Please be very careful with outdoor fires over the next few days.
Thankfully the ridge doesn't last too long as would be expected in mid-fall. By Thursday we see this pattern: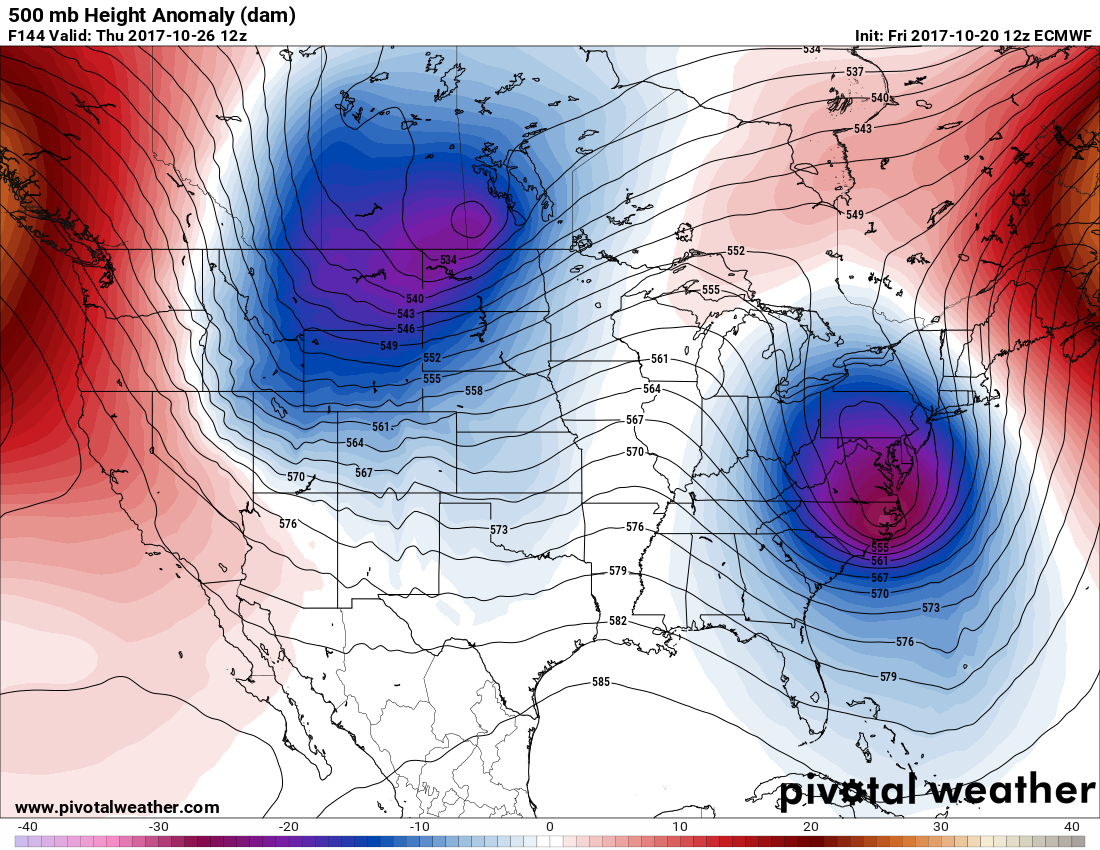 A strong front should be moving through the Rockies suppressing the western ridge. 500 mb heights do remain above average, and from time to time there will be Santa Ana winds, but the heat should subside.
Today Dr. Jeff Masters wrote a very thorough post on wildfires not only in California but around the planet including the potential for more fires in California next week.
https://www.wunderground.com/cat6/new-fire-danger-threatens-worsen-most-disastrous-wildfire-season-california-history
I'll be adding more pertinent information to this post later today as it crosses my radar.
The Climate Guy
Thursday October 19th… Dear Diary. Published today this is a must read for the event to come:
https://insideclimatenews.org/news/18102017/california-wildfires-global-warming-drought-wind-climate-change-fire
We are now getting temperature forecast specifics from individual NWS offices in California in association with the coming October heat wave. Here is a great graphic from the Los Angeles office: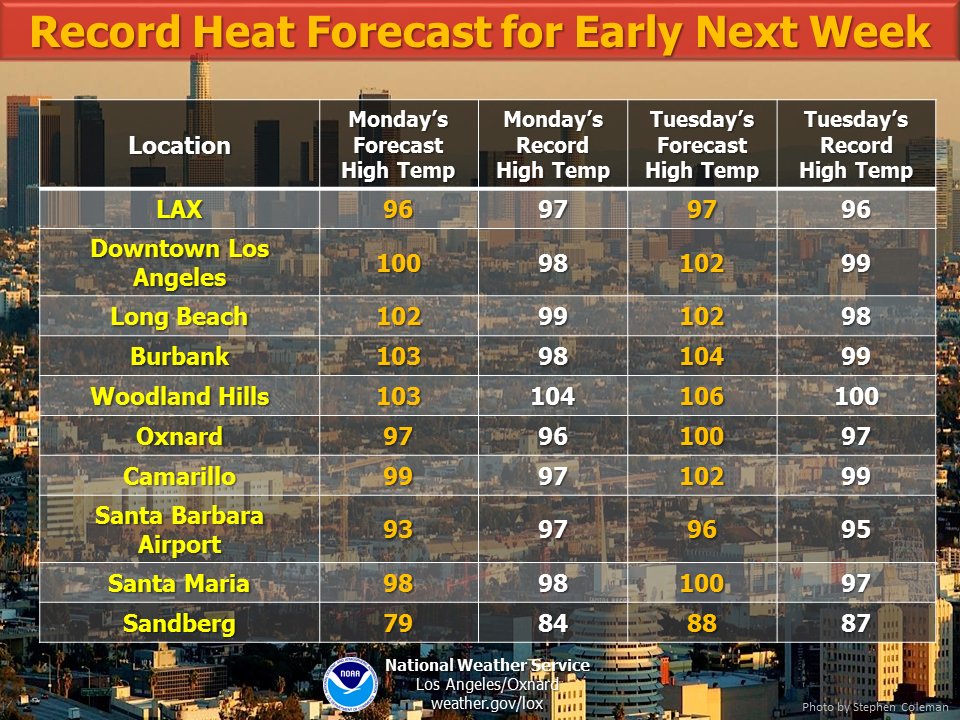 Today I'm going to focus on what will be happening east of the Rockies next week while the West will be undergoing a record hot temperature regime. For every action there is an equal and opposite reaction until equilibrium is achieved. This is very true in the world of weather. When a strong, warm ridge or heat dome forms in the western U.S. usually a trough of cold, low pressure aloft plunges southward from Canada. This  is known as a "teleconnection" pattern, or any 500 mb pattern that can be expected to form given "normal or average climatology." I'm getting some strong signs that indeed we will see a sharp trough in the East, which may produce near record cold weather in some locations. Due to AGW climatology is changing quickly but not so fast yet that most teleconnection patterns can't be forecast.
Here we see a cold trough plunging southward into the U.S. by Wednesday of next week:
The only questions will be how cold the air mass gets in association with the trough and how many cold records will be set from the Plains through the East. Here we see the GFS model temps valid for the same period: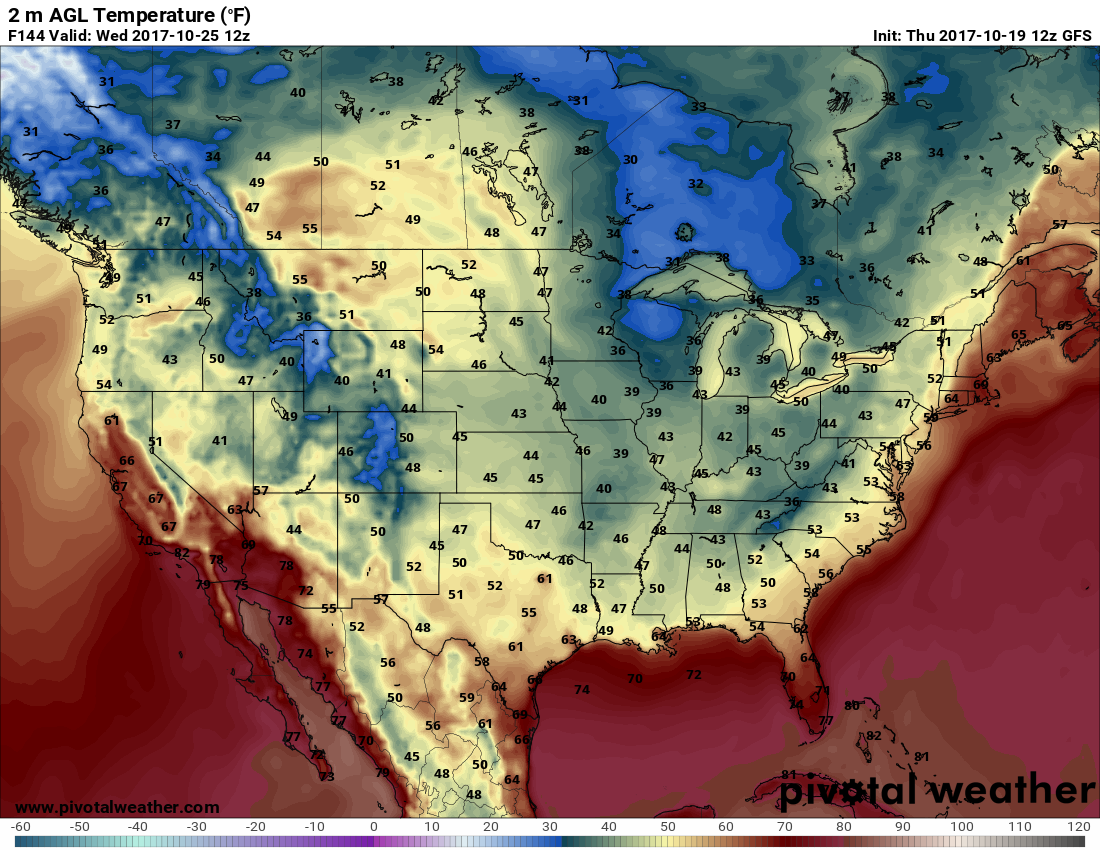 These temperatures for late October certainly are not near record values. I saw a lot colder forecast readings from model runs yesterday.
I may add more pertinent information to this post later today if it crosses my radar.
The Climate Guy
Wednesday October 18th… Dear Diary. I went into great detail in association with what appears to be a significant October heat wave next week here: https://guyonclimate.com/2017/10/18/back-into-hell-more-heat-and-fire-for-california/
I sincerely hope that there will not be "hell on Earth" next week across the Southwest including California next week meaning that large fires won't get started or grow due to the coming hot synoptic pattern.
On this post I'll concentrate on any areas that could see record temperatures the next couple of days. I'm not aware of any records set from yesterday when we saw these maxes, although a few reports might come into the NCEI database from the Southwest: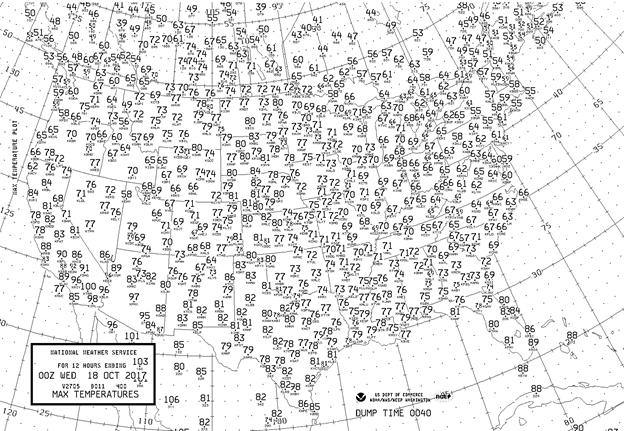 Tomorrow we should see about the same very pleasant temperature pattern: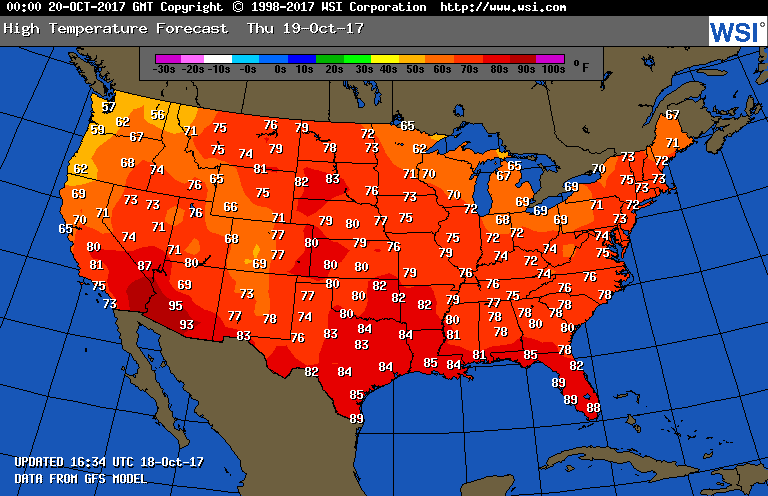 I'll add more to this post later today if any records are reported.
The Climate Guy
Tuesday October 17th… Dear diary. Since we will be keeping score over the coming weeks and months reporting on record warm and cold events let's start with the current tally for October 2017 from the NCEI database:

Data is in through 10/14. Notice already that the "warm team" has about a 40 point lead over the "cold team." That's no surprise given that anthropogenic global warming has really been ramping up temperature readings nationally and globally the last few years. In the last few days my hometown, Atlanta, was part of these statistics setting daily record highs of 88F and 86F before a cold front dropped readings down to "what they should be" for fall yesterday on the 16th. The bulk of the record highs so far this month were reported from the South. The majority of the record lows come from the West in the wake of The Weather Channel's first named winter storm, Aiden.
Here are yesterdays maxes: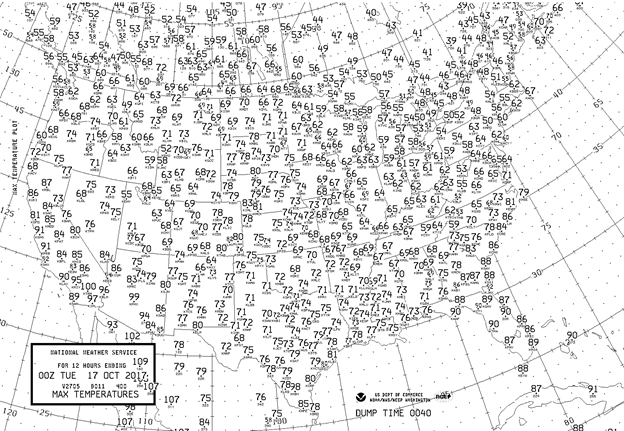 We see on the chart a typical, pleasant temperature regime for mid October except in the Southwest. Yesterday I wrote that Phoenix would get just a few degrees shy of their daily record max of 102F. Sure enough they had a max of 99F, so one would expect a few record reports coming in from the surrounding area. Indeed I saw two reports from Southern California, El Cajon at 101 and Ramona at 99, both of which were daily record highs for 10/16. The Southwest will continue to be anonymously hot going into next week.
South of the polar front, which finally brought fall weather to much of the South, Jacksonville FL had a daily record high of 92F yesterday on the 16th. When a major station such as Jacksonville FL sees a daily record usually 20-30 surrounding minor stations report records, which are added to those NCEI counts.
Another heat wave in a long series this year is on tap for the West next week where there is good model agreement.  You can see more model data from western expert Daniel Swaim here:
https://twitter.com/Weather_West/status/920322649368096769
I'll go into much greater detail on what appears to be the next U.S. synoptic weather regime in which many warm records will be set tomorrow.
I'll add more to this post as information crosses my radar.
The Climate Guy
Monday October 16th…Dear diary. Over the summer my reports and forecasts of record, dangerous heat proved beneficial, so why not continue this blog motif for the colder months. Obviously any record warmth won't be dangerous but climatologically eye opening. For example, if it gets up to 75F in Charlotte NC on Christmas Day it might feel nice but residents there may not feel the typical, cold weather which embodies part of the holiday spirit of traditional Americana. As was the case during the summer, I'll also be reporting on any record cold.
California is still in the throes of a terrible warm, dry regime, but as of today firefighters are getting a better handle on wildfires. What has caught my attention this morning are very high forecast 500 mb heights that will continue over most of the U.S. for another week, then a building ridge or heat dome over the West valid early next week: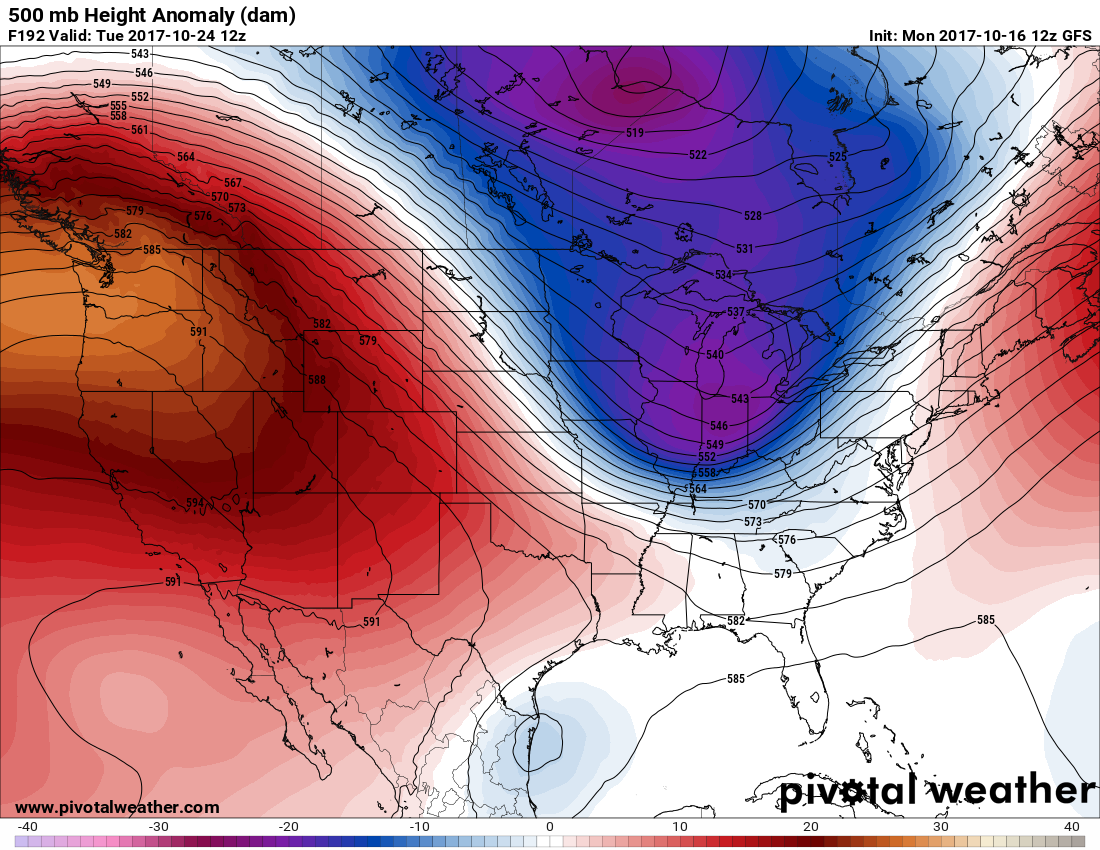 I've never seen a 594+ decameter ridge anywhere over the CONUS so late in the month of October. I have no doubt that there will be record heat in California and the Pacific Northwest next week should models verify. This would be "dangerous heat" considering the effects of the conflagration that already has occurred in California. Just how hot? As we go through this week we'll be refining forecasts. Santa Ana winds in Southern California will also come into play.
Since we will be keeping tabs on record temperatures, I'll be looking at short term forecasts to see if there is any potential to crack records. What about tomorrow? Phoenix will come within a few of degrees of breaking their record Tuesday (102 set in 2009):
Most of the country, though, will see a pleasant, mid-fall day.
I'll be adding more relevant information should it cross my radar during the day.
The Climate Guy