Friday November 17th… Dear Diary. Here is today's main climate related topic:
News Corner: Texas and other areas of the planet are now seeing an increased threat for heavy precipitation. This week researchers have reported the effects of climate change in association on Harvey's historic rainfall in the Houston area: 
By Jennifer Chu…13 November 2017
"(MIT News) – As the city of Houston continues to recover and rebuild following the historic flooding unleashed by Hurricane Harvey, the region will also have to prepare for a future in which storms of Harvey's magnitude are more likely to occur.
A new MIT study, published online this week in the Proceedings of the National Academy of Sciences, reports that as climate change progresses, the city of Houston, and Texas in general, will face an increasing risk of devastating, Harvey-scale rainfall."
The full article is linked here: http://www.desdemonadespair.net/2017/11/odds-of-harvey-scale-rainfall-in-texas.html
(Image Credit: MIT News)
Here is my daily update on synoptic weather patterns that could be producing records, either hot or cold. After a cold pattern this weekend that may produce some record lows from the Midwest into the Northeast, the next system to produce records should be a warm ridge, or heat dome, over the West come Turkey Day:
As a bonus due to the ridge it doesn't look like there will be too many travel related problems around Thanksgiving, but traditional cold weather might be in short supply during this holiday.
One update for this evening: A daily record high of 86 was set today ahead of a front at the City of Houston location. The old record was 85 set in 2013. In addition Houston Hobby Airport also tied its daily high of 85 also set in 2013.
I'll add more relevant information to this post if it crosses my radar.
The Climate Guy
Thursday November 16th… Dear Diary. Here is today's main climate related topic:
News Corner: Despite being in La Niña October 2017 was the second warmest October in recorded history looking at NASA GISS data:
Here are the current sea surface temperatures in association with the La Niña:
Here is my daily update on synoptic weather patterns that could be producing records, either hot or cold. Models have come into decent agreement forecasting a cold event for the Midwest and Northeast this weekend, but the system probably won't be cold enough to produce a significant (in my book over 100) number of daily records:
I did see a note today from Tomer Berg indicating that sometimes model ensembles themselves fail to predict correct forecast patterns. Such has been the case for this week's coming cold pattern and next week's potential snowstorm for the East Coast: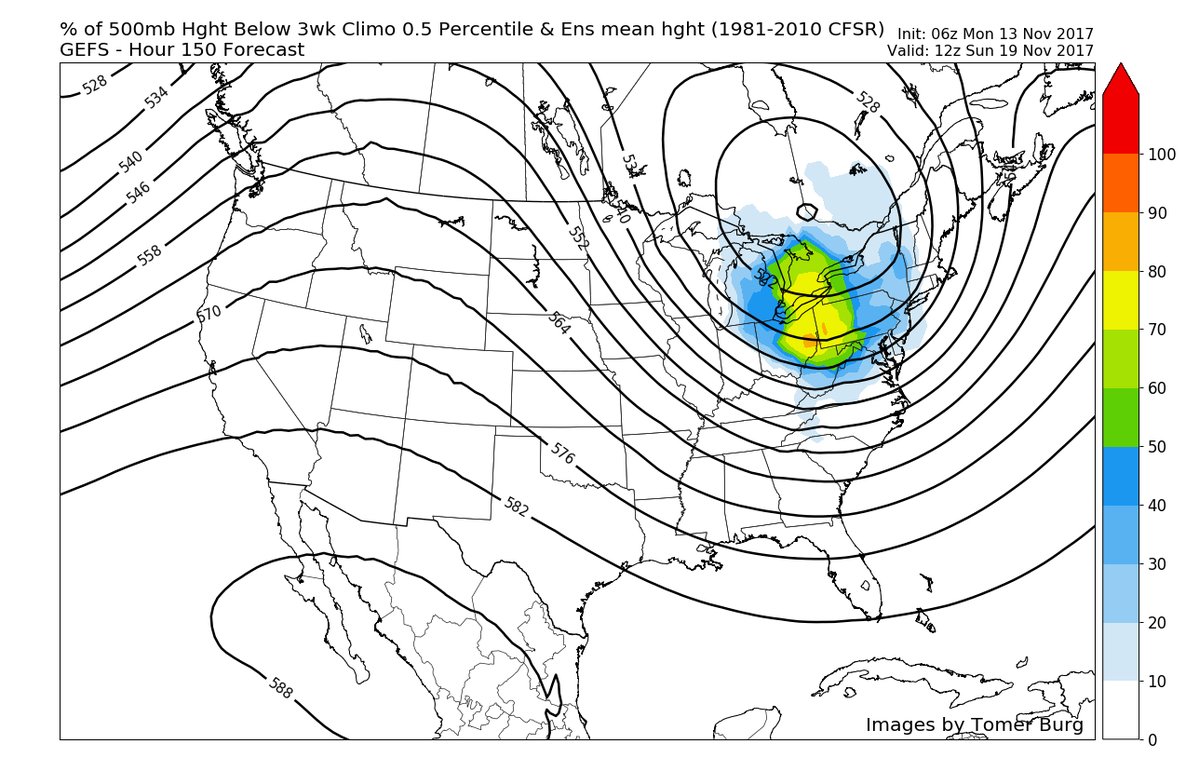 Note that the system forecast to move into the Midwest is not nearly as deep or cold at 78 hours out.
Looking at tomorrows highs we might see a few daily record maxes from western KS southward to western TX:
I'll add more relevant information if it crosses my radar later today.
The Climate Guy
Wednesday November 15th… Dear Diary. Here is today's main climate related topic:
News Corner: Low income black Americans are hurt more from exposure to fossil fuel toxins than any other group in America. Quoting from this article, "More than 1 million African Americans live within a half-mile of oil and natural gas wells, processing, transmission and storage facilities (not including oil refineries), and 6.7 million live in counties with refineries, potentially exposing them to an elevated risk of cancer due to toxic air emissions, according to the study."
https://insideclimatenews.org/news/14112017/african-americans-exposed-oil-gas-wells-refineries-health-risks-naacp-study
From Robert Rhode. Berkeley University data has come in for October 2017, and these are not pretty pictures. Global land mass temperatures averaged warmest since 1850: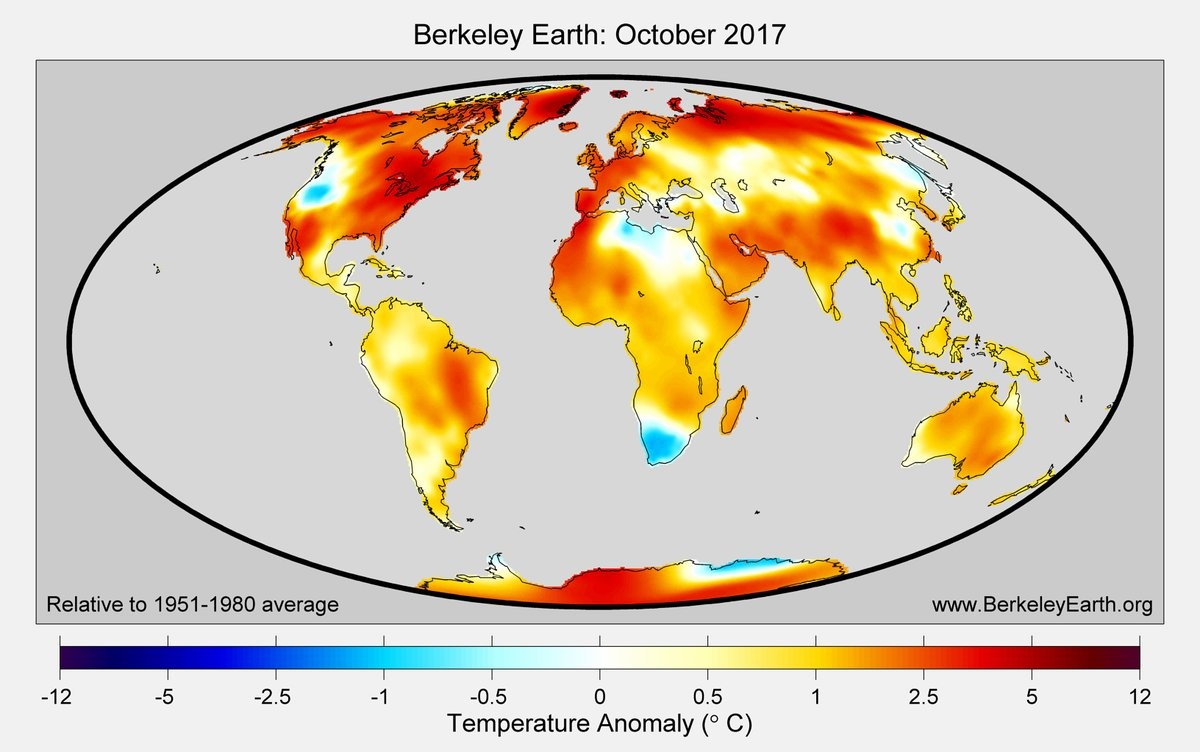 Data from last week's cold shot is beginning to the NCEI database. Here are some of the tallies I see from the time of the cold outbreak, Thursday 11/9 to Sunday 11/12:
243 DRLMN and 275 DRLMX
I'll be updating these numbers on today's post as more data flows into the NCEI system.
Models today are continuing to have difficulty with the next system expected to affect the Midwest and Northeast with more cold air by this weekend. Both the severity and longevity of the next cold outbreak are in question. The GFS is coming around to the warmer European solution, so this is my best educated guess as to how the 500 mb pattern will be oriented across the nation by Monday:
It appears that a system will break through the western ridge nudging the cold synoptic pattern off the East Coast except in New England.
I'll be posting more relevant  information later today as it crosses my radar.
The Climate Guy