Monday November 12th… Dear Diary. The main purpose of this ongoing post will be to track United States extreme or record temperatures related to climate change. Any reports I see of ETs will be listed below the main topic of the day. I'll refer to extreme or record temperatures as ETs (not extraterrestrials)😊. 
Deadly California Fires/A Presidential Boo Boo…November 2018 Day 5
Dear Diary. Here is an unfortunate update from this evening:
With the death toll now at 42, and more than 7100 structures consumed, the #CampFire is the deadliest and most destructive wildland fire in California history https://t.co/zpj84jSqWg pic.twitter.com/8OjW9qS9xO

— Bob Henson (@bhensonweather) November 13, 2018
Quoting Bob's post from this evening:
President Donald Trump got major blowback after a tweet sent on Saturday: "There is no reason for these massive, deadly and costly forest fires in California except that forest management is so poor. Billions of dollars are given each year, with so many lives lost, all because of gross mismanagement of the forests. Remedy now, or no more Fed payments!" Brian Rice, president of the California Professional Firefighters union, which represents more than 30,000 first responders, declared in a statement: "The president's message attacking California and threatening to withhold aid to the victims of the cataclysmic fires is ill-informed, ill-timed and demeaning to those who are suffering as well as the men and women on the front lines."
As of this morning there were 31 dead and more than 250 people still missing as a result of the latest round of horrific fired across California. At a time when the leader of the free world should be acknowledging what climate change is doing, and at the very least comforting victims and fire fighters, we get this:
I am glad these brave first responders and firefighters are pushing back. They shouldn't have to do this, they are putting their lives on the line and need to focus. Thank you to all of you out their on those front lines battling this historic and deadly fires. https://t.co/glkQCPvDdk

— Marshall Shepherd (@DrShepherd2013) November 12, 2018
"This is not the new normal," he said, employing a phrase that state leaders have used to describe the past two deadly, prolonged California fire seasons. "This is the new abnormal, and this new abnormal will continue certainly in the next 10 to 15 years." https://t.co/ZFwckdI1c8

— Scott Cook (@scook2214) November 12, 2018
Neil Young has lost his home to the wildfires. In a new statement posted on the Neil Young site, Young criticized @realDonaldTrump inappropriate reactions to the wildfires, discussed the severity of climate change, and confirmed the loss of his house. https://t.co/087uv7cAcK

— We Don't Have Time (@WeDontHaveTime0) November 12, 2018
I suspect that at least through January 2021, barring impeachment, we won't be getting much empathy from Trump initially when climate change related disasters occur. The mark of a good leader during disasters, like Churchill during the Blitz, or Obama after mass shootings, is inspirational oratory comforting victims. It's now obvious to me that for the rest of Trump's term the main two climate change related disasters will be deadly hurricanes, such as Maria and Michael, and wildfires. We need strong leadership on climate issues going into the next decade. The United States will be very fortunate to not see another disaster on the caliber of the current wildfires through 2020. I suspect that our luck has run out.
In Trump's defense I did see this tweet this morning: 
The California Fire Fighters, FEMA and First Responders are amazing and very brave. Thank you and God Bless you all!

— Donald J. Trump (@realDonaldTrump) November 12, 2018
From Bob's tweet I highly recommend reading Stephen Pyne's Slate piece: 
https://slate.com/technology/2018/11/california-woolsey-camp-fire-trump-forest-management.html?wpsrc=sh_all_dt_tw_ru
As high pressure continues to build over interior portions of the West Santa Ana and other easterly winds will continue over California through at least Tuesday: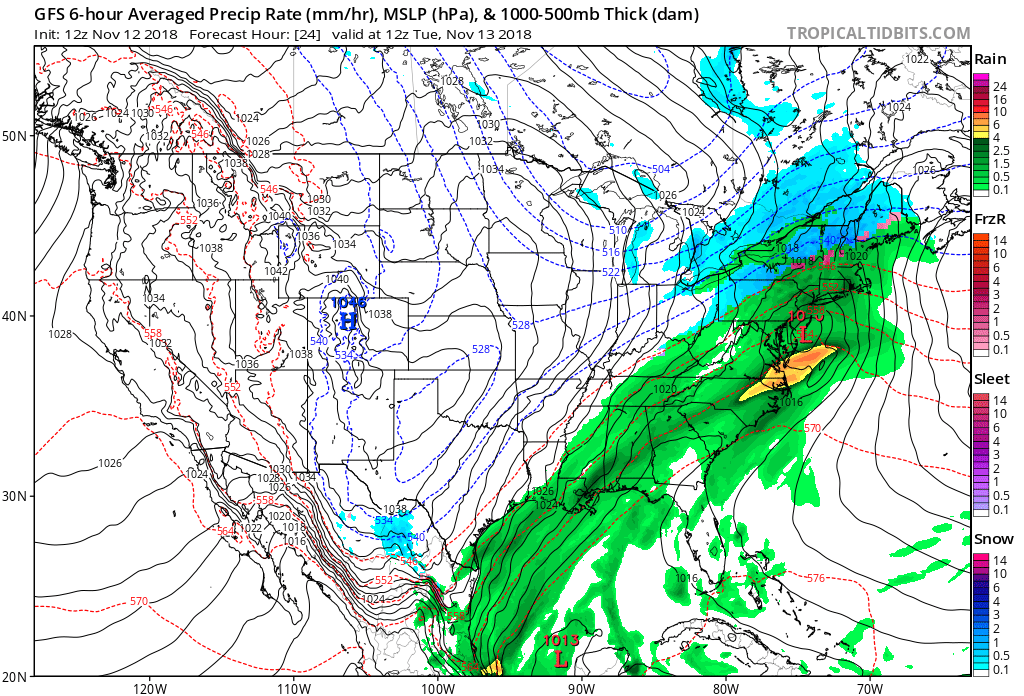 As the West continues to experience drought conditions a disturbance linked to the North American dipole will bring flooding rain to the East through much of this week.
Red Flag Warning has been extended through 5 PM Wed for Ventura County & portions of LA County. Winds will decrease some Tue night but remain gusty. #SoCal #CAwx #WoolseyFire #CAfire pic.twitter.com/T8eHGIXqk3

— NWS Los Angeles (@NWSLosAngeles) November 12, 2018
The station has mysteriously stopped reporting. Last observation was 61 mph sustained gusting to 85 mph…#cawx https://t.co/KNVhcbxJfH

— NWS San Diego (@NWSSanDiego) November 12, 2018
In far southern California, the wind was incredibly gusty this Monday morning. GRADUALLY, conditions will improve over the next few days, but we are not out of the woods yet regarding fire behavior due to dry, windy weather. #cawx #WoolseyFire pic.twitter.com/PFV7yNegTC

— Geoff Cornish (@StormOfCorn) November 12, 2018
Just like yesterday I will post more social media information, some of which has links to finely written articles on the fires. If anyone has a link for me to post, please drop me a note:
4 of 5 biggest fires in California history occurred in the past 6 years. In speaking of the impacts of Climate Change: "What may seem like subtle changes, have substantial impacts". My contribution to @CBSNews today. https://t.co/o7WMgrPQmu @EndClimtSilence @mmfa @ClimateCentral

— Jeff Berardelli (@WeatherProf) November 12, 2018
The climate context of the California wildfires in 1 chart (not the whole story, at all, but this helps tell one aspect). https://t.co/rvfFG3l8y8

— Andrew Freedman (@afreedma) November 12, 2018
Today's satellite imagery of the devastating #CampFire (Northern California). You can see areas of ongoing hotspots/fire (red), the burn area over Paradise (brown), and smoke (blue hue). Please keep this community in your thoughts.

[Sentinel-2 satellite: https://t.co/93GLWzjpCz] pic.twitter.com/ZMWV7KWzJ9

— Zack Labe (@ZLabe) November 12, 2018
As #CaliforniaFires Are Burning – We Send Up Prayers & Blessings To The Families Who Have Lost Love One's. We Send A Thank You To Our #Firefighters, But We Say The President Must Do Better & His Lack Of Action On #ClimateChange Is Contributing To Lives Lost.#ThousandOaksStrong pic.twitter.com/LrMzLctNC7

— Mustafa Santiago Ali (@EJinAction) November 12, 2018
Incredible time lapse of the #PeakFire growing & billowing in Simi Valley, California. pic.twitter.com/zAsy8LZAjp

— WeatherNation (@WeatherNation) November 12, 2018
As Dangerously Dubious Donald Attacks Imaginary Enemies, There's A REAL Caravan Headed To CA … & It's Made Up Of Firefighting Heroes

– @HHooversGhost @ohiomail @OhNoSheTwitnt @VennMultiverse @Crazy__Liberal @FeistyLibLady @JohnRMoffitt @acehanna54 @OTOOLEFAN @AKADonaldTrump pic.twitter.com/2Rb5abMDaZ

— Allan Margolin (@AllanMargolin) November 12, 2018
Here is some impressive NASA imagery of the burn areas:
https://www.jpl.nasa.gov/spaceimages/details.php?id=PIA22816
   Figure 1
The Advanced Rapid Imaging and Analysis (ARIA) team at NASA's Jet Propulsion Laboratory in Pasadena, California, created these Damage Proxy Maps (DPMs) depicting areas in California likely damaged by the Woolsey and Camp Fires. They are derived from synthetic aperture radar (SAR) images from the Copernicus Sentinel-1 satellites, operated by the European Space Agency (ESA).
The pre-event images for the Woolsey Fire in Southern California (main image) were taken before the fire on Oct. 30, 2018 and the post-event image was acquired during the fire on Nov. 11, 2018. The map covers an area of 50 miles x 25 miles (80 km x 40 km), indicated with the big red polygon. Each pixel measures about 33 yards x 33 yards (30 m x 30 m). The color variation from yellow to red indicates increasingly more significant ground surface change.
The pre-event images for the Camp Fire in Northern California (Figure 1) were taken on Nov. 4, 2018 and the post-event images were acquired during the fire on Nov. 10, 2018. The map covers an area of 55 miles x 48 miles (88 km x 77 km). As in the previous image, each pixel measures about 33 yards x 33 yards (30 m x 30 m). The color variation from yellow to red indicates increasingly more significant ground surface change.
Preliminary validation for both maps was done by comparing approximate location data to Google's Crisismap. These damage proxy maps can be used as guidance to identify damaged areas with the understanding that they may be less reliable over vegetated areas including farmlands. For example, the scattered single colored pixels over vegetated areas may be false positives, and the lack of colored pixels over vegetated areas does not necessarily mean no damage.
Sentinel-1 data were accessed through the Copernicus Open Access Hub. The image contains modified Copernicus Sentinel data (2018), processed by ESA and analyzed by the NASA-JPL/Caltech ARIA team. This research was carried out at JPL funded by NASA.
For more information about ARIA, visit http://aria.jpl.nasa.gov.
Abandoned cars, burned forests. This is what the aftermath of sheer terror looks like in Paradise pic.twitter.com/rzLCdxeBgf

— Brian L Kahn (@blkahn) November 9, 2018
Here is some other weather and climate news from Monday:
(As usual, this will be a fluid post in which more information gets added during the day as it crosses my radar, crediting all who have put it on-line. Items will be archived on this site for posterity.)
We took a close look at what Hurricane Michael did to the Florida Panhandle. Unbelievable @capitalweather https://t.co/BijqEtcDN3

— Joel Achenbach (@JoelAchenbach) November 12, 2018
A predicted increase in air conditioning spells climate trouble for two reasons: the amount of energy used and the leaking of a potent, short-lived pollutant known as HFCs.https://t.co/CHkyDnDwnE

— InsideClimate News (@insideclimate) November 12, 2018
"Frequent extreme weather is likely due to atmosphere stalling of giant waves" by Cecilio Arillo of @BusinessMirror: https://t.co/AdL08PyRod

— Michael E. Mann (@MichaelEMann) November 12, 2018
New November update on ENSO by the Climate prediction Center, the tweet includes a link to the detailed report. https://t.co/PLYFU8FCOz

— Scott Cook (@scook2214) November 12, 2018
Record low #Arctic sea ice area continues around Svalbard (since at least 1967 – @Istjenesten charts). Temperatures at Longyearbyen (~78°N latitude) have been 6.8°C above average in last 30 days.

+ Weather data: https://t.co/s8yYvQ1OpK …
+ Sea ice data: https://t.co/ofUnaDwZoW pic.twitter.com/G41EuQJR3p

— Zack Labe (@ZLabe) November 12, 2018
Decades ago climate scientists told us that the first signs of climate change would appear in the temperature record, and extreme heat events would become more common and more extreme.

This is exactly what has happened, only much faster than projected. https://t.co/ZWUqPMtNnQ

— Paul Dawson on Climate Change (@PaulEDawson) November 12, 2018
We know we'll run out of dead dinosaurs to mine for fuel & have to use sustainable energy eventually, so why not go renewable now & avoid increasing risk of climate catastrophe? Betting that science is wrong & oil companies are right is the dumbest experiment in history by far … https://t.co/TvyuDBf3lR

— Elon Musk (@elonmusk) November 10, 2018
The band broke up years ago. Or maybe it just stopped playing, as new members joined and the old harmonious notes turned sour.

Never mind the Beatles.

The band that broke up… https://t.co/magSY3NOVz

— Skeptical Science (@skepticscience) November 12, 2018
We did see some cold "ETs" in Canada this morning:
Quelques records de bas minimums ce matin au #Québec, comme mentionné par @MeteoAntoine, mais aussi localement sous les -20°C! #MeteoQC pic.twitter.com/GrDc7c99HO

— Patrick Duplessis (@Pat_wx) November 12, 2018
(If you like these posts and my work please contribute via the PayPal widget, which has recently been added to this site. Thanks in advance for any support.)
The Climate Guy
Just in time: here's a truly thoughtful essay on wildfire and land management from one of the nation's great experts on the subject. https://t.co/1sYXUdyReI

— Bob Henson (@bhensonweather) November 12, 2018
The California Fire Fighters, FEMA and First Responders are amazing and very brave. Thank you and God Bless you all!

— Donald J. Trump (@realDonaldTrump) November 12, 2018