Monday November 26th… Dear Diary. The main purpose of this ongoing post will be to track United States extreme or record temperatures related to climate change. Any reports I see of ETs will be listed below the main topic of the day. I'll refer to extreme or record temperatures as ETs (not extraterrestrials)😊. 
Australian Heat and United States Chill
It has come to my attention that as Australia enters summer another dreaded heat wave is underway:
Canicule sur le nord-est de l'#Australie, dans l'Etat du #Queensland, des records absolus de chaleur ce 26 novembre #heatwave
45.2°C Mount Stuart (au sud de Townsville)
44.9°C Proserpine (42.9 20-12-1995)
42.6°C #Cairns Aero (40.5 20-12-1995)
39.7 Mackay Airport (38.5 11-10-1955) pic.twitter.com/UxxTHWrmHP

— Etienne Kapikian (@EKMeteo) November 26, 2018
This is a GFS 10 day temperature forecast for Australia beginning today. It represents 12 daytime hours to focus on the high temperatures of each day. Forecast for 100+ fahrenheit temperatures throughout most of the Continent, especially in the North throughout the 10 day period pic.twitter.com/ihDFFQpkvr

— Scott Cook (@scook2214) November 27, 2018
Extreme #heatwave conditions are impacting far north Queensland from #Cooktown and #Cairns to #Townsville, #Mackay and #Rockhampton. Max. temps are well above average, with records already broken. Tips from @qldhealthnews to beat the heat: https://t.co/jWnU3nkDIh. @ABCemergency pic.twitter.com/jABTAntQEi

— Bureau of Meteorology, Queensland (@BOM_Qld) November 26, 2018
This first image is a fire in Bulburin National Park, West of the town of Miriam Vale. the second image is a fire in the Eurimbula National Park to the East of Miriam Vale. All are in the Gladstone region coast of Central Queensland. Images at 500 meters, Copernicus Sentinel 2⬇️ pic.twitter.com/GlFIjcqlGu

— Scott Cook (@scook2214) November 27, 2018
Here is a Guardian article on the heat in Queensland written on November 5th: https://www.theguardian.com/australia-news/2018/nov/05/queensland-on-alert-as-heatwave-blasts-state-from-north-to-south
I'll  let all know of any more news coming from Australia and…
Sounds familiar. #CAfire #CAwx https://t.co/A0D5V9oGtw

— Daniel Swain (@Weather_West) November 26, 2018
If you remember last season bats were literally being roasted to death, unfortunately:
https://www.cnn.com/2018/01/10/weather/flying-foxes-heat-wave-australia-trnd/index.html 
Taking a look at the heat dome over northern Australia from this morning I do see high 500 millibar heights above 588 decameters with more typical frontal systems moving over southern Australia: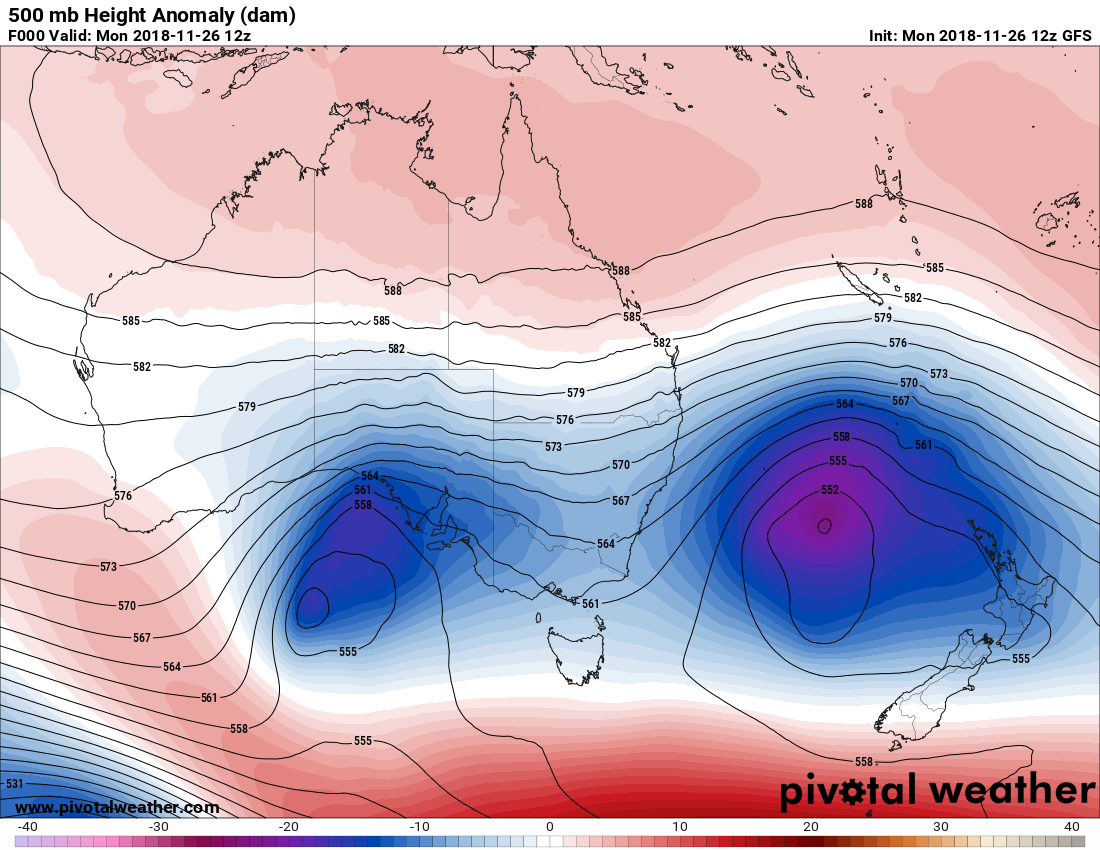 Dear Diary. Well this evening Bill McKibben did see more news coming from Australia:
"Unprecedented heat and flooding rain in Australia." Just another day on our hot new planet https://t.co/GqH3xTLoZ2

— Bill McKibben (@billmckibben) November 27, 2018
Severe to extreme #heatwave conditions are set to continue for the next 7 days across NE Qld, extending into central & NW Qld on Friday. Max. & min. temperatures are expected to be well above average, exacerbating fire weather conditions. Weather warnings: https://t.co/aRvFNA2aqf pic.twitter.com/epABHcRSCo

— Bureau of Meteorology, Queensland (@BOM_Qld) November 29, 2018
Dear Diary: On the 27th (Wednesday) Bob Henson wrote a very thorough post on what is now occurring in Australia:
Australia is under siege this week, with all-time record heat and widespread fires in Queensland. And the outlook for summer 2018-19 is ominous https://t.co/gXGrzK4O32 pic.twitter.com/WR9zFlVEMV

— Weather Underground (@wunderground) November 29, 2018
The Australian heat wave is part of the ongoing fever affecting most of the planet as noted by all the orange colors on the Climate Reanalyzer charts:
Brisbane has just seen the hottest November ever. To top it off we are having a 37° day with an afternoon dust storm. North of us are catastrophic bushfires. Sydney just got a month's worth of rain in a few hours and have widespread flooding.Not in the mood for CC deniers today

— Snark📚📡🎑🍫🎞🌏 (@Smartymarty66) November 27, 2018
Not all areas of the planet are experiencing above average temperatures due to carbon pollution, though. Most of central North America is colored blue on the Climate Reanalyzer chart indicating colder than average temperatures. Across the Midwest a winter storm named by The Weather Channel as Bruce just set down a thick layer of snow: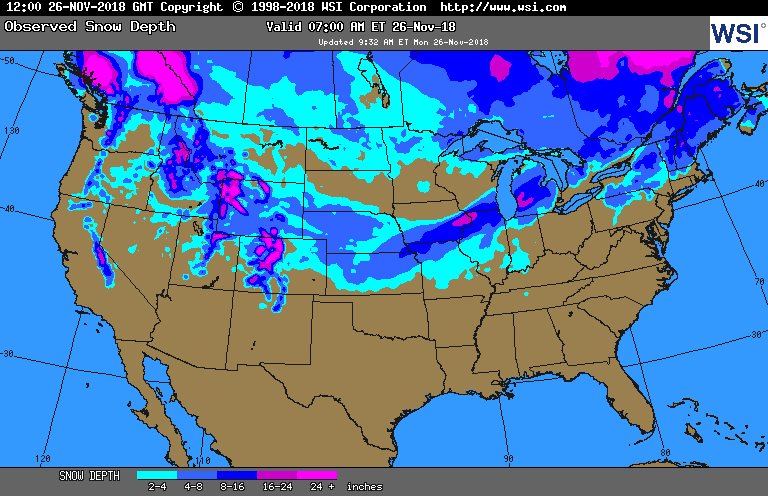 #WinterStormBruce has stranded travelers and caused scattered power outages from the Plains to the Great Lakes. The latest: https://t.co/qCHjlJB9kY pic.twitter.com/JkGN6iqYz0

— The Weather Channel (@weatherchannel) November 26, 2018
With a blizzard now tracking from Kansas City to Chicago, this November continues to startle with its bouts of wintry conditions east of the Rockies. I doubt it'll match Nov. 2000 (second coldest in U.S. records), but it's trying hard. pic.twitter.com/qExAHVjVNM

— Bob Henson (@bhensonweather) November 25, 2018
It's interesting that the United States is undergoing yet another cold November in this era of global warming. A new El Nino is blossoming in the Pacific, which probably will lead to relatively warmer times across the United States in 2019. The U.S. had a very cold November in 2014 before a strong El Nino kicked into high gear aiding to send heat levels into record territory in 2015 and 2016 as catalogued on my "Record Scoreboard" updated through 11/23/18 from: https://www.ncdc.noaa.gov/cdo-web/datatools/records
For this data set all monthly ratios of  > 10 to 1 DHMX to DLMN or > 10 to 1 DLMN to DHMX are in bold type. The rankings are for the lower 48 states with the warmest ranking since 1895 of average temperatures being 124 and 1 being the coldest as of 2018.  Blue colors represent cold months and red warm. Those months with counts close to a 1 to 1 ratio of highs to lows are colored black.
NCDC rankings have been color coded (under tabs in each file) such that values of 52 to 72 are black representing neutral months or years (+ or – 10 from the average ranking of 62). Values below 50 are color coded blue and values above 72 are color coded red.
The NCEI database now incorporates hundreds of record lows set from the Northeast the last few days. November will only be the second cold "blue" month since November 2014. That's only 2 months out of 48 since that time of significantly more daily low records than high! 
Unfortunately also due to the U.S. chill this month the weather is muddling the climate message given by NAC4 (The 4th National Climate Assessment), Part 2. Our dear leader, President Trump, has been trolling climate scientists again this year:
"Scientists Slam Trump's Clueless Climate Change Tweet: 'He's A Clown' [yeah–that's a direct quote from me]" via Nick Visser (@NVisser) of @HuffPost: https://t.co/0AhaQix44l

— Michael E. Mann (@MichaelEMann) November 22, 2018
Anyhoo… We'll see if a cold winter sets in for the U.S. and if the world cools down over the next several months. Somehow I doubt it, but if so old Trump will be really crowing.😉
…………………………………………………………………..
Here is more climate and weather news from Monday:
Bering sea ice extent is currently a record low for the date as we begin its freeze season. Clearly, last winter was also quite an extreme event.

Each line represents one year from 1979 (purple) to 2017 (white) using @NSIDC daily data. pic.twitter.com/cRU750JRaL

— Zack Labe (@ZLabe) November 26, 2018
(As usual, this will be a fluid post in which more information gets added during the day as it crosses my radar, crediting all who have put it on-line. Items will be archived on this site for posterity.)
|The Depravity of Climate-Change Denial" | Must-read commentary by @PaulKrugman just out in The @NYTimes (and a thanks to Paul for the #MadhouseEffect shout-out!): https://t.co/JPdJ6VLTuU

— Michael E. Mann (@MichaelEMann) November 27, 2018
Starting NOW on today's @KPFK #BradCast: We'll be joined by climate scientist @MichaelEMann to discuss the Admin's stunning climate change report they tried to bury over the holiday weekend! That & more (maybe even calls) at 3p PT/6p ET today! LISTEN LIVE: https://t.co/B0HzBT22hZ pic.twitter.com/BIw1U4xIPH

— Brad Friedman (@TheBradBlog) November 26, 2018
A late-week storm could bring severe weather to the South and spread more wintry weather across the Plains and Midwest: https://t.co/wzA9grapRI pic.twitter.com/mSXFE0N997

— The Weather Channel (@weatherchannel) November 27, 2018
The Pacific island nation of Vanuatu is considering suing fossil fuel companies and industrial nations for their roles in worsening climate change, @reuters reports.https://t.co/HaYmLntFNZ

— InsideClimate News (@insideclimate) November 27, 2018
Another El Niño is nearly upon us. What does that mean? https://t.co/SAASgDOOv6 via @grist pic.twitter.com/QHHnzvcbrY

— Climate Central (@ClimateCentral) November 27, 2018
The U.S. isn't the only nation releasing a major report this month on how climate change will unfold within its borders this century. https://t.co/ZwVFr0zWe2

— Bob Henson (@bhensonweather) November 26, 2018
(If you like these posts and my work please contribute via the PayPal widget, which has recently been added to this site. Thanks in advance for any support.) 
The Climate Guy