Sunday January 6th… Dear Diary. The main purpose of this ongoing post will be to track United States extreme or record temperatures related to climate change. Any reports I see of ETs will be listed below the main topic of the day. I'll refer to extreme or record temperatures as ETs (not extraterrestrials)😊. 
U.S. Mild Weather Going Into The Second Week Of January
Thankfully the 500 millibar heights this Sunday did not turn out to be as warm as forecast about a week ago when I sent out this tweet:
Just ghastly if it verifies next Sunday. I've never seen a 588+ decameter ridge cover Texas or any portion of the South in January. #climatechange (Just a big anomaly that would not really produce a heat wave this time of the year.) pic.twitter.com/BsfJigmW5O

— Guy Walton (@climateguyw) December 31, 2018
So was this GFS model forecast a complete bust? Hardly, although we did not see 588 decameter heights across most of Texas this morning:
Nevertheless, looking at Climate Reanalyzer data practically all of the United States and Canada is seeing above average temperatures this Sunday: 
It is astounding to see forecast maps this warm valid for January 6th and 7th: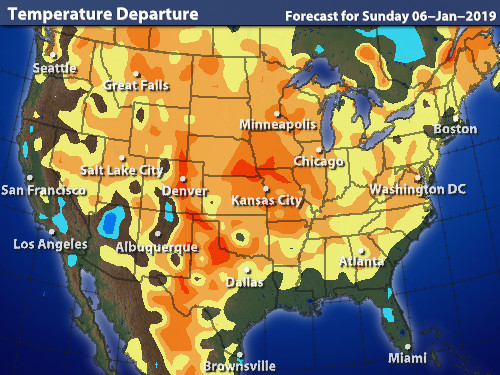 On my way back from church this afternoon in Atlanta I did a couple of double takes seeing people in shorts. We'll be watching for many record warm "ET" reports across much of the central and eastern U.S. at least through Tuesday. My one big problem is getting added counts updated because of  the government shutdown. I'll still try to list any coming from individual National Weather Service areas that cross my radar, though on future posts.
Using the European model here is what we may see by the end of this week on Saturday:
Both the European model and GFS filter cool weather southward through the Midwest, Northeast, and South, but another warm air mass will be building in western Canada: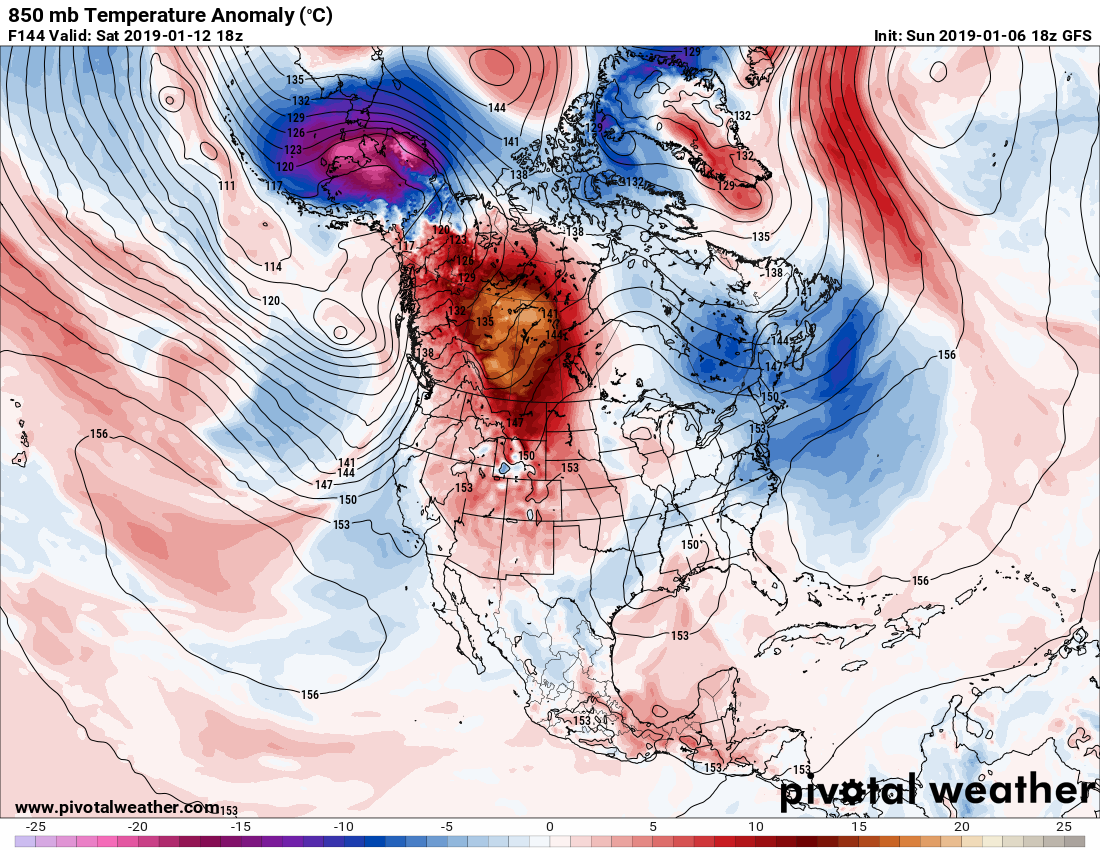 Perhaps by Saturday if the GFS is correct a more typical "wedge pattern" in the Middle Atlantic will be in place: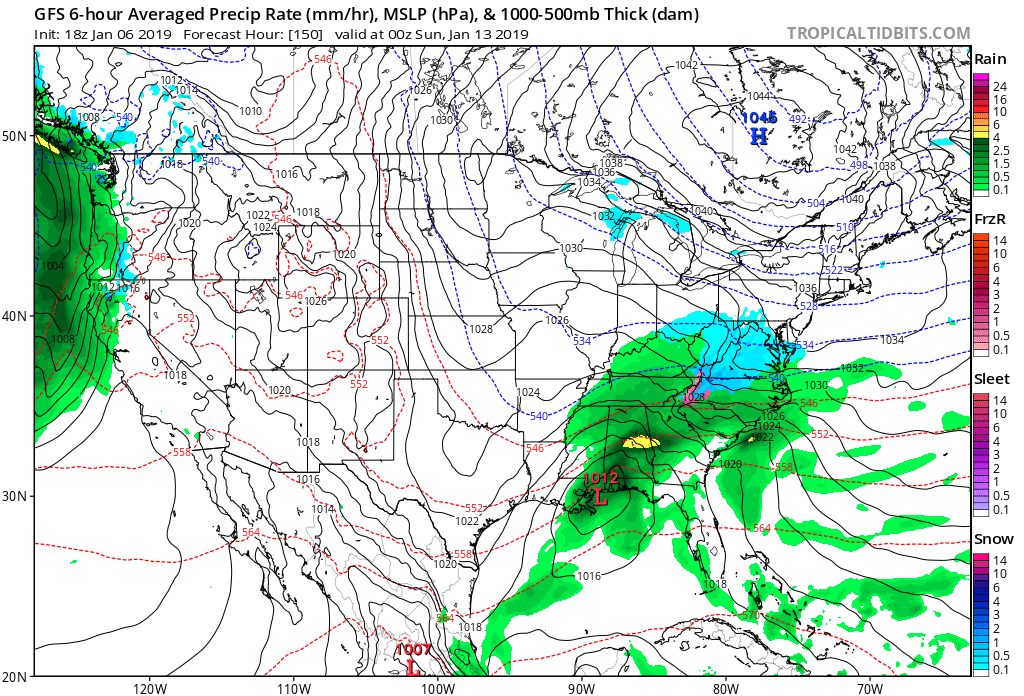 Snow cover is already pretty paltry across the country outside of mountainous regions and should continue to melt during the heart of winter this week east of the Rockies:
To summarize this week will be yet more evidence of global warming across most of North America. Some may point to the traditional "January thaw," but I hardly think the totality of what we will be witnessing can be solely blamed on a random synoptic weather change. We all know the primary cause of this unusual mid winter warmth.😉
Here is some more weather and news from Sunday:
(As usual, this will be a fluid post in which more information gets added during the day as it crosses my radar, crediting all who have  put it on-line. Items will be archived on this site for posterity.)
Tonight the #GreenNewDeal, @AOC and our movement will be in front of ~ 11 million @60Minutes viewers.

11 million people will be hearing a discussion about solutions to the climate crisis in line with what the science and justice demand. That's huge. https://t.co/55BJM106S6

— Sunrise Movement 🌅 (@sunrisemvmt) January 6, 2019
"Arctic is indeed opening to more ships: the number of voyages through the federally monitored area reached an all-time high in 2018, up more than 400 per cent during the past three-and-a-half decades." https://t.co/lUtml2VABk

— Jeff Berardelli (@WeatherProf) January 6, 2019
#Climatechange = more extreme weather Mudslides shut down Pacific Coast Highway in Malibu https://t.co/80uoAIHHlb via @NBCNews

— Allan Margolin (@AllanMargolin) January 6, 2019
Imagine sitting in one place and watching the weather since 1850. Which years are the warmest, which are the coldest, how often are new annual records set?

Well here is an animation to help find out.#GlobalWarming strongly shapes the distribution at the end of the animation. pic.twitter.com/Fz3Qkqh4Tu

— Robert Rohde (@RARohde) January 6, 2019
Over the last 150 years, humanity has emitted enough greenhouse gases into Earth's atmosphere to bring carbon dioxide levels up to the highest they've been in 800,000 years. The planet is already warmer than it's been in 120,000 years.#climatechange https://t.co/o0uLbXDHNO

— Paul Dawson on Climate Change (@PaulEDawson) January 6, 2019
Norway is banning cars from the centre of Oslo.
Parking spaces are to be replaced with flower beds. 🌸
60km of cycle lanes are being built. 🚲

We have solutions to the #climate crisis. Let's implement them. #energy #sustainability #innovation #greencities #climatechange pic.twitter.com/ddG8U3xLuo

— Mike Hudema (@MikeHudema) January 7, 2019
(If you like these posts and my work please contribute via the PayPal widget, which has recently been added to this site. Thanks in advance for any support.) 
The Climate Guy