Record Cold (And Tornadoes) Strike The United States
Monday March 4th… Dear Diary. The main purpose of this ongoing post will be to track United States extreme or record temperatures related to climate change. Any reports I see of ETs will be listed below the main topic of the day. I'll refer to extreme or record temperatures as ETs (not extraterrestrials).😉
No bones about it, even in this day and age of global warming bone chilling cold can still occur over large swaths of the planet. In the last few years though, more often than not these large pockets of anomalous cold air have set up over North America and in particular the United States, embolding mostly uneducated climate change denialists. As forecast, another such air mass has moved into the United States this week. Researchers looking at the north polar region will probably find a reason why North America is getting hit with anomalous cold more often than the rest of the planet during the 2010s, but I haven't come across a plausible explanation yet. Perhaps the cold is related to the dipole. I tweeted this statement out this morning:
Looking at the size and magnitude of this air mass I'm thinking that literally hundreds of record cold "ET" reports will come into the NCEI system to be reported by counts via yours truly over the next week.
The first part of 2019 has definitely gotten off to a cold start in the U.S. leaving some scratching their heads. Here we see cold statistics on my "Record Scoreboard," which will only see more blue tallies in the upcoming week:
Compared with the rest of the years for this decade indeed 2019 has been relatively chilly after the first two months:
We may see a third consecutive "cold or blue" month during March should the current weather pattern and associated storm track not break. Whether or not 2019 resembles that of 2013 and 2014 remains to be seen though.
We are seeing phenomena like this:
The current cold snap should have its most intense time from Wednesday through Thursday morning across most of the East and South. When one sees white colors showing up on Pivotal Weather 500 millibar anomaly charts near the center of vortexes record cold temperatures are usually a result at the surface or around the closed low:
Here is what we see at the surface Wednesday morning:
A 1035 millibar Arctic high is located over Arkansas. Very low thickness values below 510 (looking at the hatched blue lines) are over the Northeast.
An associated typical "clash of seasons" occurred over the weekend, which unfortunately led to over twenty deaths in Alabama and South Georgia from tornadoes. Climatologically March has been prime time for tornadic activity across the Southeast and Gulf Coastal areas. Off hand there are no climate change connections that can be tied to this outbreak save the relatively warm Arctic anomaly that nudge the cold Canadian vortex to the south, which was responsible for the front and dynamics that led to killer tornadoes.
For a good writeup on the worst tornadic outbreak in the U.S. since 2013 see this Weather Underground write up:
Well, bundle up folks. I don't see a break in this weather pattern with its now deadly storm track through the end of this month. And oh no another strong winter storm with perhaps more deadly severe storms near its trailing cold front is slated for next week: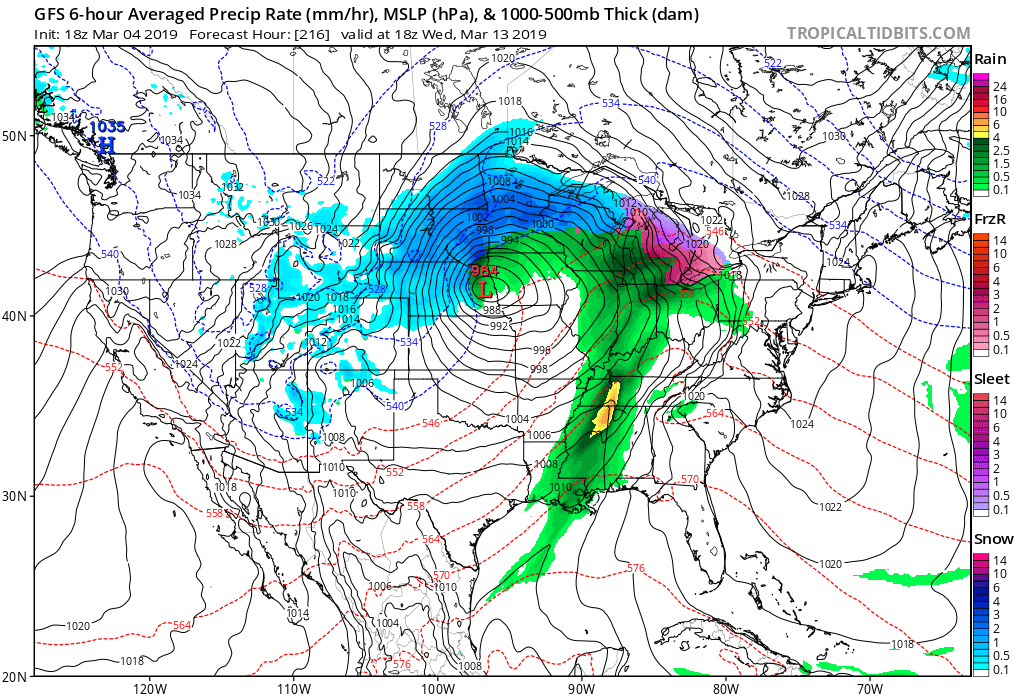 ……………………………………………………………………………………………………
Here is more weather and climate news from Monday:
(As usual, this will be a fluid post in which more information gets added during the day as it crosses my radar, crediting all who have put it on-line. Items will be archived on this site for posterity. In most instances click on the pictures of each tweet to see each article.)
(If you like these posts and my work please contribute via the PayPal widget, which has recently been added to this site. Thanks in advance for any support.) 
The Climate Guy