Sunday April 7th… Dear Diary. The main purpose of this ongoing post will be to track United States extreme or record temperatures related to climate change. Any reports I see of ETs will be listed below the main topic of the day. I'll refer to extreme or record temperatures as ETs (not extraterrestrials).😉
Big, Soggy Storm To Exacerbate Midwest Flooding
I usually like to start off the week with a weather forecast for the U.S. if it is dire enough to present and, of course, if there is a tie in to climate change. Fortunately in the past few weeks I've gone to other topics since outside of Alaska, which only saw unusual climate change related warmth, the United States has not been hit by any extensive adverse life threatening weather systems. Our luck is about to change this week. Another strong storm will produce widespread, heavy precipitation over already water logged areas of the upper and middle Mississippi Valley starting Wednesday exacerbating flooding: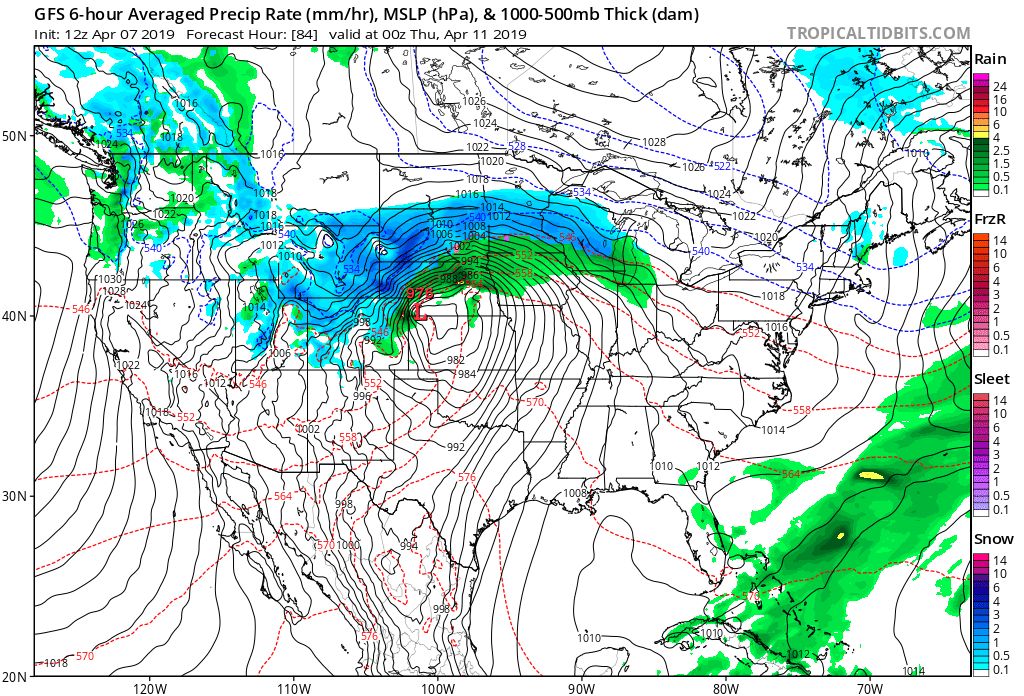 The storm that walloped the Midwest in mid March was dubbed Ulmer by The Weather Channel, which led to historic and deadly flooding.
Here is a little Twitter chatter that I have seen about this next winter/spring storm hybrid:
Heavy wet snow, as Jon alludes to, is likely from Wyoming eastward through the Dakotas into Minnesota. To be honest this system does not look too unusual for early to mid April meteorologically or climatologically. I only bring it up to point out that it will just add more misery to the Midwest, which did experience a climate change related event from a combination of a wickedly strong storm (Ulmer) and rapid snow melt left by a multitude of prior winter storms earlier during the year. Heavy precipitation was the real climate change footprint from earlier Midwestern storms. We will be watching for heavy precipitation from this coming one, as well.
So in conclusion, even a typical "average to large" subsequent storm can compound the many sins of a prior climate change induced event. Nature can be very cruel.
I will add more information about this storm in the next couple of days on this post.
Here is some of the latest news from Monday evening:
…………………………………………………………………………………………………………
Here is some more weather and climate news from Sunday:
(As usual, this will be a fluid post in which more information gets added during the day as it crosses my radar, crediting all who have put it on-line. Items will be archived on this site for posterity. In most instances click on the pictures of each tweet to see each article.)
(If you like these posts and my work please contribute via the PayPal widget, which has recently been added to this site. Thanks in advance for any support.)
Guy Walton- "The Climate Guy"