Sunday May 19th … Dear Diary. The main purpose of this ongoing blog will be to track United States extreme or record temperatures related to climate change. Any reports I see of ETs will be listed below the main topic of the day. I'll refer to extreme or record temperatures as ETs (not extraterrestrials).😉
Obvious Climate Change Connections to Monday's Severe Weather Outbreak
This post will be relatively short emphasizing what we have already seen in association with an odd weather pattern that has persisted from this winter. Strong Pacific systems have been moving into a meteorological long wave trough in the West, then ejecting into the Plains and Midwest creating both heavy snowfall and rainfall records. As most know flooding has been rampant, especially in Nebraska and Iowa. What is odd with a climate change connection isn't so much the long wave pattern, but the fact that warm air aloft at higher latitudes is forcing large cold pockets very far to the south for this time of the year into the Rockies:
This pattern definitely is not normal for late May: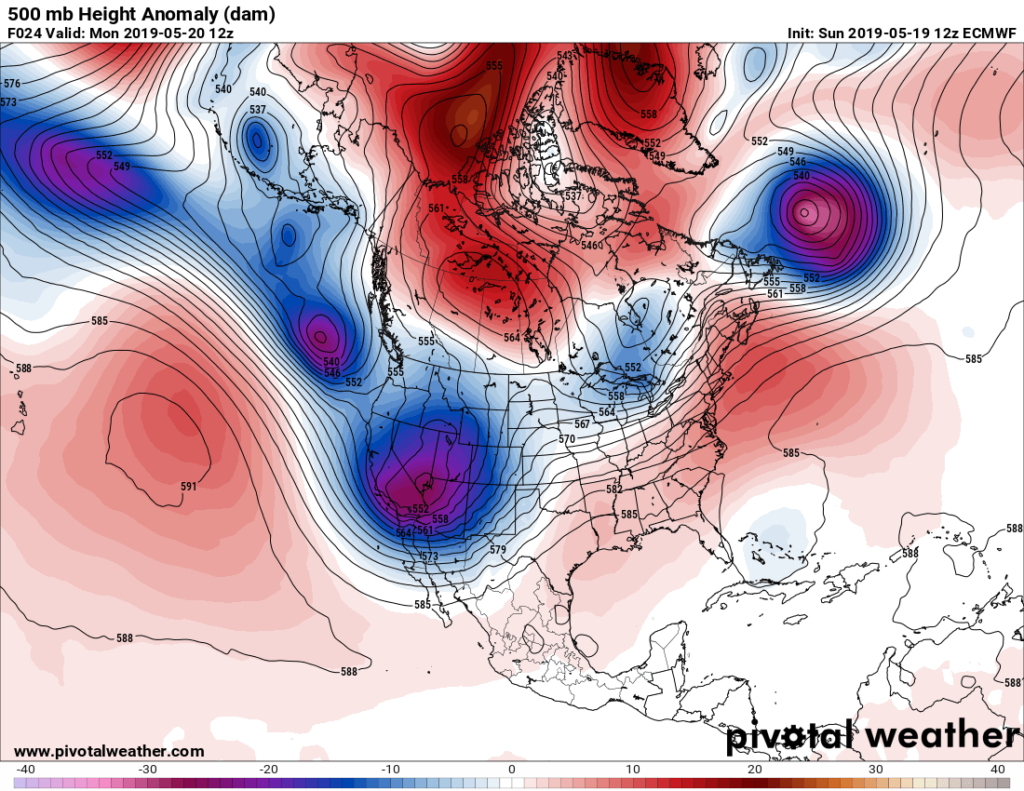 The end result of one of the stronger cold pockets moving through the Southwest today, ejecting into the Plains, will be a much anticipated, big severe weather event in Texas on Monday that will rapidly move into the Mississippi Valley :
The clear climate connection is a breakdown of the polar vortex as noted by this graphic that I am using frequently:
This year apparently the long wave ridge is getting stuck over the Southeast, so the weather pattern is not changing:
By the end of this week we will have a whopper of a ridge over the Southeast that will extend and worsen a heat wave there with another cold pocket over the Southwest: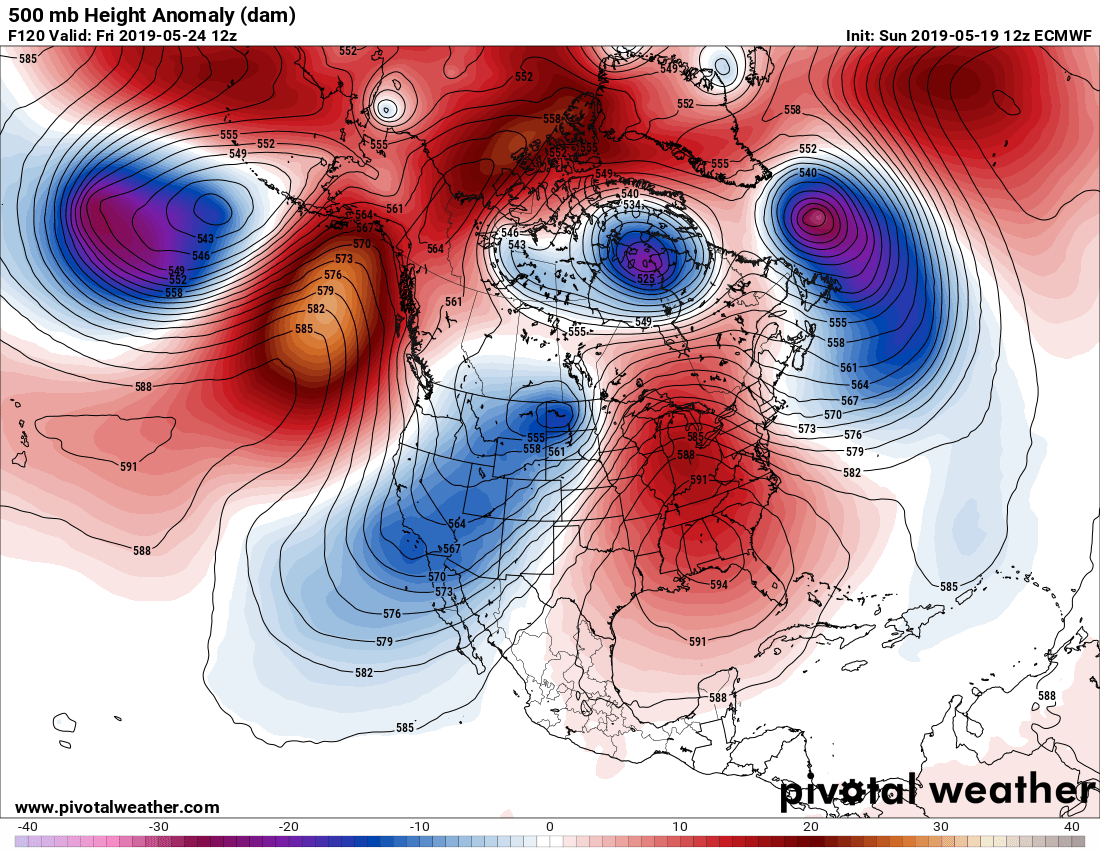 Notice also a lot of warmth extending north from the Gulf of Alaska northward into the North Polar area on the above chart.
It will be very tough to judge whether or not any tornadoes themselves will be made stronger from Monday's outbreak due to overall global warming, but we should blame the outbreak of severe weather and flooding itself to changes in association with the polar vortex from carbon pollution…at least this time around.
For more on the science on individual tornadoes and any strengthening trends due to global warming read:
As promised, here is that WSI chart of Monday's maxes showing a warming trend over portions of the Southeast:
As always, stay tuned to The Weather Channel or your local T.V. station to get the latest warnings in the Plains on this rapidly changing weather situation. Better yet, use a charged weather radio just in case of power outages to receive National Weather Service warnings.
……………………………………………………………………………………………………..
Here is more climate and weather information from Sunday:
(As usual, this will be a fluid post in which more information gets added during the day as it crosses my radar, crediting all who have put it on-line. Items will be archived on this site for posterity. In most instances click on the pictures of each tweet to see each article.)
(If you like these posts and my work please contribute via the PayPal widget, which has recently been added to this site. Thanks in advance for any support.)
Guy Walton- "The Climate Guy"