Friday June 7th … Dear Diary. The main purpose of this ongoing blog will be to track United States extreme or record temperatures related to climate change. Any reports I see of ETs will be listed below the main topic of the day. I'll refer to extreme or record temperatures as ETs (not extraterrestrials).😉
June U.S. Record Scoreboard Update
The National Center For Environmental Information has completed processing United States climatology for May 2019, so it is time for me to update the "Surface Record Scoreboard," cataloging surface record counts made across the U.S. Each count could either be a tied record or one broken by several degrees Fahrenheit. We will be posting this information around the 7th of each month in wash, rinse, repeat style.
May 2019 got ranked as one of the bottom 40 Mays for warmth across the lower 48 states since 1895, but was a month in which there were more reports of daily record highs than lows. May was a month of extremes with stark contrasts in average temperatures across sections of the Continental United States:
Here is what we see on the daily surface high maximum/low minimum Record Scoreboard updated through 6/5/19 with data from:
https://www.ncdc.noaa.gov/cdo-web/datatools/records
For this data set all monthly ratios of > 10 to 1 DHMX to DLMN or > 10 to 1 DLMN to DHMX are in bold type. The rankings are for the lower 48 states with the warmest ranking since 1895 of average temperatures being 125 and 1 being the coldest as of 2019. Blue colors represent cold months and red warm. Those months with counts close to a 1 to 1 ratio of highs to lows are colored black. Boldly colored months, such as May 2018, have ratios of more than 10 to 1 daily record highs to lows or lows to highs, and are either historically hot or cold. May 2019 had a near 11 to 8 ratio of record DHMX to DLMN individual counts, so the color I used for this month was red, although one could make a case for the color black.
NCEI has processed May temperature data across the country, determining that the lower 48 had its 37th coldest month since 1895, so the number 37 is also added to the chart. The number 37 falls within the lower range of three categories (1-41, 52-72, 73-124), so it is colored blue.
So, we have a month in which there were substantially more record highs (mainly from the Southeast) than lows, yet May 2019 fell within the colder rankings. Why? For that answer one big clue can come from my other daily high minimum/low maximum scoreboard:

So far 3,355 daily record low maximums (mostly from the Rockies and very wet Plains) have been recorded for May 2019, which was a significantly high number.
So far 2019 resembles 2013 and 2014 statistically as far as record ratios go: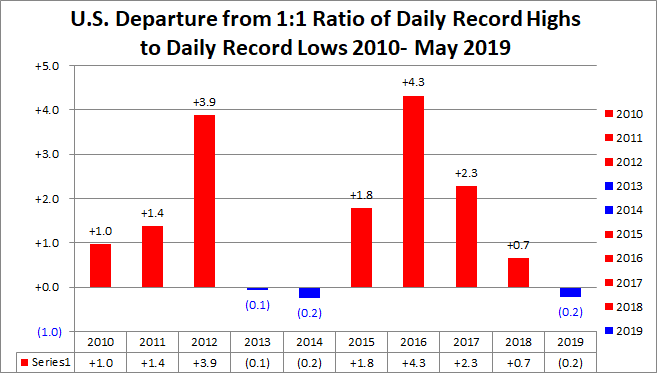 Speaking of being wet, May 2019 was extremely moist across the nation's heartland and in the West:
By the way, with a ranking of 62 spring 2019 was almost exactly near average for the lower 48 states.
As usual, I'll be adding more data to the Record Scoreboard after each consecutive month's temperature data has been processed by NCEI. We will see what we have for June 2019 by July 7th. So far for June 2019, as depicted on the scoreboard, there have been relatively few reports of record temperatures, but warmth is outpacing chill. We will see if the trend of near average conditions will continue across the lower 48 states.
…………………………………………………………………………………………………
Here is more climate and weather news from Friday.
(As usual, this will be a fluid post in which more information gets added during the day as it crosses my radar, crediting all who have put it on-line. Items will be archived on this site for posterity. In most instances click on the pictures of each tweet to see each article.)
(If you like these posts and my work please contribute via the PayPal widget, which has recently been added to this site. Thanks in advance for any support.)
Guy Walton- "The Climate Guy"