Thursday June 13th… Dear Diary. The main purpose of this ongoing blog will be to track United States extreme or record temperatures related to climate change. Any reports I see of ETs will be listed below the main topic of the day. I'll refer to extreme or record temperatures as ETs (not extraterrestrials).😉
Stormy Weather Ahead For The Soaked Plains States
Yet more unwanted heavy rain will fall this week across the soaked area of the Midwest and Plains which funnels into the Mississippi River. The main culprit for this unwanted weather pattern will be a front, which will initially stretch in a west to east fashion from the northern Plains through the Great Lakes: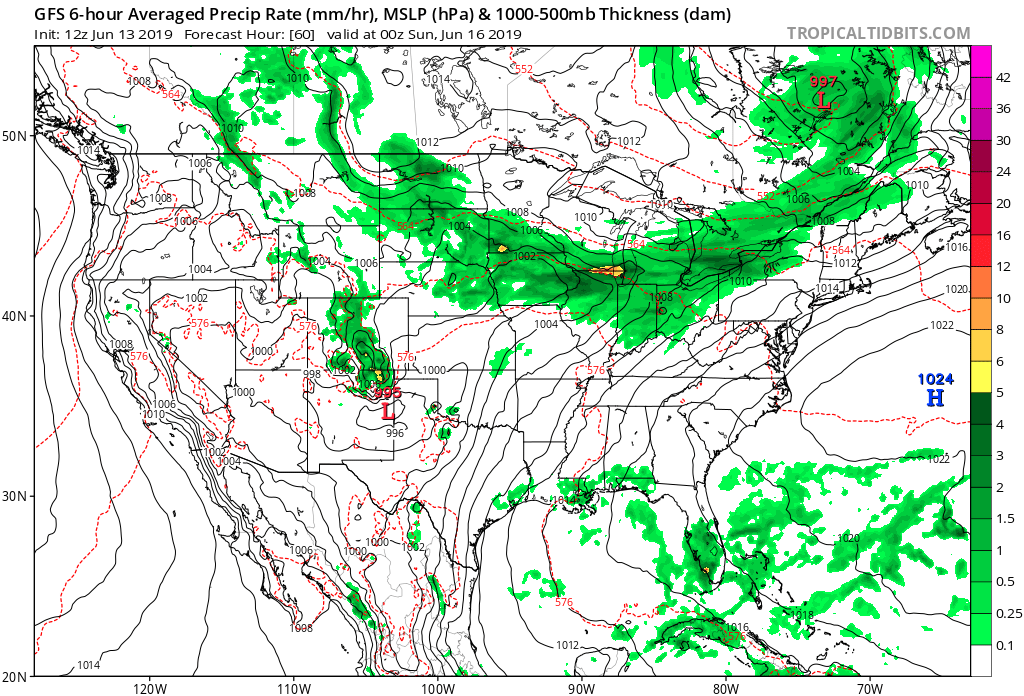 As early as Friday or Saturday there will be enough return flow moisture interacting with the front to produce what in met speak are called train echo wave patterns. These are thunderstorms bubbling up and moving over the same area usually generated be a slow moving, nearly stationary front as forecast by the "improved" version of the GFS model. P.S. this new version of the GFS model was made operational Wednesday, so we should see better forecasts in the short term through the next three days and better longer term forecasts out to seven days and more.
The Weather Prediction Center has also picked up on potential heavy precipitation from this front, which will very slowly move Southeast:
Here is the corresponding quantitative precipitation forecast from yesterday's model run:
Severe storms will also start to be a concern, but I'm not anticipating a big outbreak of tornadoes:
Obviously, this is bad news for farmers and others trying to recover from one of the worst wet springs in modern history. Many fields across the corn belt will go left unplanted this year. Dear Diary. I'll be relaying information on the effects on food supplies that climate crisis related inundations have affected either on today's post or shortly on subsequent daily posts.
…………………………………………………………………………………………………….
Here is more climate and weather news from Thursday:
(As usual, this will be a fluid post in which more information gets added during the day as it crosses my radar, crediting all who have put it on-line. Items will be archived on this site for posterity. In most instances click on the pictures of each tweet to see each article.)
Here are some "ETs" from Canada:
(If you like these posts and my work please contribute via the PayPal widget, which has recently been added to this site. Thanks in advance for any support.)
Guy Walton- "The Climate Guy"