Sunday June 30th… Dear Diary. The main purpose of this ongoing blog will be to track United States extreme or record temperatures related to climate change. Any reports I see of ETs will be listed below the main topic of the day. I'll refer to extreme or record temperatures as ETs (not extraterrestrials).😉
Historic European Heat Wave…Day Five
It's time to take another quick check of the heat dome over Europe, which thankfully is diminishing. By Monday the thing will remain over most of western Europe, but cooler 500 millibar heights and associated cooler weather will be moving southward from Scandinavia and the British Isles into northern France and Germany: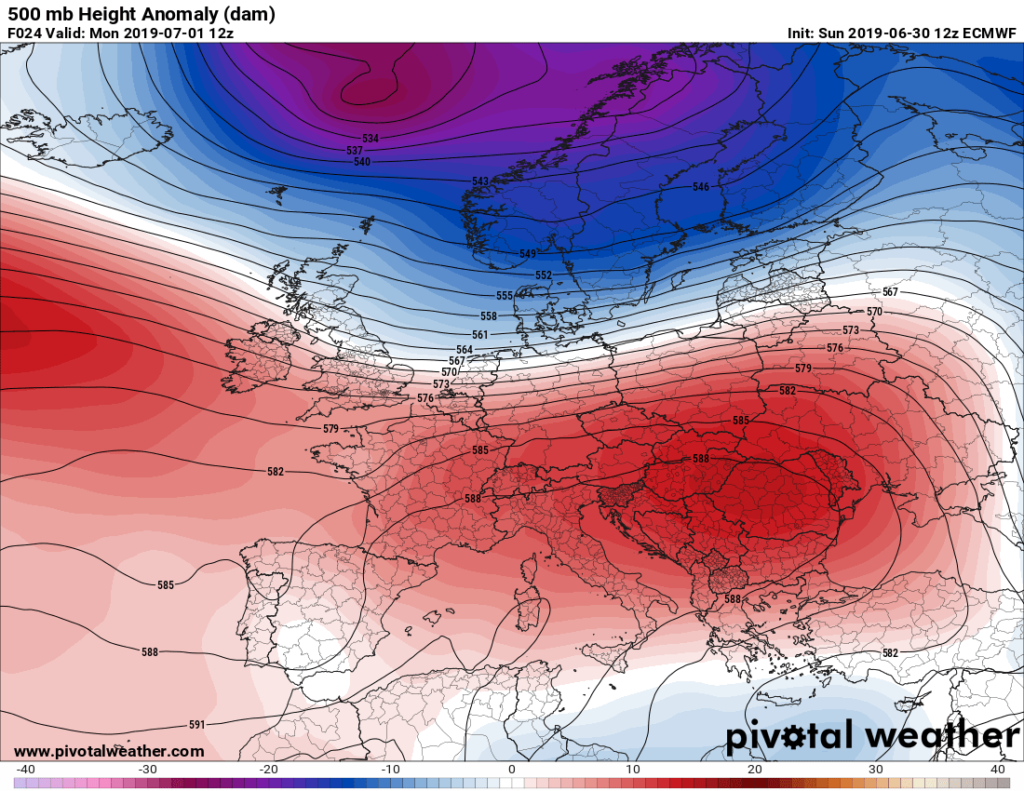 It will remain very hot from Italy eastward to Romania and Bulgaria Monday.
Here are more social media notes and articles on the European heat wave from Sunday:
The above information is some of the latest notes from Sunday. Here are more significant findings quoted from Dr. Jeff Masters of Weather Underground:
https://www.wunderground.com/cat6/Hottest-Day-French-History-459C-1146F?cm_ven=cat6-widget
Friday was the hottest day in French history, as the mercury shot up to an astonishing 45.9°C (114.6°F) at Gallargues-le-Montueux in southern France. This destroyed the previous all-time national heat record of 44.1°C (111.4°F), set on Aug. 12, 2003, by 1.8°C (3.2°F), according to Meteo-France.
At least one other station in southern France on Friday beat the former national record by 1°C as well: Villevielle, with 45.1°C. In all, a remarkable 12 stations beat or tied the former all-time national French heat record of 44.1°C.
All-time national heat record also set in Andorra
Friday's extreme heat also affected northeastern Spain and the tiny Principality of Andorra, sandwiched between France and Spain. Andorra set their all-time national heat record on Friday with 39.4°C (102.9°F) at Borda Vidal. According to weather records expert Maximiliano Herrera, the previous national heat record was 38.5°C (101.3°F) at Andorra La Vella on July 16, 2005.
A significant record
All-time national heat and cold records are difficult to beat, particularly in a country with a dense observational network with many stations that have a long period of record, like France. Three remarkable features stand out about the new record:
– It was destroyed by a huge margin—1.8°C (3.2°F).
– The record was beaten in the month of June, several weeks before the climatological peak heat of late July. In the list of all-time European heat records maintained by Maximiliano Herrera, just three of the 53 all-time national European heat records have been set in June. Twenty-two were set in July, and 27 were set in August.
– The former national record was beaten or tied by at least twelve French stations on Friday (see tweet below).
Here is the latest summary from Weather Underground:
Quoting this report:
The role of climate change in Europe's epic heat wave of 2019
"For all practical purposes, the heat wave is caused by human-made global warming," Columbia University's Jim Hansen told CBS News in an interview last week. Hansen gained fame more than 30 years ago, in the parched U.S. summer of 1988, when he testified before Congress that the world was seeing the first signs of climate change due to human-produced greenhouse gases. One of Hansen's strongest statements at the time: "It is time to stop waffling so much and say that the evidence is pretty strong that the greenhouse effect is here."
In his CBS interview, Hansen said that the odds of a heat wave as intense as this past week's in Europe would be extremely remote without the contribution of heat-trapping emissions from fossil fuels.
—————————————————————————————-
As far as the United States goes seasonably hot weather, with few problems in comparison with Europe, will continue most locations through Monday except in Alaska, which is experiencing a heat wave of their own: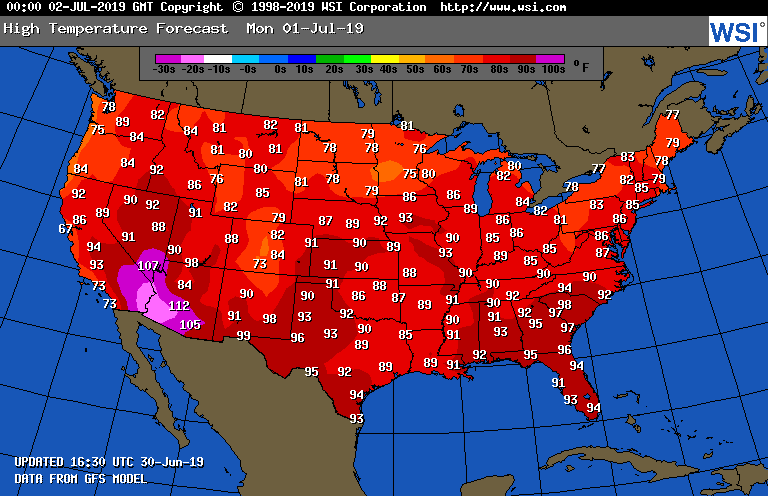 Here is more climate and weather news from Sunday:
(As usual, this will be a fluid post in which more information gets added during the day as it crosses my radar, crediting all who have put it on-line. Items will be archived on this site for posterity. In most instances click on the pictures of each tweet to see each article.)
(If you like these posts and my work please contribute via the PayPal widget, which has recently been added to this site. Thanks in advance for any support.)
Guy Walton- "The Climate Guy"