Wednesday August 20th… Dear Diary. The main purpose of this ongoing blog will be to track United States extreme or record temperatures related to climate change. Any reports I see of ETs will be listed below the main topic of the day. I'll refer to extreme or record temperatures as ETs (not extraterrestrials).😉
A Canadian Political Problem
I frequently complain about my own country, the United States, about why it is politically not on board with the rest of the world, which is trying to solve the climate crisis. The rest of the planet, which is complying with the Paris Accords, has come through the different stages of denial, accepting what is necessary to solve a grave problem, right? Eh…Wrong. We have only to look just to our north to see more resistance from some politicians. Alas, human nature is really about the same world over. There will always be individual human beings who don't believe widely accepted science making it very difficult for the rest of us to put in place good policy. Read the following article concerning Canada, considered to be a much less cantankourously leaning country on the climate issue by yours truly in the past, to see what I mean.
https://www.cbc.ca/news/politics/environment-groups-warned-climate-change-real-partisan-1.5251763
Environmental groups were warned that some climate change ads could be seen as partisan during election period.

The Canadian Press · Posted: Aug 19, 2019 7:14 AM ET | Last Updated: August 20
Tim Gray, executive director of Environmental Defence Canada, says it's 'discouraging' Environmental Defence and other charities might have to change their messaging about climate change during the federal election period so as not to be considered partisan. (Garry Asselstine/CBC)
Elections Canada has warned environmental groups that running ads about the dangers of climate change during the upcoming federal campaign could be deemed partisan activity.
An Elections Canada official told groups in a training session earlier this summer that since Maxime Bernier, the leader of the People's Party of Canada, has expressed doubts about the legitimacy of climate change, any group that promotes it as an issue in its paid advertising could be considered partisan and might need to register as a third party with Elections Canada.
Elections Canada said the warning applies only to "activities or ads that specifically identify a candidate or party" and cost $500 or more.
"The only place the [Elections] Act covers the promotion of an issue without mentioning a candidate or party is where someone spends money on 'issue ad' during the election period, but the issue must be associated with a candidate or party," Elections Canada said in a statement.
Issue ads could be considered partisan even without referencing a party or candidate if they advocate or counter a position that is clearly associated with a specific party or candidate. Such ads have been regulated during the election period for the last 20 years, Elections Canada said.
Tim Gray, executive director of the advocacy group Environmental Defence, says registering as a third party is onerous for groups like his and could draw unwanted attention from the Canada Revenue Agency, which prohibits charities from engaging in partisan activity if they want to maintain their tax exempt status.
It is "discouraging" that Environmental Defence and other charities might need to revise their messaging about climate change during the campaign period "because one party has chosen to deny the existence of this basic fact," Gray said
"Obviously, climate change is real," he said. "Almost every credible institution on the planet is telling us to get our act together and do something about it."
Last fall, the United Nations Intergovernmental Panel on Climate Change, made up of hundreds of scientists from around the world, said if the world doesn't cut global greenhouse gas emissions by half by 2030, the planet will face irreversible and catastrophic consequences.
Bernier denies 'climate change urgency'
Five of the six political parties expected to have any chance of winning a seat in the upcoming campaign agree that climate change is real and caused by humans. Bernier is the one outlier: he believes that if climate change is real, it is part of a natural cycle and not an emergency.
"There is no climate change urgency in this country," Bernier said in a speech in June.
He also disagrees that carbon dioxide, which experts say is responsible for three-quarters of greenhouse emissions globally, is bad.
"CO2 is not 'pollution,"' he tweeted. "It's what comes out of your mouth when you breathe and what nourishes plants."
Because of that, Elections Canada is warning that any third party that advertises information about carbon dioxide as a pollutant or climate change as an emergency could be considered to be indirectly advocating against Bernier and his party.
Responding on Twitter, Bernier himself called the Elections Canada rule "absurd."
Elections Canada said the warning doesn't mean environmental groups are forbidden from giving interviews or press conferences about climate change during the campaign, the spokesperson said.
Rather, it would affect things such as Facebook ad campaigns that cost $500 or more.
"Lots of other activities, such as sending emails or text messages, having a website or canvassing door-to-door about issues raised during the election are not covered by the [Elections] Act, where they do not identify a candidate or a party," Ghislain Desjardins, Elections Canada's senior media relations adviser, said in a statement to CBC News.
"This is true even if the activity promotes an issue that is associated with a candidate or a party."
Audits targeted some environmental charities
Environment groups in Canada are still on edge after being singled out by the Canada Revenue Agency in recent years for their political advocacy, and some fear that if Elections Canada accuses them of being partisan, it will attract another round of audits.
Thousands of protesters flooded the streets this March in Montreal to raise awareness about the dangers of climate change. (Martin Ouellet-Diotte/AFP/Getty Images)
In 2012, the former Conservative government unveiled a $13-million audit program to weed out charities the Conservatives alleged were abusing their tax status by engaging in partisan activities.
The probes went after two dozen environment, human rights, anti-poverty and religious groups — none of them considered partisan — for violating a rule that limited their spending on political advocacy work to no more than 10 per cent of their funding.
The program was launched as the Conservatives labelled some environment groups "radical" and a "threat" to Canada.
The Liberals promised to end what they called a "witch hunt" against civil society groups that opposed the government's policies. It took more than three years, but legislation was changed last year to lift the 10 per cent limitation. The non-partisan rule, however, remains.
Catherine Abreu, executive director of the Climate Action Network Canada, called the Elections Canada warning "shocking."
"Climate change is a scientific fact," she said. "It's not an opinion."
The situation is "contributing to ongoing confusion" about what environmental charities can and cannot do and will give fuel to groups advocating on behalf of the the fossil fuel industry that want to silence their opponents, Abreu added.
Natasha Gauthier, a spokesperson for Elections Canada, told CBC's Power and Politics that any action taken against specific advertising activities would be decided on a case-by-case basis and only if someone made a complaint. She said the decision whether to issue a fine would be made by the commissioner of Canada Elections.
Corrections
An earlier version of this story mistakenly said that any partisan activity, including advertising, surveys or any kind of campaign costing at least $500 would require a charity to register as a third party for the election. In fact, surveys are not subject to the $500 limit.Aug 19, 2019 12:13 PM ET
………………………………………………………………
Just like in the United States those who have become climate crisis denialists in Canada and elsewhere have been pegged as "conservative." Climate crisis "denialists" for the most part like this conservative mantle pegging those who think that the climate crisis is real as "liberal" or even liberal wac jobs, to borrow some slang. Each group has become very tribal, dismissing the claims of the "other."
Nevertheless, as global averages rise the numbers of followers of climate crisis denying politicians should naturally diminish; thus, their clout and power. It's my opinion that with time the "short neck giraffes" will gradually die out as the human race begins to struggle for survival as proverbial food can no longer be reached due to the disappearance of shorter trees and shrubs. In the meantime we must isolate and ignore those who deny science, delaying what is necessary for longer neck giraffes, and the species as a whole, to survive.
………………………………………………………………..
Watch out if you are in the deserts of the Southwest, which are especially, even record breaking hot this week:
Dear Diary. Here are Wednesday's maxes, which were record toasty in the Desert Southwest: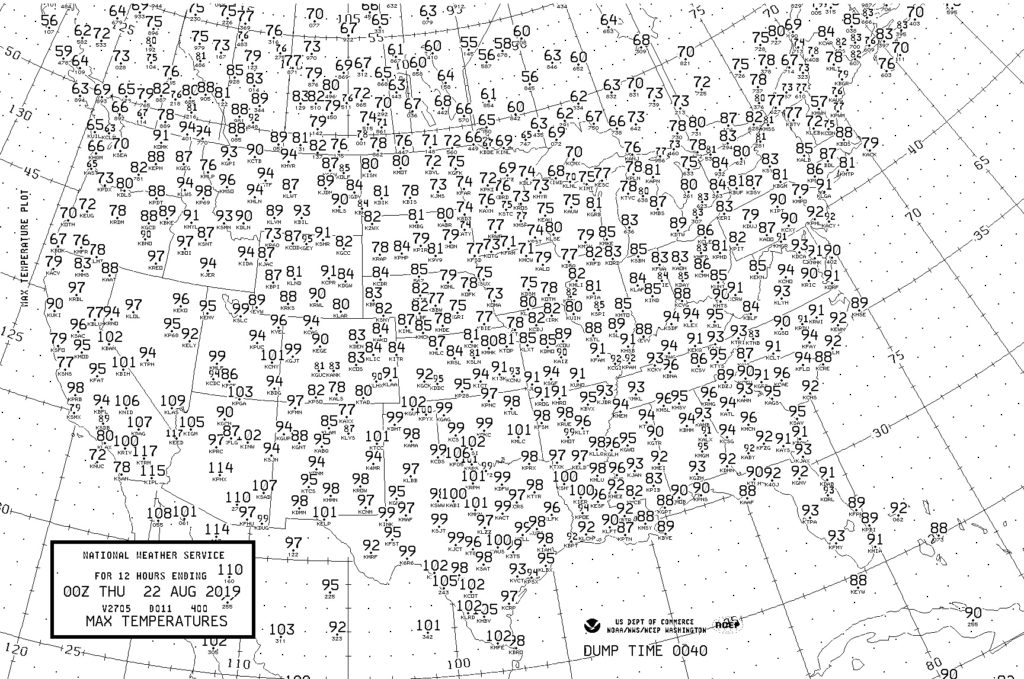 Here is more climate and weather news from Wednesday:
(As usual, this will be a fluid post in which more information gets added during the day as it crosses my radar, crediting all who have put it on-line. Items will be archived on this site for posterity. In most instances click on the pictures of each tweet to see each article.)
Here are one big "ET" from Wednesday:

(If you like these posts and my work please contribute via the PayPal widget, which has recently been added to this site. Thanks in advance for any support.)
Guy Walton- "The Climate Guy"