Saturday November 16th… Dear Diary. The main purpose of this ongoing blog will be to track United States extreme or record temperatures related to climate change. Any reports I see of ETs will be listed below the main topic of the day. I'll refer to extreme or record temperatures as ETs (not extraterrestrials).😉
Recent British Flooding Linked To Climate Change
Dear Diary Whiplash weather has really taken over the planet during 2019. In the United States this fall we saw a very odd heat wave across much of the East from late September into early October followed by three extreme cold shots across the country through early November as described on this blog. The United States has had a relatively mild year compared to Europe, which suffered through three historic heat waves during the summer. Now a blocky, undulating climate change related jet stream has cause the weather to turn very wet across western Europe. It has gotten cold enough for snow to fall across portions of the British Isles. Can we chalk up these wild swings of weather just to natural, normal variability? I don't think so.
Check out some of the flooding across portions of Britain from the first half of this month along with some snow:
Here is a recent Guardian piece, which I will repost and quote in part concerning the flooding:
https://www.theguardian.com/uk-news/2019/nov/15/uk-floods-warnings-in-place-across-britain-after-further-rainfall?CMP=Share_AndroidApp_Tweet
Flood barriers go up around Shakespeare sites as River Avon rises
Heavy rain has led to 107 flood warnings across much of England and parts of Wales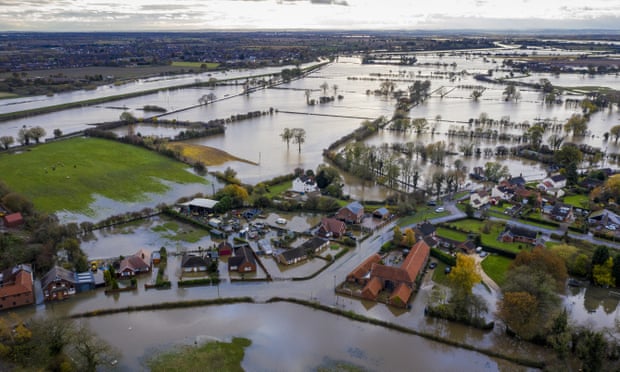 Flood barriers have been erected in the historic town of Stratford-on-Avon after more than 100 warnings were issued across the country as a result of wet weather.
The Environment Agency (EA) took steps to protect some of the key sites associated with William Shakespeare, including the Royal Shakespeare Theatre on the banks of the Avon.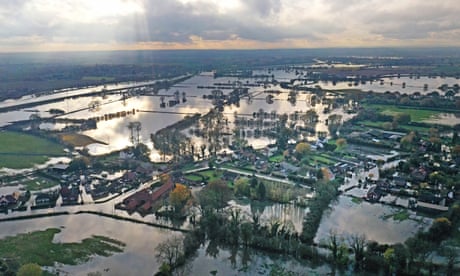 UK flooding: residents of South Yorkshire brace for more rain
The 15th-century cottage that once belonged to the Bard's wife, Anne Hathaway, has been photographed next to a flooded road after the latest downpour.
Locals said there was concern about Shakespeare's funerary monument in Holy Trinity church, which is close to the river.
Warwickshire police tweeted footage of flood barriers being erected along Waterside in the town on Friday.
John Curtin, the EA's executive director of flood and coastal risk management, said 25-30 properties near the River Avon in Evesham, Worcestershire, had been flooded.
Describing it as the latest flooding "live hotspot", he said the river was currently at four metres. "The rain last night went through some of the smaller villages in Warwickshire and the rain is moving down towards Evesham," he said.
A spokesperson for the Department for Environment, Food and Rural Affairs said no sites of national interest were at direct risk from flooding in Stratford this weekend.
Some places in the UK are close to having their wettest autumn on record. The recent rains have led to flooded roads and travel disruption, with 107 flood warnings in place across much of England and parts of Wales.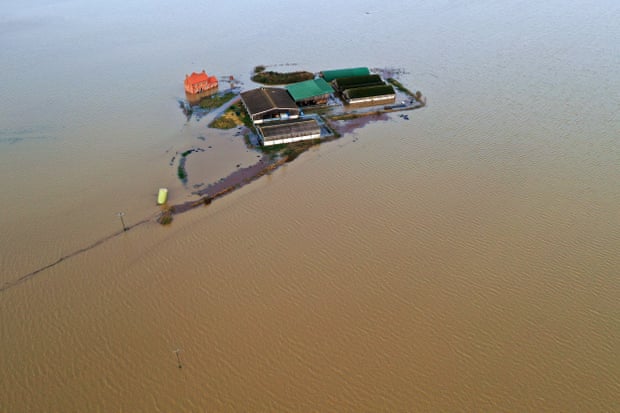 A farm in Bardney, near Lincoln, is marooned by flood water after the Barlings Eau broke its banks. Photograph: Christopher Furlong/Getty Images
Fishlake, near Doncaster, has been one of the worst affected, with hundreds of homes submerged after the downpours that started last week. Advertisement
Curtin told a briefing in Westminster that the authorities were braced for further flooding and had a team on standby.
"A number of our frontline teams are now rostered all the way through Christmas already," he said. "We don't want people to think it happened to Fishlake, it won't happen to me. Today it is Evesham, tomorrow where next?"
In Gloucester a video emerged of a bus driving on a flooded road, with water entering the vehicle as it passed through.
Images released by Derbyshire police's drone unit showed waterlogged fields around Ambaston village.
Herefordshire and Worcestershire fire and rescue service said it had assisted 97 people and a dog in 43 weather-related incidents.
Will Lang, the head of civil contingencies at the Met Office, said: "Some places are close to having their wettest autumn on record and we have two more weeks of November to go."
Leaders of councils in northern England have called for "massive" increases in funding to deal with serious flooding incidents.
…………………………………………………………………………
Let's see what we had in association with the upper air, 500 millibar pattern across western Europe as of Friday:
Sure enough we see what at least one of the wet culprits has been, a massive, cold upper level low buried over France surrounded by red warmer ridges. This is one more sign of an overall weakening polar vortex as noted by renowned scientists Dr. Michael Mann and Dr. Mary Francis.
Here is more from the UK weather information:
More news pieces with links about the flooding:
I'll add more to today's post on British flooding should any significant items cross my radar as Saturday progresses.
Here is more climate and weather news from Saturday:
(As usual, this will be a fluid post in which more information gets added during the day as it crosses my radar, crediting all who have put it on-line. Items will be archived on this site for posterity. In most instances click on the pictures of each tweet to see each article.)
Here are some warm "ETs" set on the West Coast today:
(If you like these posts and my work please contribute via the PayPal widget, which has recently been added to this site. Thanks in advance for any support.)
Guy Walton- "The Climate Guy"
---