Monday November 18th… Dear Diary. The main purpose of this ongoing blog will be to track United States extreme or record temperatures related to climate change. Any reports I see of ETs will be listed below the main topic of the day. I'll refer to extreme or record temperatures as ETs (not extraterrestrials).😉
As expected, climate change will hit and is currently affecting every part of the globe. Some obvious first effects are exacerbated heat waves and sea rise affecting vulnerable coastal cities like Miami, Venice and small islands. What happens when you mix sea level with toxic and radioactive nuclear waste? Well, initially lots of finger pointing. Some of the Marshall Islands are one area of the planet that may not survive sea level rise as we move through the 21st century. Unfortunately one of the islands has nuclear waste stored on it, which has some disastrous ramifications. Take a look:
https://desdemonadespair.net/2019/11/how-the-u-s-betrayed-the-marshall-islands-kindling-the-next-nuclear-disaster-more-than-any-other-place-the-marshall-islands-is-a-victim-of-the-two-greatest-threats-facing-humanit.html
November 18, 2019
How the U.S. betrayed the Marshall Islands, kindling the next nuclear disaster – "More than any other place, the Marshall Islands is a victim of the two greatest threats facing humanity: nuclear weapons and climate change"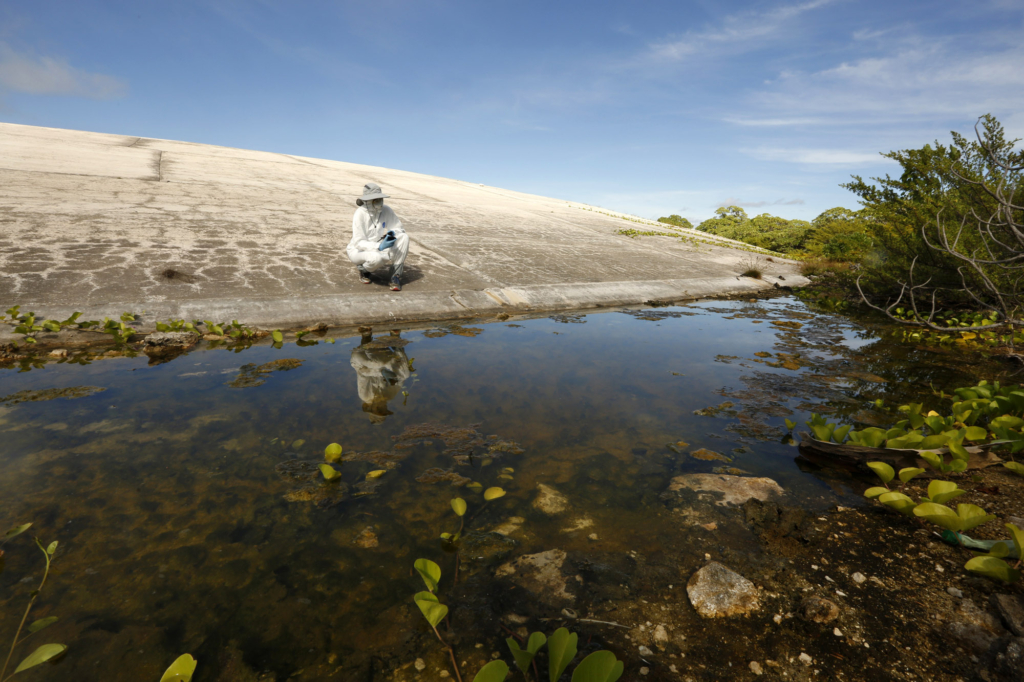 Los Angeles Times reporter Susanne Rust looks at water pools around the Runit Dome, in Enewetak Atoll, the Marshall Islands, 14 August 2018. More than 40 years ago, U.S. authorities buried plutonium and other waste from nuclear testing in an unlined bomb crater on Runit Island and encapsulated it with concrete. The so-called "Tomb" now bobs with the tide, sucking in and flushing out radioactive water into nearby coral reefs, contaminating marine life. Photo: Carolyn Cole / Los Angeles Times
By Susanne Rust
10 November 2019
MAJURO, Marshall Islands (Los Angeles Times) – Five thousand miles west of Los Angeles and 500 miles north of the equator, on a far-flung spit of white coral sand in the central Pacific, a massive, aging and weathered concrete dome bobs up and down with the tide.
Here in the Marshall Islands, Runit Dome holds more than 3.1 million cubic feet — or 35 Olympic-sized swimming pools — of U.S.-produced radioactive soil and debris, including lethal amounts of plutonium. Nowhere else has the United States saddled another country with so much of its nuclear waste, a product of its Cold War atomic testing program.
Between 1946 and 1958, the United States detonated 67 nuclear bombs on, in and above the Marshall Islands — vaporizing whole islands, carving craters into its shallow lagoons and exiling hundreds of people from their homes.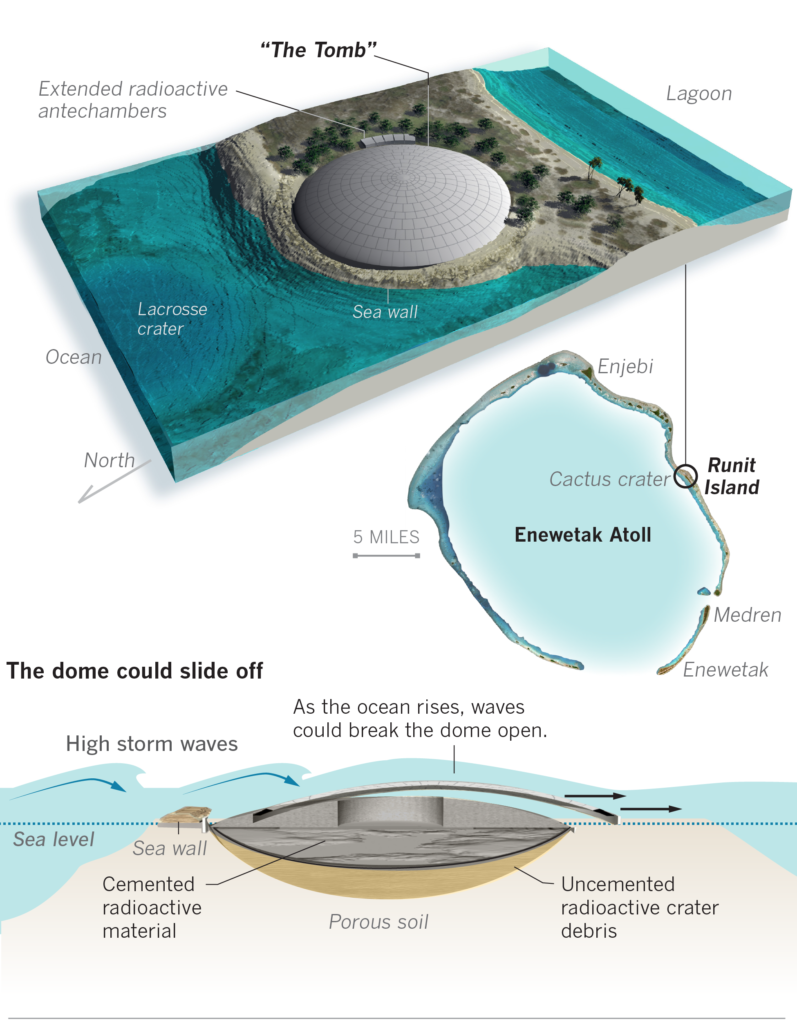 U.S. authorities later cleaned up contaminated soil on Enewetak Atoll, where the United States not only detonated the bulk of its weapons tests but, as The Times has learned, also conducted a dozen biological weapons tests and dumped 130 tons of soil from an irradiated Nevada testing site. It then deposited the atoll's most lethal debris and soil into the dome.
Now the concrete coffin, which locals call "the Tomb," is at risk of collapsing from rising seas and other effects of climate change. Tides are creeping up its sides, advancing higher every year as distant glaciers melt and ocean waters rise.
Officials in the Marshall Islands have lobbied the U.S. government for help, but American officials have declined, saying the dome is on Marshallese land and therefore the responsibility of the Marshallese government.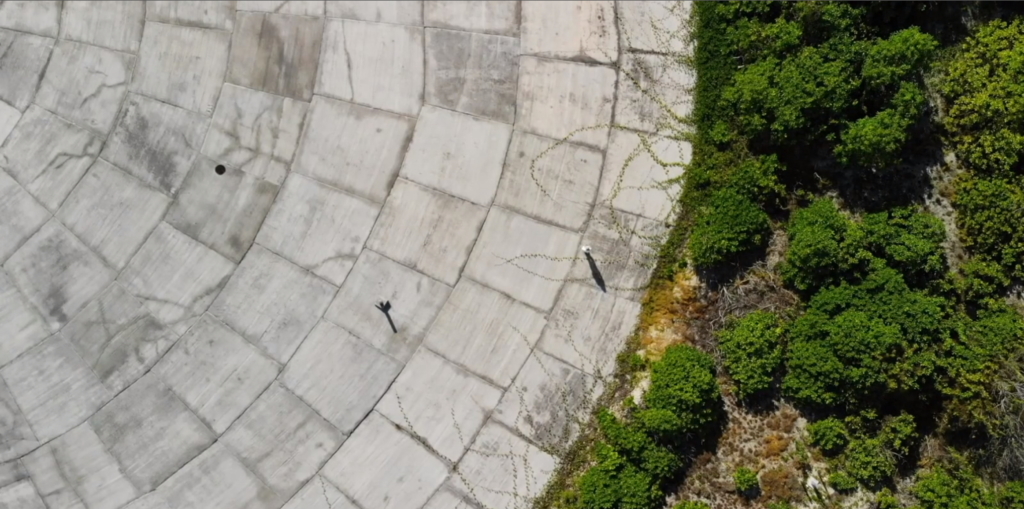 Aerial view of Runit Dome, in Enewetak Atoll, the Marshall Islands, with a person shown for scale. Photo: Carolyn Cole / Los Angeles Times
"I'm like, how can it [the dome] be ours?" Hilda Heine, the president of the Republic of the Marshall Islands, said in an interview in her presidential office in September. "We don't want it. We didn't build it. The garbage inside is not ours. It's theirs."
To many in the Republic of the Marshall Islands, Runit Dome is the most visible manifestation of the United States' nuclear legacy, a symbol of the sacrifices the Marshallese made for U.S. security, and the broken promises they received in return.
They blame the United States and other industrialized countries for global climate change and sea level rise, which threaten to submerge vast swaths of this island nation's 29 low-lying atolls.
"More than any other place, the Marshall Islands is a victim of the two greatest threats facing humanity — nuclear weapons and climate change," said Michael Gerrard, a legal scholar at Columbia University's law school. "The United States is entirely responsible for the nuclear testing there, and its emissions have contributed more to climate change than those from any other country."
Over the last 15 months, a reporting team from the Los Angeles Times and Columbia University's Graduate School of Journalism made five trips to the Marshall Islands, where they documented extensive coral bleaching, fish kills and algae blooms — as well as major disease outbreaks, including the nation's largest recorded epidemic of dengue fever. They interviewed folk singers who lost their voices to thyroid cancers and spent time in Arkansas, Washington and Oregon, where tens of thousands of Marshallese have migrated to escape poverty and an uncertain future. [more]
---
I learn something new nearly everyday about ramifications from the climate crisis. This situation is shameful. If we do not help certainly this will be a betrayal to the Marshallese.
Here is more climate and weather news from Monday:
(As usual, this will be a fluid post in which more information gets added during the day as it crosses my radar, crediting all who have put it on-line. Items will be archived on this site for posterity. In most instances click on the pictures of each tweet to see each article.)
Here are some spring "ETs" from Australia and a few from Southern California:
(If you like these posts and my work please contribute via the PayPal widget, which has recently been added to this site. Thanks in advance for any support.)
Guy Walton- "The Climate Guy"