Sunday November 24th… Dear Diary. The main purpose of this ongoing blog will be to track United States extreme or record temperatures related to climate change. Any reports I see of ETs will be listed below the main topic of the day. I'll refer to extreme or record temperatures as ETs (not extraterrestrials)😉
So Brazil's Deforestation Is "Cultural" And Can't Be Stopped?
It's always interesting but very depressing when I hear of excuses made by politicians on any issues, particularly those from overseas we have no control over via at least a vote. Environmental excuses coming from politicians who should know better are particularly hard to take. The only thing we can do is hold up signs and protest such activities as deforestation in Brazil or more coal fired plants going up in China if you live in the U.S., Australia, or Europe. Domestic politicians at least can be voted down by their constituents and will usually listen to concerns unless they are of Trump's ilk.
So is the human race doomed due to a lack of shared vision of environmental responsibility among world leaders? Are the Paris Accords all for naught if they are just words put on paper with no urgent leadership and concrete action by individual politicians? One might think so after reading what President Bolsonaro is saying coming from Brazil. Here is a recent Washington Post article as relayed by Desdemona Despair:
https://desdemonadespair.net/2019/11/brazils-bolsonaro-calls-amazon-deforestation-cultural-says-it-will-never-end.
Brazil's Bolsonaro calls Amazon deforestation "cultural", says it "will never end"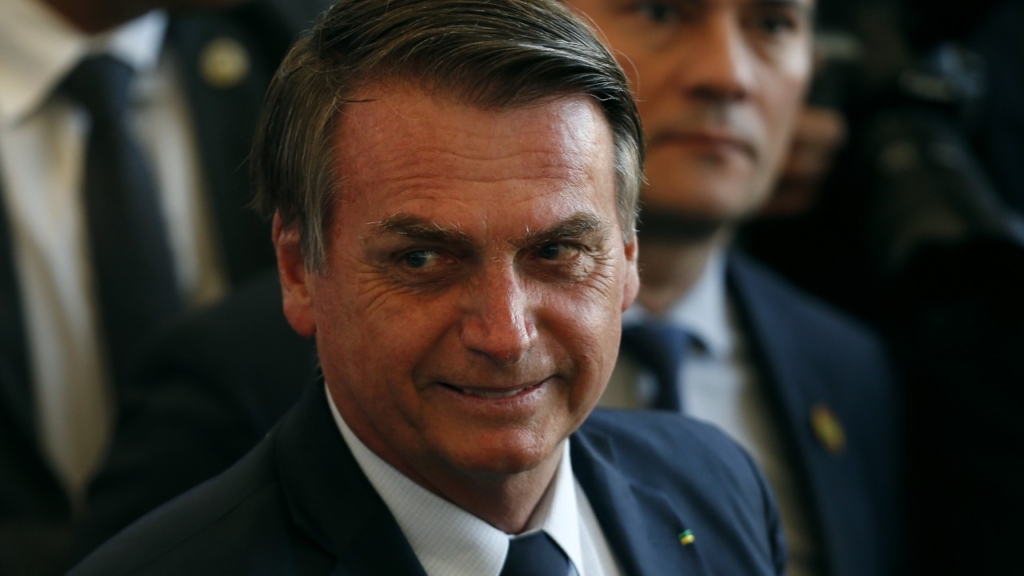 President of Brazil Jair Bolsonaro looks on before the Copa America Brazil 2019 Final match between Brazil and Peru at Maracana Stadium on 7 July 2019 in Rio de Janeiro, Brazil. Photo: Wagner Meier / Getty Images
By Marina Lopes
20 November 2019
SAO PAULO, Brazil (The Washington Post) – Brazilian President Jair Bolsonaro shrugged off a government report that deforestation in the Amazon reached an 11-year high on his watch, saying Wednesday he expects the destruction of the world's largest tropical rainforest to continue.
"Deforestation and fires will never end," the pro-development president told reporters in Brasilia. "It's cultural."
The comments were quickly condemned by environmentalists, who fear that the Amazon is approaching a tipping point at which large swaths of the rainforest will be irrevocably lost.
"About 90 percent of the destruction of the forest occurs illegally," said Marcio Astrini, public policy coordinator at Greenpeace Brazil. "Therefore, the only cultural aspect of deforestation in the Amazon is the culture of forest crime, which the government does not seem to want to confront."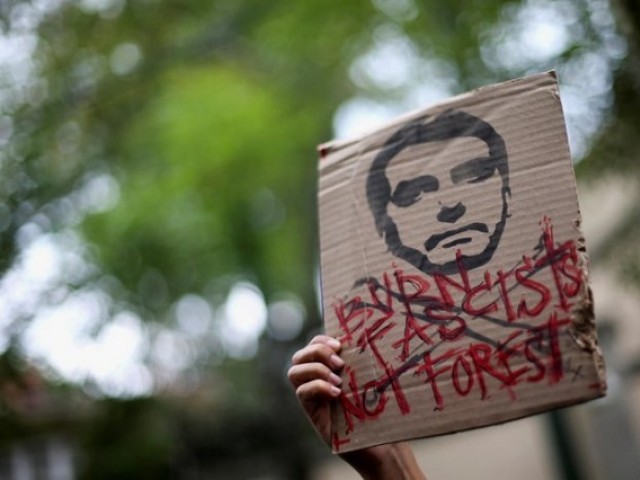 An activist holds a sign with an illustration of Brazilian President Jair Bolsonaro that reads, "Burn fascists, not forests", as they demand more Amazon rainforest protection at the embassy of Brazil in Mexico City, Mexico 23 August 2019. Photo: Reuters
The Brazilian Amazon lost 3,769 square miles of rainforest between August 2018 and July 2019, Brazil's National Space Research Institute reported this week, an area almost 1½ times the size of Delaware. That was up 30 percent from the previous year.
Brazil's deforestation rate spiked in the 1990s but began to drop as the country's environmental protection agency, called IBAMA for its initials in Portuguese, cracked down on illegal logging and mining. The rate began climbing again in 2012; the increase has accelerated under Bolsonaro. Bolsonaro campaigned for president last year on promises to open up the Amazon to more agriculture and mining; he took office in January pledging to end IBAMA's "industry of fines."
Critics accuse him of weakening environmental protections and enforcement. His policies drew international scrutiny this summer as fires in the rainforest spiked. Most of the fires are set by ranchers to clear land for pasture.
Environmental Minister Ricardo Salles blamed the region's "illegal economy" for the spike. He called a meeting next week to discuss ways to stem deforestation, including transferring teams that monitor the forest from Brasilia to the Amazon region.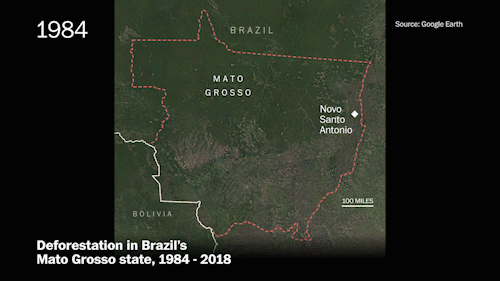 Brazilian ranchers have long used fires to clear land. But analysts say Bolsonaro's permissive rhetoric and lax enforcement have inspired more such activity.
This has been a year of environmental catastrophes for the country. In January, a tailings dam at an iron ore mine collapsed, burying hundreds of people under toxic waste. In August, 25,000 fires spread throughout the Amazon, a nine-year high. Since September, a mysterious oil spill has sullied hundreds of miles of pristine beaches along the country's northeast coast. And this month, fires ravaged the country's wetlands, destroying 50,000 hectares of vegetation.
Still, IBAMA issued its lowest number of fines from January through September since 2000, and 22 percent less than last year, according to news site Poder360. [more]
Brazil's Bolsonaro calls Amazon deforestation 'cultural,' says it 'will never end'
…………………………………………………………………….
Evidentially throwing up one's hands, saying that we as a species cannot reverse old, bad cultural habits is a good enough excuse to let farmers, miners and loggers have their way with remaining forested land. Of course not! Cultural norms are not held over environmentalists elsewhere on the planet for inaction, so we may hear of more different types of excuses coming from Bolsonaro the next time I do a post on the deforestation of Brazil and the Amazon. 

Let's continue to make our voices heard concerning the climate crisis, despite politicians like Bolsonaro and Trump, creating a new culture of sustainability for all.
Here is more climate and weather news from Sunday:
(As usual, this will be a fluid post in which more information gets added during the day as it crosses my radar, crediting all who have put it on-line. Items will be archived on this site for posterity. In most instances click on the pictures of each tweet to see each article.)
(If you like these posts and my work please contribute via the PayPal widget, which has recently been added to this site. Thanks in advance for any support.)
Guy Walton- "The Climate Guy"