Friday December 27th… Dear Diary. The main purpose of this ongoing blog will be to track United States extreme or record temperatures related to climate change. Any reports I see of ETs will be listed below the main topic of the day. I'll refer to extreme or record temperatures as ETs (not extraterrestrials).😉
Main Topic: Long List of Species That Went Extinct During The 2010s With Climate Crisis Connections Via Gizmodo And Desdemona Despair
Dear Diary. I will be posting many daily blogs, such as this one, looking back on the decade of the 2010s the next few weeks. I'm looking forward to the challenge that humanity has in order to do about face course corrections during the 2020s so that civilization will become sustainable for many decades thereafter. Will we be up to new environmental challenges brought about by carbon pollution and associated plastic pollution and human overpopulation? In order to have a good next decade we need to look back on the last one with shame in some instances.
The following Gizmodo article listing all known species in alphabetical order that went extinct this decade floored me. Please read the article in full to get a sense of loss. I've reposted a very truncated version from Desdemona Despair due to its full unfortunate length:
https://desdemonadespair.net/2019/12/all-of-the-species-declared-extinct-in-the-2010-2019-decade-the-trends-that-connect-these-160-extinctions-are-true-of-the-biodiversity-crisis-more-generally.html
All of the species declared extinct in the 2010-2019 decade – "The trends that connect these 160 extinctions are true of the biodiversity crisis more generally"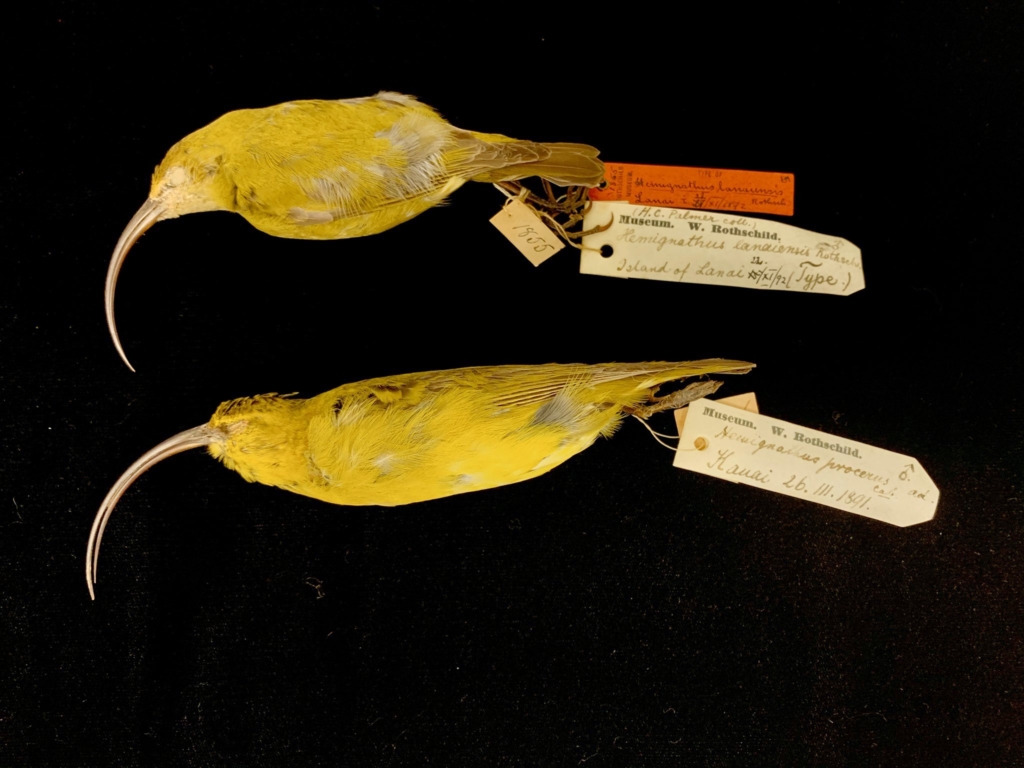 Study skins of the extinct Lana'i and Kaua'i 'akiaola. Photo: Paul Sweet / AMNH
By Ryan F. Mandelbaum
16 December 19
(Gizmodo) – Lonesome George, the last of the Pinta Island tortoises, died in 2012. George's story is the perfect extinction story. It features a charismatic character with a recognizable face, an obvious villain, and the tireless efforts of naturalists.
The population of the Pinta Island tortoise species was decimated by whalers hunting and eating them during the 19th century. Zoologist József Vágvölgyi discovered George in 1971 and brought him into captivity. No other Pinta Island Tortoises have since been found. The International Union for Conservation of Nature (IUCN) declared the species extinct in the wild in 1996, while researchers attempted to breed George with other tortoises to at least preserve his genetic material. But George died—of natural causes—sparking news stories about his life and legacy, which media outlets continue to cover to this day.
But George's story is not a typical story. Perhaps a better mascot of the extinction crisis is Plectostoma sciaphilum; a small snail, called a "microjewel" for its beautiful, intricate shell, that inhabited a single limestone hill in Malaysia. During the 2000s, a cement company wiped the hill off the map for its valuable resources, rendering the "microjewel" snail extinct.
Scientists estimate that species are going extinct 1,000 times faster than they should be, and "literally dozens" go extinct each day. But these estimates aren't made from stories about big, rare zoo attractions; most of those victims are likely invertebrates, plants, and other beings you may not think much about. Even figuring out the actual extent of the biodiversity crisis is difficult, given how hard it is to estimate what we don't know. Earth might be home to anywhere from 5 million to 10 million species, or perhaps a trillion, according to disparate estimates, of which researchers have catalogued less than 2 million. The IUCN's Red List names only a thousand extinct or extinct-in-the-wild species—but one paper estimated that 7 percent of the known extant species might be extinct, if you include estimates of invertebrate extinctions.
Below, we've compiled a list of the species that the IUCN declared extinct in the past decade (it does not include species still around but declared extinct in the wild). The list is contains only 160 species, many of which were last seen many years ago or only discovered recently. Generally, it takes decades without a sighting of a species plus dedicated searches before researchers can fully establish that no individuals are left. Declaring a species extinct itself can be an act of giving up, or worse—once a species is considered extinct, governments may no longer feel the need to fund protections for its habitat.
But the trends that connect these 160 extinctions are true of the biodiversity crisis more generally, and the kinds of species it lists, plus how they went extinct, are even more relevant in the present day. In order to create the list, I filtered the IUCN's red list just to species that scientists assessed as extinct this decade, removed any that had been previously declared extinct in assessments from previous decades, and wrote a summary of what each species was, where it lived, and how and when it went extinct. Certain species had more detailed stories than others. […]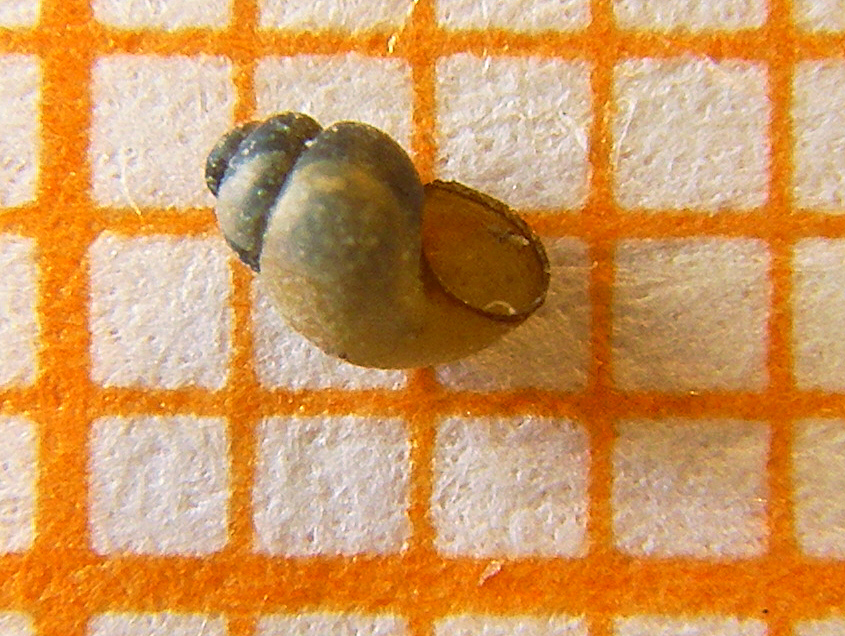 The extent snail, Bythinella reyniesii, which looks similar in appearance to other Bythinella snails. Five species of Bythinella snails were declared extinct by the IUCN in 2010. Photo: Dieter Schmitt / Wikimedia Commons
The species the IUCN declared extinct in the 2010s, in alphabetical order:
Acalypha dikuluwensis (Acalypha dikuluwensis)
This plant was endemic to copper-rich soil on the Katanga Plateau, Democratic Republic of Congo. Surface mining probably caused its demise. It hasn't been seen since 1959, and the IUCN declared it extinct in 2012. […]
Akialoa ellisiana (Oahu 'akialoa)
The Hawaiian islands are among the most notable examples of species decline at the hands of humans, epitomized by the decline of a family of finches called the Hawaiian honeycreepers. Like Darwin's famous finches, these birds evolved a variety of bill shapes and feeding behaviors, filling niches corresponding with Hawaii's incredibly diverse plant population via adaptive radiation. But less than half of the Hawaiian honeycreepers are still around; their specialized behaviors made them especially susceptible to habitat degradation, and introduced avian malaria confined many their populations to altitudes where mosquitoes can't thrive. The Oahu 'akialoa was a small finch with a long, curved bill that ate insects and nectar, but it went extinct due to disease and humans clearing the forest. The IUCN declared it extinct in 2016.
Akialoa lanaiensis (Lana'i 'akiaola)
The Lana'i or Maui Nui 'akiaola was a honeycreeper known only from three specimens taken in 1892. Like the Oahu 'akiaola, it likely met its end due to forest clearing and disease. The IUCN declared it extinct in 2016.
Akialoa stejnegeri (Kaua'i 'akiaola)
Observers spotted the Kaua'i 'akiaola as late as 1969, but this Hawaiian honeycreeper hasn't been seen since due to habitat destruction and invasive species combined with hurricane damage. The IUCN declared it extinct in 2016. [more]
All the Species Declared Extinct This Decade
Let's all work together to keep subsequent extinction lists cobbled together at the end of the 2020s short. Unfortunately global warming will be much worse by the end of 2029 no matter what we do, but we have it in our power to limit the damage. Keep working hard. If they could talk remaining flours and fauna would thank you.
Here is more climate and weather news from Friday:
(As usual, this will be a fluid post in which more information gets added during the day as it crosses my radar, crediting all who have put it on-line. Items will be archived on this site for posterity. In most instances click on the pictures of each tweet to see each article.)
(If you like these posts and my work please contribute via the PayPal widget, which has recently been added to this site. Thanks in advance for any support.) 
Guy Walton- "The Climate Guy"