Tuesday February 11th… Dear Diary. The main purpose of this ongoing post will be to track United States extreme or record temperatures related to climate change. Any reports I see of ETs will be listed below the main topic of the day. I'll refer to extreme or record temperatures as ETs (not extraterrestrials)😉
Main Topic: Sydney Sees Climate Crisis Whiplash Flooding
Dear Diary. Yesterday I informed my readers of a warm weather pattern, which brought flooding to the southeastern U.S. last week, transitioning to see fairly heavy localized snow in north Georgia over the weekend, then back to heavy rain this week with the worst flooding in Mississippi and Alabama. What we are seeing is climate change weather whiplash folks, with not much precedence in climatological records for a lot of this mayhem.
In the southern hemisphere during their summer we are also seeing signs of climate change induced weather whiplash. New South Wales, where Sydney is located, has experienced record heat and associated fires, which have been in the news for months. Recently over the last few days the heaviest rains in thirty years have pummeled the region. This time around weather whiplash was very much welcome extinguishing many of the worst fires burning this region of Australia. Here are more details from the BBC:
https://www.bbc.com/news/world-australia-51439175?
Sydney rains: Record rainfall brings flooding but puts out mega-blaze
Sydney has been hit by its heaviest rain in 30 years, bringing widespread flooding but also putting out two massive bushfires in New South Wales.
Australia's weather agency said 391.6mm of rain had fallen in the past four days in Sydney, more than three times the average rainfall for February.
About 100,000 homes are without power, and officials have warned flash floods could be life-threatening.
But the rainfall means only 17 fires are still burning across the state.
The NSW Rural Fire Service (RFS) said on Monday afternoon that the rains had extinguished more than 30 fires over the weekend, calling it "the most positive news we've had in some time".
The latest to be declared out is the Gospers Mountain blaze, north-west of Sydney. Since October it has burned 512,000 hectares, and was considered a mega-blaze that was "too big to put out".
On Sunday, the Currowan fire, around the town of Shoalhaven, was also put out. It had burned for 74 days, destroying nearly 500,000 hectares and 312 homes.
However, the Bureau of Meteorology (BoM) has warned that fire-hit areas can be particularly prone to flooding, and that fast-moving waters can carry large amounts of debris.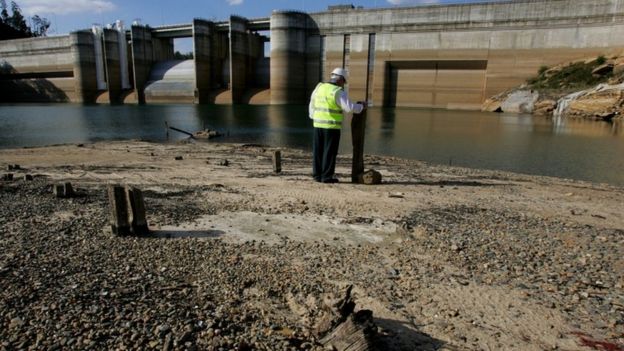 Water levels in the Warragamba Dam, pictured here in December, have almost doubled over the weekend
Water supplies in the region have also been replenished, after years of drought.
The Warragamba Dam, which supplies most of Sydney's water, is heading towards being 70% full, says WaterNSW.
At the end of last week it was at only 42% after one of the driest years on record.
'Huge reprieve' for firefighters

From #NSWFires to #NSWFloods… the state has gone from one wave of extreme weather to another.
But despite the massive disruptions, many people have been celebrating the heavy rainfall, posting videos on social media cheering it on as it thrashed the city.
This has been a devastating summer for eastern and southern Australia.
While I was out reporting the bushfires in recent months, I'd ask firefighters what was needed to tackle the fires. They would tell me about creating containment lines, and the importance of hazard reductions. Then almost all of them would look at the sky and tell me what they really needed was rain. Lots of it.
And now, after they've put in so much work on the ground, the weather has given them what they asked for. Thirty out of 60 blazes in NSW have now been put out – a huge reprieve for the volunteer firefighters who have not stopped working for months.

A severe weather warning is now in place for the entire coast of NSW, Australia's most populous state.
In Sydney alone, at least 200 people were rescued by emergency services over the weekend.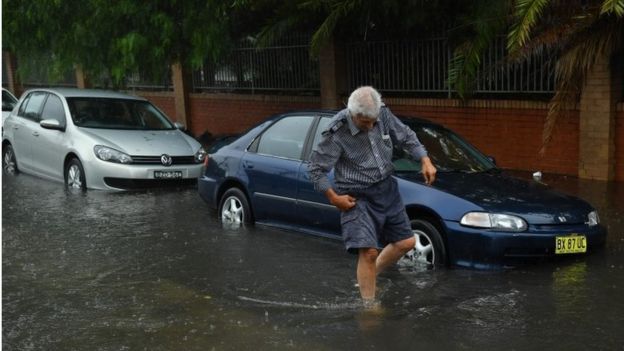 Emergency services have dealt with thousands of calls for assistance
"Everywhere has been hit, it's hard to pinpoint where it's worst," said Matt Kirby, spokesman for the State Emergency Services (SES).
Several people have been injured, including four who were inside a car which was crushed by a falling tree in the city centre on Sunday afternoon.
On Monday morning, emergency services were searching for one man believed to have been swept off a bridge in his car.
Rail and ferry services in Sydney were also disrupted, with several platforms at one of Sydney's main stations, Central, left underwater. Dozens of schools have been closed.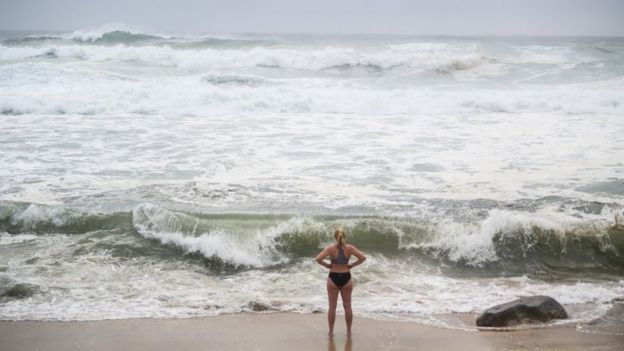 Dangerous surf conditions are reported at places like Bronte Beach in Sydney
The state emergency minister David Elliott urged Sydney residents to help rescue services by taking warnings seriously, staying away from flooding and keeping off the roads if possible.
Emergency services had advised people to stay home from work on Monday to avoid the disruption.
Thousands of people in low-lying areas of the city have been told to leave or get ready to leave their homes.
The Northern Beaches area has already seen significant damage, with several metres of beach being washed away in places.
On Sunday night, people living around the Narrabeen Lagoon, a low-lying area in northern Sydney, were told to evacuate before roads became impassable.
Waves more than 5m high have lashed the coast in areas like Collaroy, just south of Narrabeen, stripping away front gardens facing the sea.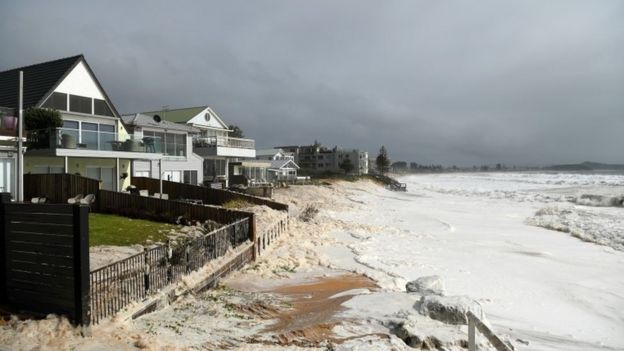 The winds whipped up sea foam along the coast at Collaroy, northern Sydney, stripping away the beach
While it had stopped raining in central Sydney on Monday, more rain is forecast for the week.
Government agencies have warned that high tides forecast for the coming days – known as king tides – could further worsen the flooding.
……………………………………………………………………………..
As we go through the 2020s I'm sure that many regions of the world will be having to deal with extreme weather whiplash brought about by climate change. Let's all work to keep global average temperatures as low as possible to prevent weather whiplash, which potentially could harm every present day and future living soul.
Please consider donating through the Paypal widget on this site. I need everyone's support to continue my work, especially that of processing NCEI record count data for scientific research.
Here is some more weather and climate news from Tuesday:
(As usual, this will be a fluid post in which more information gets added during the day as it crosses my radar, crediting all who have  put it on-line. Items will be archived on this site for posterity.)
(If you like these posts and my work please contribute via the PayPal widget, which has recently been added to this site. Thanks in advance for any support.)
Guy Walton "The Climate Guy"