Wednesday February 19th… Dear Diary. The main purpose of this ongoing post will be to track United States extreme or record temperatures related to climate change. Any reports I see of ETs will be listed below the main topic of the day. I'll refer to extreme or record temperatures as ETs (not extraterrestrials)😉
Main Topic: Update On Africa's Locust Infestatio
Dear Diary: Today's subject really bugs me (pun intended) because what we are seeing in Africa is an indirect result or consequence of climate change induced weather that became optimum for huge locusts swarms, which are threatening tenuous food supplies. I first broached this buggy problem here:
As stated from the first post, the same awful weather pattern exacerbated by global warming that made Australia dry and hot over the last year made East Africa very wet. Take a look at the following graphic to get my drift:
Quoting the Associated Press:
"How is climate change involved?
Heavy rains in East Africa made 2019 one of the region's wettest years on record, said Nairobi-based climate scientist Abubakr Salih Babiker. He blamed rapidly warming waters in the Indian Ocean off Africa's eastern coast, which spawned an unusual number of strong tropical cyclones off Africa last year."
Unfortunately locusts swarms have moved northward through Africa since my January report. Here is an update from the AP:
https://apnews.com/cdbb157d9893077ac753bbc44176814a
Huge locust outbreak in East Africa reaches South Sudan
JUBA, South Sudan (AP) — The worst locust outbreak that parts of East Africa have seen in 70 years has reached South Sudan, a country where roughly half the population already faces hunger after years of civil war, officials announced Tuesday.
Around 2,000 locusts were spotted inside the country, Agriculture Minister Onyoti Adigo told reporters. Authorities will try to control the outbreak, he added.
The locusts have been seen in Eastern Equatoria state near the borders with Ethiopia, Kenya and Uganda. All have been affected by the outbreak that has been influenced by the changing climate in the region.
The situation in those three countries "remains extremely alarming," the U.N. Food and Agriculture Organization said in its latest Locust Watch update Monday. Locusts also have reached Sudan, Eritrea, Tanzania and more recently Uganda.
The soil in South Sudan's Eastern Equatoria has a sandy nature that allows the locusts to lay eggs easily, said Meshack Malo, country representative with the FAO.
At this stage "if we are not able to deal with them … it will be a problem," he said.
South Sudan is even less prepared than other countries in the region for a locust outbreak, and its people are arguably more vulnerable. More than 5 million people are severely food insecure, the U.N. humanitarian office says in its latest assessment, and some 860,000 children are malnourished.
Five years of civil war shattered South Sudan's economy, and lingering insecurity since a 2018 peace deal continues to endanger humanitarians trying to distribute aid. Another local aid worker was shot and killed last week, the U.N. said Tuesday.
The locusts have traveled across the region in swarms the size of major cities. Experts say their only effective control is aerial spraying with pesticides, but U.N. and local authorities have said more aircraft and pesticides are required. A handful of planes have been active in Kenya and Ethiopia.
The U.N. has said $76 million is needed immediately. On Tuesday, U.S. Secretary of State Mike Pompeo during a visit to Ethiopia said the U.S. would donate another $8 million to the effort. That follows an earlier $800,000.
The number of overall locusts could grow up to 500 times by June, when drier weather begins, experts have said. Until then, the fear is that more rains in the coming weeks will bring fresh vegetation to feed a new generation of the voracious insects.
South Sudanese ministers called for a collective regional response to the outbreak that threatens to devastate crops and pasturage.
……………………………………………………………………….
Here is more information on the plague:
Blowing up the map we see a forecast movement of the locust swarm: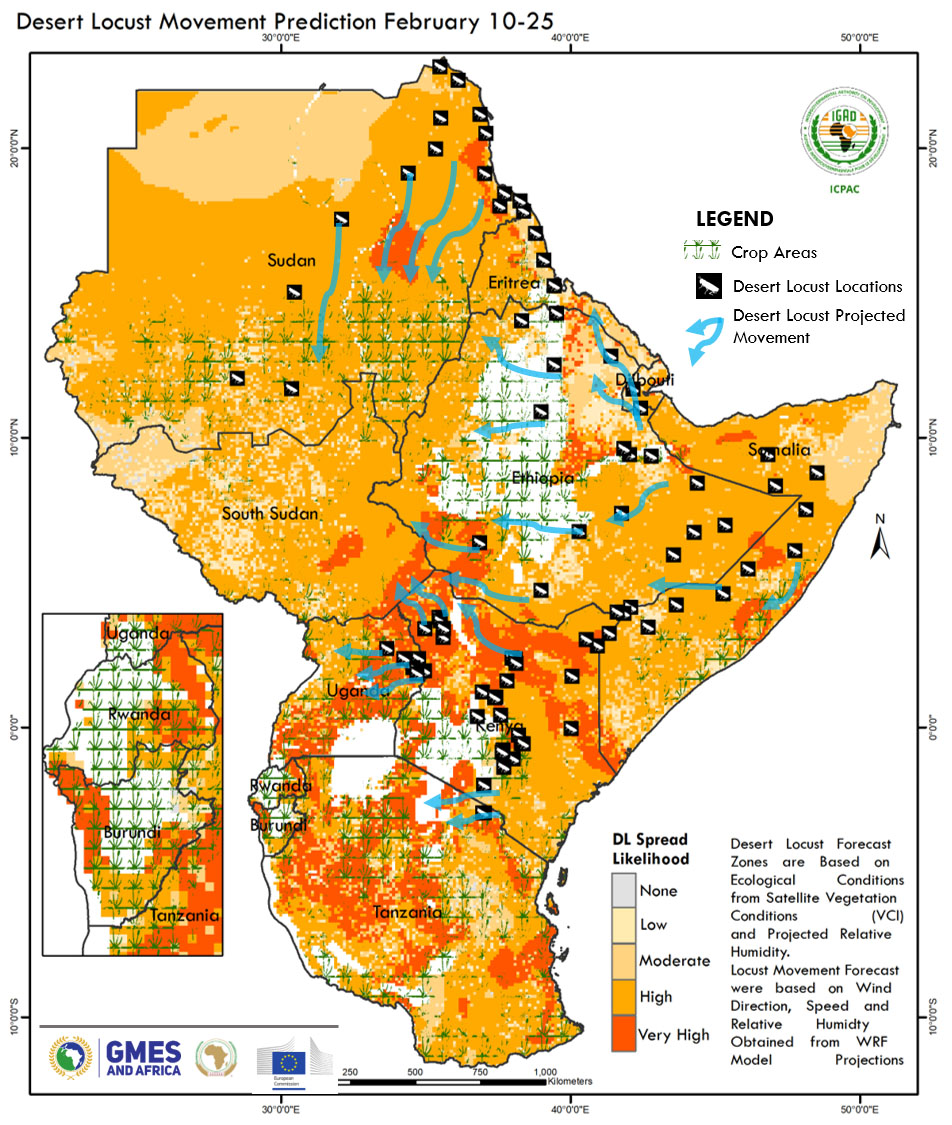 Indeed!:
Quoting Go Green's linked Bloomberg article:
The number of locusts in East Africa could expand 500 times by June, the UN's Food & Agriculture Organization said last month. The region gets heavy seasonal rains—and great locust-breeding and swarming conditions—from March through May. Last year, the October-to-December rainy season was among the wettest in 40 years, with cumulative rainfall ranging from 120% to 400% of normal.
"Locust outbreaks are expected to become more frequent and severe under climate change," said Rick Overson, a research coordinator at the Global Locust Initiative at Arizona State University. "Locusts are quite adept at responding rapidly and capitalizing on extreme rainfall events."
Please click on the linked Bloomberg article to see disturbing videos of the locust swarm. It can't be emphasized enough that famine is looming over much of Africa due to this infestation. Of course, I'll be posting more on any food shortages that this consequence of climate change induces later this year.
Please consider donating through the Paypal widget on this site. I need everyone's support to continue my work, especially that of processing NCEI record count data for scientific research.
Here is some more weather and climate news from Wednesday:
(As usual, this will be a fluid post in which more information gets added during the day as it crosses my radar, crediting all who have  put it on-line. Items will be archived on this site for posterity.)
Here are more Russian "ET's:"
(If you like these posts and my work please contribute via the PayPal widget, which has recently been added to this site. Thanks in advance for any support.)
Guy Walton "The Climate Guy"