Tuesday April 28th… Dear Diary. The main purpose of this ongoing blog will be to track United States extreme or record temperatures related to climate change. Any reports I see of ETs will be listed below the main topic of the day. I'll refer to extreme or record temperatures as ETs (not extraterrestrials).😉
Main Topic: Record Heat Slated For The Southern U.S.
Dear Diary. An eye opening early warm season heat wave will be expanding from the Southwest into much of the rest of the southern U.S. the next few days. I reported on the initial stages of this heat a couple of days ago:
Today I will report more notes in association with this first heat wave for the United States of 2020.
First, the anchor, or worst conditions will continue to reside over the Desert Southwest eastward through Texas: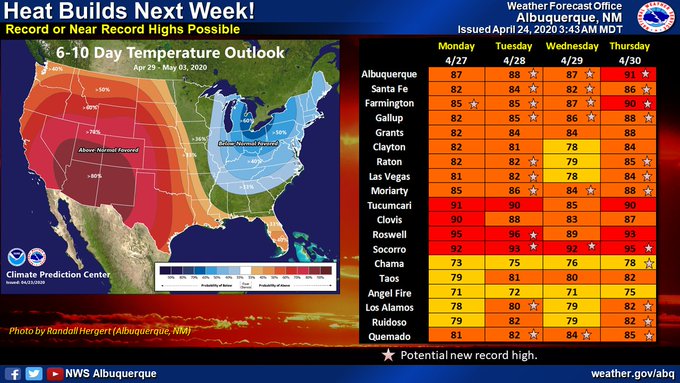 Due to the long wave jet stream configuration we will continue to see chilly air masses move into the Northeast where record low temperatures are possible into early May.
Also, the temperature contrast between cool and hot air masses will power up severe storms from time to time:
On Wednesday we will be watching Las Vegas, which may see its first century mark reading in recorded history for the month of April: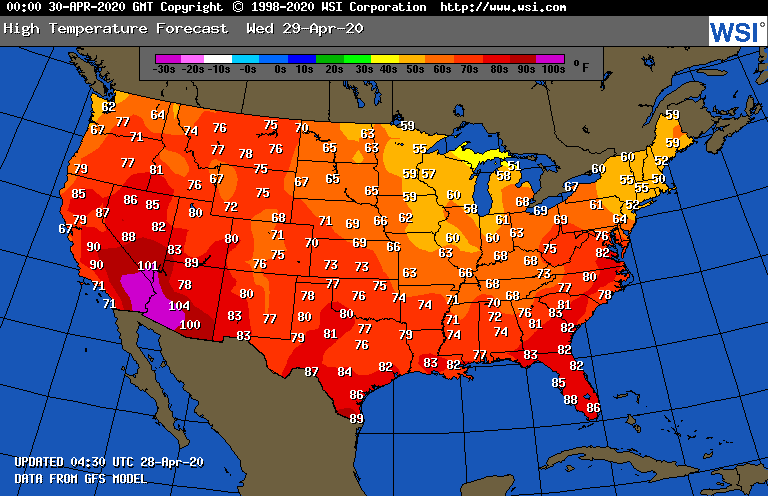 Here are a couple of startling National Weather Service notes for the middle of this week:
After Wednesday ahead of a Midwestern front record Southwest heat will get steered through Texas and get as far east as the Carolinas and get as far north as Arkansas and Tennessee after May 1st:
Note the high thickness values above 570 decameters with a dry southwest flow as indicated on the above surface chart. This is nearly a mid-summer type synoptic regime, not one we would expect in early May.
Here are the model forecast maxes valid for Saturday May 2nd, which will result from the above pattern from our surface depiction:
It will continue to be hot in the Southwest as record heat getting close to 100 degrees moves into Texas.
Already West Texas has seen some record warmth:
I'll be adding some more notes on this early season heat as today progresses.
Now here are some of today's articles and notes on the horrid COVID-19 pandemic:
Here is more climate and weather news from Tuesday:
(As usual, this will be a fluid post in which more information gets added during the day as it crosses my radar, crediting all who have put it on-line. Items will be archived on this site for posterity. In most instances click on the pictures of each tweet to see each article.)
(If you like these posts and my work please contribute via the PayPal widget, which has recently been added to this site. Thanks in advance for any support.)
Guy Walton "The Climate Guy"