Sunday August 9th… Dear Diary. The main purpose of this ongoing blog will be to track United States extreme or record temperatures related to climate change. Any reports I see of ETs will be listed below the main topic of the day. I'll refer to extreme or record temperatures as ETs (not extraterrestrials).😉
Main Topic: France Gets Exceptionally Hot…Again
Dear Diary. Apparently France and much of Europe is undergoing another summer heatwave. In 2019 we saw an all time max of 109°F in Paris from that year's round of massive European heatwaves. Here is the maximum extent of this episode's heat dome over Europe occurring this weekend:
I wouldn't quite describe this heat episode as the "heatwave of the century" since a system moving northeast from Spain should put an end to extreme heat in France by midweek:
Still, this Bloomberg article details some of what we will see across France this week:
Paris Braces for One of Worst Heat Waves in More Than a Century
By Rudy Ruitenberg August 7, 2020, 3:09 AM PDT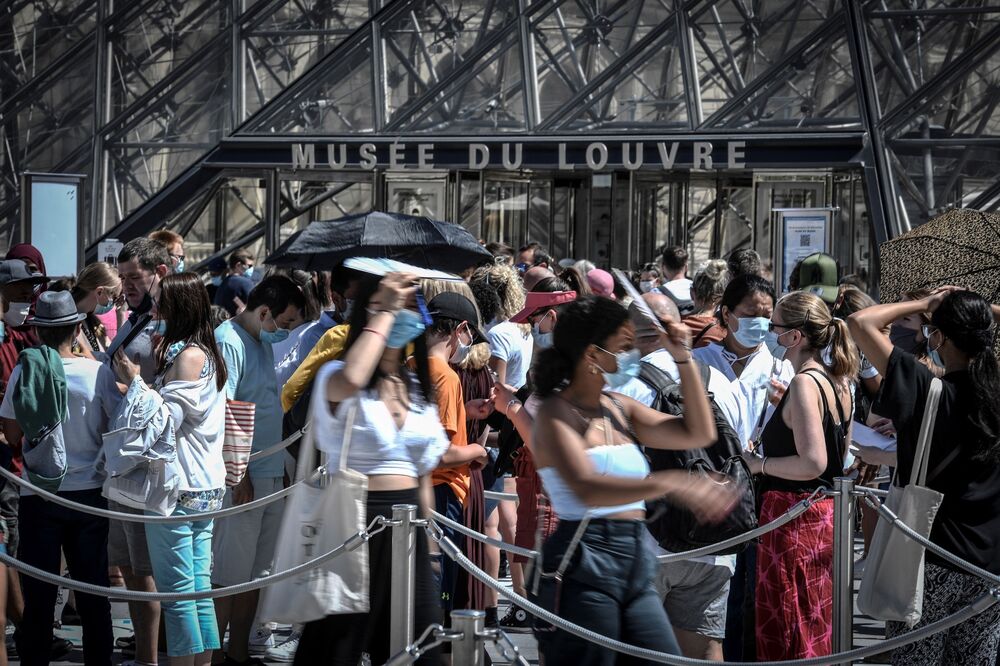 People wearing a protective face masks queue at the entrance of the Louvre in Paris on Aug. 6.
Photographer: Stephane de Sakutin/AFP via Getty Images
Paris is facing one of its worst heat waves in more than a century, with daily average temperatures hovering around 30 degrees Celsius (86 degrees Fahrenheit) over a seven-day period and hitting a maximum of 39 degrees on Sunday, according to forecaster Meteo-France.
The hot weather will last through the middle of next week, creating the worst heat wave conditions in the French capital since the 2003 scorcher that lasted 10 days, Meteo-France meteorologist Francois Jobard said in a tweet on Friday.
"Other than 2003, the capital therefore begins its most dreadfully hot week since 1873," Jobard said.
The Paris region's prefect, the chief administrative official, on Thursday declared a heat-wave alert, activating measures such as delivering fans to vulnerable people and handing out water bottles to the homeless. After the 2003 heat wave killed an estimated 15,000 people in France, the country introduced a "plan canicule" to limit the impact of episodes of hot weather.
The city of Paris last year introduced a free app called Extrema Paris that allows Parisians to locate green spaces, bathing spots, churches and other cool spots.
Meteo-France has declared a heat wave alert for about half of the country, with temperatures in the southwest locally forecast to top 40 degrees on Friday, before temperatures there start to fall again on Saturday.
Heat waves in France have become more frequent and more intense in the past 30 years, and climate change means their number and duration is expected to increase further in the 21st century, according to Meteo-France. The country is already experiencing unusually warm weather, registering its 14th consecutive month of above-normal temperatures in July and the warmest January-July period since 1900.
Here are some "ET's" recently reported from Europe. (If you can't read French just click on the translation function for each tweet.):
In Portugal this year:
Recently Europe has experienced much more anomalous summer heat than the United States, which still doesn't quite see the urgency for mitigating the climate crisis. I do fear that the Mediterranean area is on the fast track to experiencing a much hotter, more arid climate than we have seen in all of human history. On this blog I'll report on this horrid transition during the early 2020s.
Meanwhile in the United States:
Here is more climate and weather news from Sunday:
(As usual, this will be a fluid post in which more information gets added during the day as it crosses my radar, crediting all who have put it on-line. Items will be archived on this site for posterity. In most instances click on the pictures of each tweet to see each article. The most noteworthy items will be listed first.)
Now here are some of today's articles and notes on the horrid COVID-19 pandemic:
(If you like these posts and my work please contribute via the PayPal widget, which has recently been added to this site. Thanks in advance for any support.)
Guy Walton "The Climate Guy"