Tuesday August 18th… Dear Diary. The main purpose of this ongoing blog will be to track United States extreme or record temperatures related to climate change. Any reports I see of ETs will be listed below the main topic of the day. I'll refer to extreme or record temperatures as ETs (not extraterrestrials).😉
Main Topic: Western Heatwave Beelzebub Gets Historically Hot (Day 4)
Dear Diary. I do have some good news to report in association with heatwave Beelzebub. The heat dome in association with this event will come down some tomorrow leading to this effect:
Also, as of today some of the heat advisories have come down in the Pacific Northwest: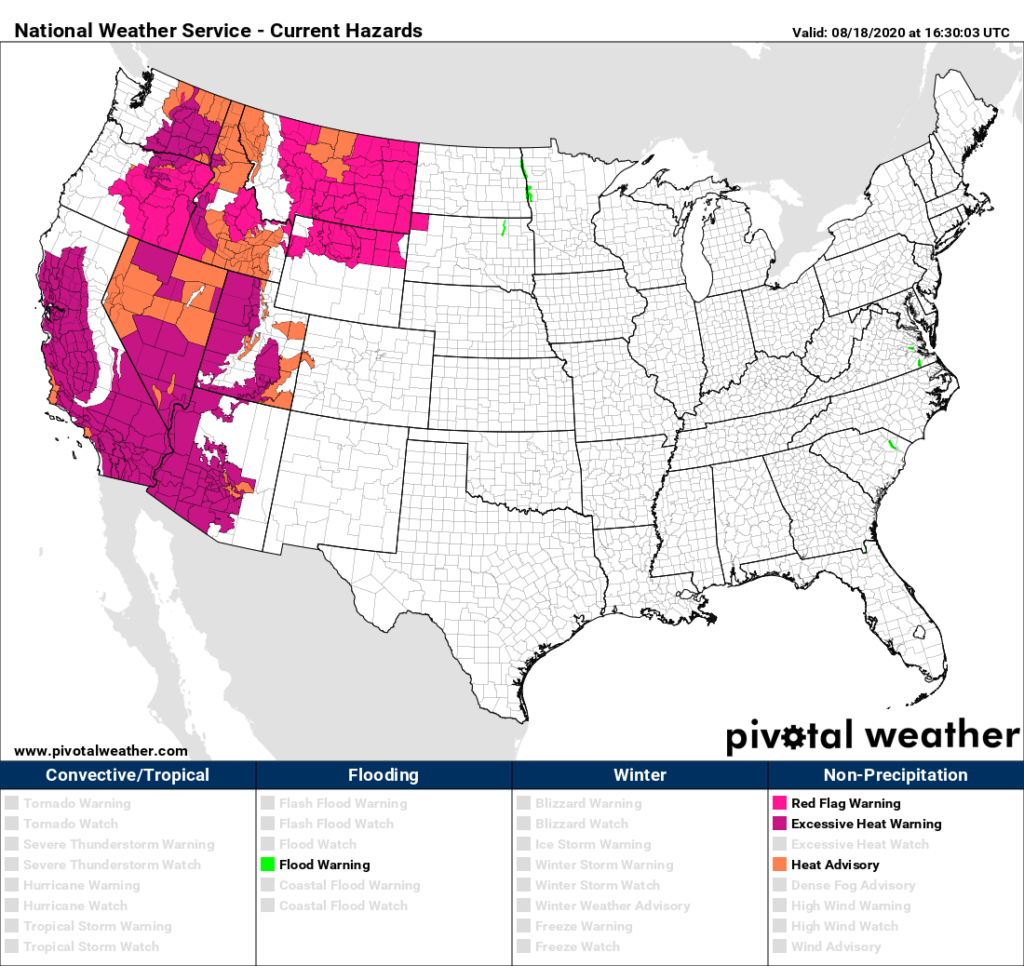 Now the bad news. A surge of tropical moisture moving into northern California has sparked numerous wildfires. Record heat is exacerbating this problem:
Even though the heat dome will max out around 600 decameters today the thing essentially won't move and will stay strong this week, so firefighters will have a very difficult time saving vulnerable structures across interior areas of the West.
Today will be the last day that I will highlight Beelzebub as our main topic unless fires get substantially out of hand. Here are social media notes concerning this historic heatwave. As usual, the most important and most recent will appear at the top of the following list with more getting added as Tuesday progresses:
Here are some "ET's" from Monday and Tuesday:
Here is more climate and weather news from Tuesday:
(As usual, this will be a fluid post in which more information gets added during the day as it crosses my radar, crediting all who have put it on-line. Items will be archived on this site for posterity. In most instances click on the pictures of each tweet to see each article. The most noteworthy items will be listed first.)
Now here are some of today's articles and notes on the horrid COVID-19 pandemic:
(If you like these posts and my work please contribute via the PayPal widget, which has recently been added to this site. Thanks in advance for any support.)
Guy Walton "The Climate Guy"