Monday August 31st… Dear Diary. The main purpose of this ongoing blog will be to track United States extreme or record temperatures related to climate change. Any reports I see of ETs will be listed below the main topic of the day. I'll refer to extreme or record temperatures as ETs (not extraterrestrials).😉
Main Topic: The Next U.S. Heat Wave…Chort…Another Western Burner
Dear Diary. I am pleased to announce that our second big U.S. heatwave for the year will finally end on Tuesday:
Most remaining heat advisories will end across Texas and Louisiana by Tuesday. Unfortunately, the Continental U.S. won't get much of a respite looking at a strong dipole pattern set to develop during this week: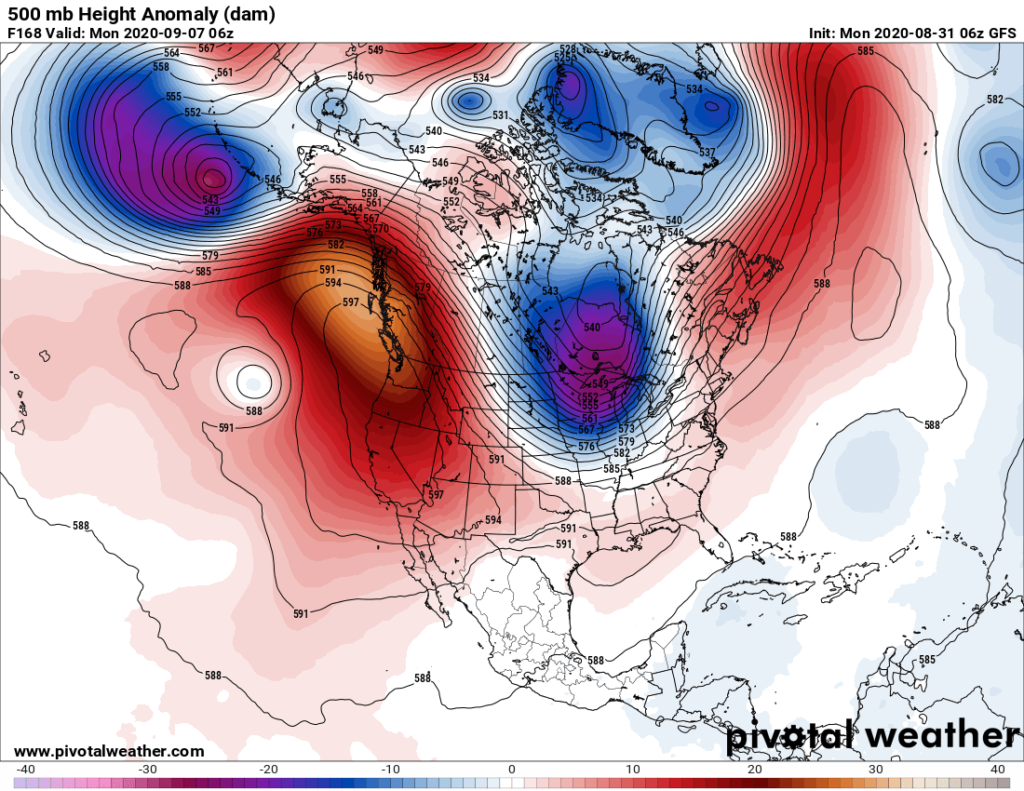 A 597+ decameter ridge reaching from California northward through British Columbia would be very unusual and unfortunate for firefighters trying to recover from Beelzebub.
I am inclined to call this next September heat wave Chort, which in mythology was a male demon. More from Wikipedia:
Chort (Russian: чёрт, Belarusian and Ukrainian: чорт, Serbo-Croatian чорт or Čort,Polish: Czort and Czart, Czech and Slovak: čert) is considered to be an anthropomorphic demon[1] of total evil of doom,[2] with horns, hooves and a skinny tail.[citation needed] He is the son of the Slavic god Chernobog and the goddess Mara.[3][page needed] In Ukraine, he is also known as haspyda, didko, irod, and kutsyi. In folk Christianity, he is considered a minion of Satan.
Here is much more from Dr. Daniel Swain and western U.S. National Weather Service offices:
Some other hot items from the western United States:
I'll be adding more information for "Chort" with time this week.
Here is more climate and weather news from Monday:
(As usual, this will be a fluid post in which more information gets added during the day as it crosses my radar, crediting all who have put it on-line. Items will be archived on this site for posterity. In most instances click on the pictures of each tweet to see each article. The most noteworthy items will be listed first.)
Now here are some of today's articles and notes on the horrid COVID-19 pandemic:
(If you like these posts and my work please contribute via the PayPal widget, which has recently been added to this site. Thanks in advance for any support.)
Guy Walton "The Climate Guy"