Friday October 2nd… Dear Diary. The main purpose of this ongoing blog will be to track United States extreme or record temperatures related to climate change. Any reports I see of ETs will be listed below the main topic of the day. I'll refer to extreme or record temperatures as ETs (not extraterrestrials).😉
Main Topic: An Ongoing South American Heat Wave
Dear Diary: As the Northern Hemisphere transitions to cooler fall times, the Southern Hemisphere is bracing for another hot season, ramped up by greenhouse gas pollution. It comes as no surprise that during the spring we are already seeing some dangerous heat popping up in South America:
I commented on Scott's tweet because some of the same areas experiencing record heat are also in the Amazon burn zone from the last few years. As we know from weather and climate 101, moist vegetation through transpiration helps the water cycle, keeping the Amazon a rain forest. Burn a substantial number of trees and well…the cycle gets broken and temperatures start to spike via drought. I'll be looking for news articles concerning my suspicions on fires/record heat in the coming days across South America.
In the meantime, here is a snapshot showing how strong of a heat dome we have over South America: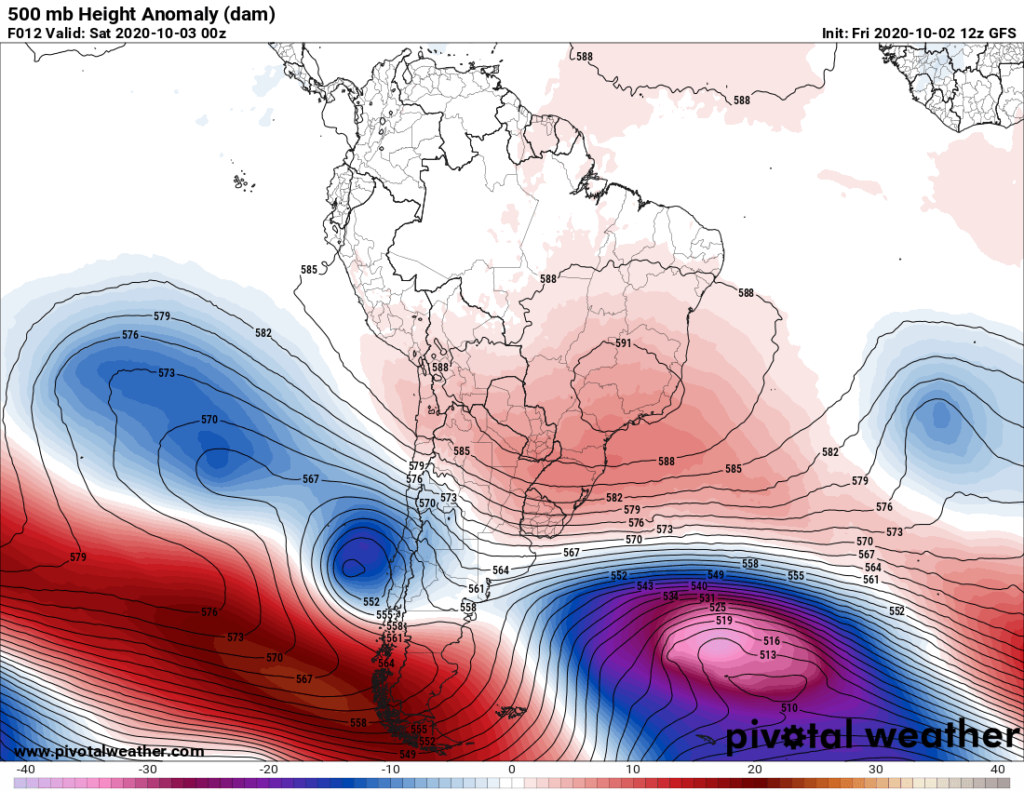 It's only early October, but already we see a strong upper level ridge better than 591 decameters in southern Brazil, which should be a lot cooler during early spring.
Here are more sultry details from South America from Maximiliano Herrera, who I thank for his diligence keeping tabs on theses extreme temperatures, or "ET's:"
My biggest fear is that this heat wave will lead to more horrendous fires, and gulp, a vicious feedback loop that the Amazon and the world may not recover from. I will continue to add South American notes nearly each day on this site for my readers.
In southern Argentina it is still winter…thank goodness:
Today I will be listing items from California's dire fire and Heatwave Desdemona situation below. The most recent items, which I will be updating frequently, will be at the top of this list:
Here some hot "ET's" recorded from Friday due to Heatwave Desdemona:
Here is more climate and weather news from Friday:
(As usual, this will be a fluid post in which more information gets added during the day as it crosses my radar, crediting all who have put it on-line. Items will be archived on this site for posterity. In most instances click on the pictures of each tweet to see each article. The most noteworthy items will be listed first.)
Now here are some of today's articles and notes on the horrid COVID-19 pandemic:
(If you like these posts and my work please contribute via the PayPal widget, which has recently been added to this site. Thanks in advance for any support.)
Guy Walton "The Climate Guy"