The main purpose of this ongoing blog will be to track United States extreme or record temperatures related to climate change. Any reports I see of ETs will be listed below the main topic of the day. I'll refer to extreme or record temperatures as ETs (not extraterrestrials).😉
Main Topic: Why Exceptional Drought Conditions Are Likely To Worsen In The U.S. Over The Next Year
Dear Diary. Climate change has dire consequences as we have seen, but here in the United States one aspect of the phenomenon has stayed away from U.S. shores for the last several years, except in portions of the West. That would be extensive drought, or a 21st century famine. Through this week the West during 2020 has been hurting badly due to this year's drought, which in combination of record heat has led to extensive historic fires. The breadbasket of the United States, or Midwest and Plains, has largely been unaffected from 2015-2020. In fact, during 2017 and 2018 the problem was extensive flooding in the Plains, not allowing for the planting of many crops. To my knowledge, commodity prices are down this harvest season since it has been a very good year, not too wet and not too dry, for most of the Plains. Is that about to change for the growing season of 2021?
Let's not get ahead of ourselves. Of course, a famine for 2021 would depend on what happens during this winter. Let's start by showing current drought conditions across the CONUS: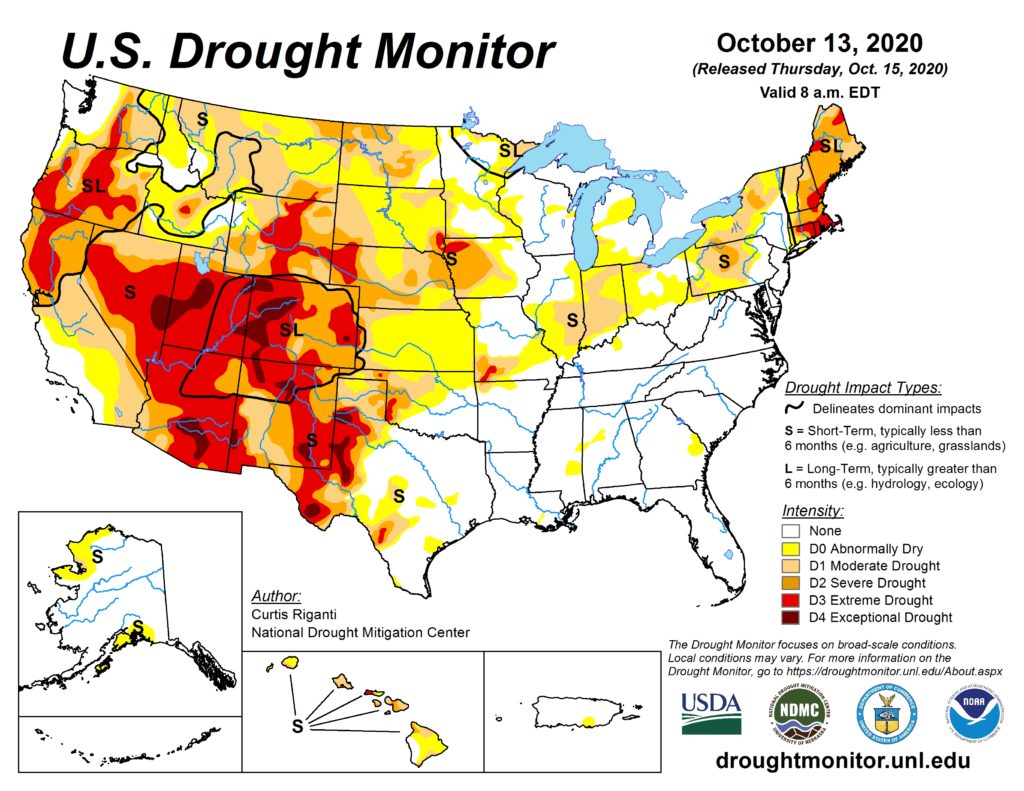 Portions of the Plains did go into drought mode during the late summer early autumn period, so the big question is whether or not the historic western drought will expand eastward into next spring. By all indications since we have a La Niña Pacific regime, it will. Here is portion of a recent blog from Daniel Swain, forecasting the western drought to remain in place with implications further east:
Winter outlook: unfortunately, it's looking dry with strong La Niña conditions
I've been holding off having this discussion for weeks, since I was hoping I could temper the seasonal outlook with some good short term news. Well, I guess that was not to be. There is now growing confidence that moderate to strong La Niña event will continue to strengthen and persist for much of the coming winter–substantially increasing the odds of a dry winter across most of California. Seasonal predictions are increasingly looking like a classic "strong La Niña" composite, with anomalous East Pacific mid-latitude ridging, increased precipitation over the Pacific Northwest, and decreased precipitation over California (especially the southern 2/3 of the state, but possibly also including far NorCal). This, combined with the likely emergence of a very "warm blob" of ocean water in the western tropical Pacific, are likely why the seasonal predictive models are in near unanimous agreement that the odds are tilted toward a dry winter in California this year.
It's worth noting three things here. First, while seasonal precipitation outlooks in California do not (on average) have a very good track record, they actually perform reasonably well *during strong ENSO years.* That's likely because a strong El Niño or La Niña event gives a big enough "kick to the system" to yield some meaningful predictive skill months in advance. Second, increased *odds* of a dry winter do not mean that the winter is definitely going to be dry–it just means the chance is substantially higher than it would be otherwise.
Third, even if we *do* see a dry winter in California, that does not mean we won't see any major storms and rain events. (Indeed: we have some research currently in progress that suggests that certain kinds of "one off" extreme storms in California may be *more* common during La Niña years!). This is especially important to keep in mind given that hundreds of thousands of folks in California are currently living downhill from recent large and/or high-intensity wildfire burn scars with major debris flow/flash flood risk. It would only take one big event to cause major problems in that regard. I guess the only good news at the moment is that there's nothing on the immediate horizon of concern from a post-fire debris flow perspective.
The Drought Mitigation Center is predicting drier than average conditions to expand over the Plains during winter, mainly due to La Niña: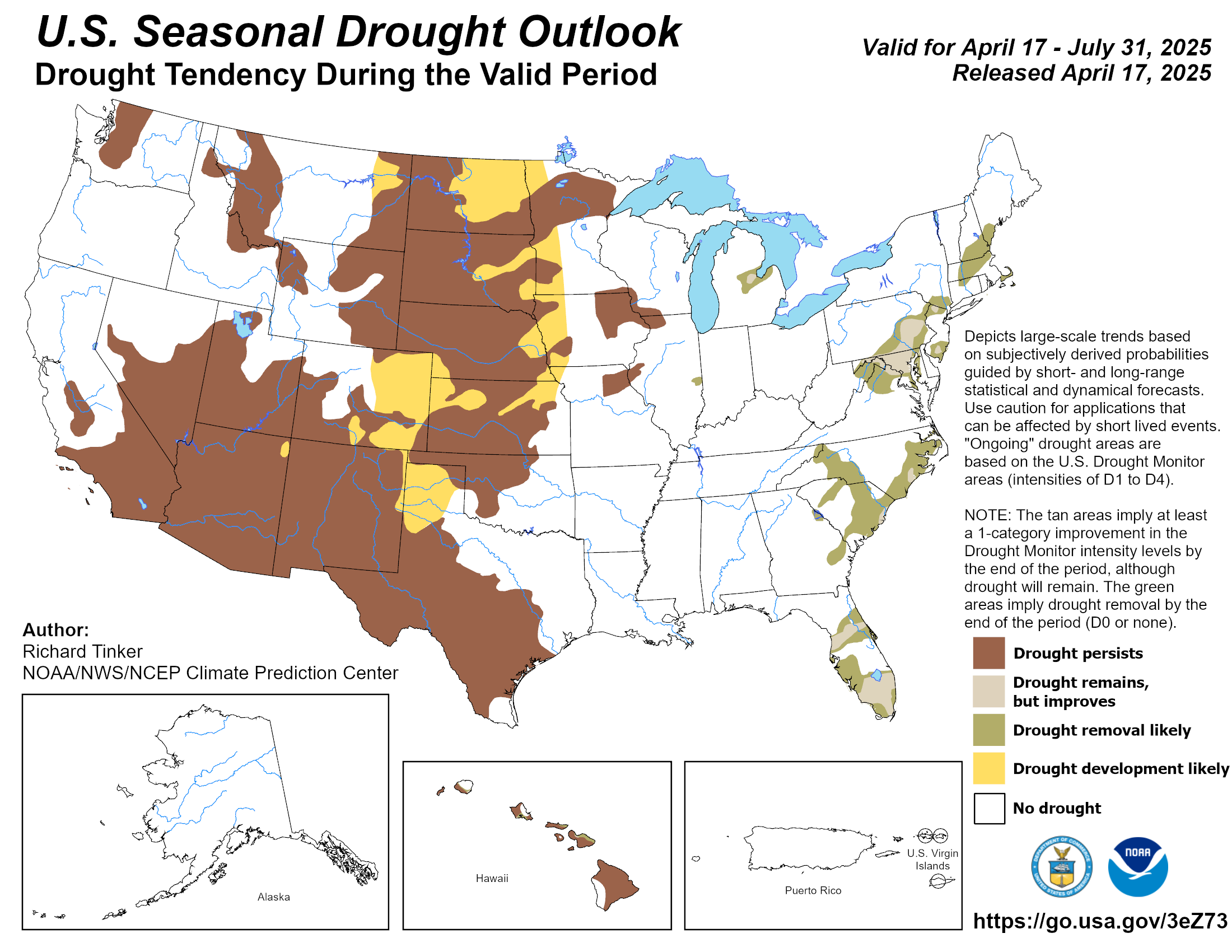 As Dr. Swain mentioned, this does not mean that we won't see some wet storms over the nation's breadbasket during the winter, just drier than average conditions are probable. Unfortunately, as far as the West goes, a La Niña winter could translate into another dreadful year of fires and record heat during 2021.
How dry for the Plains? That would depend on how many cold airmasses interact with warmth and Gulf moisture to produce rain and snow. One sign that we are in trouble would be a lack of snow cover over the north and Central plains by the time we head into March, which would be a global warming signature. I remember that during another La Niña event in 2012 the lack of snow and warmth going into the spring of that year was eye opening. In fact, 2012 became the hottest year in recorded history for the United States due to the weather and soil patterns I have mentioned in thus post interacting with, of course, carbon pollution.
Given how hot averages are across the planet, the United States is about due for another big temperature average spike since 2012 was eight years ago. Will 2021 be the year of that spike, which will be accompanied by a famine with severe ramifications for the planet, since many countries have become dependent on U.S. agricultural exports? We will see. As usual, I will try to keep you informed on any developments, particularly as we move from October through March on each monthly climate report.
Here is one big "ET" from Friday:
Also:
Here is more climate and weather news from Saturday:
(As usual, this will be a fluid post in which more information gets added during the day as it crosses my radar, crediting all who have put it on-line. Items will be archived on this site for posterity. In most instances click on the pictures of each tweet to see each article. The most noteworthy items will be listed first.)
Now here are some of today's articles and notes on the horrid COVID-19 pandemic:
(If you like these posts and my work please contribute via the PayPal widget, which has recently been added to this site. Thanks in advance for any support.)
Guy Walton "The Climate Guy"