The main purpose of this ongoing blog will be to track United States extreme or record temperatures related to climate change. Any reports I see of ETs will be listed below the main topic of the day. I'll refer to extreme or record temperatures as ETs (not extraterrestrials).😉
Main Topic: Bitterly Cold Weather Slated For The U.S. In February
Dear Diary. Through December and most of January the winter across most of the United States has been relatively mild. Our "bonus of good winter weather from global warming" has ended, though. Weather has already changed across much of the West, Midwest and Northeast as cold air in association with The Weather Channel's Winter Storm Orlena chills the area, creating life threatening conditions for those who don't take precautions:
The system brought mostly welcome rain and snow to California but did leave damage in its wake:
As stated months ago, we will now be naming cold waves with criteria similar to that of cold waves. As of today "Cold Wave Orlena" is ranked at a two because it is dangerous but not historically shattering records. In that case it would be ranked at a three or higher. On Monday when a nor'easter develops from the system, which will pummel the megalopolis area, here are forecast min and max temps across the United States: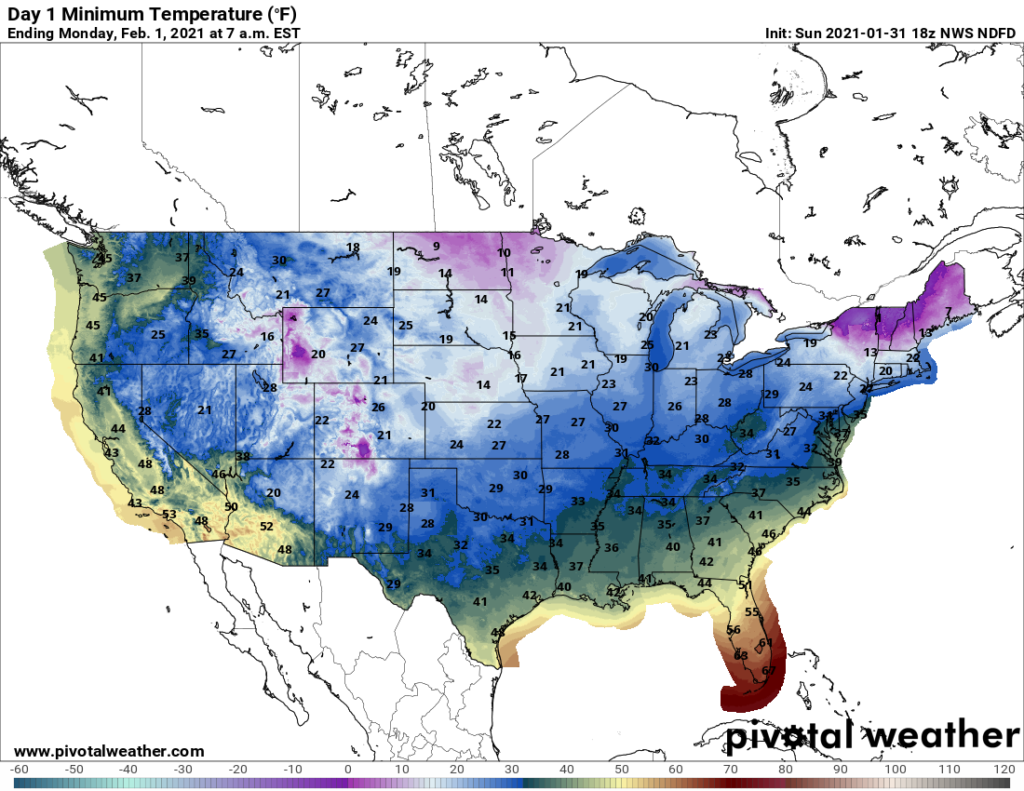 Note that readings won't be below zero but will be cold enough to produce frostbite on exposed skin. There will also be killing wind chills in the Northeast as Orlena gets cranking in the Northeast Monday.
The weather pattern will be conducive for shot after shot of arctic air to spill south into the U.S. the first couple of weeks of February, although I think the first next weekend may well be the most severe. If this model verifies we should see a CAT3/4 cold wave affect most locations east of the Rockies, including the Southeast, by next weekend: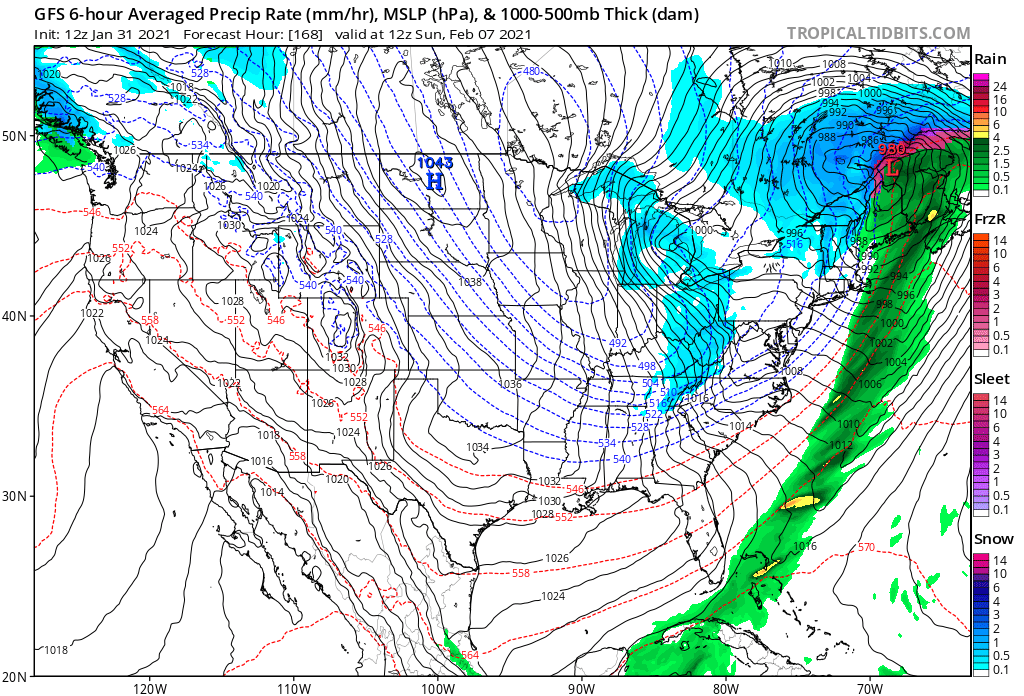 Looking at how far south thickness values get below 500 decameters I'm certain that a plethora of records will be broken. Of course, I'll be reporting these should they occur.
Is there a climate change/global warming component to this coming cold outbreak? Note the huge red anomalies building over the Arctic, Atlantic, and Pacific forcing a cold chunk or lobe of the polar vortex into the Midwest:
Indeed, what we are seeing as of the beginning of the third decade of the 21st century is much less cold weather overall, but the Earth's atmosphere can still crank out a few severe frizid air masses.
I'll be reporting on the severity and effects of Olena and any coming cold outbreaks in this blog the next couple of weeks.
Here is some more weather and climate news from Sunday:
(As usual, this will be a fluid post in which more information gets added during the day as it crosses my radar, crediting all who have put it on-line. Items will be archived on this site for posterity.
Now here are some of today's articles and notes on the horrid COVID-19 pandemic:
(If you like these posts and my work please contribute via the PayPal widget, which has recently been added to this site. Thanks in advance for any support.)
Guy Walton…"The Climate Guy"