The main purpose of this ongoing blog will be to track United States extreme or record temperatures related to climate change. Any reports I see of ETs will be listed below the main topic of the day. I'll refer to extreme or record temperatures as ETs (not extraterrestrials).😉
Main Topic: It's High Time For The "National Climate Emergency Act"
Dear Diary. We have old Trump to thank for setting the precedent of declaring a national emergency. The idea of declaring the climate crisis as a national emergency has been bandied about even before Trump got his birder wall with Mexico during his awful term. Now the Democrats are dotting the i's and crossing the t's on a plan to do just that so that much needed plans won't have to go through the sausage grinder of Congress to get enacted.
As members of Clinate Reality and other organizations we need to keep pressing President Biden to declare a climate emergency because to be frank, we certainly have run out of time, having just a small carbon budget left before worldwide disaster. Here is more about the progressive proposal:
https://www.cnn.com/2021/02/04/politics/sanders-aoc-climate-change-emergency-bill/index.html
Sanders, Ocasio-Cortez, and Blumenauer unveil bill pushing Biden to declare national climate emergency: 'We are out of time'
By Veronica Stracqualursi, Daniella Diaz and Annie Grayer, CNN
Updated 1:05 PM ET, Thu February 4, 2021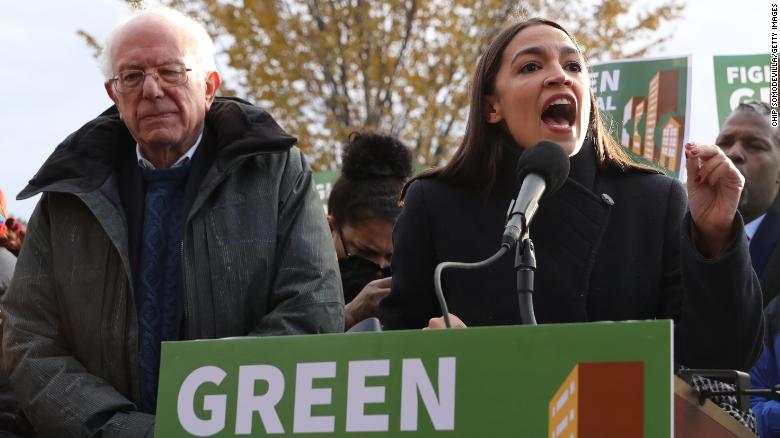 Sen. Bernie Sanders (I-VT) (L) and Rep. Alexandria Ocasio-Cortez (D-NY) hold a news conference to introduce legislation to transform public housing as part of their Green New Deal proposal outside the U.S. Capitol November 14, 2019 in Washington, DC.
(CNN)Three progressive lawmakers introduced legislation Thursday that would require President Joe Biden to declare a national climate emergency, arguing that the US is "out of time and excuses" to deal with the climate crisis.The National Climate Emergency Act, introduced by Democratic Reps. Alexandria Ocasio-Cortez of New York and Earl Blumenauer of Oregon, along with Independent Sen. Bernie Sanders of Vermont, would direct Biden to declare a national emergency under the National Emergencies Act of 1976, allowing him to unlock sweeping presidential powers and be able to organize resources to mitigate climate.
They had introduced a similar resolution in 2019 — but it had little hope of advancing in the Republican-led Senate and under former President Donald Trump. Now, the lawmakers have re-energized their efforts under a new administration committed to combating climate change with an ambitious plan to do so.
"President Biden has done an outstanding job of prioritizing climate in the first days of his administration, but after years of blatant ignorance from Trump and Congressional republicans, an even larger mobilization is needed," Blumenauer said in a statement unveiling the proposal.
If passed, the bill would require Biden to provide Congress with a report detailing the executive branch's actions in combating the climate crisis. The bill would push the executive branch to upgrade infrastructure, modernize buildings to curb pollution, and protect public lands, among other investments."
We've made a lot of progress since we introduced this resolution two years ago, but now we have to meet the moment. We are out of time and excuses," Ocasio-Cortez said in the statement.
She added, "Our country is in crisis and, to address it, we will have to mobilize our social and economic resources on a massive scale.
"The Center for Biological Diversity, an organization backing the bill, said in a statement that declaring a climate emergency would allow Biden to be able "to redirect military funds to build clean energy systems, marshal private industry for clean technology manufacturing, generate millions of high-quality jobs and finally put an end to dangerous crude oil exports.
"Ocasio-Cortez and Blumenauer had previously cast their 2019 resolution as a necessary start to a long fight for implementing key parts of the Green New Deal climate change proposal.
CNN's Ryan Nobles and Gregory Krieg contributed to this report.
Here is the Washington Post's take on this issue:
Sanders, Ocasio-Cortez seek 'climate emergency' declaration – The Washington Post
Here are more climatological notes:
Here is some more weather and climate news from Saturday:
(As usual, this will be a fluid post in which more information gets added during the day as it crosses my radar, crediting all who have  put it on-line. Items will be archived on this site for posterity.
Now here are some of today's articles and notes on the horrid COVID-19 pandemic:
(If you like these posts and my work please contribute via the PayPal widget, which has recently been added to this site. Thanks in advance for any support.)
Guy Walton…"The Climate Guy"