The main purpose of this ongoing blog will be to track planetary extreme or record temperatures related to climate change. Any reports I see of ETs will be listed below the main topic of the day. I'll refer to extreme or record temperatures as ETs (not extraterrestrials)😉
Main Topic: No Fooling…The Last Day Of March Was Extraordinarily And Alarmingly Warm Across Europe
Dar Diary. Happy April Fools Day. Across Europe the weather certainly has been no joke, not misleading any of us that climate change is not occurring. A short lived heat wave sent temperature readings soaring past all-time monthly records in dozens of locations the last day of March. Quoting an e-mail I received this morning from Michael Theusner:
"Yes, that was an amazing day yesterday. I went on a bike tour east of Hamburg at nearly 25 °C. So crazy for the time of year."
"As it stands now, 279 of the 465 stations reporting data yesterday set (or tied) their March record. Among them ten stations with PORs going back to before 1910. E.g. Regensburg (1879), Görlitz (1880), Freiburg (1881), Schwerin (1890), Bremen (1890)."
"With a provisional high of 27.2°C recorded at Rheinau-Memprechtshofen  and 27.0°C at Ohlsbach (both in Baden Würtemberg, not far from the French border where unbelievable temperatures were also recorded, such as 27.3°C in Colmar and 26.3°C in Strasbourg), Germany has a new national monthly record."
Looking at the 500 millibar ridge that quickly blew up over the area:
Indeed we have yet to see a strong ridge like this developing across North America this spring.
Just about everyone enjoyed the tranquil, warm weather but:
The ridge producing the extraordinarily warm weather is in the process of breaking down today, but we may see a few more records in western Europe: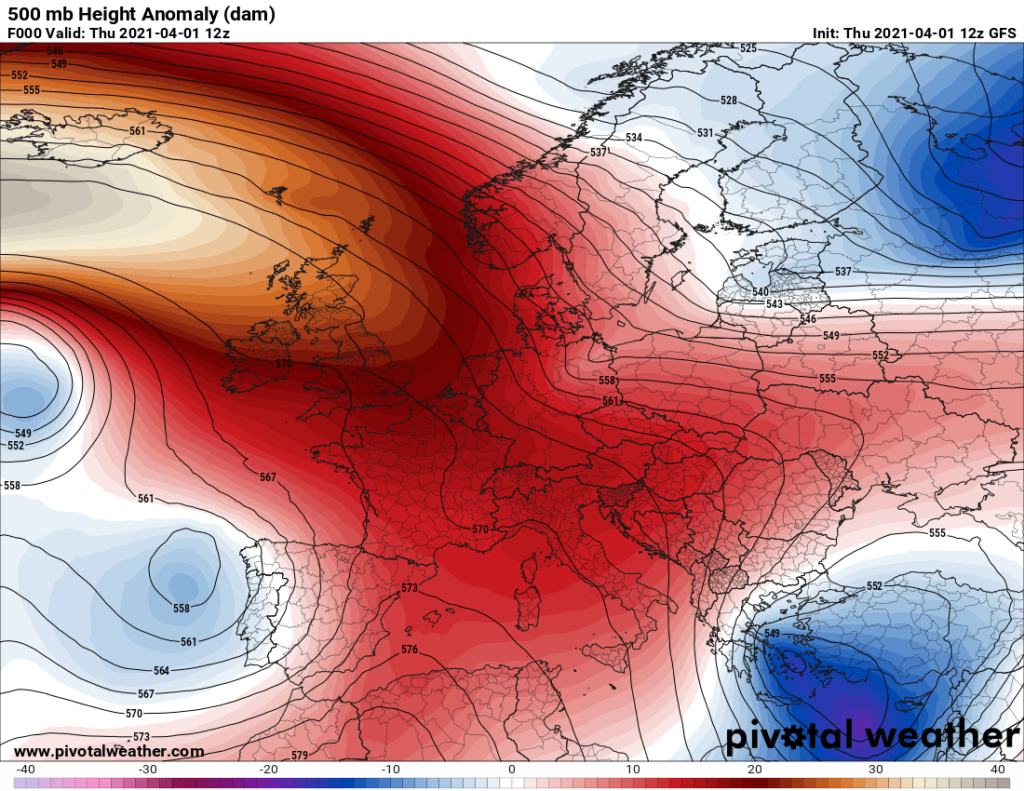 Here is a list of notes and records from this very warm event. Look for some additions as Thursday progresses:
Here are a few other "ET's" from around the planet:
Here is more climate and weather news from Thursday:
(As usual, this will be a fluid post in which more information gets added during the day as it crosses my radar, crediting all who have put it on-line. Items will be archived on this site for posterity. In most instances click on the pictures of each tweet to see each article. The most noteworthy items will be listed first.)
Now here are some of today's articles and notes on the horrid COVID-19 pandemic:
(If you like these posts and my work please contribute via the PayPal widget, which has recently been added to this site. Thanks in advance for any support.)
Guy Walton "The Climate Guy"