The main purpose of this ongoing blog will be to track planetary extreme or record temperatures related to climate change. Any reports I see of ETs will be listed below the main topic of the day. I'll refer to extreme or record temperatures as ETs (not extraterrestrials)😉
Main Topic: The Dakotas Are Roasting…Why This Season Is So Different Than Typical Springs
Dear Diary. A couple of days ago I reported on the state of the western U.S. drought and its ramifications mainly for California:
Today let's look at another area of the country affected by drought, the Northern Plains. Many a spring as of early April eastern North Dakota would be having to contend with flooding along the Red River due to snow melt, which I witnessed during my many years as a forecaster at The Weather Channel. The Dakotas are known for wicked blizzards, which bury some areas in feet of snow before the change of seasons. Souls have to be pretty hardy to live there, surviving both the snow and temperatures than traditionally can go as low as -30°F below zero.
Usually in early April some snow cover is hanging on in the Midwest. Definitely not this year:
The Dakotas had a relatively mild winter with very little snow and thus no spring flooding, which some residents, I'm sure, thought of as a blessing. Unfortunately, dry, warm winds have led to very early wildfire potential, which is another sign of climate change. Here is more from CNN:
https://www.cnn.com/2021/04/02/us/north-dakota-wildfires/index.html
A North Dakota town is evacuated as governor declares a statewide emergency due to wildfires
By Mallika Kallingal and Hollie Silverman, CNN
Updated 4:36 AM ET, Fri April 2, 2021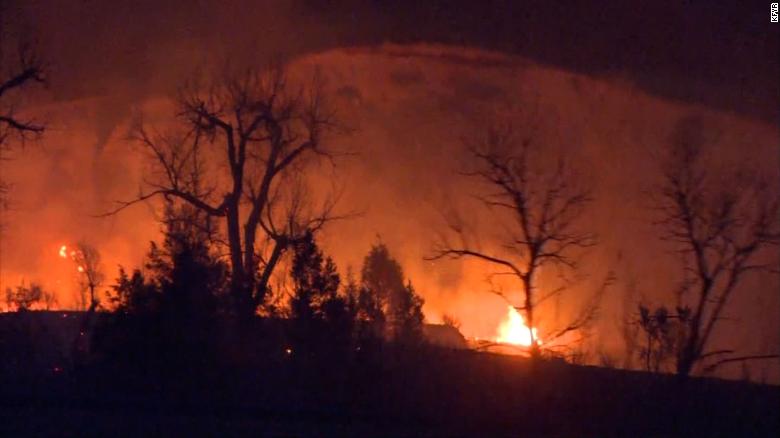 Wildfires in North Dakota
(CNN)North Dakota Governor Doug Burgum declared a statewide emergency Thursday as wildfires led to the evacuation of one small town in the state.
The declaration will allow the National Guard to deploy two UH-60 Black Hawk helicopters to help fight the fires, the statement said.
The governor has put the state's National Guard on standby for wildfire response and the town of Medora in Billings County has been evacuated. Medora is about 25 miles east of the Montana border and has a population of around 130 people.
The US Forest Service-Dakota Prairie Grasslands warned people to avoid the area southwest of Medora to give emergency responders easy access to the fire, according to a Facebook post. It also asked people to "drive cautiously" because smoke from the fire is reducing visibility in the area.
"North Dakota must be prepared to respond to wildland fires during periods of ongoing dry conditions and drought patterns," Burgum said in a statement. "At this time, North Dakota has an elevated spring and summer fire potential; a significant number of fires have occurred to date."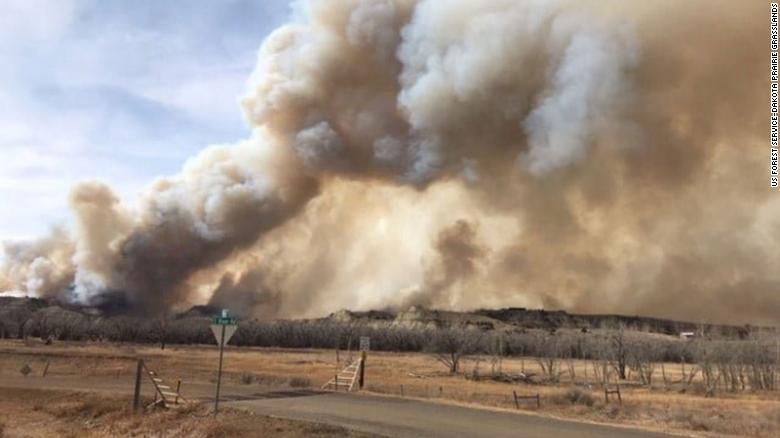 Wildfires burn near the town of Medora, North Dakota.
With the emergency declaration, National Guard members will be able to support local, tribal, federal and state efforts in fire emergencies, the statement added.
So far this year, the North Dakota Forest Service has received reports of more than 140 wildfires that have burned over 30,000 acres in total. By comparison, 9,205 acres were burned in 518 wildfires reported to the Forest Service during all of 2020.A state of emergency has also been declared in neighboring South Dakota due to wildfires that led to evacuations and prompted Mount Rushmore to close earlier this week. The park has since reopened.
"We are grateful to the multiple agencies and firefighters that provided a swift response enabling the reopening of the park," Superintendent Michelle Wheatley said in a Facebook post.
The state of emergency in South Dakota will run through June 1 due to "severe drought and dangerous fire conditions," a statement from the governor's office said.
……………………………………………………………………………………………….
Now that we are in mid-spring there isn't much relief in sight for the large drought area, including tge Dakotas. Il's been my experience that the bulk of the summer's torrid weather will occur in the spring drought zone since drought breeds drought and hot temperatures in a cycle that's hard to break. We will see what transpires on thus blog over the next few months, but my spidey sense tells me it won't be good.
Here is some climatology from March 2021:
Here is more climate and weather news from Tuesday:
(As usual, this will be a fluid post in which more information gets added during the day as it crosses my radar, crediting all who have put it on-line. Items will be archived on this site for posterity. In most instances click on the pictures of each tweet to see each article. The most noteworthy items will be listed first.)
Now here are some of today's articles and notes on the horrid COVID-19 pandemic:
(If you like these posts and my work please contribute via the PayPal widget, which has recently been added to this site. Thanks in advance for any support.)
Guy Walton "The Climate Guy"