The main purpose of this ongoing blog will be to track planetary extreme or record temperatures related to climate change. Any reports I see of ETs will be listed below the main topic of the day. I'll refer to extreme or record temperatures as ETs (not extraterrestrials).😉
Main Topic: A Forecast Of Another Wild, Eventful Atlantic Hurricane Season
Dear Diary. Last year's Atlantic hurricane season was horrific with a record 30 named storms, 13 hurricanes and 6 major hurricanes. Here are a few details from Wikipedia:
https://en.wikipedia.org/wiki/2020_Atlantic_hurricane_season
The 2020 Atlantic hurricane season was the most active and the fifth costliest Atlantic hurricane season on record. The season also had the highest accumulated cyclone energy (ACE) since 2017, and the tenth highest on record, tied with 1998. In addition, it was the fifth consecutive above average season from 2016 onward. The season featured a total of 31 (sub)tropical cyclones, all but one of which became a named storm. Of the 30 named storms, 13 developed into hurricanes, and six further intensified into major hurricanes, with one, Hurricane Iota, attaining Category 5 on the Saffir–Simpson scale.[nb 1] It was the second and final season to use the Greek letter storm naming system, the first being 2005. Of the 30 named storms, 11 of them made landfall in the contiguous United States, breaking the record of nine set in 1916. The season was also the fifth consecutive season in which at least one Category 5 hurricane formed. During the season, 27 tropical storms established a new record for the earliest formation by storm number. This season also featured a record 10 tropical cyclones that underwent rapid intensification, tying it with 1995.[2] This unprecedented activity was fueled by a La Niña that developed in the summer months of 2020.
Intense hurricanes Iota and Eta affected Honduras and Nicaragua so badly that to this day climate refugees are trying to escape the devastation by illegally cross the U.S./Mexican border to seek asylum.
Unfortunately we have seen some back to back bad hurricane seasons in the past. These usually happen before the equatorial Pacific cycles into the next El Niño. The 2004/05 seasons come to mind. Many of my colleagues at The Weather Channel thought that the 2004 season was about as bad as it gets, with four string hurricanes affecting Florida, then 2005 with Katrina occurred. The 2005 season was the only other time in which we used Greek letters to name storms.
So, will we see back to back horrendous hurricane seasons? Experts from Colorado State University unfortunately say yes. For mire details here is a Bloomberg report:
https://www.bloomberg.com/news/articles/2021-04-08/atlantic-faces-another-wild-hurricane-season-after-record-2020?srnd=green
Climate Adaptation
Atlantic Faces Another Wild Hurricane Season After Record 2020
By Brian K Sullivan April 8, 2021, 7:00 AM PDT
 Colorado State University forecasts 17 named storms in 2021
 U.S. coastline faces an above-average risk of a major strike
The Atlantic hurricane season is poised to be another wild one, with forecasters predicting an above-average 17 named storms sweeping out of the basin.
In the first of four seasonal forecasts, Colorado State University said eight of those storms will become hurricanes and four will grow into major systems with winds of at least 111 miles (179 kilometers) per hour. At this time last year, Colorado State predicted an above-average 16 storms for 2020. Ultimately, a record 30 formed, including 12 that struck the U.S.
The forecast is significant for agriculture and energy markets, which can be upended by major storms. Florida is the world's second-largest orange juice producer and the top sugar-cane grower in the U.S. The Gulf Coast, which was slammed by nine storms in 2020, is home to 17% of the nation's crude oil production, 2% of its natural gas output and 45% of its refining capacity, according to the Energy Information Administration. A severe storm can even determine the value of a cotton shirt, as the U.S. is the top supplier of the fiber, with many producers sitting along the coast.
GRAPHIC: 2020's Wild Hurricane Season Was an Ominous Sign of What's Coming
While the Colorado State forecast cannot accurately predict where storms will strike, there is an above average chance the U.S. and the Caribbean islands will be hit by at least one major hurricane, according to the report Thursday.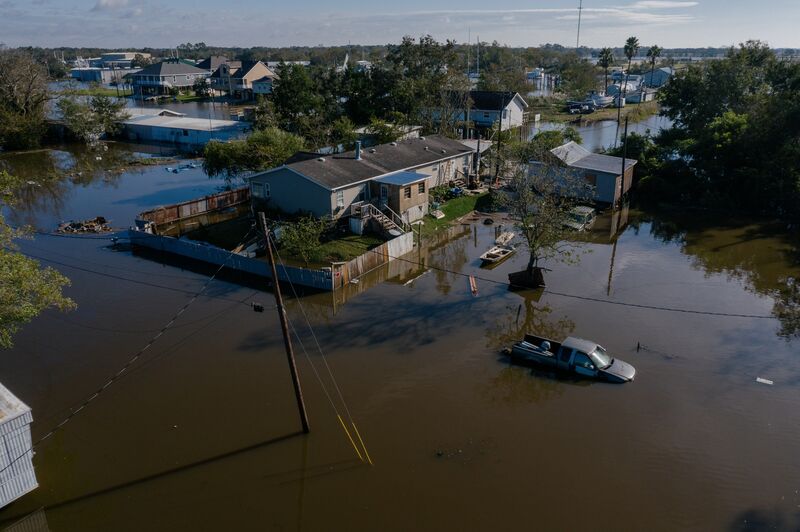 Floodwater around homes after Hurricane Delta made landfall in Delcambre, Louisiana in 2020. Photographer: Bryan Tarnowski/Bloomberg
"Coastal residents are reminded that it only takes one hurricane making landfall to make it an active year for them," wrote Phil Klotzbach, the outlook's lead author. "They need to prepare the same for every season, regardless how much activity is predicted."
Sea surface temperatures across the Atlantic are slightly warmer than normal, which helps to fuel storms. At the same time, a weak La Nina is fading across the equatorial Pacific, which will cut down on wind shear across the Atlantic and increase the likelihood of systems forming there.
While the 30-year average calls for 12 storms to form across the Atlantic during the June 1 to November 30 season, the last six seasons have seen storms forming before the official start date. This year, the U.S. National Hurricane Center will begin issuing advisories in the Atlantic starting May 15.
Systems are named when their winds reach 39 miles per hour and they become tropical or hybrid storms. So many formed last year forecasters used up the official list of names and had to use Greek letters to designate them. Four storms, Dorian, Laura, Eta, and Iota, were so deadly and costly their names have been stricken from the record permanently.
— With assistance by Marvin G Perez
Experts are debating whether or not the official hurricane season should start on May 1st instead of June 1st. It's no wonder given that we've seen named storms in may the last several years. Well, May is only 20 days away, so buckle up my friends for another wild ride.
Here are some chilly "ET" reports from Sunday:
Here is more March 2021 climatology:
Here is more climate and weather news from Sunday:
(As usual, this will be a fluid post in which more information gets added during the day as it crosses my radar, crediting all who have put it on-line. Items will be archived on this site for posterity. In most instances click on the pictures of each tweet to see each article. The most noteworthy items will be listed first.)
Now here are some of today's articles and notes on the horrid COVID-19 pandemic:
(If you like these posts and my work please contribute via the PayPal widget, which has recently been added to this site. Thanks in advance for any support.)
Guy Walton "The Climate Guy"