The main purpose of this ongoing blog will be to track United States extreme or record temperatures related to climate change. Any reports I see of ETs will be listed below the main topic of the day. I'll refer to extreme or record temperatures as ETs (not extraterrestrials).😉
Main Topic: A Cool Memorial Day Weekend To Kick Off Summer
Dear Diary. It seems like there is a sense of pure joy this Memorial Day weekend as folks are getting out to celebrate a "normal" holiday, getting out from underneath the COVID-19 pandemic. It truly looks like we have come out the other side of the pandemic, so celebrations are on.
What's interesting in this day and age of global warming is that conditions are quite cool for the last few days of May across most of the CONUS:
Mid afternoon temperatures are much more like that of April except across the Southwest, including California, and in Florida.
We can also celebrate the fact that a very strong heat dome for this time of the year diminished just as fast as it built across the Midwest:
As far as I can tell, the brief heat wave produced by this heat dome had a scant couple of hundred or so record reports to come into the National Center for Environmental Information system. This Saturday morning here is the 500 millibar pattern across the country:
A cold trough has settled into the East and will be responsible for producing raw, chilly conditions for most of the Atlantic Seaboard area through the holiday weekend. It will be hard to celebrate the beginning of summer across the Jersey shore area while readings hold in the 50's and 60's while it rains.
While most of the planet sees above average temperature conditions, most of North America is chilly: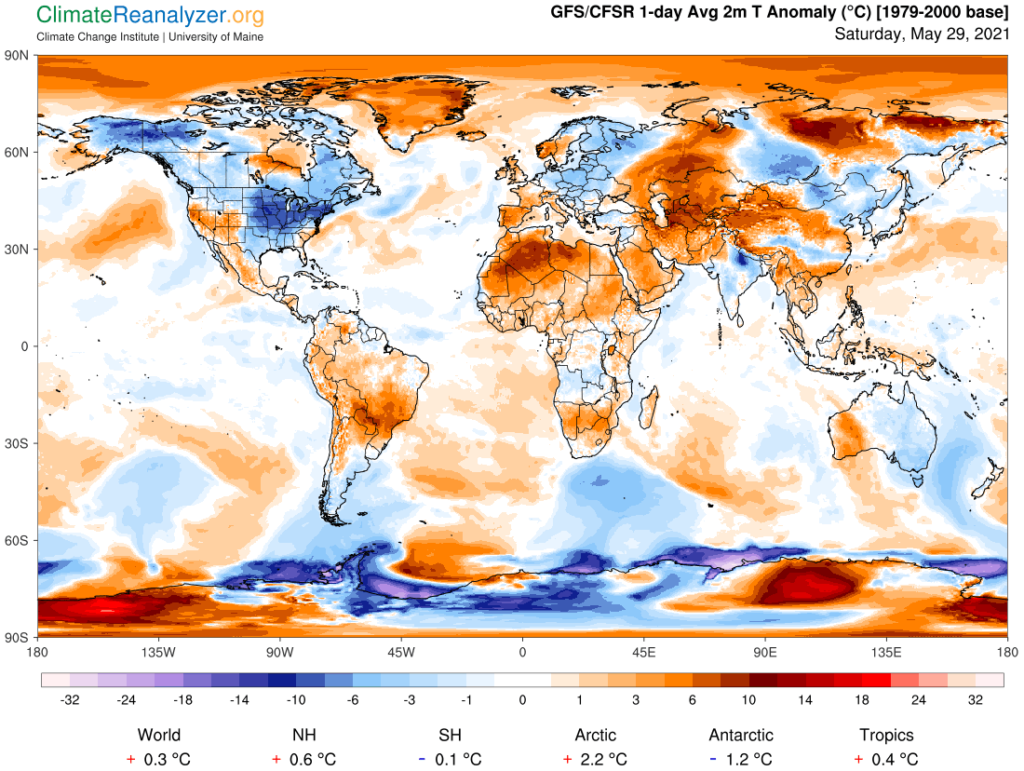 In fact, it was so chilly last night that freeze warnings were posted for much if the Upper Midwest: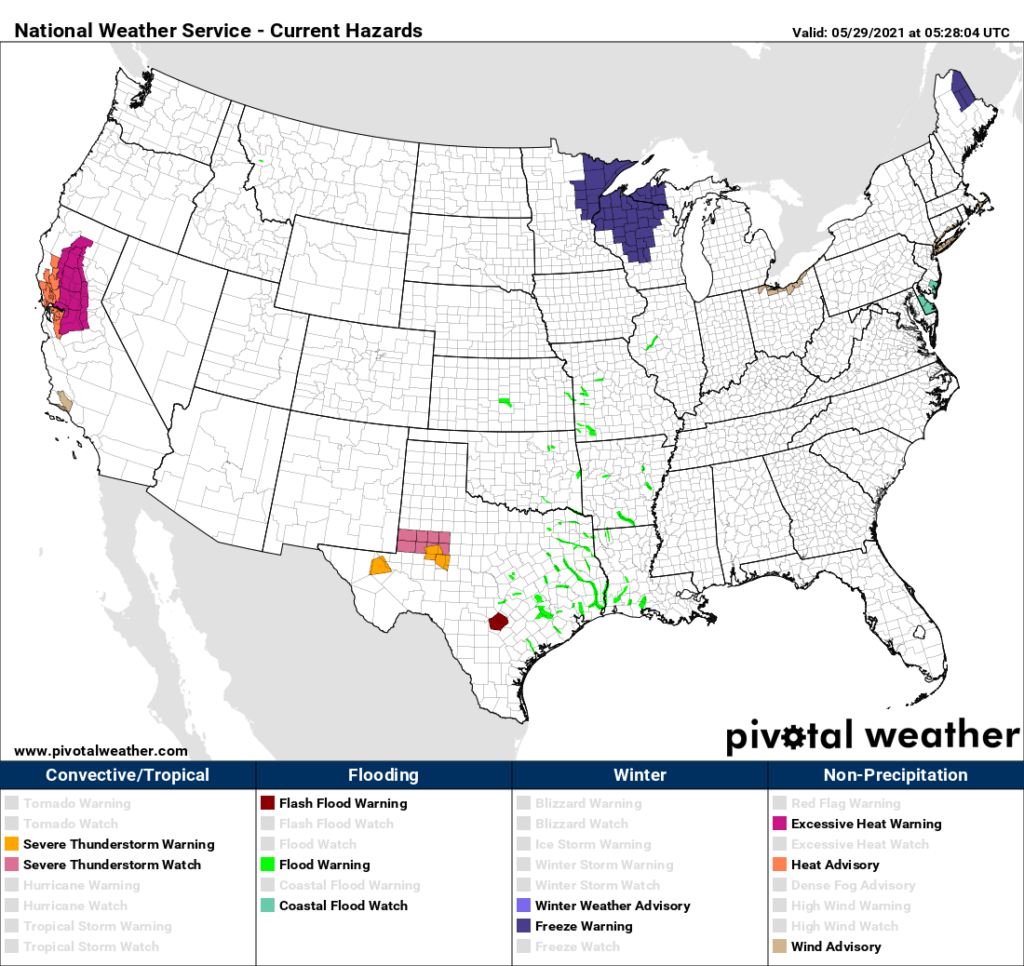 There will probably be several reports of record lows coming into that NCEI system from the last few days of May. Also:
The alternative could be so much worse. We don't want to see a life threatening heat wave affect the United States, and at least it appears that we won't see one going well into June.
Anyway, if it's not too rainy and cool, get outside and enjoy life after a year of isolating due to COVID-19. You deserve it.
Here is an "ET" reported Saturday:
Here is more climate and weather news from Saturday:
(As usual, this will be a fluid post in which more information gets added during the day as it crosses my radar, crediting all who have put it on-line. Items will be archived on this site for posterity. In most instances click on the pictures of each tweet to see each article. The most noteworthy items will be listed first.)
Now here are some of today's articles and notes on the horrid COVID-19 pandemic:
(If you like these posts and my work please contribute via the PayPal widget, which has recently been added to this site. Thanks in advance for any support.)
Guy Walton "The Climate Guy"