The main purpose of this ongoing blog will be to track planetary extreme or record temperatures related to climate change. Any reports I see of ETs will be listed below the main topic of the day. I'll refer to extreme or record temperatures as ETs (not extraterrestrials.
Main Topic: Looking For The Next U.S. Heatwave…Eta
Dear Diary. Yesterday looking at western temperatures and the fire situation across Northern California I was compelled to pull the trigger on calling the current heatwave over that part of the country "Zeta," going down the line of the Greek Alphabet:
Looking at how long a moderately strong heat dome will last over the area, Zeta will be short lived, thankfully, but overall most of the lower 48 states will be heating up through the weekend. Will it get hot enough to require me to use the next name on the Greek alphabet, Eta? Let's see.
Whenever I spy relatively long lived westerly or southwesterly flow on met models accompanied by high geopotential thickness values above 570 decameters over the eastern United States, I get suspicious that a significant heatwave is in the offing, Indeed, this is what I see developing from Sunday into Monday of next week: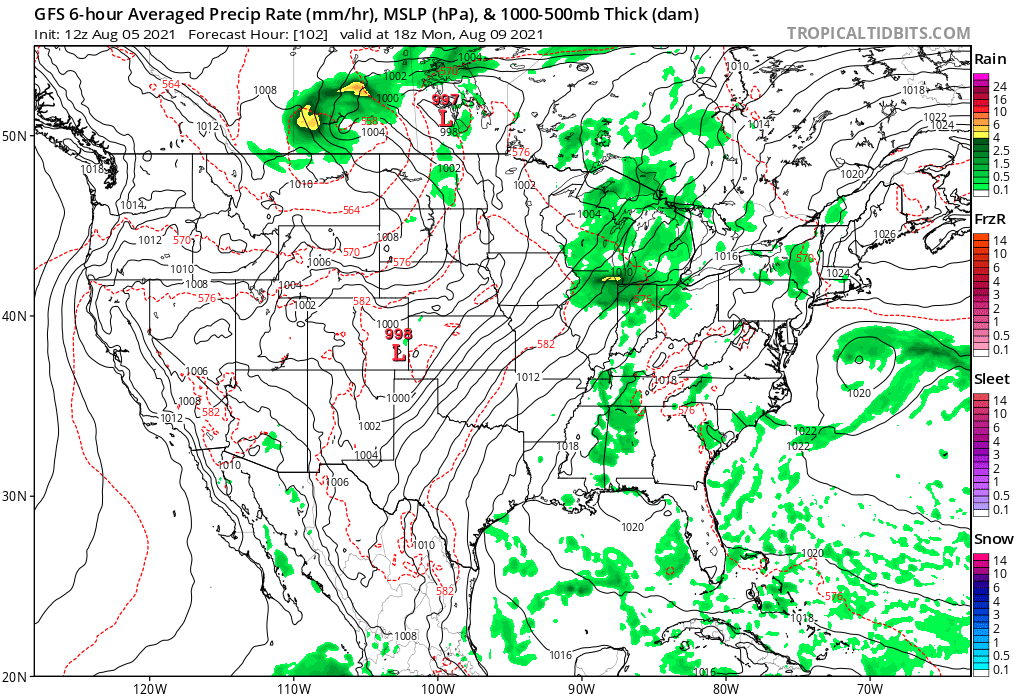 In the wake of a weak area of low pressure, low level flow is northeasterly from New York into the Middle Atlantic area, that gradually becomes southerly and southwesterly during the day on Sunday. Much stronger, hotter southwesterly flow is prevalent in the Plains into the Great Lakes area ahead of a developing front as depicted on the above panel.
By midweek these stronger southwest winds along with higher thickness values work into the Northeast:
A weakening front will slowly ooze into the Northeast putting an end to any dangerous heat there late in the week:
Overall, 500 millibar heights do increase across the Gulf Coast and West through next weekend:
This far out it's not clear exactly where heat domes will set up, though. Still, we could be looking at a pretty significant heat wave by this time next week. Here is model guidance a week from today: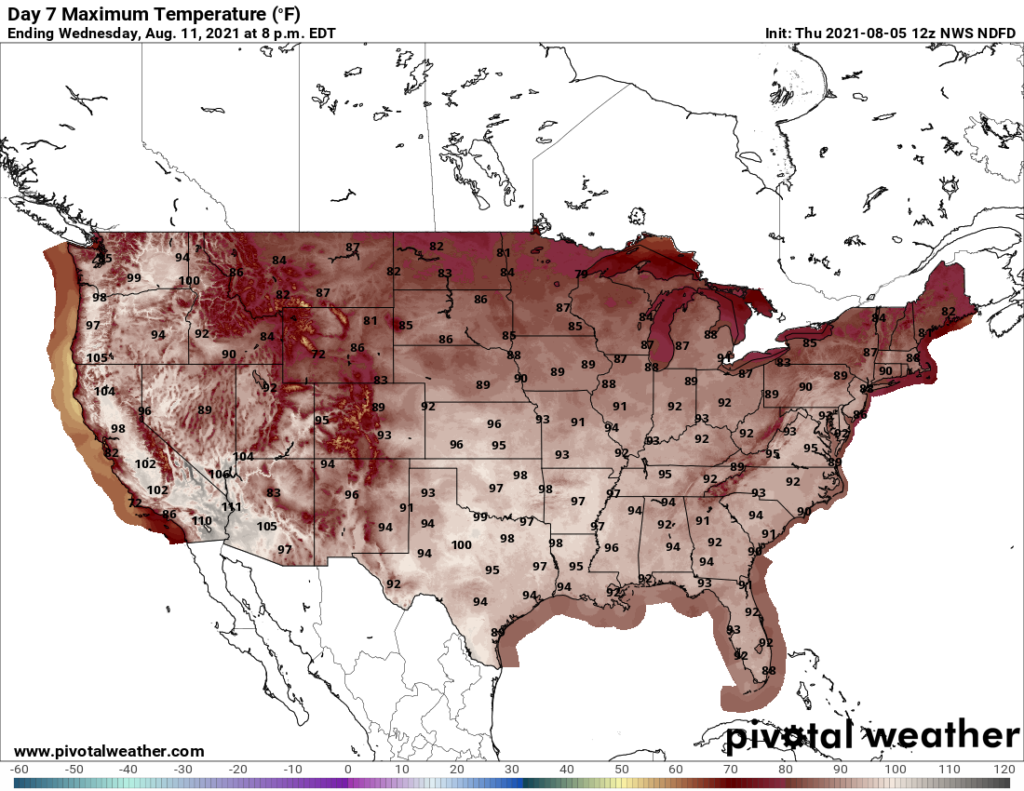 While hot, I don't see any temperatures which would warrant a named system east of the Rockies. I suspect that this will not be the case in this year's dry torrid West, though.
It's time for a second opinion from one of my friends from the Washington Post. Here is what Matthew Cappucci penned yesterday:
https://www.washingtonpost.com/weather/2021/08/04/hottest-temperatures-heat-wave-dc/
Next week could be the summer's hottest in Washington
Highs could soar into the upper 90s with stifling humidity
The sun rises on a hot July in D.C. (Jeannie In D.C./Flickr)
By Matthew Cappucci Wednesday at 4:13 p.m. EDT
The Mid-Atlantic has been enjoying a brief break from the heat and humidity over the past couple of days, but don't expect that welcome reprieve to last long. Signs are pointing to a reversal of the upper-air weather pattern over the Lower 48, spelling a return to stifling heat, sweltering humidity and a chance at periodic strong storms.
Recent days have brought a refreshing air mass with high temperatures near 80. It's been the coolest stretch since Independence Day weekend, when a strong cold front ushered in an invigorating air mass from Canada.
Wednesday marks the last day of comparatively cool and comfortable temperatures. On Thursday the heat will begin to creep back into the forecast, with highs near 90 returning by Friday.
D.C.-area forecast: Continued cool for August before heating up Friday into the weekend
A lobe of chilly high-altitude air has stalled over the Eastern United States in recent days, centered near the Ohio and Tennessee Valleys and keeping the Mid-Atlantic under its cooler influence. That's brought a fleeting lull in the steamy summertime weather characteristic of the D.C. region.
To the east, the Bermuda High is sweeping a stream of sultry air and deep moisture northward over the west Atlantic. That's been clipping portions of the Outer Banks of North Carolina as well as Cape Cod, where rain totals of 5 to 6 inches are possible.
A lobe of cool air parked over the Eastern United States on Wednesday. (WeatherBell)
In the coming days, the upper-air pattern will pull a dramatic switcheroo, our bowling ball of upper-level cold replaced by a ridge in the jet stream, or "heat dome." That will shunt the jet stream northward, steering mid-latitude storm systems up into Canada. And it'll keep us parked beneath a stagnant regime of sinking air, sunny skies and Gulf of Mexico humidity.
In the nation's capital, Sunday could feature a high of 92 degrees, with a 93 predicted Monday and a 94 on Wednesday. Those are forecasts a week out, and could be a little conservative — if weather model trends continue, those numbers may have to be bumped upward.
"High temperatures are expected to reach well into the 90s with heat indexes nearing 100 Sunday through Tuesday, especially near and east of I-81," wrote the National Weather Service in Sterling, Va., on Wednesday.
Some models, like the American GFS model, are bullish on the heat potential — simulating a high of 97 degrees Sunday and 98 on Monday. The European model is calling for a 99 on Tuesday.
These temperatures could match or top Washington's highest to date this summer: 97 degrees on July 27.
July's weather was exceptional for being unexceptional in D.C.
A dome of exceptional heat builds over the Southeast, trucking hot, steamy air into the Mid-Atlantic next week. (WeatherBell)
While those values ought to be taken with a grain of salt, they illustrate the potential for a multiday stretch of exceptional heat. Dew points, which measure how much moisture is present in the air, will be on the rise too. They'll approach 70 over the weekend and likely climb into the 70s next week. The combination of heat and humidity will lead to heat indexes in the triple digits.
Whether temperatures approach the century mark is a question of wind direction. A southwesterly component of the wind could mean a touch more moisture sneaking northward, making it a bit more difficult for temperatures to climb. Light westerly flow is ideal for bringing the hottest temperatures in D.C., since air subsiding over the Blue Ridge warms. It also pushes a thin layer of marine air from the Potomac away from the temperature sensor at Reagan National Airport, boosting the odds the station there will overachieve.
In the medium-range, late next week appears toasty too — NOAA's Climate Prediction Center has already outlined the Northeast as being in a "moderate risk" of excessive heat.
The weather pattern also looks to favor a few disturbances that could bring showers and thunderstorms to the Eastern Seaboard, including the risk for some severe weather. That likely won't occur until mid-August, with only more isolated showers and storms cropping up before then.
By Matthew Cappucci is a meteorologist for Capital Weather Gang. He earned a B.A. in atmospheric sciences from Harvard University in 2019, and has contributed to The Washington Post since he was 18. He is an avid storm chaser and adventurer, and covers all types of weather, climate science, and astronomy.  Twitter
Here are some "ET's" reported from Thursday:
Here is some new July 2021 climatology:
Here is more climate and weather news from Thursday:
(As usual, this will be a fluid post in which more information gets added during the day as it crosses my radar, crediting all who have put it on-line. Items will be archived on this site for posterity. In most instances click on the pictures of each tweet to see each article. The most noteworthy items will be listed first.)
Now here are some of today's articles and notes on the horrid COVID-19 pandemic:
(If you like these posts and my work please contribute via the PayPal widget, which has recently been added to this site. Thanks in advance for any support.) 
Guy Walton "The Climate Guy"