The main purpose of this ongoing blog will be to track planetary extreme or record temperatures related to climate change. Any reports I see of ETs will be listed below the main topic of the day. I'll refer to extreme or record temperatures as ETs (not extraterrestrials).😉
Main Topic: President Biden Surveys More Climate Crisis Damage
Dear Diary. Over the last month President Biden has needed to go to sites where climate changed induced weather has done its worst, upending scores of lives and producing billions of dollars worth of damage. First he visited Louisiana, which was devastated by Hurricane Ida. Next the Northeast, which saw monumental flooding from the same system. This week he is visiting California for the first time as President, where historic fires are still burning.
President Biden is making these visits partially to comfort those affected, but mainly to emphasize passage of his 3.5 trillion solar Build Back Better plan. For the first time on this blog I need to shake my head and express some disappointment at the right and left wings of the Democratic Party. It appears as of early September that these two factions will not be satisfied with negotiations that have hammered out Build Back Better. On the right Senator Joe Manchin came out Sunday firmly stating that he would not vote for the bill because it's too expensive. On the left Representative Alexandria Ocasio-Cortez and her allies will refuse to support the bill if it is watered down more. I'm coming to the conclusion that no infrastructure bill will get passed, at least not this year. Therefore, a big government climate bill, which many stress as a necessity to protect civilization, won't get done…or at least not in time to greatly limit carbon pollution before this decade is up. Many have stated that a firm plan needs to be implemented before 2030.
That stated, President Biden continues to press on. The following CNN article encapsulates what he did on Monday:
https://www.cnn.com/2021/09/13/politics/biden-climate-crisis-west-coast/index.html
Biden pushes to combat climate crisis while surveying wildfire damage in Western US
By Kate Sullivan, Jasmine Wright and Maegan Vazquez, CNN
Updated 8:21 PM ET, Mon September 13, 2021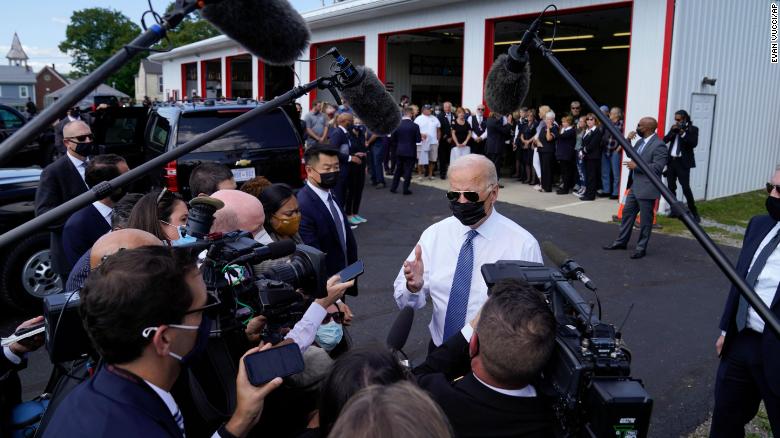 President Joe Biden speaks to members of the media as he visits the Shanksville Volunteer Fire Department in Shanksville, Pennsylvania, on Saturday, September 11, 2021.
(CNN)President Joe Biden surveyed wildfire damage in the Western US on Monday, using nearly every stop on his trip to illustrate how recent extreme weather events underscore the urgency of his economic agenda and its investments in the nation's infrastructure.
The President started his tour in Idaho and later traveled to California — two states hit hard by recent wildfires.
At Sacramento Mather Airport, the President delivered a speech on his administration's response to the fires, describing how climate change is responsible for the rise in extreme weather events in recent years and is costing America billions of dollars each year.
"We can't ignore the reality that these wildfires are being supercharged by climate change. It isn't about red or blue states, it's about fires, just fires," Biden said.
"Scientists have been warning us for years that extreme weather is gonna get more extreme. We're living it in real time now," he continued, noting extreme weather will cost America more than $99 billion this year — a record. "These fires are blinking code red for our nation. They're gaining frequency and ferocity, and we know what we have to do."
The President also made the case for his twin economic proposals, explaining how they would strengthen the nation's resilience to the climate crisis and extreme weather events. By getting those bills signed into law, Biden argued, the initial costs will wind up saving the US money that it would otherwise have had to use responding to severe weather events.
During earlier remarks in Boise, Idaho, at the National Interagency Fire Center, Biden said, "We can't continue to ignore reality."
"The reality is we have a global warming problem, a serious global warming problem." he said. "Things aren't going to go back to the way they were before.
"Monday's travel marked Biden's first official trip to the West Coast as president.
As part of his trip, Biden received a briefing from local, state, and federal emergency response personnel on the impacts of recent wildfires and surveyed damage from the Caldor Fire by taking an aerial tour of El Dorado County.
Idaho has 22 fires currently burning and California has 13 burning, according to the National Interagency Fire Center.
Cal Fire Chief Thom Porter warned last week that California's fire season is "far from over" and forecasters predicted dry and windy weather conditions will continue to create the ideal environment for wildfires to ignite and expand.
On Monday night, Biden traveled to Long Beach, California, to deliver remarks at a campaign rally with Democratic Gov. Gavin Newsom ahead of Tuesday's recall election. Newsom is attempting to stave off a Republican-backed effort to oust him, which is motivated in part by anger toward his pandemic restrictions. He appeared alongside the President through most of Monday's appearances in the Golden State.
The President's trip follows his previous visit to New York and New Jersey last week where he surveyed damage caused by Hurricane Ida. Biden said last week he planned to press Congress to take further action on his infrastructure proposals after remnants of Ida caused dangerous flash floods and tornadoes across the Northeast and as wildfires were burning their way across the western US.
On Tuesday, the President will travel to Denver, Colorado, where he will continue his push for his economic agenda and argue how the investments would help the nation tackle the climate crisis and modernize the nation's infrastructure, the official said.
CNN's Nikki Carvajal and Jason Hoffman contributed to this report.
Here is some more August 2021 climatology:
Here is more climate and weather news from Tuesday:
(As usual, this will be a fluid post in which more information gets added during the day as it crosses my radar, crediting all who have put it on-line. Items will be archived on this site for posterity. In most instances click on the pictures of each tweet to see each article. The most noteworthy items will be listed first.)
Now here are some of today's articles and notes on the horrid COVID-19 pandemic:
(If you like these posts and my work please contribute via the PayPal widget, which has recently been added to this site. Thanks in advance for any support.)
Guy Walton "The Climate Guy"