The main purpose of this ongoing blog will be to track planetary extreme or record temperatures related to climate change. Any reports I see of ETs will be listed below the main topic of the day. I'll refer to extreme or record temperatures as ETs (not extraterrestrials).😉
Main Topic: Even The Queen Wants Substantive Climate Action
Dear Diary. Of all the quarters and crannies within governmental bodies of countries, perhaps the most conservative traditional organization is the English monarchy. The English monarchy, which has been in existence since the Dark Ages in the 8th century, is the last major head of state system involving kings and queens, and is looked upon by many as antiquated and should be disbanded. Yet, because of Queen Elizabeth's popular leadership the English monarchy will go on into the mid 21st century, at least. Also, the monarchy brings in quite a bit of tourist money into Britain, so no one wants to kill off a cash cow.
Another ancient conservative organization is the Papacy. For many years Pope John Paul II has wanted world leaders to act on climate. Queen Elizabeth II is getting anxious about the lack of action on climate, also. So, we now have two of the most conservative leaders on the planet urging people to act, knowing how serious consequences are if we don't limit carbon pollution.
For more on what the queen thinks on climate here is an A.P. article:
https://apnews.com/article/climate-change-william-shatner-queen-elizabeth-ii-entertainment-arts-and-entertainment-77cbc1cb8f67243aa26e0630ed45c31d
British queen appears to show irritation at climate inaction
10/15/2021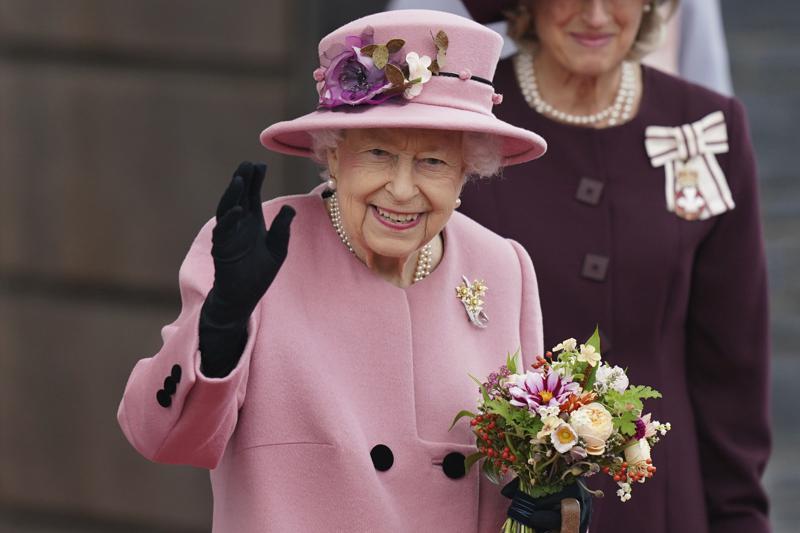 LONDON (AP) — Queen Elizabeth II has appeared to criticize the global lack of action on climate change in comments caught on microphone.
The 95-year-old British monarch was filmed on a phone as she visited Cardiff to open the Welsh parliament on Thursday.
At one point, speaking to her daughter-in-law Camilla, Duchess of Cornwall, and parliament presiding officer Elin Jones, she said "I've been hearing all about COP … I still don't know who's coming."
On the recording, parts of which are inaudible, the queen also appears to say it is "irritating" when "they talk, but they don't do."
The queen is due to welcome leaders from around the world to COP26, a United Nations climate conference in Glasgow, Scotland, at the end of the month. Several heads of state or government, including China's Xi Jinping, have not said whether they will attend.
A government minister, Transport Secretary Grant Shapps, said the queen's comments had not been intended for broadcast.
"I think comments made in private should stay private, but we all share the desire to see progress made and we know there will be hundreds of leaders coming to Glasgow for COP," he told Sky News.
In South Texas, aging water system meets growing population
COVID-19 underscores need to diversify Tahoe tourist economy
More rain expected for Hawaii, but drought may persist
Vice president: Brazil ending Amazon deployment of soldiers
In Britain's constitutional monarchy the queen is meant to be above politics, and she rarely expresses opinions in public.
Her son and heir, Prince Charles, though, has long been outspoken on environmental issues. And Charles' son Prince William has also taken up the cause, backing the Earthshot Prize for environmental innovation that will be awarded on Sunday.
In an interview with the BBC broadcast Thursday, William criticized space tourism, saying the world's greatest minds should focus on fixing the Earth instead.
His comments were aired a day after the 90-year-old "Star Trek" actor William Shatner became the oldest person to fly to space, in a rocket funded by Amazon founder Jeff Bezos.
Also from Reuters:
Here are "ET's" reported from Saturday:
Here is more climate and weather news from Saturday:
(As usual, this will be a fluid post in which more information gets added during the day as it crosses my radar, crediting all who have put it on-line. Items will be archived on this site for posterity. In most instances click on the pictures of each tweet to see each article. The most noteworthy items will be listed first.)
Now here are some of today's articles and notes on the horrid COVID-19 pandemic:
(If you like these posts and my work please contribute via the PayPal widget, which has recently been added to this site. Thanks in advance for any support.)
Guy Walton "The Climate Guy"