The main purpose of this ongoing blog will be to track planetary extreme, or record temperatures related to climate change. Any reports I see of ETs will be listed below the main topic of the day. I'll refer to extreme or record temperatures as ETs (not extraterrestrials).😉
Dear Diary. As has been the case so often the last few years, we will see another heat dome build across the western U.S. with a corresponding cold trough in the jet stream across the United States later this week. The cold trough will take the form of a slow-moving vortex, which will produce some record cold wintry chill from the Great Lakes into the East and extending far to the South where I live. I'm very impressed by how deep the vortex is forecast to be at 500 millibars:
This forecast highly amplified pattern was not out of the realm of possibility back in decades before climate change started to ramp up significantly, say in the 1980s, but I do see a lot of red on the above chart surrounding our blue vortex, forcing it southward, which is a sign of some global warming influence. As we have seen many times since this site began in 2017, high amplification is a sign of a weakening, buckling polar vortex, which Dr. Michael Mann has demonstrated is a sign of climate change.
Out West, National Weather Service offices are already sending messages about the heat:
Major League Baseball's opening day will be April 7th, about the time our cold vortex will be affecting just about every point east of the Rockies. Expect players and fans to be experiencing a lot of discomfort because of the chill. Here is a surface panel for Friday April 8th:
The Cubs are scheduled to play the Brewers at Chicago's famous Wrigley Field on Friday April 8th. Might the baseball game be canceled due to snow? We will see. All other games scheduled in the East, Midwest and South at night won't be canceled but won't be pleasant.
Earlier this week the transition to near record cold weather won't be pleasant either. Rounds of severe storms will pound the southern Plains and South along a series of fronts: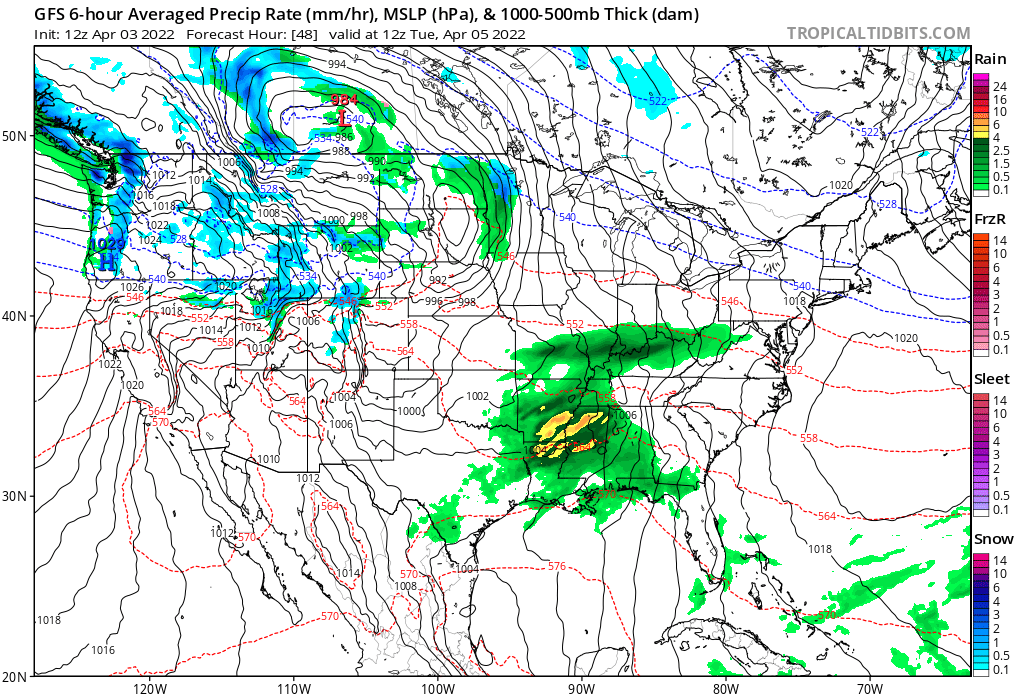 And across Europe…
We will see what transpires, and as usual, I'll be adding reports in the next few days from this highly amplified pattern.
Here are some "ET's" recorded over the last couple of days:
Here is some more March 2022 climatology:
Here is more climate and weather news from Sunday:
(As usual, this will be a fluid post in which more information gets added during the day as it crosses my radar, crediting all who have put it on-line. Items will be archived on this site for posterity. In most instances click on the pictures of each tweet to see each article. The most noteworthy items will be listed first.)
Now here are some of today's articles and notes on the horrid war on Ukraine:
(If you like these posts and my work please contribute via the PayPal widget, which has recently been added to this site. Thanks in advance for any support.)
Guy Walton "The Climate Guy"