The main purpose of this ongoing blog will be to track planetary extreme, or record temperatures related to climate change. Any reports I see of ETs will be listed below the main topic of the day. I'll refer to extreme or record temperatures as ETs (not extraterrestrials).😉
Main Topic: First Major Life-Threatening Heatwave "Apophis" To Grow Across U.S. This Week
Dear Diary. The United States had a one-day break from extreme heat yesterday on Saturday. The first widespread heat episode of this warm season lasted for most of early May and set many records, but outside of a small Midwest area where corn growth usually skyrockets wet bulb and heat index values, the thing was not hot enough, or unbearable to the point of being life threatening, to achieve my major CAT3 status:
This new episode likely will since I anticipate heat advisories to be popping up across most of the central U.S. and perhaps the Northeast and mid-South as we move towards Thursday and Friday. Should we see CAT3 levels, this heat episode will get a dragon name, "Apophis." Here is the list I will be alphabetically picking from for 2022:
https://www.legit.ng/1313197-100-cool-famous-dragon-names-meanings-origin.html#:~:text=%20Read%20on%20for%20more%20exciting%20dragon%20name,-%20rainy.%2028%20Zilong%20-%20child.%20More%20
Apophis means "to slither" and was also an Ancient Egyptian mythological deity or dragon who was a god of chaos.
We already have a small area of heat advisories posted in Texas with CAT1 criteria taking place:
The following are surface temperature patterns and thickness values (in meters) the GFS is forecasting for thus week:
First, on this Sunday here is what we will see by this evening: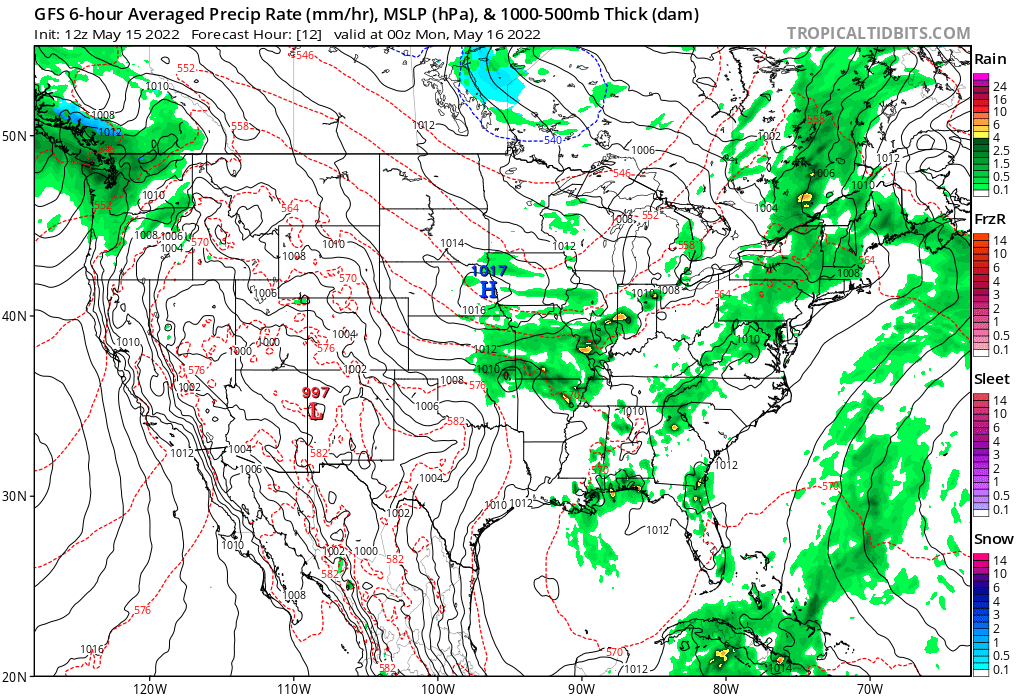 Note on the above chart the small area of 582+ decameters (or extent of 1000-500 millibar column thickness, indicating high values for atmospheric warmth). This is where we have current heat advisories posted in Texas.
Here are Sunday's forecast maxes from the GFS model:
Temperature above 100°F across west-central Texas would be near record values and are life threatening for those doing outdoor activities.
Next, here is what we should see by Wednesday:
Looking at forecast Southwest flow, we would expect 90's for maxes to spread into the Southeast and north towards the middle Mississippi Valley, and indeed that is what the GFS forecasts:
Temperature values across Texas don't change much. By Wednesday we should see a borderline CAT2/3 heatwave. The Southwest should see its share of heat related issues, as well.
Thursday should be the height of Apophis since on that day we see the largest extent of 582 decameter thickness: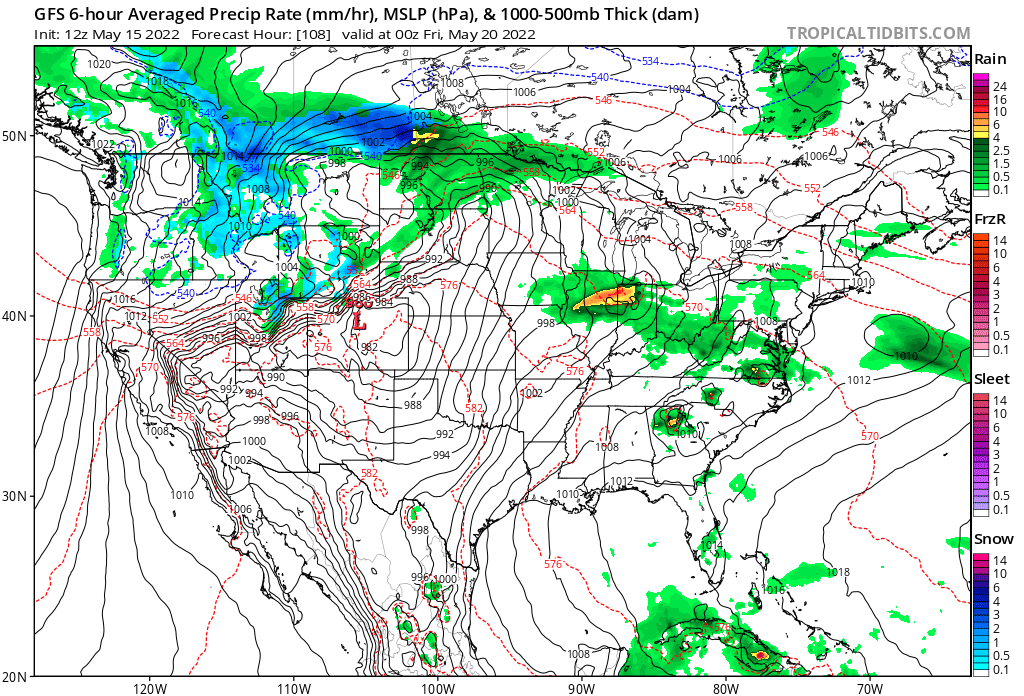 Forecast temps will be warmest on Thursday. We should see many records falling across Texas and the Southeast:
What about the heat dome forecast by Thursday? Here is that: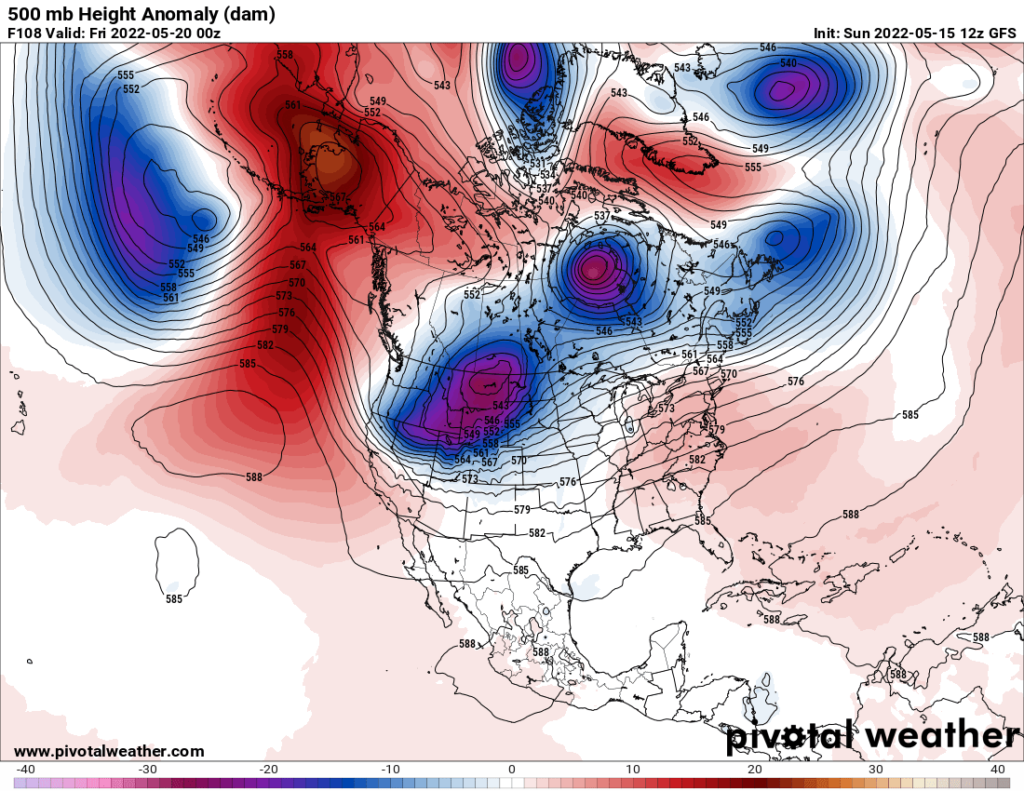 500 millibar height values really aren't that impressively high across the U.S. South. Many times, we need to look at lower levels (as was done in this post) to determine surface temperature threats. This would apply to frigid conditions, as well.
By Friday a front will be making inroads into the Midwest, putting an end to any chances for extreme conditions to move into the central and northern Plains: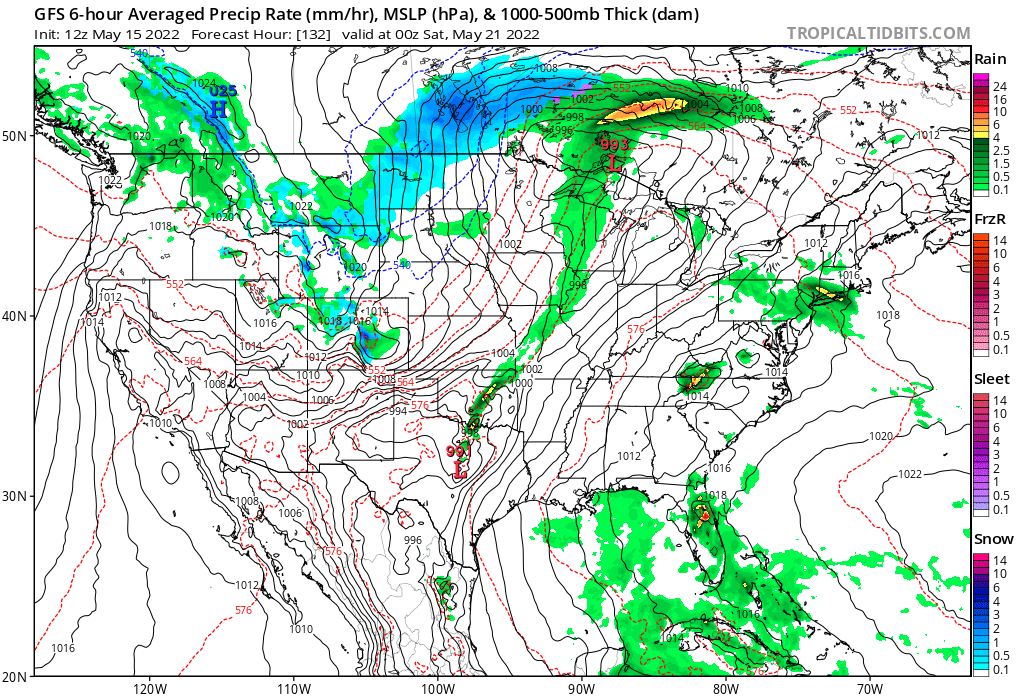 On Friday high heat and humidity values will move into the middle Atlantic area, though: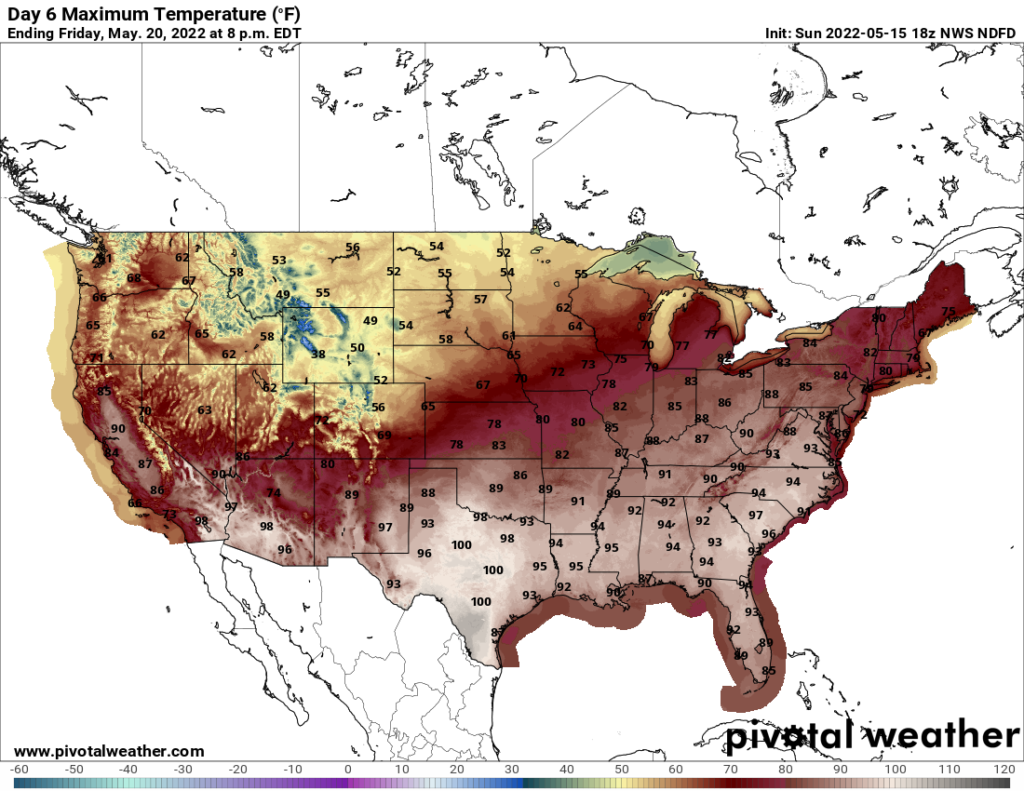 I would expect that the cold front will be our first heatwave dragon slayer for this year by next weekend. Whether or not we see tropical troubles by that point in time remains to be seen, but stay tuned to my Twitter feed and this blog for updates on that.
Related:
Here are "ET's" recorded from around the planet the last couple of days:
Here is some more April 2022 climatology:
Here is more climate and weather news from Sunday:
(As usual, this will be a fluid post in which more information gets added during the day as it crosses my radar, crediting all who have put it on-line. Items will be archived on this site for posterity. In most instances click on the pictures of each tweet to see each article. The most noteworthy items will be listed first.)
(If you like these posts and my work please contribute via the PayPal widget, which has recently been added to this site. Thanks in advance for any support.) 
Guy Walton "The Climate Guy"