Dear Diary. The main purpose of this ongoing blog will be to track global extreme or record temperatures related to climate change. Any reports I see of ETs will be listed below the main topic of the day. I'll refer to extreme or record temperatures as ETs (not extraterrestrials).😉
Dear Diary. Since we are now in June, we should expect that a climatological heatwave of some sort will be occurring across a portion of the United States. The likelihood and strength of one is only heightened by climate change, of course. Add a third ingredient, our ongoing historic western drought, and a historic heatwave gets likely for this year since drought breeds heat and vice a versa in what can be a vicious cycle: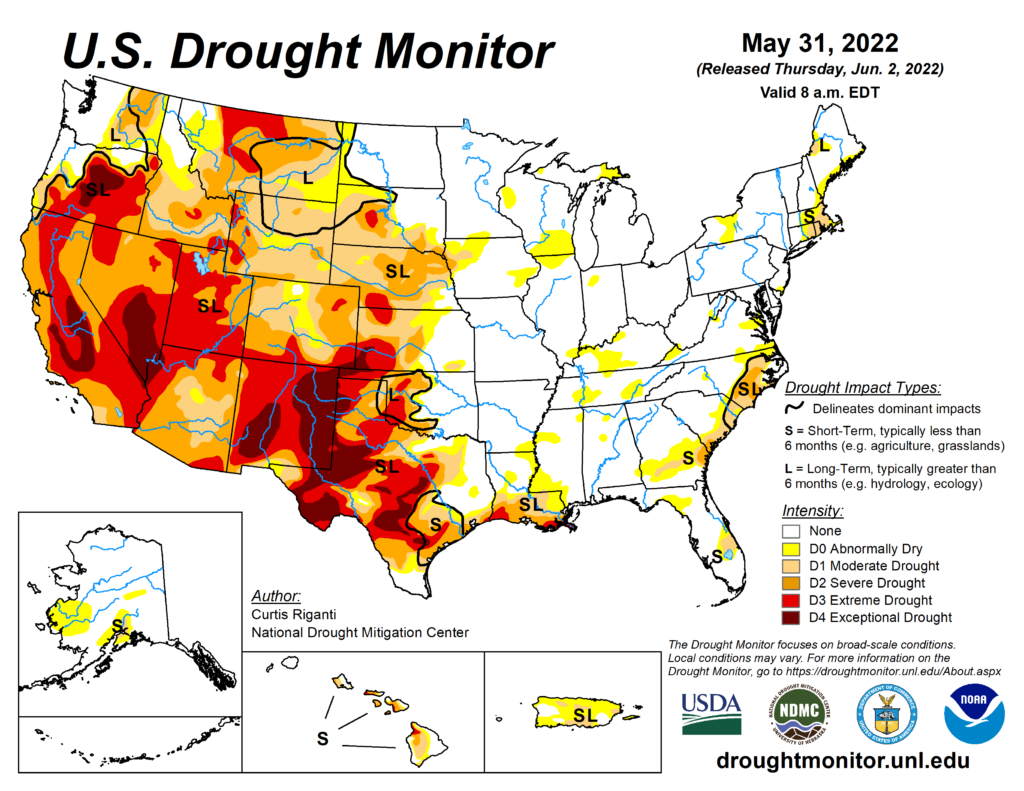 Sure enough, meteorological models are forecasting a heat dome to start to build this coming week over the core of the worst of the drought from the Southwest in Texas. We should have a CAT1 heatwave by Monday from Arizona into west Texas:
By the end of next week, we should have a CAT2 heatwave, perhaps even a dangerous CAT3 from California through Texas and much of the gulf coastal area. The heart of our building heat dome should be over the state affected most by the drought, over New Mexico:
Still, looking at ensembles and deterministic, operational models, the heat dome of about 592 decameters won't be anything historic to write about. The thing may grow to historic proportions as it oscillates into the central and Midwest. As has been the case through much of the spring, a storm system will probably dig down into the Pacific Northwest, allowing our heat dome to build north and east by the middle of this month:
California might get off the hook in the above scenario, but much of the area east of the Rockies would be sweltering under a CAT3 heatwave and would be name Apophis…and yes we still haven't had a CAT3 heat episode across a portion of the U.S. that would warrant a name using my system.
One interesting facet to this scenario is the fact that this is the time last year in which a historic heat dome built over the Pacific Northwest and British Columbia. This year, more than likely, that area of North America will be under a cold trough, so any big heatwave will be elsewhere. It does seem like Mother Nature goes from one extreme to another from one year to the next in a balancing act influence by climate change…just a thought. We have witnessed that Australia went from a historic dry and hot summer from their summer of 2019/20 to a very historic wet regime from 2020/2021 and 2021/2022, for example.
I'll have more updated on this coming heat in the next few days.
Here are some "ET's" recorded from around the planet the last couple of days, their consequences, and some extreme temperature outlooks:
Here is some May 2022 climatology:
Here is more climate and weather news from Saturday:
(As usual, this will be a fluid post in which more information gets added during the day as it crosses my radar, crediting all who have put it on-line. Items will be archived on this site for posterity. In most instances click on the pictures of each tweet to see each article. The most noteworthy items will be listed first.)
(If you like these posts and my work please contribute via the PayPal widget, which has recently been added to this site. Thanks in advance for any support.)
Guy Walton "The Climate Guy"