The main purpose of this ongoing blog will be to track planetary extreme, or record temperatures related to climate change. Any reports I see of ETs will be listed below the main topic of the day. I'll refer to extreme or record temperatures as ETs (not extraterrestrials).😉
Main Topic: Increasing Toxic Algae Blooms Due to Climate Change
Dear Diary. One item I have not delved into on this blog is increasing algae blooms across the planet due to the warming of this Earth. As waters warm algae can thrive, which chokes out other life forms. Algae can be very detrimental to food chains, plus they smell and are an eye sore on ponds and other vistas…just saying.
Here is a new Climate Central article on how climate change is influencing algae blooms:
https://www.climatecentral.org/climate-matters/harmful-algal-blooms?utm_medium=email&utm_campaign=CM%20Harmful%20Algal%20Blooms&utm_content=CM%20Harmful%20Algal%20Blooms+CID_4b0b33a3f8b3c88c44d858aafe362a33&utm_source=Climate%20Central%20Email%20Campaign%20Monitor&utm_term=READ%20THE%20RELEASE%20%20CONTACT%20EXPERTS%20%20FIND%20REPORTING%20RESOURCES
Climate Matters•August 9, 2022
Toxic Algae Blooms in a Changing Climate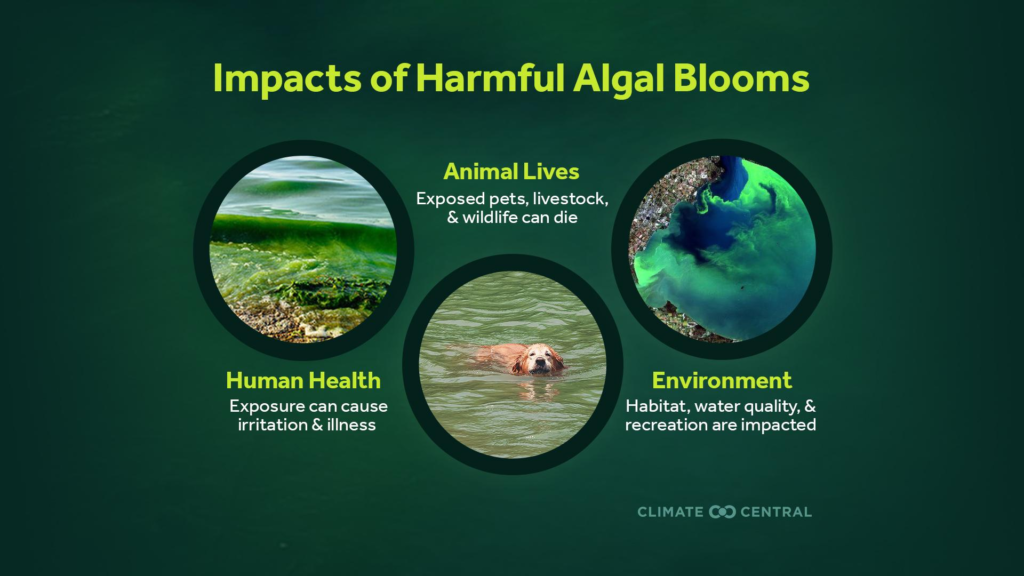 KEY CONCEPTS
Harmful algal blooms (HABs) involving blue-green algae in freshwater are increasing in frequency and severity across the globe.
Warming, heavy rainfall, and nutrient pollution are driving factors behind HABs—and climate change is amplifying the risks.
Toxic blooms pose both short- and long-term risks to human health and well-being. They can also be deadly for pets, livestock, and wildlife.
Communicating these risks is critical for public health and safety. In the long-term, reducing carbon emissions and nutrient pollution can mitigate HABs and the risks they pose.
What are harmful algal blooms?
Freshwater harmful algal blooms (HABs) are frequently caused by cyanobacteria that produce toxins that can harm people and other animals. Cyanobacteria (commonly called blue-green algae) thrive in warm water and feed on nutrients (nitrogen and phosphorus) that run off the land. Though naturally occurring in freshwater, these bacteria can become dangerous when their colonies bloom rapidly and essentially overwhelm the ecosystem.
Blooms can be foul-smelling and may appear as discolored water, scum, foam, or mats of algae-like growth on the surface of freshwaters. In addition to being unattractive and potentially dangerous, blooms can disrupt our lives. Their presence can temporarily shut down recreation on a lake or river, and cyanotoxins in reservoirs can impact drinking water supplies for entire communities.
Climate change is boosting toxic algae risks.
The risks of freshwater cyanobacterial blooms are intensifying globally due in part to climate change, according to the 2022 United Nations IPCC Working Group II report. Peer-reviewed research shows that climate change boosts cyanobacterial growth.
Toxic blooms increase risks to human and environmental health.
HAB exposure can carry short-term and long-term health risks. Direct contact with cyanobacteria during recreational activities, such as swimming or fishing, or even inhaling when near a bloom can expose people to cyanotoxins. Toxins can also proliferate in drinking water supplies and can be ingested through contaminated fish and shellfish.
Some toxins produced by cyanobacteria are known to cause acute illness in humans, such as allergic reactions, gastrointestinal upset, eye irritation, respiratory distress, and flu-like symptoms. Long-term health effects from ingesting cyanotoxins can include liver damage, and researchers are investigating links to neurodegenerative diseases (such as Alzheimer's Disease, Parkinson's Disease, or ALS) related to cyanotoxin exposure.
Pets and wildlife are also susceptible to cyanotoxins. Dogs can be exposed in ways similar to humans—drinking or swimming during a bloom—or even from grooming themselves after leaving the water. Other animals in the ecosystem, including fish and birds, can become seriously ill or die during toxic algae blooms.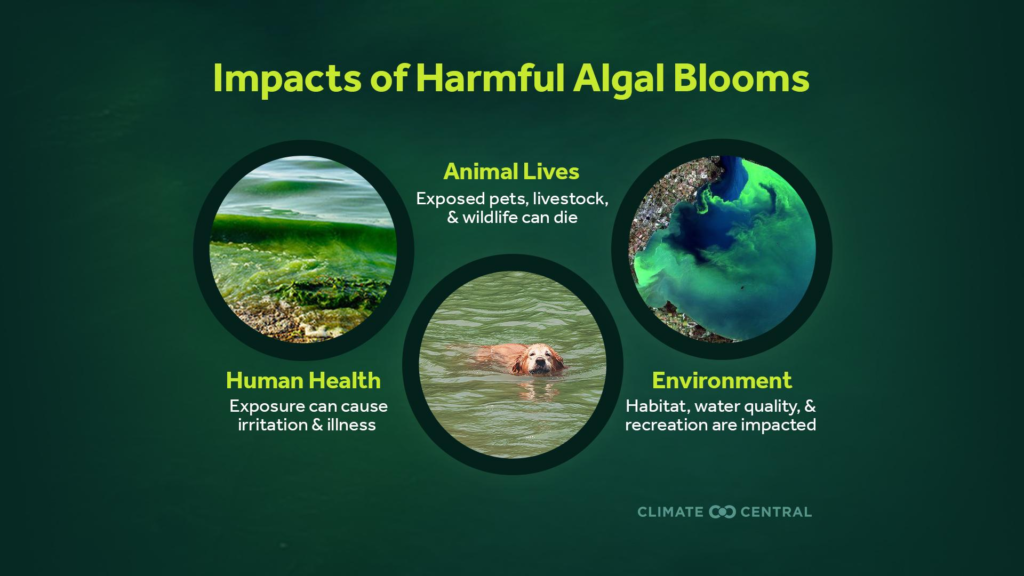 There are ways to manage the risks of HABs.
Climate change might make managing HABs more complex, but there are ways to mitigate the risks. Long term, global efforts to reduce carbon emissions can slow warming and limit the increase in factors like heat and rainfall that boost the risk of HABs. On a local scale, the most manageable factor is reducing nutrient pollution brought into lakes during heavy rain events. Short-term solutions to remediate blooms (such as chemical applications of algaecides) can play a role in reducing risks to human and environmental health.
POTENTIAL LOCAL STORY ANGLES
Are freshwater bodies in my area at risk from Harmful Algal Blooms?
Communities with pronounced warming trends, intensifying rainfall trends, and freshwater bodies susceptible to nutrient loading are especially at risk. Well-documented HABs and risk factors have been reported across the U.S. There are predictive modeling initiatives in some areas, as well as efforts to remotely sense HABs for better data collection.
Where can I find Harmful Algal Bloom reports?
Documentation of HABs is improving, but remains inconsistent at the national scale, and there are few sources of historical information. The CDC manages voluntary reporting through the One Health Harmful Algal Bloom System. Generally, HABs in public waters may be recorded due to citizen complaints, during routine water quality monitoring, or in response to reports of human or animal illness. Some bodies of water that experience frequent blooms (such as Lake Erie) are monitored by federal agencies. Specific water quality sampling practices and reporting mechanisms may differ by state, territory, or agency. Resources for specific states or localities include: water district offices; public health departments; environmental protection agencies; and extension agents and specialists.
What resources support communication of the public health risks of algal blooms?
A number of agencies and organizations (including EPA) supply communications resources for health officials and resource managers to warn people about HAB risks, including signs and press release templates. Some states or territories have online dashboards available for the public to track bloom activity.
LOCAL EXPERTS
The SciLine service, 500 Women Scientists, or the press offices of local universities may be able to connect you with local scientists who have expertise on Harmful Algal Blooms and climate change. The American Association of State Climatologists is a professional scientific organization composed of all state climatologists.
You can view SciLine's recorded interview with Dr. Silvia Secchi, professor of geographical and sustainability sciences at the University of Iowa.
NATIONAL EXPERTS
Hans Paerl, PhD
Kenan Professor of Marine and Environmental Sciences
University of North Carolina, Chapel HillInstitute of Marine Sciences
Contact: hans_paerl@unc.edu
Dail Laughinghouse, PhD
Asst. Professor & State Extension Specialist – Phycology/Harmful Algal Blooms
Fort Lauderdale Research and Education Center
University of Florida, Institute of Food and Agricultural Sciences
Contact: hlaughinghouse@ufl.edu
Saurabh Chatterjee, MS, PhD and Geoff Scott, PhD
Center for Oceans and Human Health and Climate Change Interactions
University of South Carolina
Contact: schatt@mailbox.sc.edu (or saurabhc@hs.uci.edu) and
GISCOTT0@mailbox.sc.edu
Here are some "ET's" recorded from around the planet the last couple of days, their consequences, and some extreme temperature outlooks:
Here is more July 2022 climatology:
Here is more climate and weather news from Friday:
(As usual, this will be a fluid post in which more information gets added during the day as it crosses my radar, crediting all who have put it on-line. Items will be archived on this site for posterity. In most instances click on the pictures of each tweet to see each article. The most noteworthy items will be listed first.)
(If you like these posts and my work, please contribute via this site's PayPal widget. Thanks in advance for any support.)
Guy Walton "The Climate Guy"