The main purpose of this ongoing blog will be to track planetary extreme, or record temperatures related to climate change. Any reports I see of ETs will be listed below the main topic of the day. I'll refer to extreme or record temperatures as ETs (not extraterrestrials).😉
Main Topic: Our Warming Oceans
Dear Diary. After checking in on various heatwaves and droughts across the planet, it's time to focus on our oceans and lakes. Sea temperatures continue to rise due to carbon pollution as well as acidification. Climate Central has brought together some of the latest findings on ocean changes, which I am presenting as our main topic today. (Note: These Climate Matters notes are meant to be utilized by on camera meteorologist to educate the public about our changing climate.)
https://www.climatecentral.org/climate-matters/ocean-warming?utm_medium=email&utm_campaign=CM%20Ocean%20Warming&utm_content=CM%20Ocean%20Warming+CID_7b6ad6f121d70f29d3017ed69a21714a&utm_source=Climate%20Central%20Email%20Campaign%20Monitor&utm_term=READ%20THE%20RELEASE%20%20CONTACT%20EXPERTS%20%20FIND%20REPORTING%20RESOURCES
Climate Matters• August 16, 2022
Ocean Warming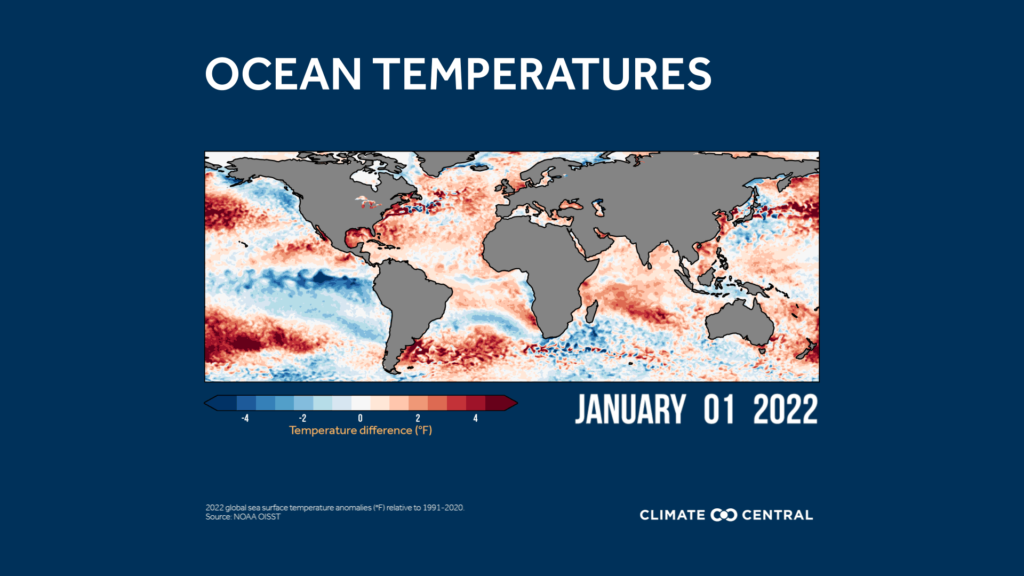 KEY CONCEPTS
We all depend on the oceans. They regulate climate and affect weather on land. They also host vast biodiversity, provide nutrition, and support livelihoods in the U.S. and around the world. 
But the oceans are warming, rising, and acidifying—disrupting each of these critical functions.
Summer sea surface temperatures have warmed from 1982-2021 in nearly all major U.S. ocean regions, with exceptional rates of warming in Alaska and the Northeast. 
We explore ocean warming trends and impacts on people and ecosystems across 11 major U.S. ocean regions.
We also provide a snapshot of summer 2022 ocean temperatures and discuss implications for this year's Atlantic hurricane season.
Climate Central's Extreme Weather Toolkits, now available in English and Spanish, provide quick facts and reporting resources on extreme heat, rainfall, wildfires, and more.
We all depend on the oceans
Regardless of where we live, we all depend on the oceans—which account for 71% of our blue planet's surface and play a major role in regulating the climate by moving heat and water around the globe. 
Harvests from oceans and inland waters provide a critical source of nutrition for over 3.3 billion people, and fisheries and aquaculture alone support the livelihoods of about 60 million people globally. The oceans are also an enormous source of cultural resources, contain vast biodiversity, and produce at least half of Earth's oxygen. 
And in the U.S., about 30% of the population lives in coastal counties, where marine and coastal ecosystems protect communities and infrastructure from storms and sea level rise, provide nutrition, recreation, and support a thriving 'blue economy.' In 2020, the U.S. marine economy accounted for about $361 billion of national gross domestic product, generated $610 billion in sales, and supported 2.2 million jobs. 
But the oceans are warming, rising, and acidifying
Human-caused emissions trap heat in the atmosphere. The oceans have absorbed about 93% of the heat trapped in the atmosphere since 1970 because of their vast depth and area, and seawater's higher heat capacity compared to the atmosphere. As a result, sea surface temperatures have increased over the last 140 years. In 2021, the total amount of heat stored in the ocean set a global record.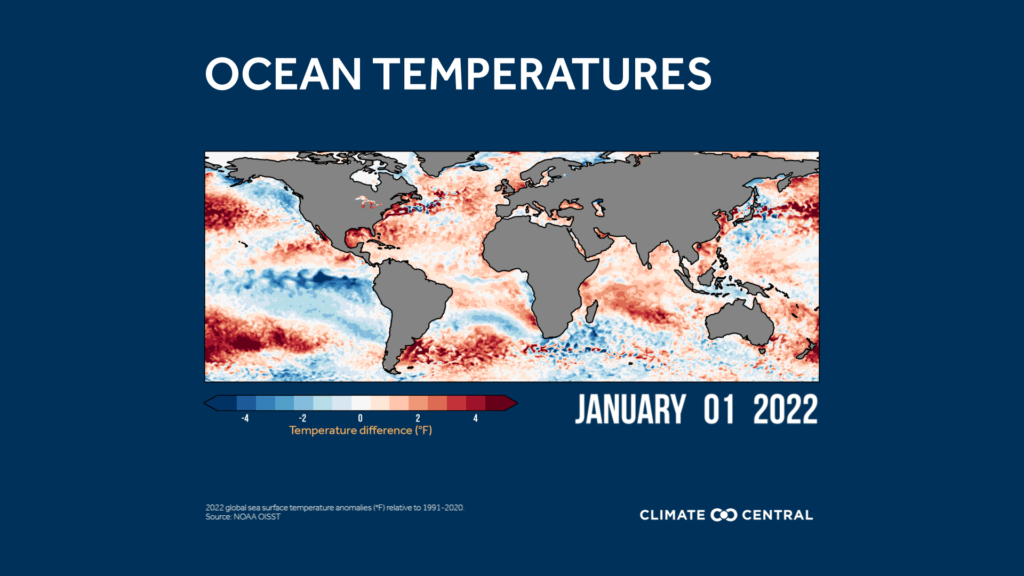 Ocean warming has limited the severity of global warming on land, but with consequences for humans and ecosystems alike. Unusually warm conditions in the ocean can devastate coral reefs, and exacerbate low-oxygen dead zones that inhibit marine life. Ocean heatwaves can impact ocean ecosystems and the fisheries and other activities that depend on them.
In addition to absorbing excess heat, the oceans have also absorbed about 26% of human-caused CO2 emissions from 2011-2020. Dissolved CO2 also leads to an increase in ocean acidity, which has surged by 30% over the past 250 years—with significant impacts on many species. And when the ocean warms, sea levels rise, contributing to flooding in coastal communities around the world. 
The importance of sea surface temperatures
When it comes to ocean warming, sea surface temperatures are a very important metric. The vast majority (93%) of excess heat trapped on Earth ends up in the oceans—of which about two-thirds is absorbed in the upper 700 meters (about 0.4 miles) of the ocean, making sea surface temperature a critical indicator of global warming.
Warming in the upper ocean directly affects ocean ecosystems and vast marine biodiversity. The surface oceans are also where human recreational and commercial activities take place, including fisheries that support diets and economies.
Sea surface temperatures also influence the weather we all experience on land. Warm water is a necessary ingredient for tropical storms and hurricanes, and water temperatures also fuel winter storms like nor'easters. Warm summer waters in both oceans and lakes also impact recreational and commercial fisheries and can boost harmful algal blooms that impact water quality and put wildlife at risk.
Long-term summer sea surface warming around the U.S.
Looking at summer sea surface temperature trends from satellites operated by NOAA and NASA, we see that nearly all major U.S. ocean regions have warmed over the period 1982-2021, although the rates of warming are variable. 
Regional Ocean Warming, Alaska
The oceans around Alaska and in the Northeast have warmed exceptionally quickly over this period and are some of the fastest-warming ocean regions in the world. 
The Gulf of Mexico and the Pacific Islands region around Hawaiʻi have both experienced gradual warming
Waters off the west coast have warmed the least, due in part to the cool conditions in the last few years caused by the Pacific Decadal Oscillation and the recent La Niña
The Great Lakes are major inland water bodies and are critical for regional economies, drinking water, ecosystems, and culture—and they too have warmed quickly over the last 40 years. 
The regional impacts of these warming trends can vary from disrupting major fisheries in the Northeast to enhancing hurricane activity and rainfall amounts in the Gulf of Mexico and growing risks of toxic algal blooms on water quality in the Great Lakes, a major regional source of drinking water.
Summer 2022 sea surface temperature snapshot
One major feature of global sea surface temperature this summer is the cool water in the equatorial Pacific. This large area of cool water is an indicator of the La Niña phase of ENSO that we're currently experiencing. La Niña conditions are associated with drought conditions in the southwestern U.S. as well as with higher Atlantic hurricane activity. NOAA forecasts an above-normal 2022 Atlantic hurricane season—with 14-20 named storms and three to five major hurricanes—in large part due to persistent La Niña conditions.
POTENTIAL LOCAL STORY ANGLES
Looking for region-specific ocean, coastal, and Great Lakes data?
The Integrated Ocean Observing System (IOOS) is NOAA's national-regional partnership that collects high-quality data relevant to the nation's ocean, coastal, and Great Lakes regions. IOOS operates across 11 U.S. regional associations. Each regional association's website is a hub for region-specific data.
How are we adapting to climate-driven changes in the oceans?
NOAA's National Marine Protected Areas Center enables marine habitat conservation and restoration—important nature-based solutions for our changing oceans. NOAA's interactive Restoration Atlas can be used to find coastal and marine habitat restoration projects throughout the U.S. The EPA's Coastal Adaptation Toolkit provides resources on coastal change, impacts, and adaptation options. The EPA's Climate Ready Estuaries site tracks adaptation projects in coastal U.S. states.
What are the current and forecasted ecological risks from warming waters?
NOAA's Coral Reef Watch provides near-real-time data used to monitor and predict coral bleaching events globally. NOAA's National Centers for Coastal Ocean Science produces harmful algal bloom forecasts and coastal hypoxia forecasts by region.
Who is most vulnerable to the impacts of climate change in the oceans?
A recent IPCC report identifies coastal populations, small-scale fisheries, shellfish gatherers, small island developing states, and Indigenous Peoples as being especially vulnerable to the impacts of climate change in the oceans.
Livelihoods that depend on specific species (e.g., a lobster fishery) are vulnerable to the impacts of climate change. To learn more about livelihood-supporting species in your region:
NOAA Fisheries' Species Directory, searchable by U.S. region, provides facts about each species' biology, range, fishery management, and harvest. NOAA FishWatch includes resources on sustainable fisheries management, as well as a sustainable seafood database that is searchable by U.S. region.
LOCAL EXPERTS
The SciLine service, 500 Women Scientists or the press offices of local universities may be able to connect you with local scientists who have expertise on ocean warming and climate change. The American Association of State Climatologists is a professional scientific organization composed of all state climatologists.
NATIONAL EXPERTS
Boyin Huang, PhD
NOAA/NCEI (OISST)
Contact: boyin.huang@noaa.gov
Related expertise: global sea surface temperature
Katherine Mills, PhD
Research Scientist
Gulf of Maine Research Institute
Contact: kmills@gmri.org (please contact or cc Elijah Miller, emiller@gmri.org, who will support timely responses to inquiries)
Related expertise: marine ecosystem change and fisheries impacts
Here are some more "ET's" recorded from around the planet the last couple of days, their consequences, and some extreme temperature outlooks:
Here is some more July 2022 climatology:
Here is more climate and weather news from Friday:
(As usual, this will be a fluid post in which more information gets added during the day as it crosses my radar, crediting all who have put it on-line. Items will be archived on this site for posterity. In most instances click on the pictures of each tweet to see each article. The most noteworthy items will be listed first.)
(If you like these posts and my work, please contribute via this site's PayPal widget. Thanks in advance for any support.)
Guy Walton "The Climate Guy"